Boats by George Sails Into New Horizons With a Second Marina & More Expansions
This article is sponsored by Boats by George.
Boats by George and Lake George go together like wakes and water. The longtime boat dealership has always had a dominant presence on the lake, but even more so now they've acquired a second marina. They're able to accommodate more boats, they've added a new line to their showroom, and Boats by George is showing no signs of stopping.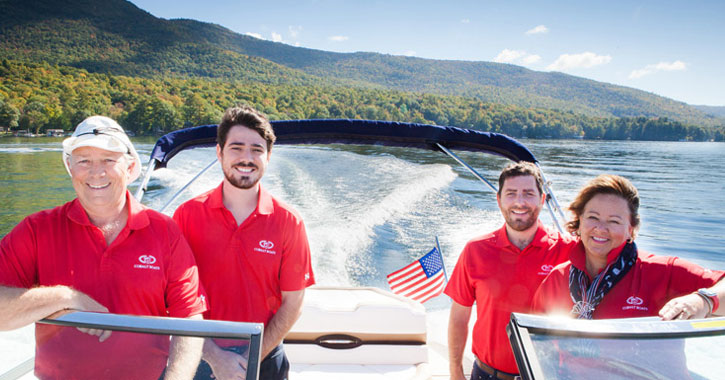 A New Marina & Expanded Services
The crew at Boats by George knew opportunity was knocking when Warner Bay Dockage was put up for public sale. It was located just around the corner from their current marina in Cleverdale, on the east side of Lake George, and would allow them to expand with an additional 55 spaces to store boats, as well as the ability to store larger boats, as big as 40 feet, helping them to service customers in the market for bigger watercraft.
"All things combined made it a great situation," Adam Pensel told us; Adam is one of owner George Pensel's sons. "It was a smooth transition."
After taking ownership of Warner Bay, Boats by George has steadily made some upgrades. They've revamped the parking lot, renovated the bathrooms, and are making various other improvements for existing tenants.
Multiple Locations to Serve You Best
Boats by George now has two marinas, Boats by George Sandy Bay and Boats by George Warner Bay. Each provides its own perks. The Quick Launch Program is available at Sandy Bay, where you can call ahead and have the staff get your boat uncovered and ready to go. And clients can make use of water docks at Warner Bay, and can also go there for emergency services on the lake. Both marinas offer direct access to the lake.
In addition, Boats by George has a service and storage facility in Fort Ann. This is a state-of-the-art facility with a three-rack building and they will be constructing a fourth. Previously they stored around 300 boats there, but with the addition of the fourth rack they'll be able to bring that number up; they also do bit of storage at their other locations.
The service center has six bays that accommodate eight boats at a time and has modern amenities to get the job done quickly and correctly. Boats by George actually has the largest boat service department in the area.
Finally, Boats by George has a fourth location, which is their original location, in Lake George, which they use as their showroom and administration offices. They showcase their boats in a location that is convenient for customers to get to, right off Route 149 in Lake George, close to I-87. And, it's huge - 8,000 square feet to be exact, fitting 15 to 25 boats at a time.
A New Line of High-End Boats to Check Out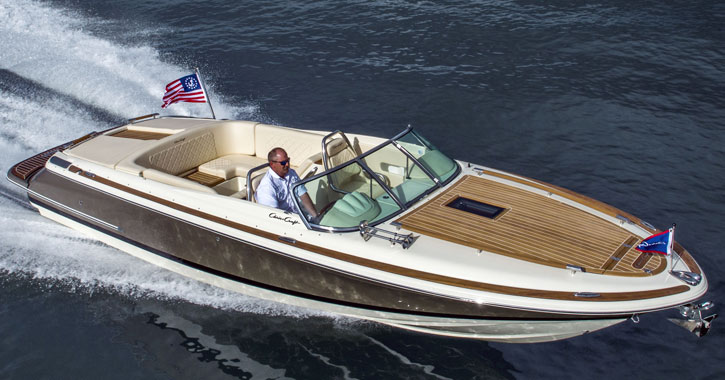 All lines of boats are represented in the large, climate-controlled Lake George showroom, which now includes a third line: Chris Craft Boats. The other two lines are Malibu Boats and Cobalt Boats.
Chris Craft Boats are super luxurious, top notch boats that Pensel describes as "pieces of art." These are the boats that are going to appeal to the high-end buyer. Malibu Boats are more geared towards the younger generation, particularly those interested in water sports, and then Cobalt Boats are a considered to be a high quality family brand for general purpose boating.
In other words, Boats by George offers a little something for everyone, and they display the boats in a beautiful and spacious showroom. It's super easy to walk around and get a look at everything, it's simple to board the boats, and there are even docks where people can walk right up to the boats.
If you're new to the boating world, or feel intimidated at the idea of buying a boat, don't! Boats by George makes it a seamless process. You can browse at your leisure in a comfortable, inviting environment and someone will always be available to help out with any questions.
The Drive Behind Their Success & Expansion
So Boats by George has a gorgeous showroom, two functioning marinas, and a top of the line service center. They offer a wide range of boats and prices to accommodate any boater's needs. But perhaps what really sets them apart is their number one goal: that boaters don't miss any boating time.
"Summer is a short season, and every day that a person goes without their boat is a huge disappointment," Pensel explained to us. "When a customer purchases a boat if anything happens that puts them out of commission we'll get them a new boat to use. No one is ever left high and dry."
The service department is geared towards giving every boater every opportunity they have to use their boat while they're here in Lake George during the boating season. It's pretty rare that one of their boats will actually be unusable for an extended period of time, but when and if issues come up Boats by George is 100% ready to handle it and get you back out on the water where you belong.
Looking Ahead to the Future
When asked if Boats by George is itching to expand their presence even more on Lake George, or perhaps on other lakes, Pensel responded that they're always keeping an eye out for a great opportunity.
"If something were to come available that made sense, we'd take a hard look at it," he said.
They'd take a look at factors like the exact location, if there was access to the lake, what the accessibility to docks would be, and what kind of boats it could accommodate.
Boats by George has been in business for over 35 years, and their recent expansions with the additional marina and boat line are a clear reflection of their success. When it comes to their most prized possession, boaters simply trust Boats by George.