Where to Go Snowshoeing & Find Rentals in the Lake George Region
Sponsored by: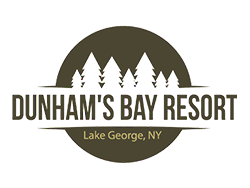 Stay At Lake George's Best Kept Secret
Just a five-minute drive from Lake George Village on the lake's southeastern shore, Dunham's Bay Resort is perfect for family vacations and couples retreats. Enjoy the indoor heated swimming pool, on-site restaurant, and serene setting. Learn More »
Discover a new activity, get some exercise, and reconnect with nature this winter by giving snowshoeing a try. You can start by renting a pair at one of the following places, all of which are less than an hour from Lake George. If you can't snowshoe at the rental location we provide a suggestion for snowshoeing trails close by.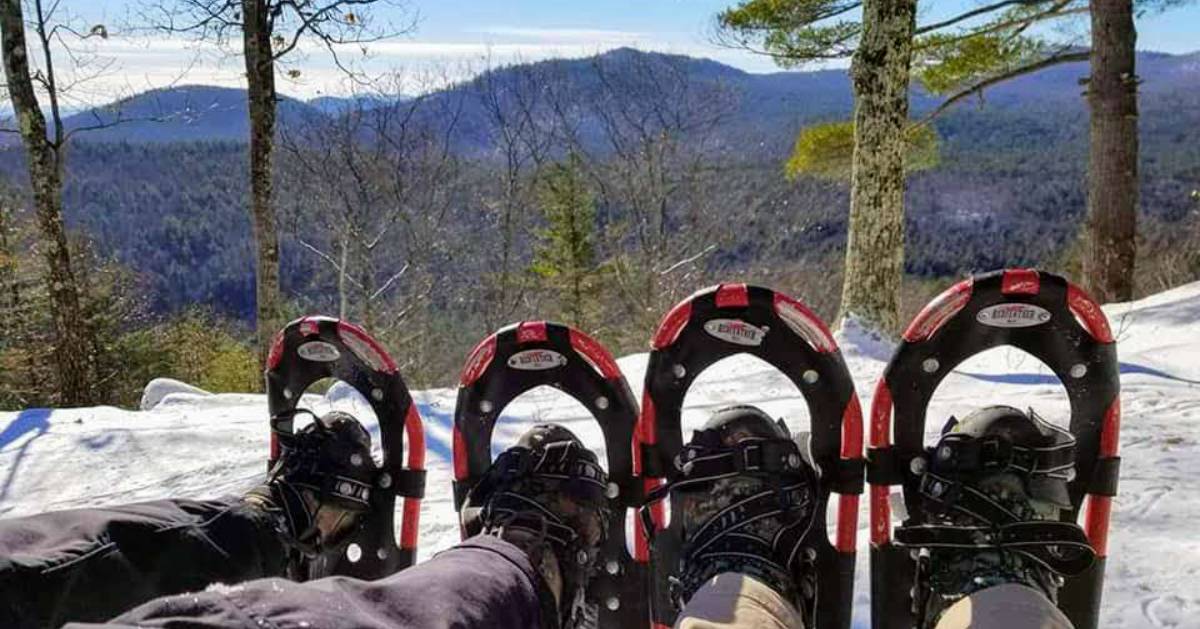 North of Lake George: Snowshoe in the Adirondacks
Friends Lake Inn (Chestertown)
If you want to make a overnight trip out of a snowshoeing excursion Friends Lake Inn has snowshoes available for guests to use on their 16km of trails. Take advantage of one of their snowshoeing winter packages.
Beaver Brook Outfitters (Wevertown)
Beaver Brook Outfitters offers snowshoe, ski, and snowboard rentals at their Wevertown location. You can rent by the day, rent for several days, or rent for the entire season. Pack Demonstration Forest in Warrensburg is about 15 minutes from Beaver Brook and has a 1-mile nature trail loop that allows for snowshoeing.
Natural Stone Bridge & Caves (Pottersville)
Natural Stone Bridge & Caves offers 14.5 miles of snowshoe trails that provide interesting geological structures along the way. Self-guided tours are available on weekends from mid-December through early March and they have snowshoe rentals available. They also typically have a snowshoe race in February.
Bonus tip: Two of the Chester Challenge trails (there is a winter edition of the challenge) are only accessible through Natural Stone Bridge & Caves.
Garnet Hill Lodge (North River)
The snowshoe trail system at Garnet Hill Lodge has 6 routes that intertwine with their Nordic ski trails offering a total of 15km of snowshoeing terrain. Their staff can provide you with the right equipment, techniques, and trail routes to get you started. Garnet Hill also typically offers guided snowshoe and cross-country ski tours on weekends in the winter.
Gore Mountain (North Creek)
Gore Mountain offers snowshoe rentals in addition to downhill and cross-country skis. Their Nordic Center features a wide range of well-designed trails, some of which are snowshoe-only, and some of which are shared with cross-country skiers.
Cunningham's Ski Barn (North Creek)
Cunningham's Ski Barn offers downhill ski, cross-country ski, and snowshoe rentals. You can rent for the day or two days, or if you go for more the additional days are discounted. They have 25km of cross-country trails at Beaver Meadows just outside of North Creek; they also have a Lake Placid location.
Up Yonda Farm (Bolton Landing)
Up Yonda Farm in Bolton Landing offers snowshoe rentals but you must stick to the trails on their own property. They typically offer guided snowshoeing hikes.
South of Lake George: Get Snowshoes in Queensbury & Saratoga Springs
Inside Edge Ski & Bike (Queensbury)
Inside Edge Ski & Bike is situated right across the street from the entrance to Cole's Woods, which has dedicated snowshoe trails (and cross-country ski trails, but they are not shared; snowshoers are asked to stick to the snowshoe trails). Inside Edge offers snowshoe and cross-country ski rentals.
Alpine Sports Shop (Saratoga Springs)
Alpine Sports Shop offers Tubbs snowshoe rentals in all sizes along with downhill and cross-country skis. They currently take appointments for shopping and fittings due to a limited maximum of 20 customers in the store at a time. The shop is 10 minutes from Saratoga Spa State Park and 15 minutes from Wilton Wildlife Preserve, both of which allow snowshoeing.