9 Cozy Cabins, Rentals & Rooms Perfect for a Winter Getaway in Lake George
Sponsored by: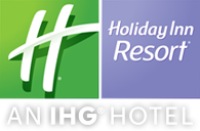 Stay and Play at Holiday Inn Resort Lake George
Enjoy year-round comfort at the Holiday Inn Resort at Lake George. This award-winning hotel features premium amenities, a restaurant, and various on-site activities. It's prime location makes it easy to enjoy every moment Lake George has to offer. Learn More »
Escape From It All With Comfy Lodging
The Lake George region provides the ultimate winter wonderland getaway, but you need to know where to stay. You may be asking, who is open year-round? Are there any deals going on? What if I refuse to go unless there's a fireplace?
Streamline your trip-planning process by browsing 9 cabins, cottages, and vacation rentals below that are magnificently suited for a wintry vacation (or staycation!).
Please note, minimum stay requirements may apply.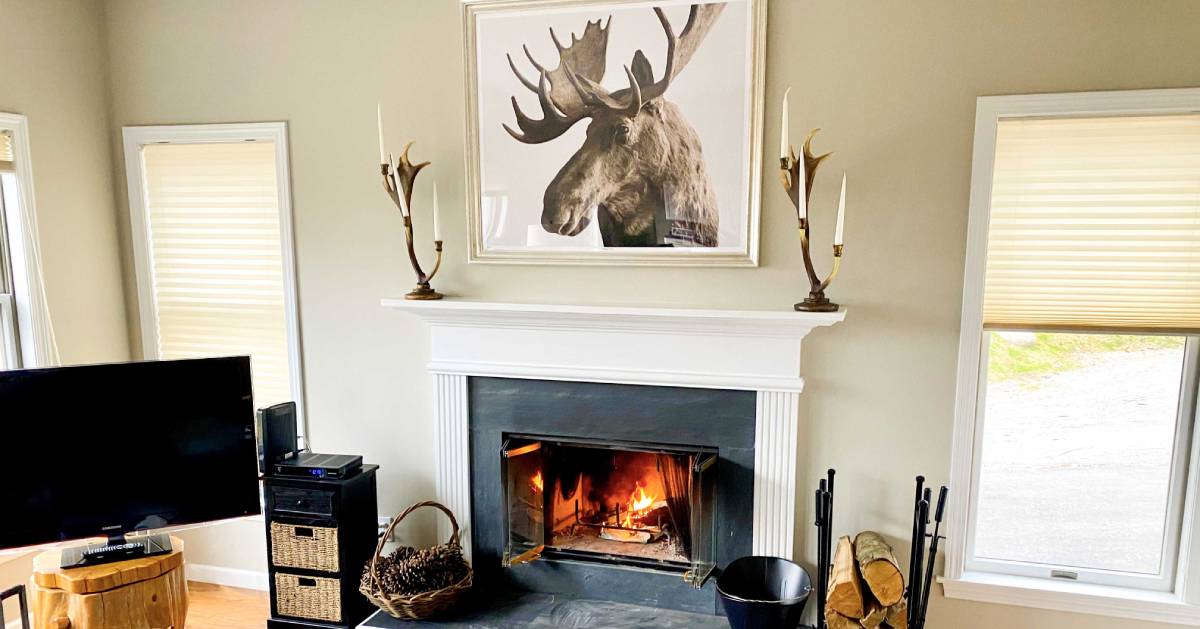 The first property we're highlighting is Lakeview Lodge, which is one of many superb vacation rentals offered by Northern Living NY. Located in Bolton Landing, this two-story vacation home that sleeps up to 10 had an outdoor hot tub added in December of 2020 - this is in addition to the Jacuzzi tub in the master bath. As you can see from the photo, the home has an elegant, Adirondacky style.
Several of the below suggestions are under the Northern Living NY umbrella, and what is nice about their sites is you can check out an availability calendar beforehand to better plan your trip. And, all amenities and details are clearly laid out.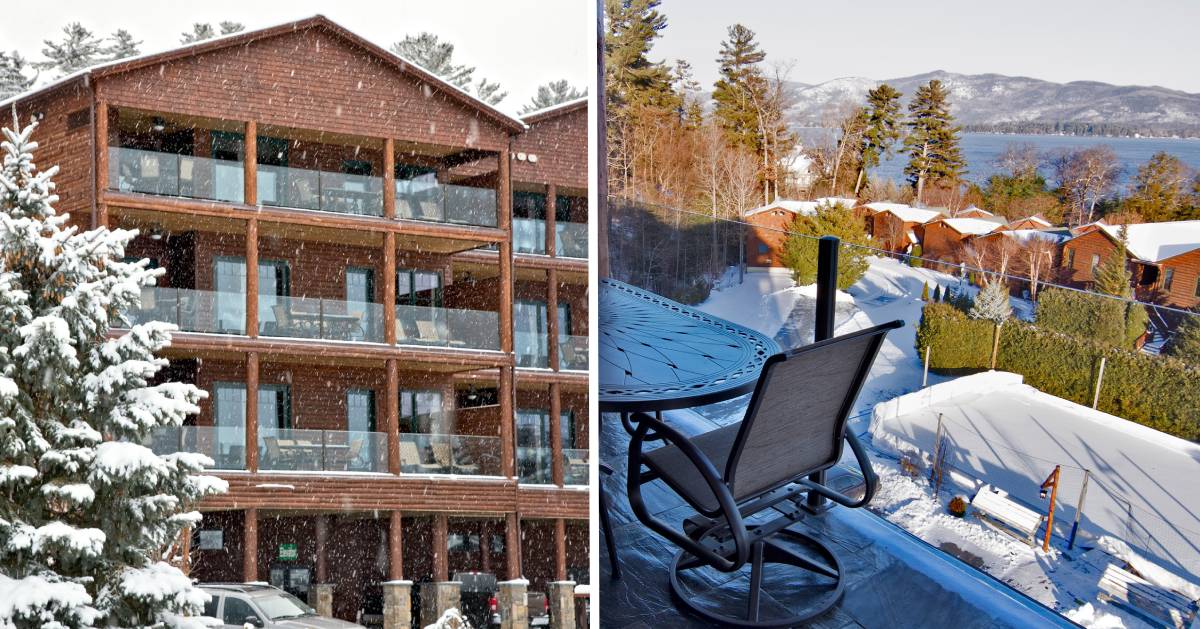 The Lodges at Cresthaven provides panoramic views of Lake George, which looks arguably even more stunning frozen in the winter than at any other time of the year. If frozen lakes make you think of ice skating, you're in luck, because weather permitting The Lodges at Cresthaven offers an on-site skating rink as well as a sledding hill.
This lodging option features "hotel luxury with the charm of old-time Adirondack lodges," with several vacation rentals to choose from. The Oak Tree Lodge units, for instance, can be rented as either one bedroom or hotel-room style units in the winter. Many rooms offer a view of the lake, so you can feel extra snug as you enjoy the beauty of Lake George in winter from inside a room warmed by a gas fireplace.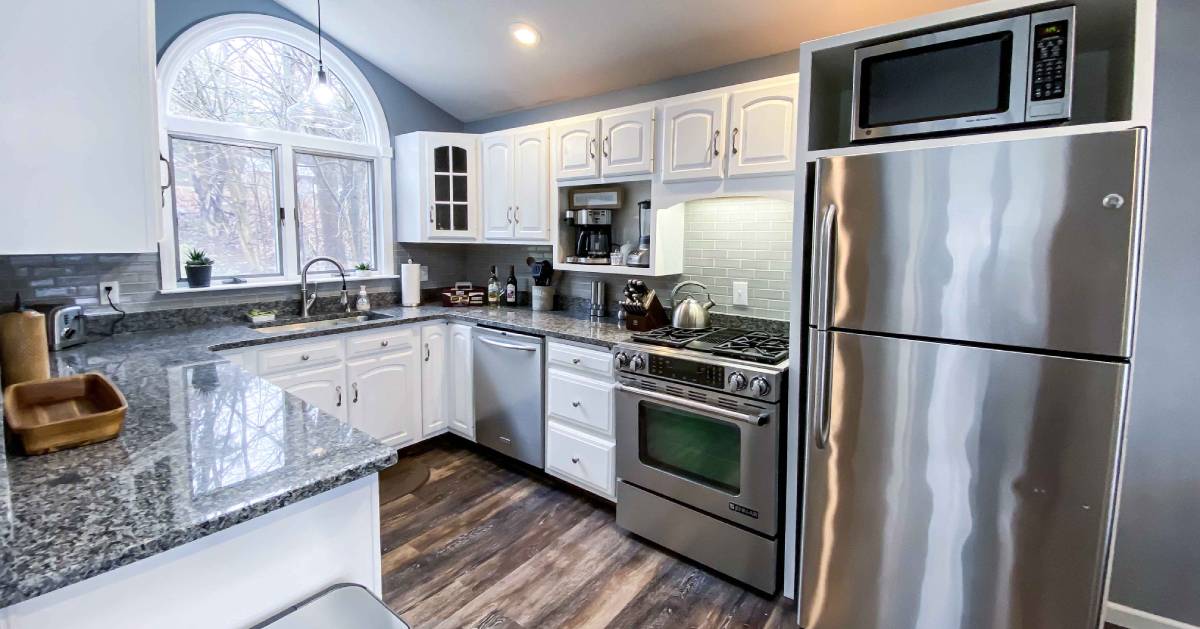 This Northern Living NY lakefront beauty is off the beaten path in Fort Ann and can accommodate up to 10. Located on Hadlock Pond, Lakeshore Cottage includes a bar/game room with a pool table and dartboard, if your preferred winter activity involves staying inside where the temperature is well above the 30s.
Check out the availability calendar to plan your trip. And, if you do want to get out in the snow, the Schumann Preserve at Pilot Knob is about a 15-minute drive from this vacation rental; this is one of many great Lake George winter hiking trails.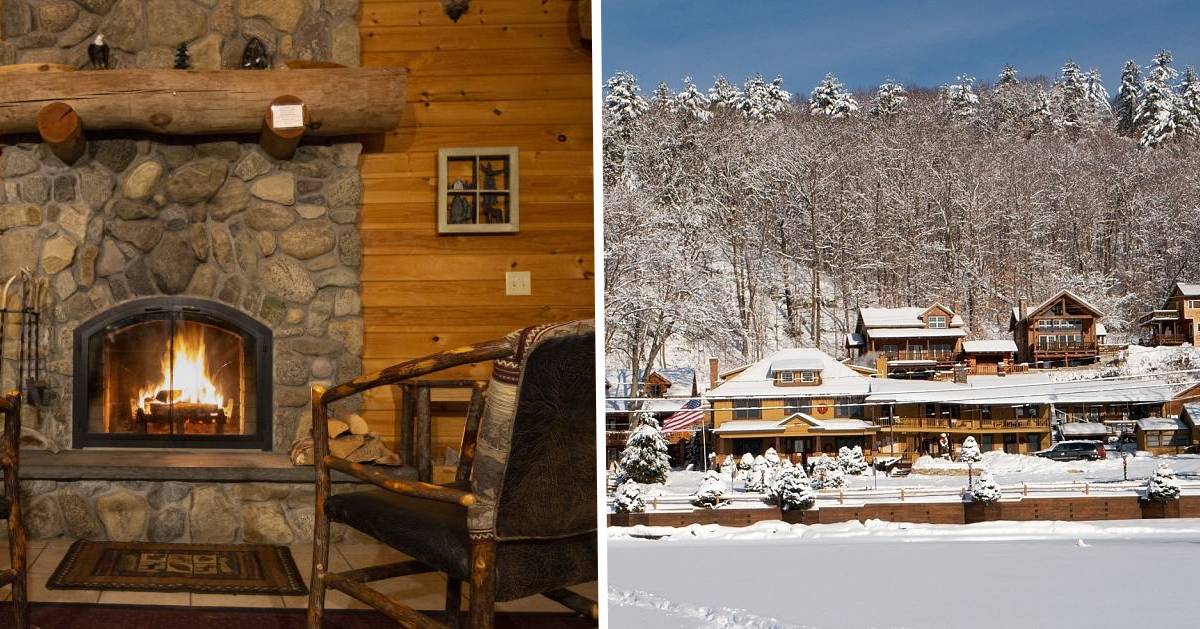 Trout House Village Resort offers a variety of cabins on the northern end of Lake George in Hague. The Eagle's Nest Cabin, pictured above in the left image, includes a fireplace and a jet tub, as do virtually all of the lodging options.
When you check out their website and click through to individual cabins you'll be able to view an availability calendar and see pricing options. They often have a seasonal special going on!
You can stay inside your cabin reading a book by the fire, or, get out there and explore the great outdoors. Trout House offers free use of snowshoes, toboggans, and cross-country skis in the winter. And for you anglers out there, they're directly across from the lake and prime ice fishing opportunities.
Bonus tip: They're pet-friendly during the non-summer months.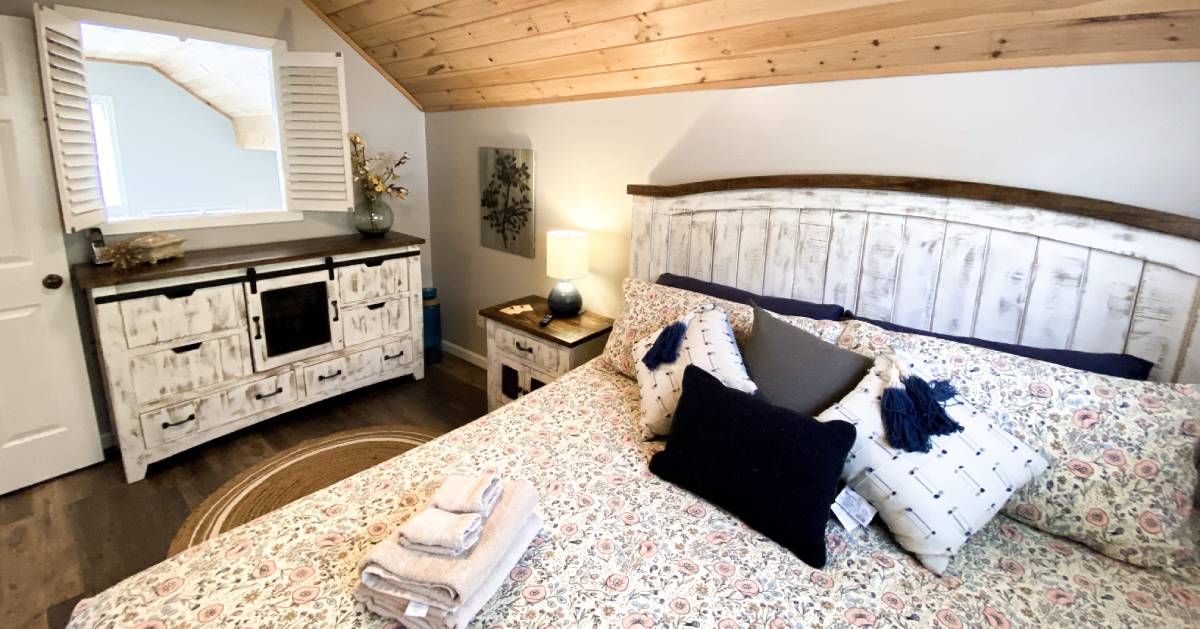 Another Fort Ann vacation rental on secluded Hadlock Pond, Lakeside Retreat lives up to its name, even in the winter. The house sleeps 12, is pet-friendly, and includes three gas fireplaces throughout the home. You'll find multiple views of the lake from the three-level house, a fully-equipped kitchen, luxurious linens, and everything you need to stay comfortable while away from it all.
As with Lakeshore Cottage, this Northern Living NY rental is close to nearby hiking trails suitable for winter explorations, but if you're looking for indoor activities like shopping and dining, the Lake George Outlets are also about 15 minutes away, and Lake George Village about 20. Take a look at the availability calendar!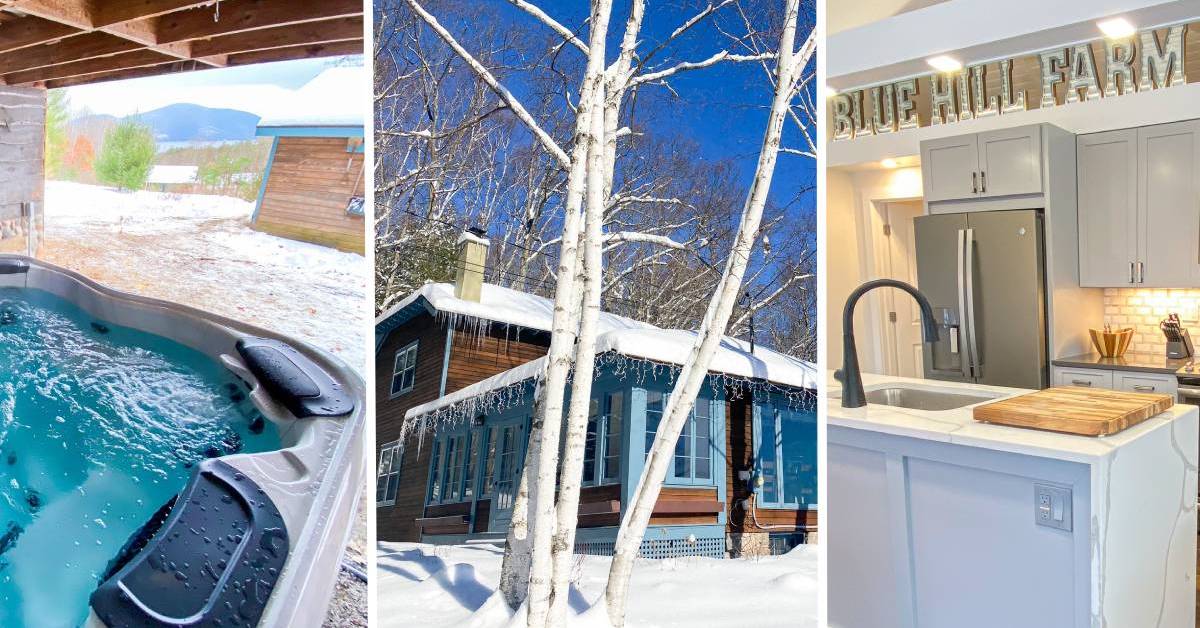 Northern Living NY does it again with this Bolton Landing beauty. Blue Hill Farm is a rental cabin that can sleep up to 12 and is nestled on 3.5 acres of private land. The newly-renovated vacation home includes an 8-person hot tub, a fireplace, a billiard room, and a woodstove in the living/family room perfect for popcorn popping with the family.
View their availability calendar and check out nearby things to do in the winter, like a snowy hike at Cat and Thomas Mountains Preserve or a snowshoe adventure at Up Yonda Farm.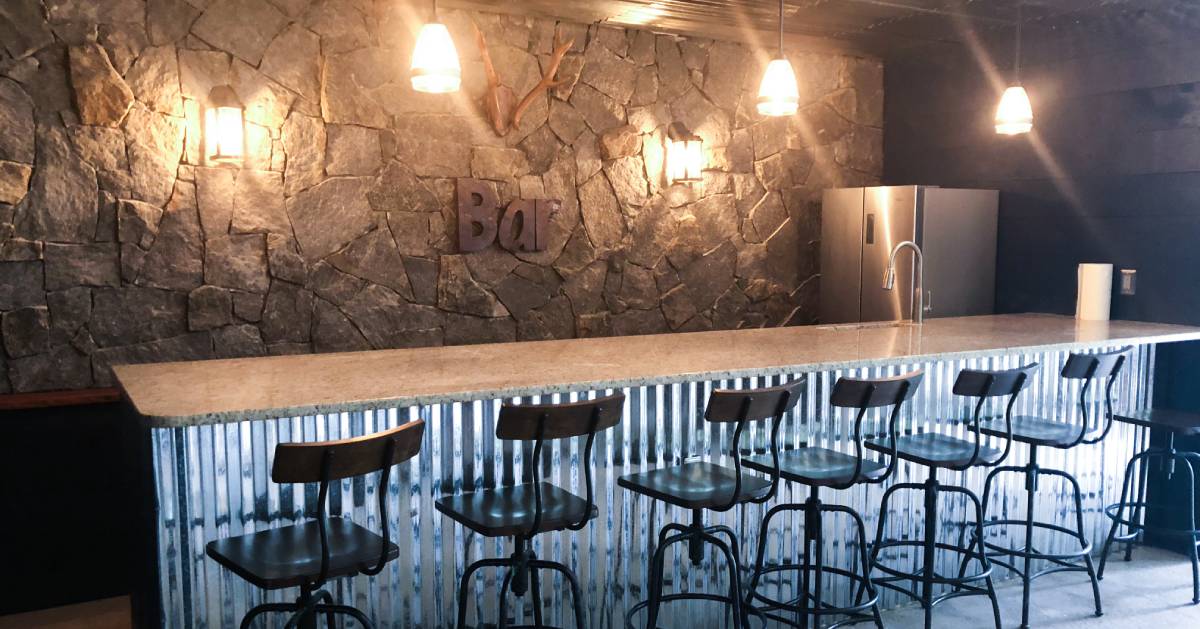 Would you look at that exquisite bar? If you think "winter getaway" and cozy cocktails come to mind, check out this vacation rental in Fort Ann. Another reason to consider this lodging option is if you are traveling with a large family - this house accommodates 21 people!
Everyone will stay entertained with the bar and game room that includes a pool table, foosball, darts, and a roomy sitting area. The second floor has a massive vaulted ceiling and a spectacular lake view.
Dockside Manor is Northern Living NY's largest vacation rental. Be sure to check out the availability calendar - and the photos so you can get a sense of how spacious it is!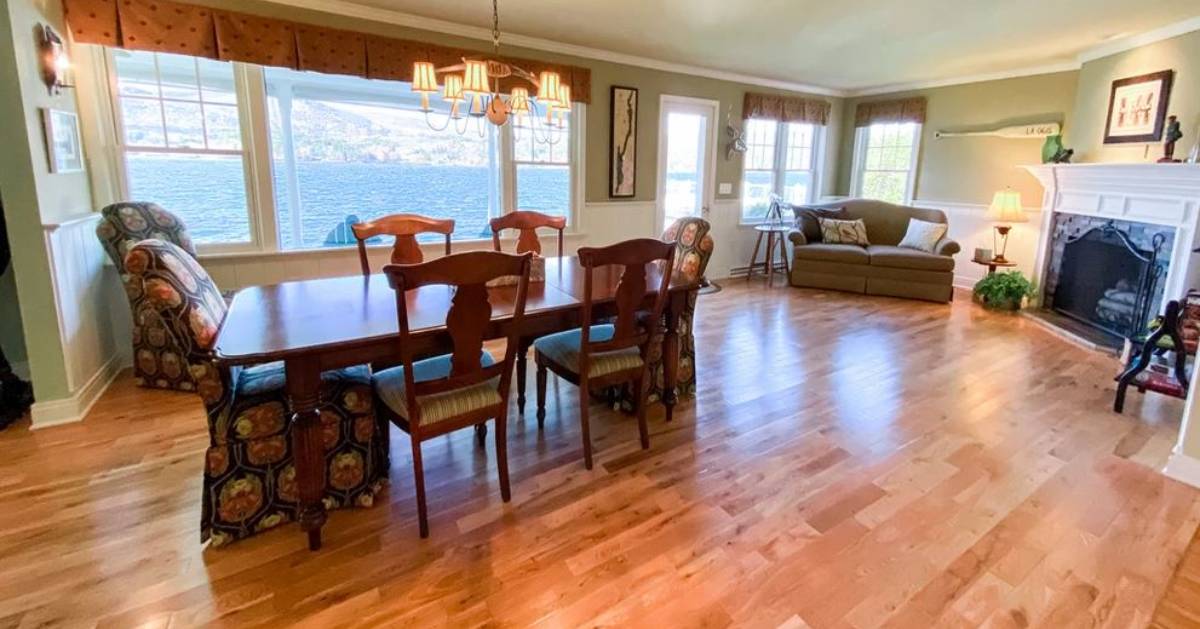 Water's Edge Cove on the east side of Lake George features an oversized, heated garage that guests love to make use of in the winter. The dining room and living room each have a fireplace, the rental sleeps 8 to 10 people, and you'll be 10 minutes from Lake George Village.
This vacation home is located on a private road in a quaint neighborhood surrounded by tall hedges to ensure your privacy. There's a walkway that offers direct access to the lake, but if you don't want to go outdoors, there are lake views from every room.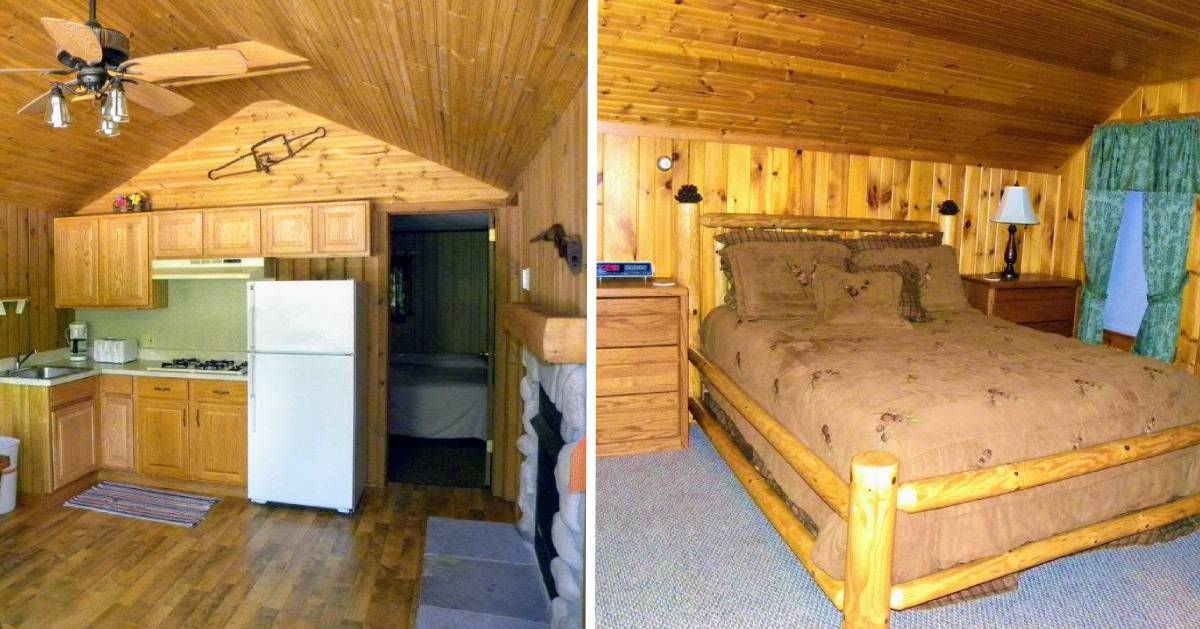 Did you know? Lake Vanare Cabins & Cottages are typically available Memorial Day through Columbus Day, but, their Rustic Suite is available year-round. Take advantage of this little-known secret by booking this sweet suite inside their main lodge.
You'll find a rustic log futon, two recliners, a dining area and kitchen, and a well-lit private sitting area. Located in Lake Luzerne, make sure to check out the Long Horn Restaurant & Pub, which is just down the road and open year-round, and they specialize in steaks, salmon, scampi, and pulled pork.