What's SUP?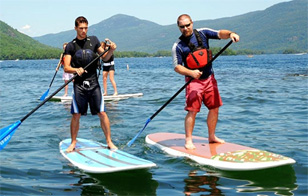 A Guide To Stand Up Paddling
by John Flynn
Stand up paddling, or SUP, is the fastest growing sport on the water and is coming to Upstate New York and a lake near you. Certainly SUP surfing has gotten a lot of coverage, however wave riding is only part of the equation. While SUP has its roots in surf, boards and paddles have quickly evolved to the inland flatwater environment.
While the marketing photos are of young surfers, the growth of stand up paddling can be attributed to the discovery by so many diverse outdoor enthusiasts about how fun, easy and enjoyable it is to do. It's a great way to get out on the water and also a great low-impact, full-body workout.
You don't need to be a movie star, pro athlete, kayaker or surfer to enjoy the fun that stand up paddling offers. You simply need a few basic tips, some water, a stand up paddleboard, a paddle, and a thirst for fun. A stand up paddleboard is essentially an oversized surfboard that is specifically designed for use on both flatwater and surf. The volume of the board makes it so that the rider is able to stand up and paddle with both mobility and stability.
SUP will make paddling on the lakes and rivers more exciting. With the help of a competent instructor, anyone can learn to paddle these boards within minutes. There is very little gear required for SUP: a board, a PFD, a safety whistle, and a paddle. Just toss the board on the water, climb on and go!
SUP is a Great Workout
Fitness is one of the biggest reasons why people are drawn to SUP. For the recreational paddler, looking to just enjoy some time on the water, but perhaps get some exercise as well, we see an immediate advantage. The classic, relaxed low angle kayak stroke is effective for recreational kayaking but certainly does not use a lot of energy. With stand up you naturally use a higher angle stroke, making the support muscles in the arms and shoulders work harder to hold the paddle in position - and burn more calories.
While standing, even the most basic SUP paddler is getting the added value of balance, strengthening the feet and core, while making the whole body work together as one to maintain good posture. As we strive for more efficient paddling, we move the paddle through the water with an emphasis on the core, while getting additional drive from the large muscles in the legs.
This activity is arguably one the best full body workouts. With the entire body working together for a common goal it is easier to generate a higher heart rate than while sitting. If you're looking to improve heart health, SUP is a great cardio workout, while being on the water.
Stand Up Paddleboard Types and Sizes
There are three basic types of flatwater SUPs. With the sport being in its infancy there are no universal categories or descriptors. We refer to them as recreational/touring, touring/fitness and fitness/racing. While these boards are designed primarily for flatwater use some have crossover potential in the surf as well.
Recreational/Touring - The most versatile and popular category. These boards are perfect for those paddlers who are interested in enjoying relaxing paddles. These boards tend to be 10 to 12 feet in length, 30 to 32 inches wide, and weigh 28 to 34 pounds. These are the most stable of the bunch.
Touring/Fitness - For those who are looking to cross-train or use a SUP as a low impact workout, take a look at these models. These boards tend to be a little less stable, but more efficient. They are typically 12 feet, six inches to 14 feet in length, 28 to 29 inches wide, and weigh 25 to 28 pounds.
Fitness/Racing - This category is for the paddler who is serious about fitness or who is looking for a fast ride. These boards offer the most efficiency with the least amount of stability. They tend to be 12 feet, six inches to 14 feet in length, 27 to 28 inches wide, and weigh 21 to 25 pounds.
Typically your weight will determine which length and width board is appropriate. For instance the heavier the rider, the larger the SUP should be. A 125-pound paddler can easily handle a 10-foot SUP, while a 200-pound paddler would need a 12-foot SUP. The 10-foot SUP would sink with a heavier paddler, while the 12-foot SUP would be unmanageable for a lighter paddler to carry and paddle. It is strongly advised that you visit your local shop and test some boards out before you buy one.
SUP Paddles
SUP paddles come in all shapes and sizes and it is important to get one that is either adjustable or sized to your specific height. The general rule is that the paddle should extend ten inches over the head of the paddler for flatwater, and eight inches over the head of the paddler for surfing. A wider paddle blade is better for flatwater and racing, while a narrower blade works best in the surf.
Much like kayak paddles, SUP paddles are built in a variety of materials and each has there own advantages. Your basic paddle will have an aluminum shaft and plastic blade. While this paddle is the least expensive it also tends to be the heaviest.
The middle class paddle typically has a composite shaft and a fiberglass blade. These paddles will be a little more expensive, but weigh considerably less. The upper tier of paddles will typically have a carbon shaft and blade, and may come with options for a bent shaft. They are typically the most expensive, but are also the lightest.
Just like kayak and canoe paddles the usual advice is to look for the lightest paddle that you can afford.
Give SUP a Try
Maybe you are not really ready for the SUP revolution, but you can now appreciate what SUP is all about. Remember if you are a kayaker or canoeist, it doesn't have to be one or the other. SUP is a great addition to your water sports activity. For the swimmer, runner, and biker, it's a great cross-training sport that's easy on the body.
Perhaps you are interested, what now? Identify your paddling goals for SUP and then talk to the experts. Your local shop can help factor in the right board, paddle, and gear to best suit you for the aspect of the sport you're most drawn to doing.
Skip the marketing hype and don't get consumed with board sects, there is no substitute for demoing a board on the water. Take a lesson, rent a board, demo some different styles, and have a great time!
LakeGeorge.com wants to thank John Flynn, the manager of Lake George Kayak Co. (lakegeorgekayak.com) and watersports enthusiast. When not on a Paddle Board you may find him in a Kayak or Canoe enjoying the Narrows of Lake George.
If SUP isn't for you, there are tons of things to do in Lake George, on and off the water!