Changes in Store for The Sagamore
by Faith Mannix | August 2011
Ever since Ocean Properties purchased The Sagamore in 2008, changes have gradually swept through the resort.The Lake George hotel is known for its luxurious accommodations and the many changes have only further cemented this reputation. The wharf for the Morgan has been rebuilt, the restaurants have been renovated, and the lobby was redesigned, but these changes are only the beginning. Word is that there are even more renovations in store for the historic hotel.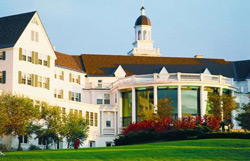 Hotel representatives spoke with the Bolton Zoning and Planning Board in regards to building an adult's swimming pool, 16 more rooms in the main building of the resort, as well as expanding and enclosing the Shelving Rock Terrance.
The Sagamore found that the indoor swimming pool was rarely being during the summer season, and wanted to provide adults with a place where they could relax and swim without their children splashing around. Likewise, the Shelving Rock Ballroom will be expanded to have a new entrance, added restrooms and a kitchen, filling the need for a better banquet hall.
The new rooms in the main hotel are a good sign as well, as more reservations have been made for this August, up 500 rooms from last year. The Sagamore is also looking into creating a boating club, where members can dock and access one of the resorts restaurants by boat.
These proposed changes, in addition to those that have been made in recent years, positions the Sagamore as the best of both worlds - a historic resort, with luxury updates.
Learn more about The Sagamore Resort
Find other Lake George Lodging!