Enjoy A Night Of Food and Entertainment At The Lake George Dinner Theater
LAKE GEORGE NY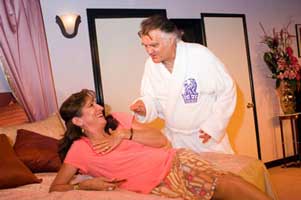 -- Dinner and theater are a classic pairing, but here in Lake George it's a little different. Rather than the two being separate events, both are provided together, creating a much more intimate setting for any play. The theater does not sit hundreds or thousands, but a handful of tables at the Lake George Dinner Theatre at the Holiday Inn Resort.
After seeing 'Our Son's Wedding' it will be hard to look at Saran™ wrap in the same way – something to explain later. While a heartwarming illustration of love, family and acceptance, there are also numerous laughs throughout.
Written by Donna deMatteo and possibly going Off-Broadway, it is the story of two workaday parents dealing with their son marrying...a man.
Set in the parent's hotel suite, designed by their aforementioned son, the play touched on numerous subjects -- sex and adultery, baseball, religion and everything in between. Yet love always had a presence, as complicated, confused and volatile as it got.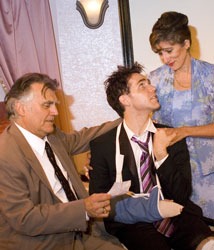 Both the characters of the mother and the father are full of quirks. The performance of Paul D'Amato (who was in the movies 'Slap Shot' and 'The Deer Hunter' among others) in the role of the father Angelo is simultaneously one of the most humorous and most touching in the production. We get to watch him attempt, and ultimately take steps towards reconciling who he is and who his son is and the love that binds it all together.
The mother, on the other hand, Saran™ wraps everything in her sight, clothes, pills, toothbrushes, toothpaste tubes and jewelry included in an attempt to control the environment around her. But for all her control-freak aspects, in the end she relinquishes control in the one situation that matters the most – the life and love of her son.
There are smaller, more human eccentricities that allow the audience to take those steps closer to the characters in the already personal space of the Lake George Dinner Theatre, allowing this performance to surpass any one definition of love and instead take it all and make it a whole jumbled mess that most closely resembles life.
Lake George Dinner Theatre is the one local attraction that is profound, funny, and engrossing -- all in one evening.
Unfortunately, the production of 'Our Son's Wedding' at the Lake George Dinner Theatre ended October 14 for the season -- but keep an eye on Off-Broadway, and there is always a new production for next year!
For updates on the 2011 season check the Lake George Dinner Theatre website, or contact producer Terry Rabine at 518.306.4404.
Photographs provided by the Lake George Dinner Theatre
Amanda King | November 2010