Adirondack Winery Announces Expansion
More Locally-Made Wines Comes to the Area!
Betty Moyer | November 2010
Lake George, NY - Wine lovers rejoice! The Adirondack Winery & Tasting Room, the area's permier micro-winery and tasting bar announces plans to expand! With a new facility in Queensbury and a major expansion planned for the Lake George location, they will be making much more wine and better serving their customers!
Reason For Expansion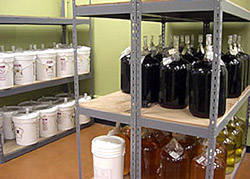 Initial Wine Making Space at Lake George Location
In 2008, when the Adirondack Winery opened, it offered a selection of wines created on site and from local wineries in New York State. Tourists and locals alike were delighted to have a unique new business in town, which resulted in customer traffic and demand that greatly exceeded the owners' expectations.
Wine was initially created in a small facility room on location, but this was not enough to meet the demand for their extremely popular wine! In 2009, wine production was significantly increased and upgrades to the equipment in their small Lake George wine making space were made. However, this was still not enough!
New Queensbury Facility
In November 2009 the winery began leasing a 4,000-square-foot warehouse space in Queensbury, NY on Big Bay Road. This facility has the capacity to make enough wine to respond to the continued growth in customer demand, as well as the growth in the Adirondack Winery's wholesale and private label wine business, which is available to wine stores and restaurants.
In November 2010, just a year after opening the facility, it is fully licensed and churning out wine. To add to the quality of the wine process, semi-automatic bottling and corking machines and much larger wine tanks are used. By the end of 2010 production will be double that of 2008.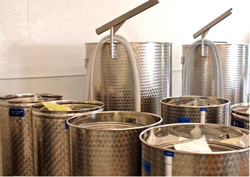 New Facility: Steel tanks for wine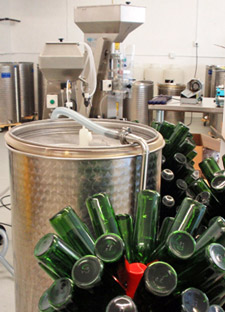 New Facility: semi-automatic bottling & corking machines
Expansions at the Tasting Bar
With production moved to Queensbury facility, there is room for a larger tasting room at the 285 Canada Street location in Lake George. The Adirondack Winery has announced plans to renovate the tasting bar, begining in January 2011! The plans include creating a tasting bar 3 times the size of the current and an upgrade in materials used. Love the ambience of the current space? Dont worry, the new look will match that of the exsisting space, with updated accents!
NOTE: In January 2011 the tasting bar will be closed for a brief time while under construction, but renovations are scheduled to be completed as soon as February 2011!
Adirondack Winery Accolades
Since the spring of 2009, 17 of Adirondacks Winery's wines have earned 25 medals at international wine competitions. It was also ranked in the Best of Lake George 2010 survey, including: Best Wine & Best Gift Shop in Lake George for 2 years in a row and 2nd Best Place for Souvenirs, as many people keep & display bottles for their gorgeous photographs of the Lake George area!
For more information on the renovations please contact the The Adirondack Winery & Tasting Room at (518) 668-9463.