Adirondack Theatre Festival - 2011 Season
GLENS FALLS, NY - The Adirondack Theatre Festival announces its 2011 season of musicals, plays and shows at the Charles R. Wood Theater! Join in the comic, tragic, thought-provoking, and/or surprising new shows that the ATF has to offer.
All-New Shows - Be sure to catch the budding brilliancy of a world premier comedy, a one-woman show, a romance rekindled and the first public reading of a new play about Glens Falls, NY!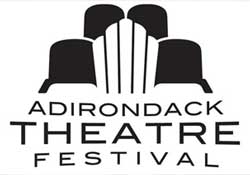 Get The Details!
All Adirondack Theatre Festival plays are performed at the Charles R. Wood Theater in Glens Falls, NY. The 2011 season shows include...
2011 Performances
The K of D an Urban Legend, by Laura Schellhardt
Showing June 22- July 2
A one woman show featuring more than a dozen characters.
Second Act Caberet
Showing July 10 - 15
Gary Adler, composer & musical director, and his songwriting partner Phoebe Kreutz will have you laughing, tapping your toes and singing along as they perform songs from their musicals: past, present and future.
Shooting Star by Steven Dietz
Showing July 7- 17
Humor, heartache, secrets and snow.
Hello Out There, by Eric Price and Frank Terry
Showing July 21-August 30
A world premiere musical comedy about teen mischief and stock market dreams.
PLUS:
The First public reading of Dream Street, by Sean Christopher Lewis
A new play about the past, present and future of Glens Falls' South Street.

For more information about the Adirondack Theatre Festival call (518) 874-0800.