Discover Country Paradise at Lant Hill Farm Bed & Breakfast
Love perusing the farmers market? There's just something special about buying local food and getting a chance to talk to the growers. But what if you could go beyond the farmers market booth?
At Lant Hill Farm Bed & Breakfast you can stay at a real working farm in the beautiful countryside. Guests wake to stunning sunrises over the Green Mountains of Vermont, enjoy homemade breakfasts created from ingredients grown on site, and they get a chance to help with farm chores or explore the farm's certified wildlife habitat.
Lant Hill Farm offers a unique escape from the constant distractions of modern life. Although it's a secluded gem in a rural area, it's also close to several attractions in the Southern Adirondacks if you're feeling a little more social.
When you stay at Lant Hill, you get to decide when to let in the noise and when to tune it all out. Immerse yourself in country life. Get satisfaction from a day spent helping something grow. Experience something different at Lant Hill.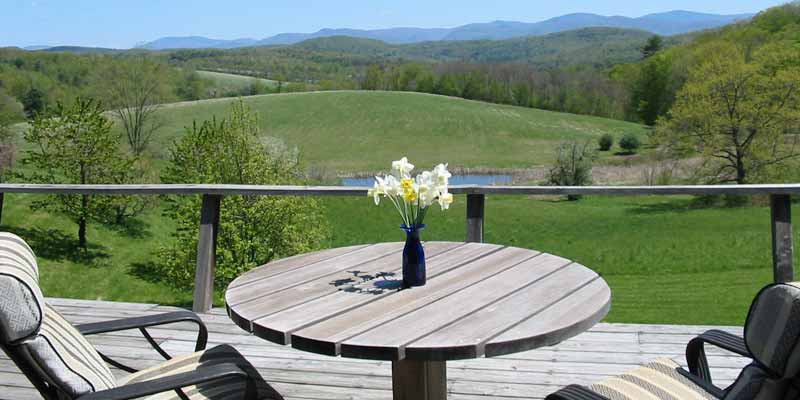 Fun with Farm Life
Lant Hill uses organic practices to grow dozens of crops on their 100+ acres, and you're invited to dig into the farm activities! Every guest can enjoy the fruits of these labors during farm-fresh breakfasts, but those curious about the farming lifestyle have a rare opportunity to actually help tend and grow these crops yourself. Whether you're staying at Lant Hill as a romantic getaway with your partner, or you're there with the whole family, guests of all ages can participate in the farm action.
On the first morning of your stay you might wake up early and help owners Don Previtali and Sue Kowaleski harvest potatoes. Using a shovel or a spading fork, you'll loosen the soil near the stems of the potato plants and then the potatoes will be dug up gently. Soil is brushed off the potatoes before they're collected. The vegetables have to be handled carefully, as newly dug potatoes do not have a tough skin.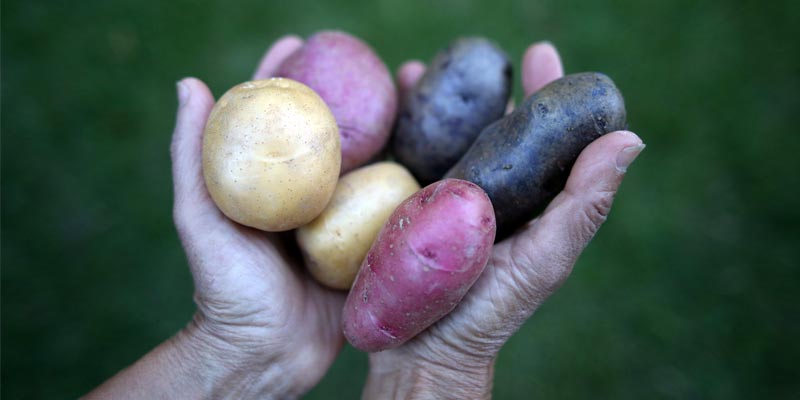 Photo credit: Ellie Markovitch
Potatoes and garlic are the primary vegetable crops Lant Hill farms, but they also grow a really neat little fruit you may not have even heard of: hardy kiwi.
While fuzzy kiwi (kiwi as we think of it) cannot be grown in New York State its cousin hardy kiwi can. This is a small, smooth fruit that can be difficult to grow - the plants often take several years to mature and don't usually bear fruit until they're five to nine years old. But Lant Hill has the dedication and patience to grow these delectable little foods. Ask to give them a try during your visit - they tend to ripen towards the end of farming season in the fall.
Lant Hill also makes their own maple syrup with trees on site that are tapped in the spring. A hole is drilled right into the tree, and then a tap, or spile, is inserted. A bucket is hung, and the sap flows right in! If visiting at the right time of year this might be one of the farm activities you can help out with. Bond with your partner or family in a whole new way by trying something different together.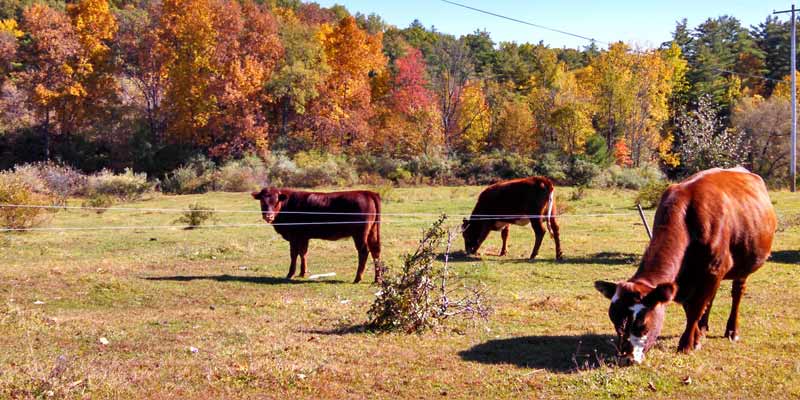 Regardless of the time of year you visit, Lant Hill is a working farm all year and there will be exciting activities to partake in. If you're there in the winter, they have acres to snowshoe on, and they can provide snowshoes for you. Just imagine trekking accross the expansive property among a backdrop of pristine white snow.
A Farm-Fresh Breakfast
Before breakfast, you might help Don and Sue gather berries for jam or popovers, or you might collect fresh eggs from the chickens. Having pancakes? Pair them with the real maple syrup that's made right on site.
Eating local is brought to a whole new level when you're eating a breakfast that you helped harvest yourself, made from ingredients right on the land you're staying at. It's one thing to buy eggs at the farmers market and take them home, but just imagine biting into an omelet created from eggs right on site - you'll taste the difference. You might even start to see why backyard chickens have become such a trend in recent years!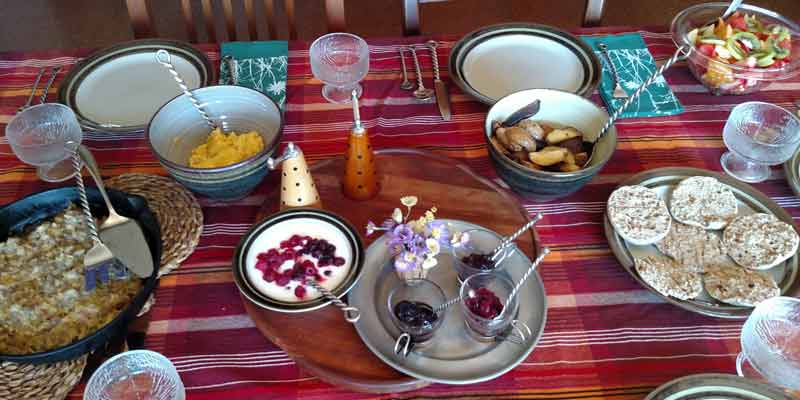 If you require a gluten-free meal you're in luck: Don attended a gluten-free cooking program at the Culinary Institute of America. He can customize dishes for vegetarians too.
Breakfast is served in the dining area or outside when the weather is nice. Bite into tender breakfast potatoes you helped harvest as you look out over the land where this delicious food came from.
History & Background of the Farm
Don purchased the farm in 1971 from the Lant family, taking on their traditions of proper crop rotation and limited use of chemicals. Don and Sue wed in the 1980s, followed soon after by their sons, David and Paul.
Today, Don manages the majority of the farm operations and animals through sustainable agriculture practices. Sue helps out significantly, but also has a full-time, off-the-farm job as an adult educator.
Rooms & Rates
Lant Hill has two rooms to choose from: The Master Suite and the Cedar Room. Both have a private bath and both face east to the sunrise and the Green Mountains of Vermont - you'll be able to see the gorgeous Mount Equinox 20 miles away.
A common room with books and games will keep you and your family entertained if you're spending time indoors.
The Master Suite has a large bedroom with a king bed, a sitting room with a double futon, and a deck with a view; the king bed can be converted to two twins if that's your preference.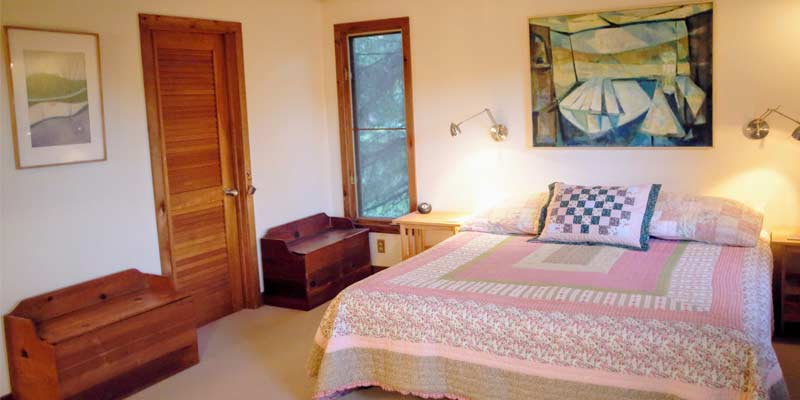 Photo credit: Ellie Markovitch
The Cedar Room will offer you the most privacy. This room is located on the lower level of the guest house and has a queen bed.
Have an extra person in your party, or need a crib for the baby? Additional accommodations can be provided, or a whole house rental is also available. Kitchen privileges are not included.
A Nature-Lover's Paradise
After helping out with farm duties on the first day of your stay, you might designate the second day to relax and just enjoy nature. Walk on spring green grass on the expansive property, pick fresh flowers, or just sit on the deck with a warm cup of coffee as you look out at dew drenched fields.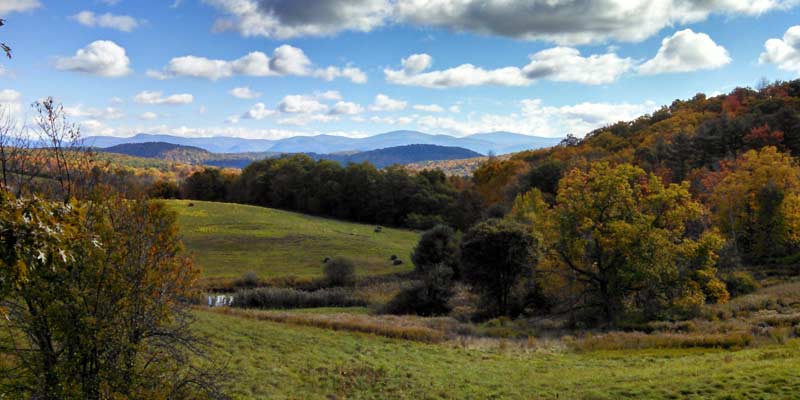 Lant Hill is certified as a wildlife habitat through the National Wildlife Federation. This certification means they've met all the requirements for their property to be a site of resources and refuge for wildlife.
It's not just farm animals you'll be seeing - it's been common to wake up to white-tailed deer in the fields, encounter turkeys roaming around, and you're likely to catch a glimpse of smaller, cute critters like rabbits, chipmunks, fox, and red and gray squirrels.
If you're into birdwatching, this is the place for you. Guests have often commented on how you can spot birds here you can't see elsewhere. Hummingbirds, Golden Eagles, and woodpeckers are just a few of the types of birds you might see.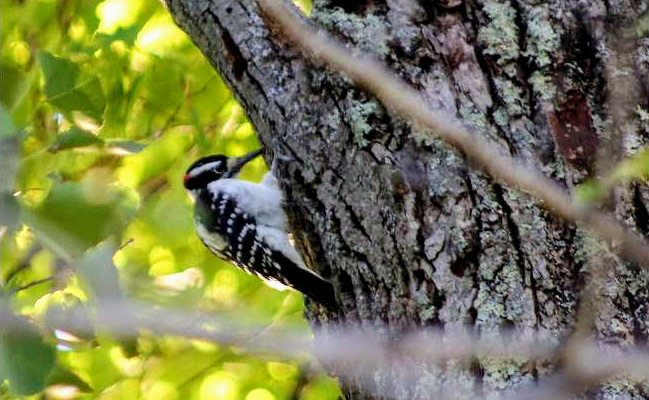 Borrow bird books from Don and Sue along with a pair of binoculars and see what you can find. Guests have been known to sit outside enjoying their breakfast in the morning with a popover in one hand and binoculars in the other.
The nature fun continues at night - grab those binoculars and check out some stars! With no other houses or city lights around you get to see an absolutely stunning view of the night sky.
Attractions Nearby
Part of what makes Lant Hill so special is their location: they're rather isolated, ensuring a private, country-life experience for you, but at the same time they're also within a half hour drive of a lot of attractions:
Quack Ups Restaurant in Greenwich about 10 minutes away
Anvil Restaurant in Fort Edward about 15 minutes away
Steininger's Restaurant & Fine Handmade Chocolate in Salem less than 20 minutes away
Argyle Brewing Company in Greenwich less than 25 minutes away.
Saratoga is just a 40-minute drive from Lant Hill - avoid the crowds of Saratoga during track season by staying at Lant Hill! Or, visit Lake George, just about 30 minutes away. If you're traveling with kids there's plenty to do with the whole family in both Saratoga and Lake George.
Looking to visit Vermont during your stay? The state border is only a half an hour away.
Book Your Stay Today
Lant Hill has welcomed guests from all over the world! But even if you live locally and just need to get away for a weekend, this is the place to do it.