Everything Old Is New Again at the Renovated Friends Lake Inn in Chestertown, NY
See Why Friends Lake Inn Is Perfect For Adirondack Getaways
Content Sponsored by Friends Lake Inn
From cozy cabins in the woods to family-friendly resorts, the Adirondack Park is home to a wide range of lodging options. However, only one place in the region perfectly combines upscale accommodations, great food, and easy access to nature - Friends Lake Inn.
Nestled atop a small hill in Chestertown, Friends Lake Inn is a boutique hotel that has recently been renewed. To learn more about the hotel's transformation, we talked with owner Alim, who revealed just how much work they've done to upgrade the property.
New Owners Breathe New Life Into the Historic Hotel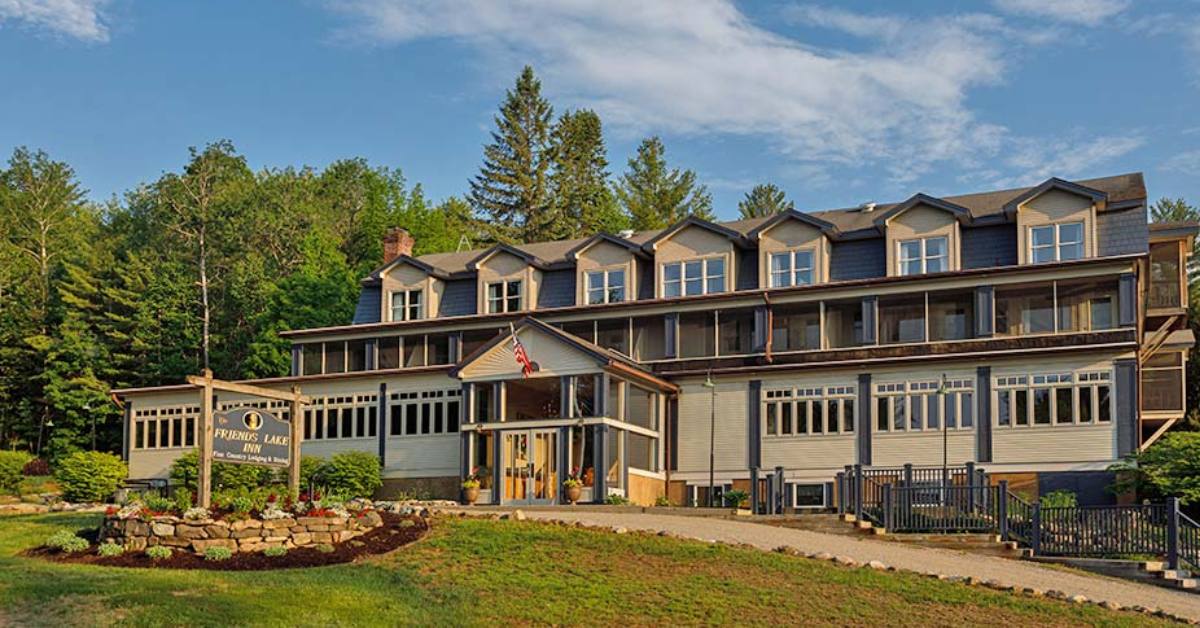 Friends Lake Inn has offered comfortable lodging since opening in the early 1860s, and it's become a top spot for romantic getaways, fun-filled vacations, Adirondack weddings, and other special occasions year round.
The hotel has welcomed generations of visitors, and in 2019, ownership of Friends Lake Inn changed hands to Alim and his wife. "We acquired Friends Lake Inn because we believe it is a gem that just needed a bit of polish, Alim told us. "It is such a unique and beautiful property with great history. . .since taking over, we've spent an incredible amount of money investing in Friends Lake Inn."
Their goal is to improve the overall guest experience for years to come, and they've changed everything from the room options to the luxury amenities, dining spaces, menus, and more. "The new Friends Lake Inn has the same soul of days gone by, but it has been reinvigorated with a more modernized look, culture, and energy," Alim said. "It's not the old Friends Lake Inn people remember."
Discover Guest Rooms That Radiate With Adirondack Charm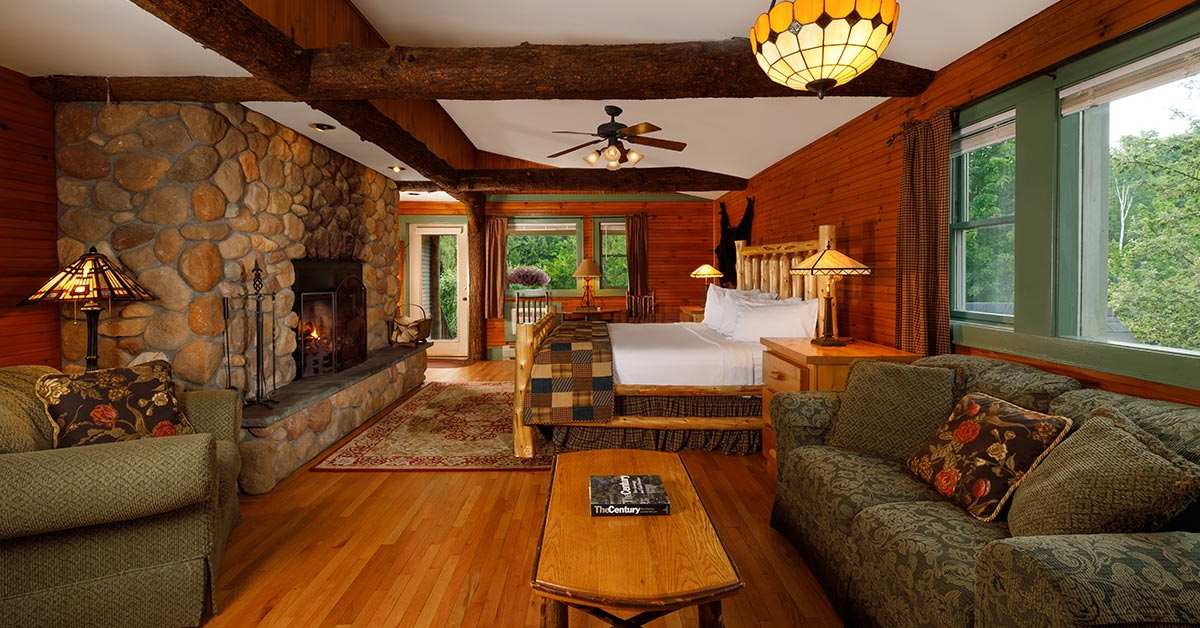 Variety is the spice of life, and the re-energized guest rooms at Friends Lake Inn are unique in decoration and amenities. Would you like to warm up by a stone fireplace, relax in a jacuzzi tub, or soak up views of the scenic woods from a balcony or window seat? The choice is yours when you book a room at the hotel.
As part of the upgrades, Friends Lake Inn now features four room types: Lake Rooms (Luxury), Tree Rooms (Spacious), Bird Rooms (Cozy), and the Cabin (Luxury & Privacy).
Lodging guests can also expect all new luxury amenities, including the softest bed sheets, pillows, towels, and robes, to name a few. "We want our guests to walk into a room true to the surroundings, have an incredible shower experience with luxury amenities scented with oak, then put on the coziest robe ever and end the night by falling asleep on bed sheets you won't want to get out of," Alim said.
Visit their website to compare the different guest rooms »
Looking For Elegant, Casual, or Private Dining? Here's What Awaits
Friends Lake Inn offers four distinct dining experiences for hotel guests and the public: the Main Dining Room, the Birch Bistro, the Breeze Dining Room, and the Adirondack Dining Room. Since taking over the property, the new owners have made significant upgrades to these dining spaces, from revamped menus that change seasonally to a spruced-up outdoor patio and fireplace area (the house-made s'mores are a must-have during your stay).
The Main Dining Room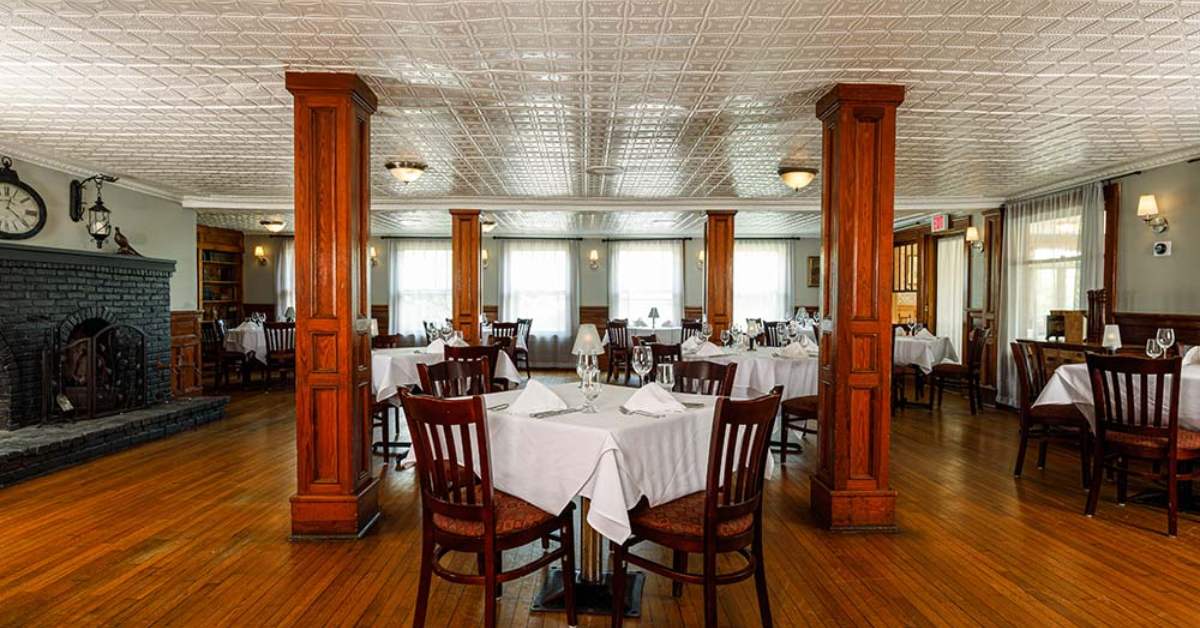 If you're in the mood for an exquisite, farm-to-fork upscale dining experience with no formal dress requirements, then stop by the Main Dining Room. The refreshed dining room combines historic architecture, delicious cuisine, and a level of intimacy that's hard to find.
The Birch Bistro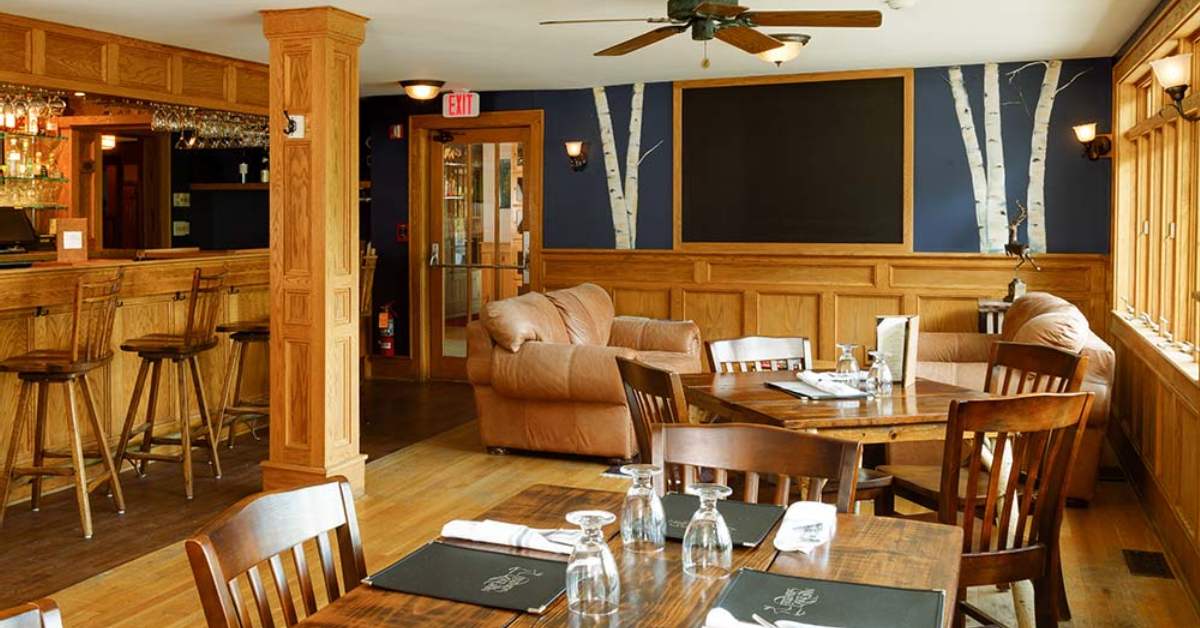 According to Alim, "The casual restaurant got a makeover and is called the Birch Bistro. It is now geared toward local residents, but lodging guests also eat there quite frequently. We even have a kids menu now!" You can enjoy a meal at one of the dining room tables with your family or have a seat at the bar.
The Breeze Dining Room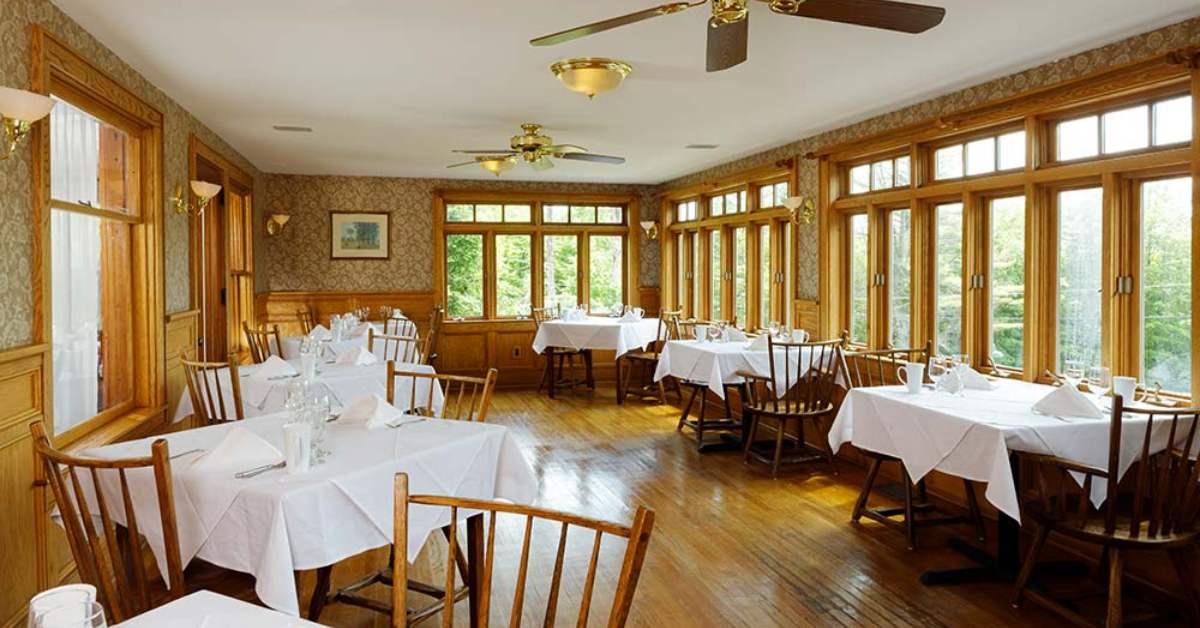 Friends Lake Inn treats every guest to a made-to-order breakfast in the Breeze Dining Room, which is a bright and comfortable dining space. Start off your day with food from their new breakfast menu and views of the sunrise.
The Adirondack Dining Room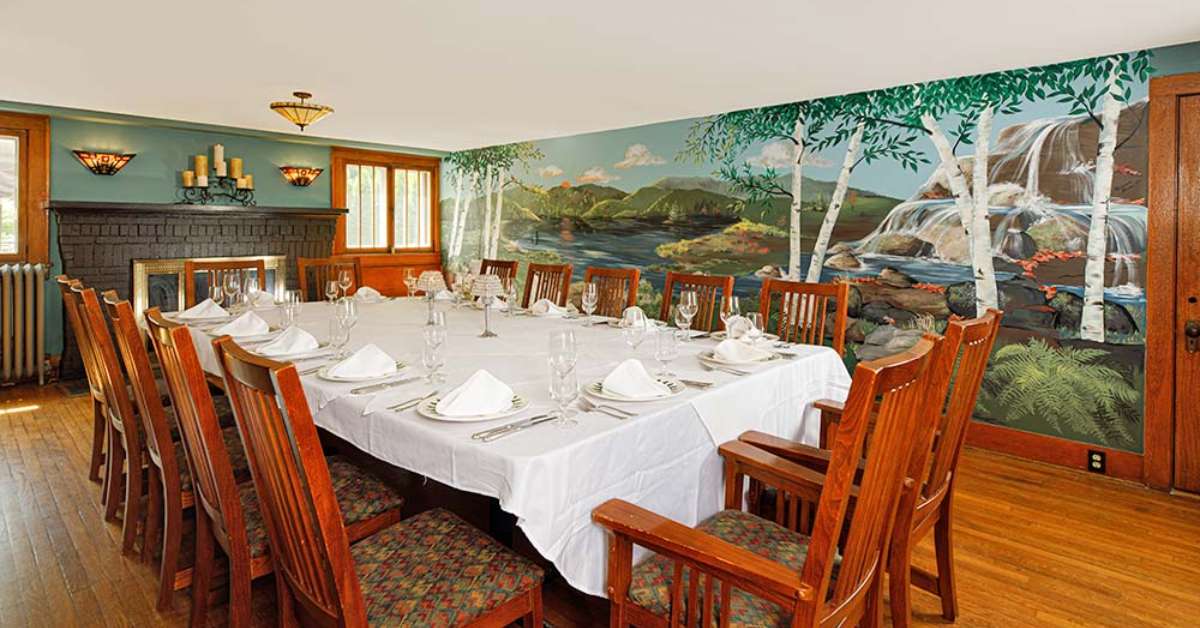 Whether you're planning a private dinner or a rehearsal dinner, the Adirondack Dining Room has you covered. The owners have transformed this special venue and added two new wall-length murals by a local artist that depict Adirondack outdoor scenery.
While discussing these four dining experiences, Alim emphasized that the restaurants are no longer overly formal or expensive, but are accessible and welcoming to all.
Faced With Obstacles, Friends Lake Inn Takes Two Steps Forward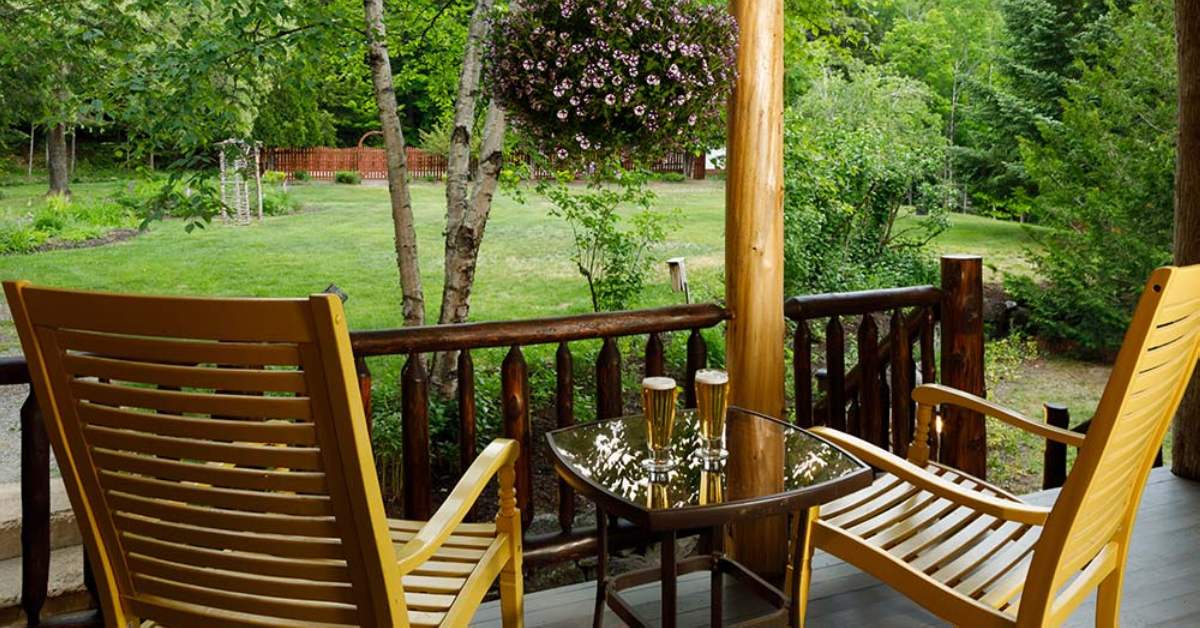 When the coronavirus struck and forced many businesses to pause, Alim doubled down and invested to make Friends Lake Inn better than ever. They've upgraded the Wi-Fi network and core systems like HVAC and septic, launched a new website to serve their guests, completed landscaping and modernization projects, and implemented a COVID-19 Stay Safe Policy.
"We are continually changing things for the better every day," Alim explained. "We're going above and beyond the required guidelines by cleaning our rooms and dining spaces with 283 nanometer UV-C lights that neutralize any viruses, bacteria, etc. including COVID-19."
The safety and well-being of their guests, team members, and community is Friends Lake Inn's top priority during this unprecedented time, and they've taken several steps to ensure everyone continues to have a memorable experience at the hotel. Their staff is working hard to sanitize the rooms, disinfect public areas, and follow cleanliness procedures.
Read more about their Stay Safe Policy »
Become a Member of the Friends Lake Inn Family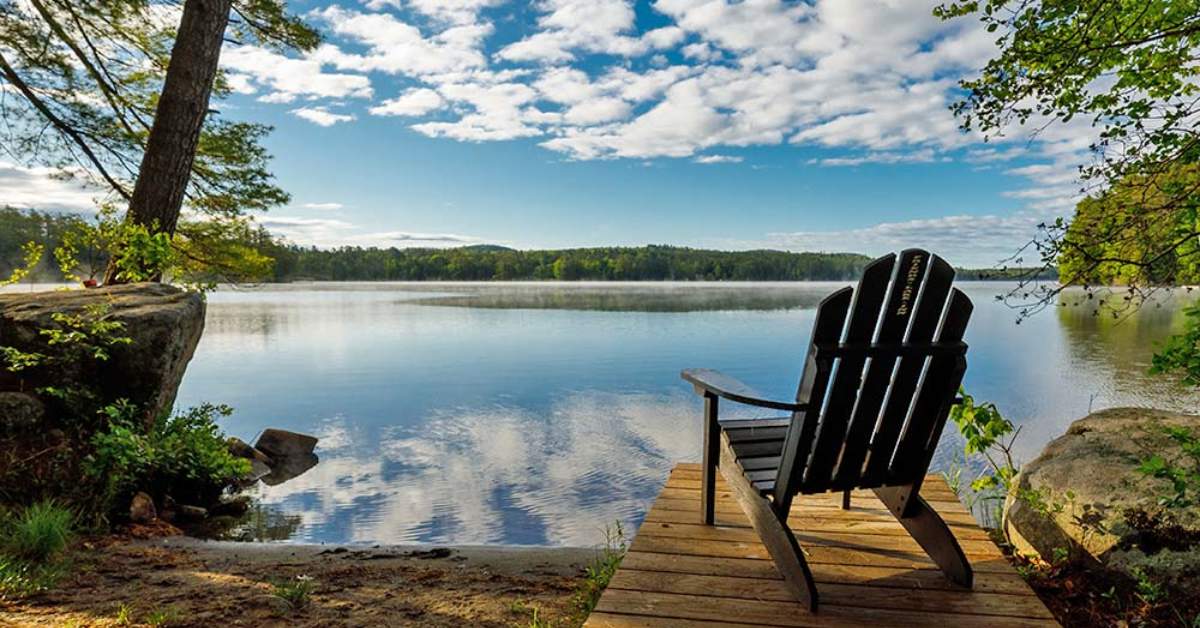 After spending over a year operating Friends Lake Inn, Alim told us he enjoys the positive and family culture they have created for their staff, the new modern energy at the hotel, and the opportunity to meet guests from near and far. "We are grateful to be a part of so many people's important moments, from birthdays to engagements to weddings."
Some people stay for a romantic weekend, and others come for the privacy and beauty of the area. Friends Lake Inn's property features direct access to hiking and biking trails, snowshoeing trails, and paddling on Friends Lake. Other seasonal Adirondack activities are just a short drive away.
This one-of-a-kind boutique hotel has so much to offer guests, and it continues to see improvements year after year.