Romance is in the Air at Trout House Village Resort in the Fall
Content sponsored by Trout House Village Resort
The Adirondack region is known for its incredible fall foliage - why not enjoy the brilliant colors and crisp air at a lakeside resort with your special person? If you're looking for a fall getaway there's no better place than Trout House Village Resort, located in Hague on the northern shores of Lake George. Come and experience heaven on Earth!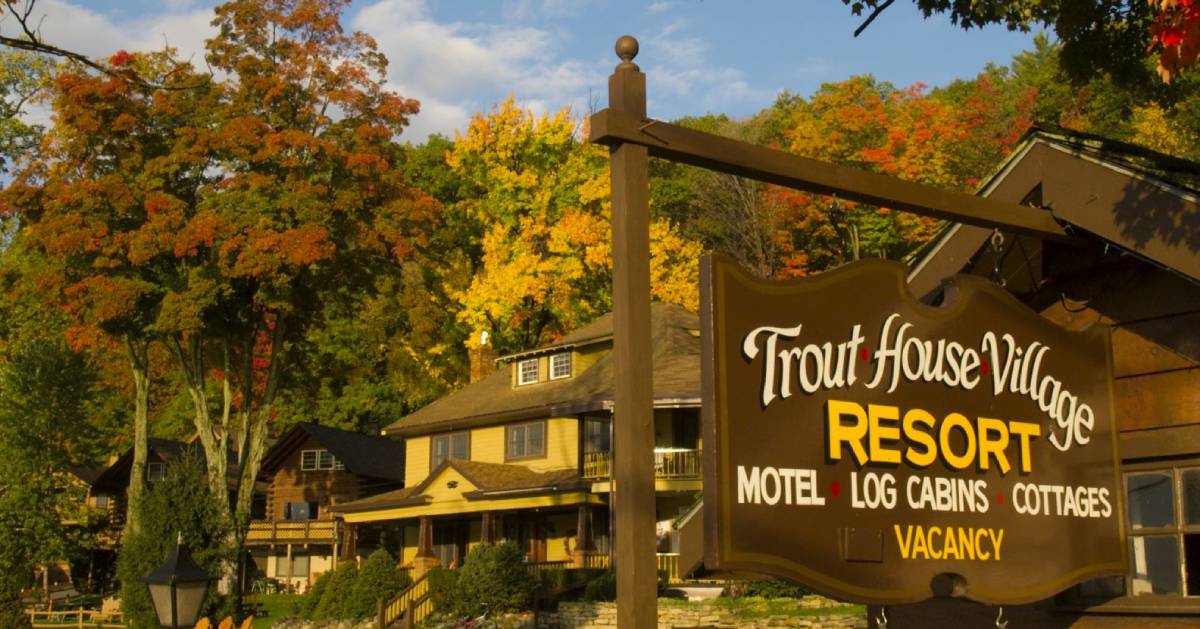 You can explore a whole other side of the lake with your sweetheart. Ride the rails in North Creek, pick your own apples at an orchard, take a ferry to Vermont, and more - and that's not even counting the opportunities for fun right on site at Trout House Village!
Discover what adventures you can plan for on your fall getaway and in the evening snuggle up by the fire in your cozy log cabin chalet.
Stay in an Authentic Adirondack Cabin & Save on Off Season Rates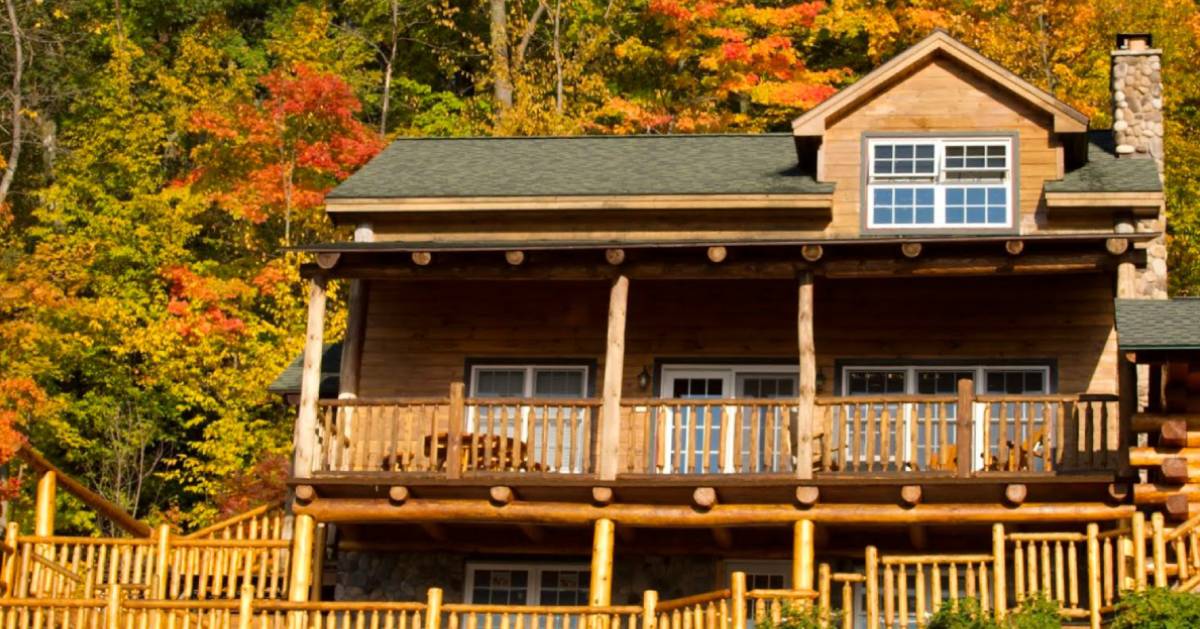 While Trout House Village is a popular summer destination for generations of families, the resort transforms into an exclusive getaway for off season guests. The log cabin chalets, like the Iroquois pictured above, feature exquisite handcrafted log detail and magnificently appointed interiors.
Awaken to spectacular sunrises and unwind to magical starlit evenings, all from your lakeside porch. The luxurious accommodations and wonderfully appointed kitchens and Weber grills make it ideal to enjoy a quiet lakeside dinner for two.
Some of the other spectacular cabins include: Eagles Nest, Eagles View, and General Burgoyne.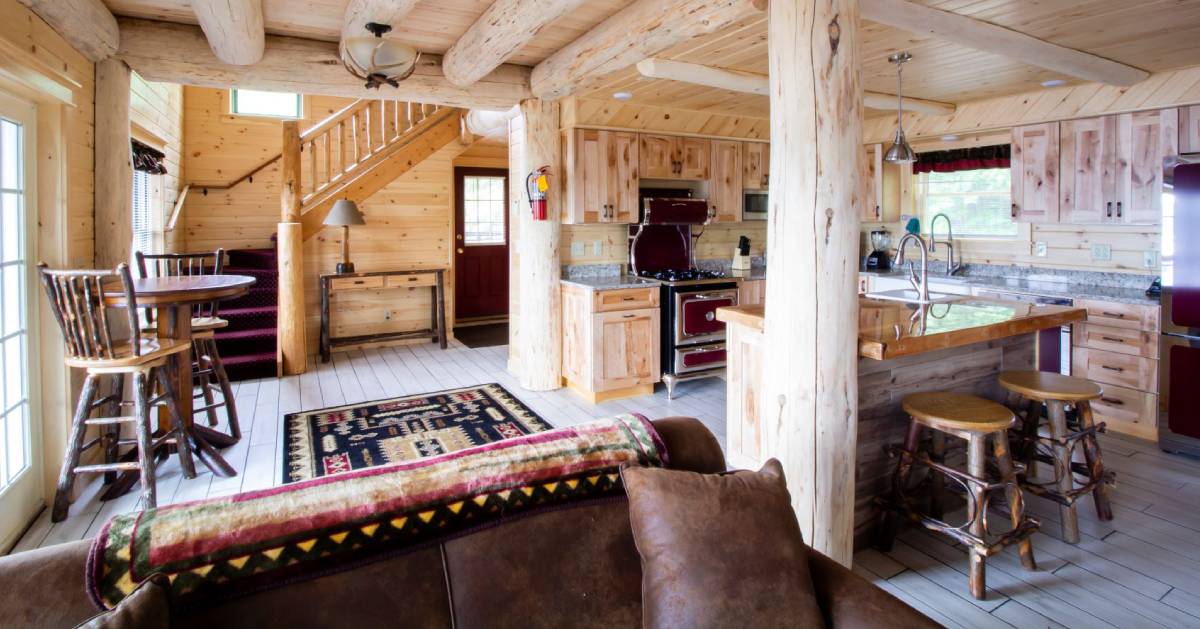 Iroquois is "their signature" two bedroom chalet. The spectacular great room features an amazing cobblestone wood burning fireplace. The wood and kindling is supplied, and the first fire is built for you. It has two lavish bathrooms each with a jet tub and shower. The Iroquois has an extravagant kitchen featuring Heartland's Vintage Collection, a wet bar, and dining area. The grand porch has an amazing lake view with Adirondack chairs, rockers, and a picnic table.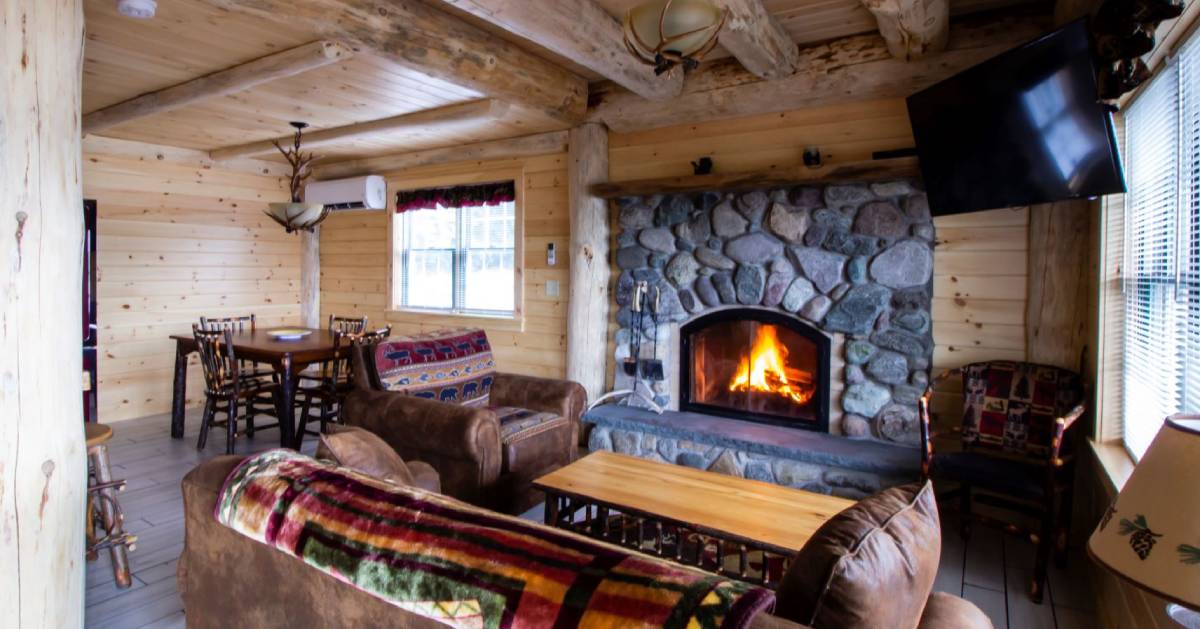 This cabin is perfect for couples traveling together, or if it's just you and your significant other, you'll certainly appreciate the two bathrooms! Regardless of which cabin you choose, you'll have plenty of room to spread out when you want to, and cozy couches and a roaring fireplace for snuggling up together.
Check out their current promotions and deals >>
Enjoy Hiking, Boating & Fishing on Lake George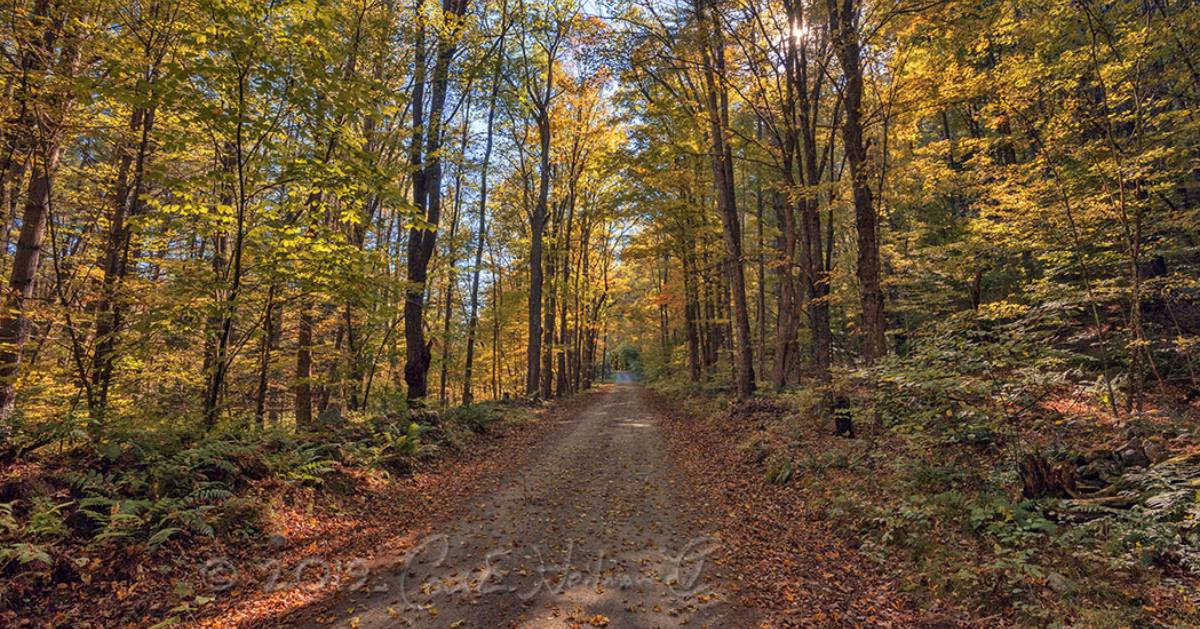 While the luxurious accommodations make it tempting to just relax on your porch and savor the view, you will not want to miss out on the spectacular foliage that abounds while hiking, boating, and fishing.
Trout House Village provides guests with a list of nearby hiking trails upon check-in, which includes mileage and directions. Just behind the resort is a trail leading up the mountain to a fabulous panoramic lake view. The Look Out Hike is only 1.2 miles round-trip from your cabin. You won't want to miss out on this short hike, and don't forget your camera!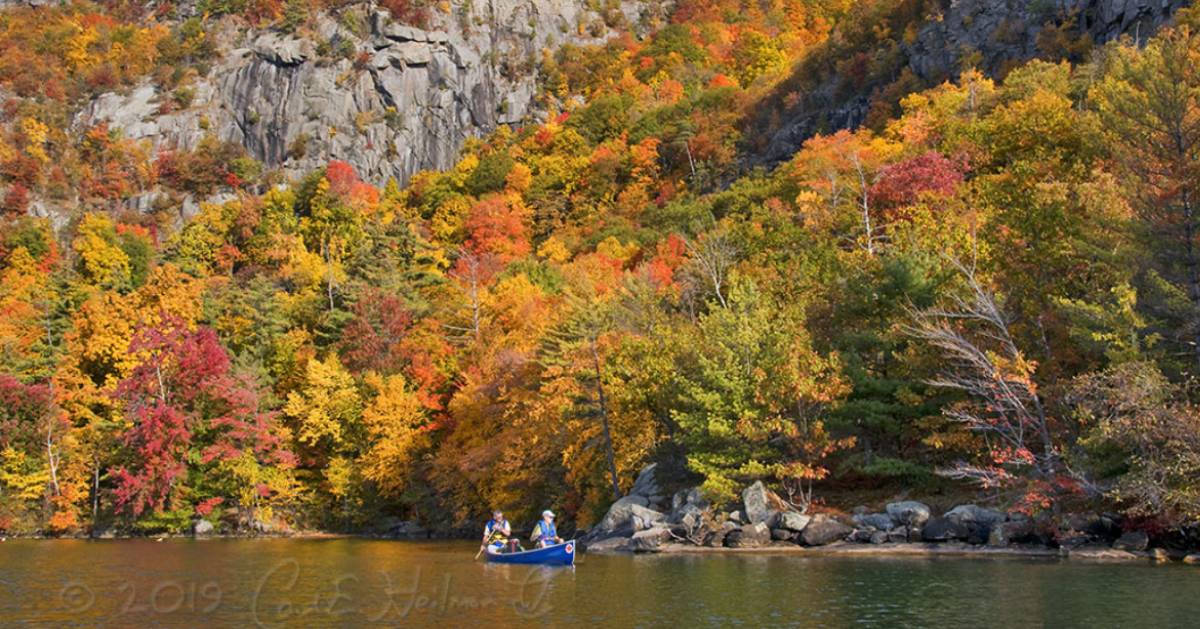 If you love boating or fishing, Trout House Village offers guests free use of their canoes, kayaks, rowboats, and paddleboats - or you can fish off the main dock, where you'll find comfortable Adirondack chairs. Lake trout, landlocked salmon, and several other species are open all season year-round. The pristine waters of Lake George and her Adirondack mountains adorn the Queen's northern peaceful shores.
Find Off-Site Adventures Close to Trout House Village Resort
Experience the Rail Trail Among Fall Foliage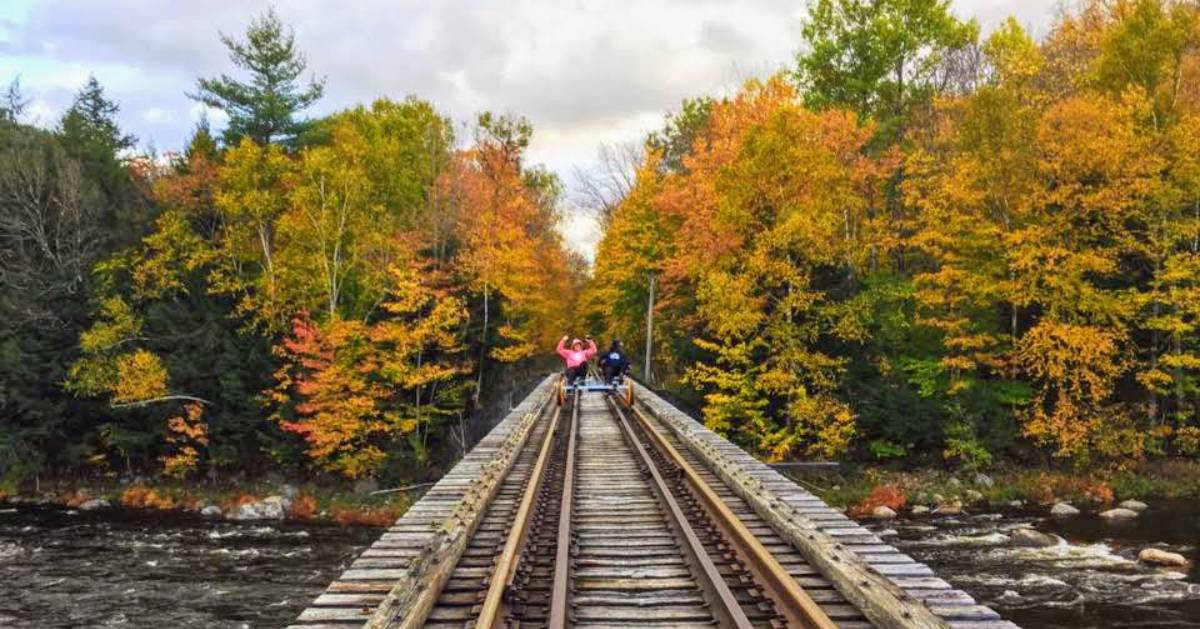 Photo provided
Have you heard about the Revolution Rail Co. in North Creek? When you're ready to venture beyond Trout House Village, this rail trail is a great new way to spend part of your fall getaway. Guests ride railroad tracks to explore a forest canopy section of the Adirondacks you'd never see otherwise.
North Creek is a scenic 40-minute drive from the resort, and this incredible activity is well worth the trip. Picture the two of you cruising through the Adirondacks, surrounded by fall foliage, gearing up to try this amazing new adventure! Revolution Rail Co. is typically open through the end of October.
Golf on a Gorgeous Adirondack Course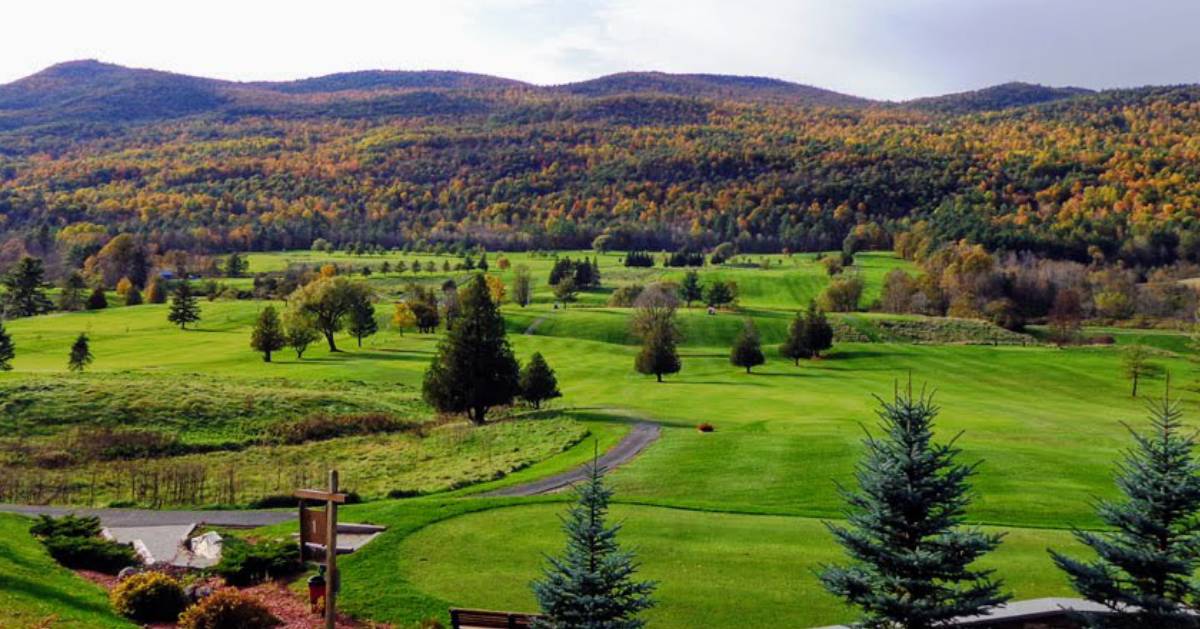 Photo provided
Ticonderoga is 10 minutes from Trout House Village, where you can find more fun things to do with your partner. Golfers, bring your clubs and enjoy a round of golf at one of our country's most historic golf courses at the Ticonderoga Golf Course. The picturesque scenery is amazing and Trout House guests receive 10% off the already low off season rates.
Five Nations Golf, just north of the Ticonderoga Golf Course, has a driving range, mini golf, and a fire pit where you can enjoy beer, wine, or soda while taking in the fall foliage.
Here's a great idea while visiting Ticonderoga: Visit historic Fort Ticonderoga and take the ferry over Lake Champlain to Shoreham, Vermont. This is a scenic, seven-minute crossing.
Go Apple Picking at a Local Orchard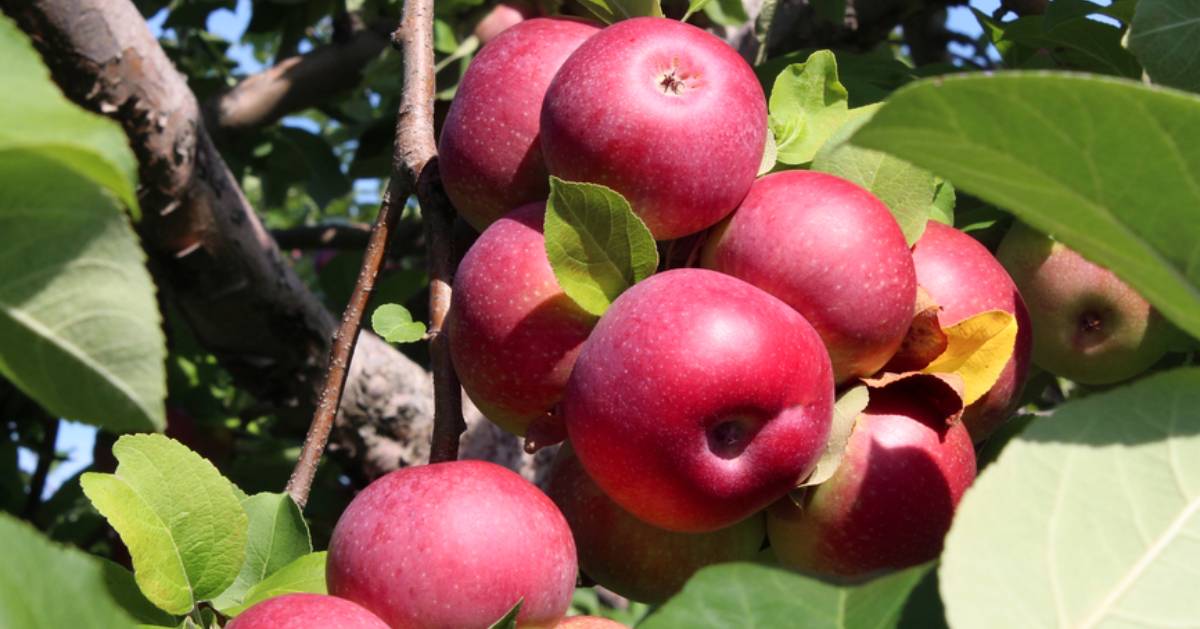 Just north of Ticonderoga is Crown Point, where you'll have fun apple picking at Gunnison Orchards. They have a bakery on site with cider doughnuts, fruit pies, and more treats you can take back with you to your cabin. There's a quaint gift shop with a variety of local items, so you can pick up a souvenir to remember your fall getaway.
Plan Your Romantic Fall Getaway Today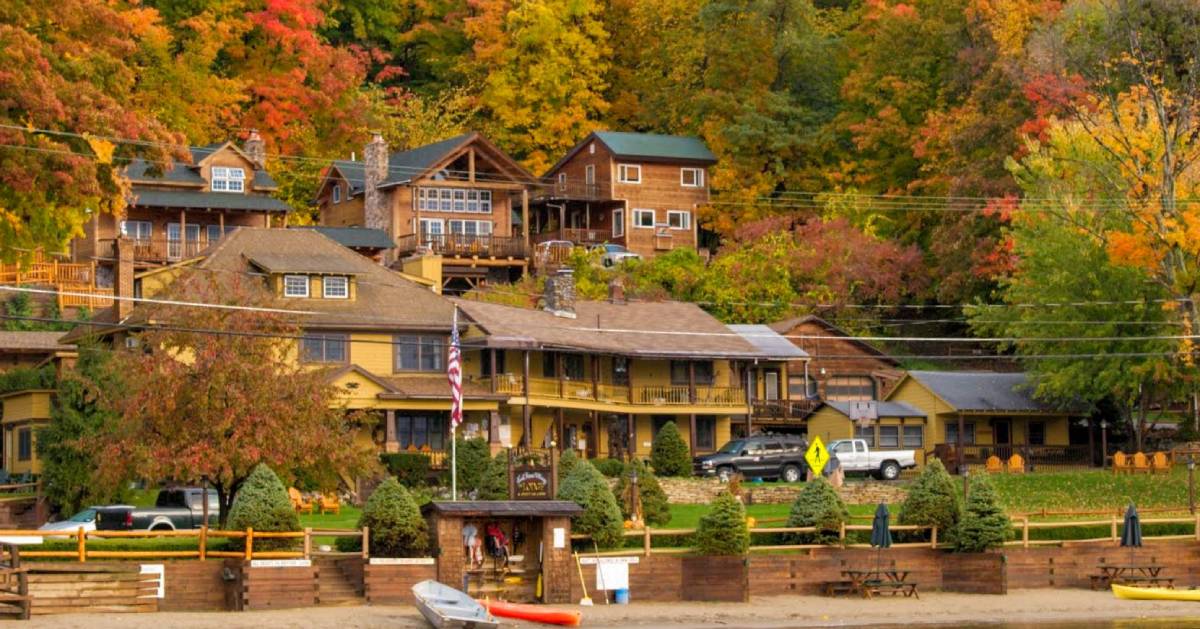 Experience the ultimate in Adirondack luxury at the Trout House Village Resort. The Patchett family has been welcoming guests for nearly 50 years. Unrivaled quality, charm, beauty, and hospitality will have you coming back time and time again.