A Spotlight on Lake George Escape as a Midweek Camping Destination
Content sponsored by Lake George Escape
Camping is all about escaping into the great outdoors, but at Lake George Escape in Diamond Point, you don't have to leave behind the conveniences of home. At this Adirondack campground, guests can enjoy the beautiful woods and meadows from the comforts of a fully equipped cabin or their own RV.
It's the ideal setting for a peaceful midweek vacation, which offers a quieter camping experience, and allows you to relax and reconnect with nature. Whether you want to camp in a family-sized cabin, in your RV, with your pet, or on the water, there are plenty of options for your midweek stay at Lake George Escape.
Discover Hotel-Style Accommodations in a Comfortable Cabin Rental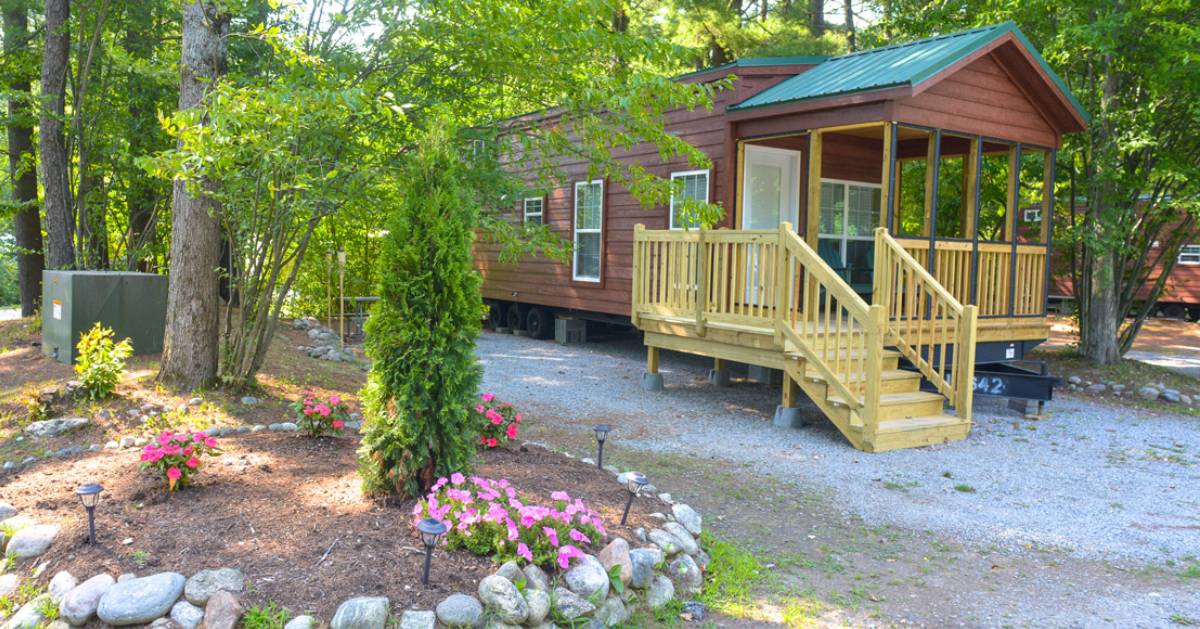 The campground prides itself on providing exceptional lodging, and in recent years, they've focused on upgrading and adding new cabin rentals to ensure guests are completely comfortable during their stay. These cabins stand out for their hotel-style accommodations and modern amenities that go well beyond the traditional camping experience.
Lake George Escape is home to over 60 cabins, and according to General Manager Patrick Welton, they are best described as "a hotel room in the mountain[s] where you can wake up to the openness of the fresh mountain air."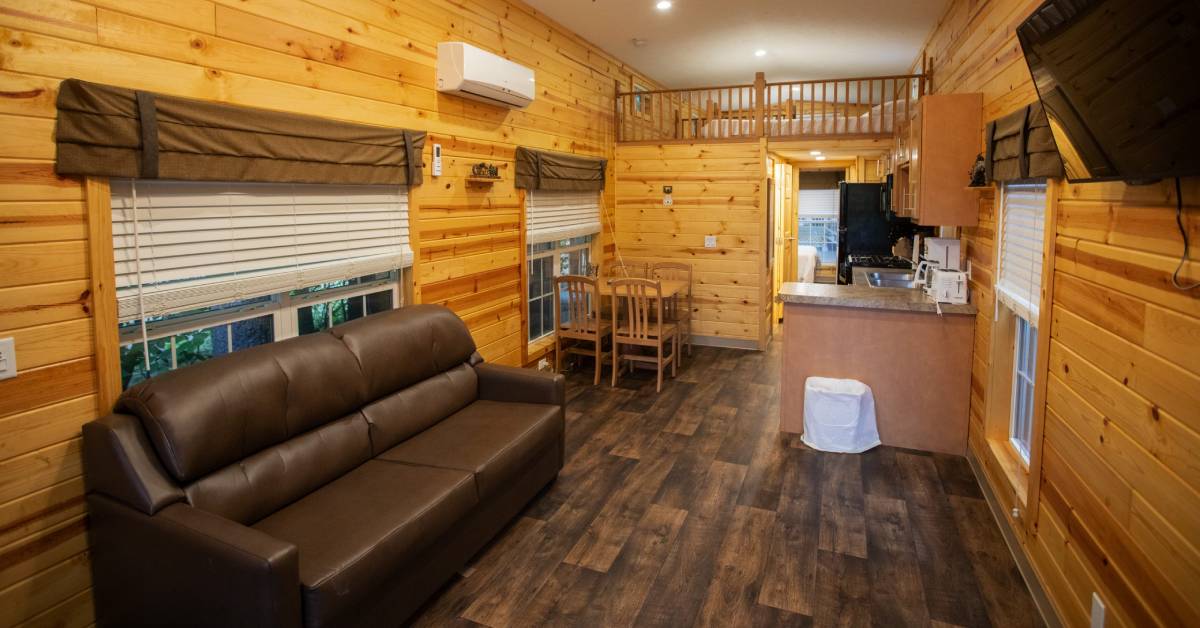 All of the cabins are fully equipped with small kitchens (propane stove, microwave, refrigerator, utensils, and more), bedroom linens and towels, cable TV, a shower and bathroom, and other amenities. These "outdoor hotel rooms" come in a variety of sleeping configurations, and they can easily accommodate a group of 4-8 people.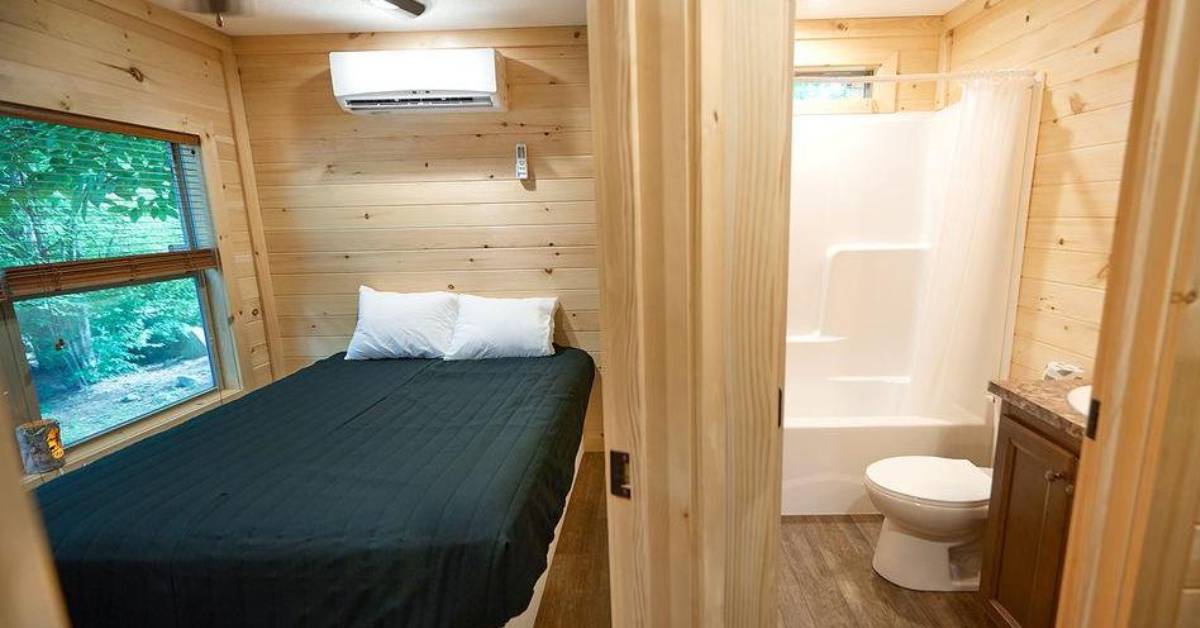 Are you interested in renting a cabin? Not only will you save money by booking a midweek getaway, but you can look forward to sitting around the cabin's outdoor fire ring, listening to the crackling flames, and soaking up the serene surroundings before retreating to your vacation home in the Adirondacks.
Park the Family RV Under a Lush, Leafy Canopy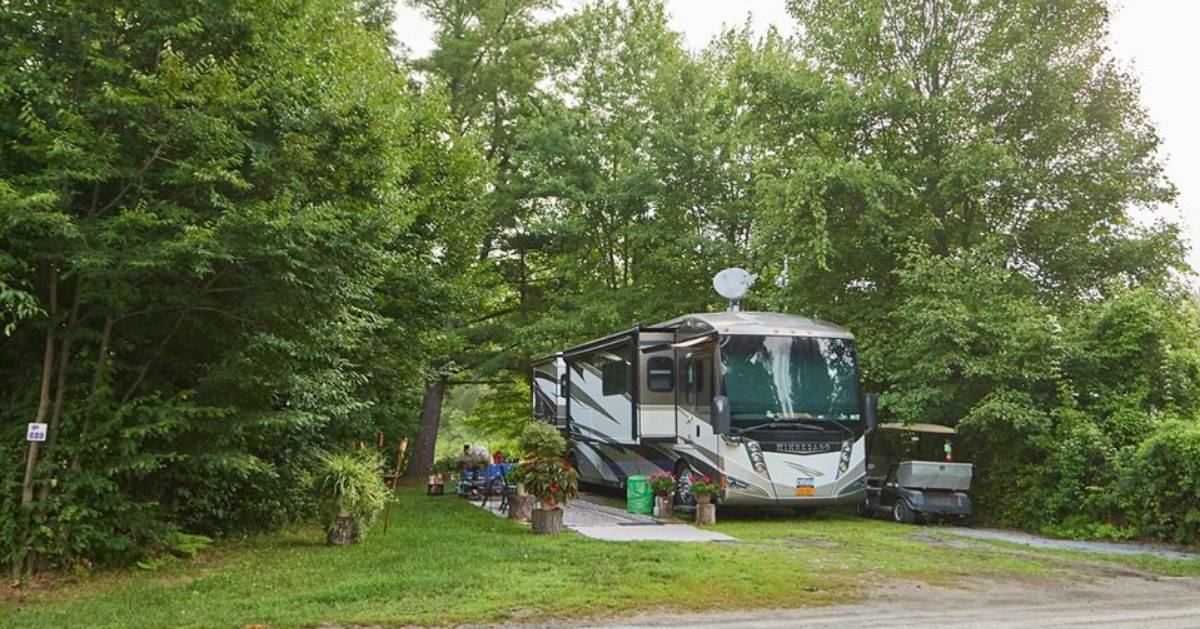 Bring the conveniences of home along for the ride when go RV camping at Lake George Escape. What makes the campground a popular choice among RV owners is that a lot of the RV camping sites are located under leafy canopies or next to a winding brook or creek, so you'll be surrounded by nature throughout your vacation.
Most importantly, Lake George Escape can accommodate all of your needs. They have a large number of full hook-up RV sites and some with water and electricity only. Access to cable is available at many of them too.
During the reservation process, you can choose from a selection of easy-access clusters, pull-thrus, and back-ins. Rates are affordable, especially when you stay midweek.
Plan a "Pawsome" Camping Trip With Your Best Furry Friend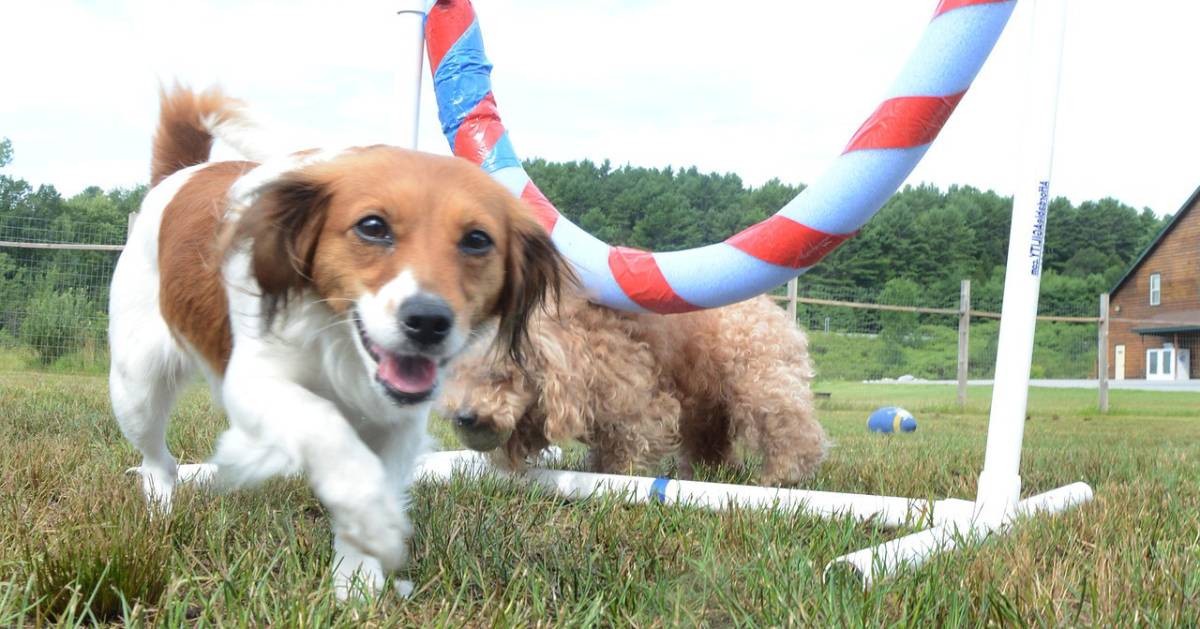 Pet owners rejoice! You don't have to leave Fido at home when you go camping at Lake George Escape. Another perk of staying at this campground is that they are dog friendly, and up to two well-behaved pets are welcome in your cabin rental (dogs permitted in all cabins) or at your campsite for a small fee.
While you're there, you can go for dog walks on the trails, or bring your furry friend to the on-site dog park, nicknamed the Bark Park. This dog park is open daily, and it features fenced-in areas for small and large dogs, as well as a new agility course. Stop by, socialize, and let your dog burn off some extra energy.
Spend Your Vacation Days Gazing Out Over the Water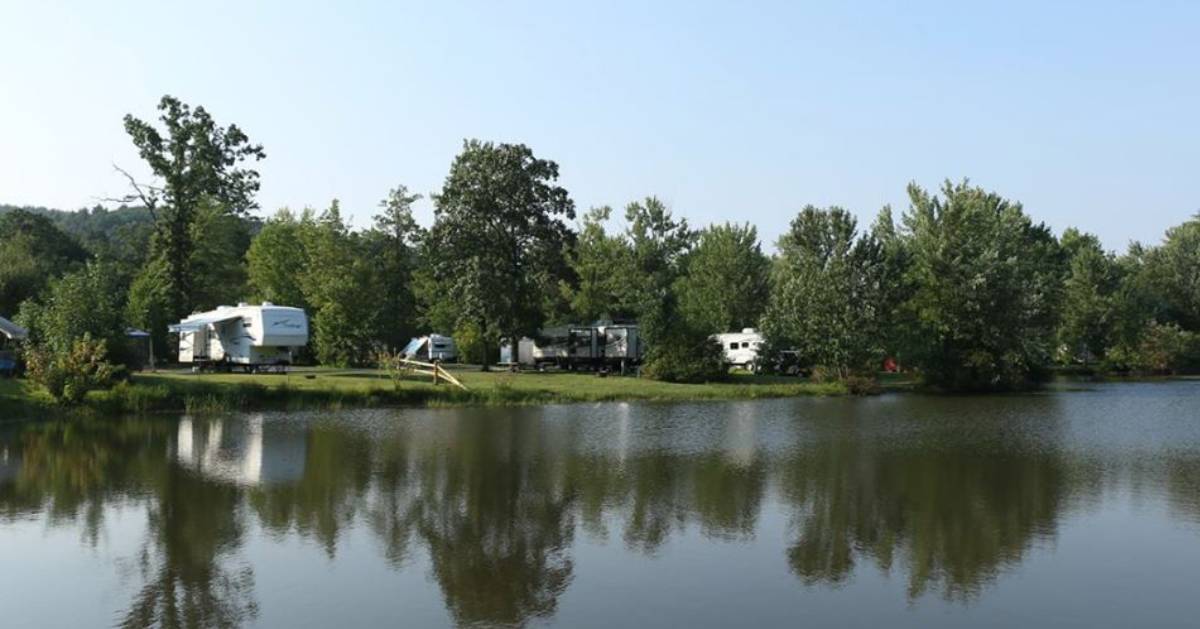 How would you like to wake up in the morning to scenic views of the waterfront? If your perfect vacation is one by a pond or river, then Lake George Escape has the campsite for you. They offer a variety of RV and tent sites along Frog Pond and the Schroon River, which winds around most of the campground.
You can easily spend a few hours sitting by the shoreline, chatting with family and friends, or even fishing. Welton told us there's an excellent fishing spot on the Schroon River near the beach (fishing license required), and another on Frog Pond (catch and release, no license required).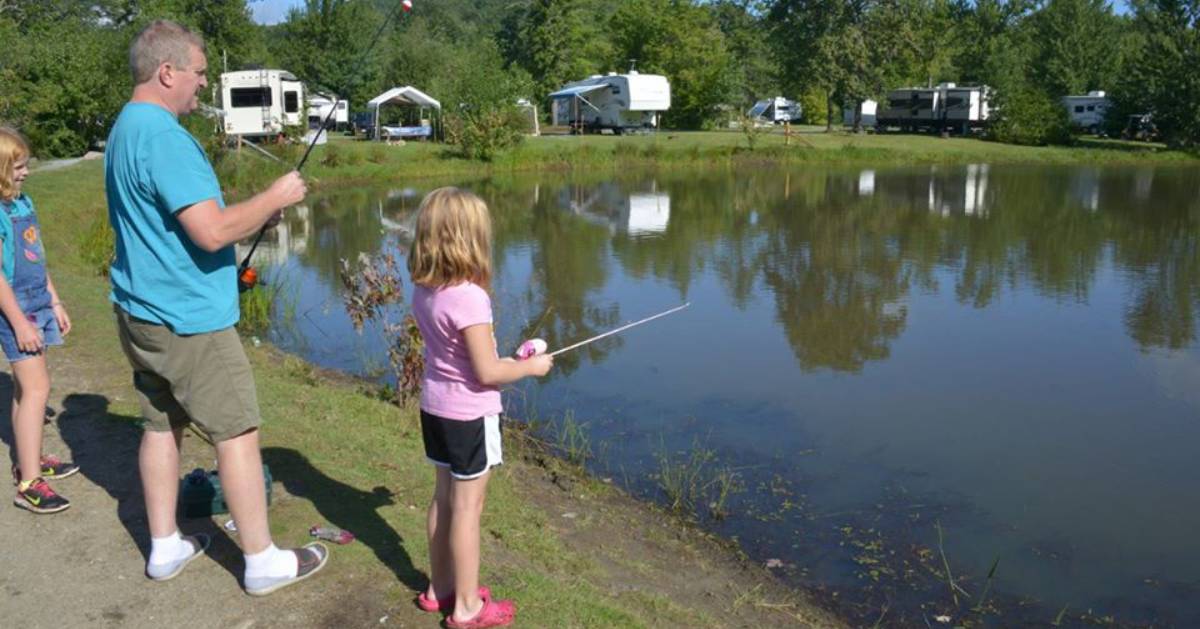 From Paddling to Mini Golf, Make the Most of Your Midweek Getaway
Although you can spend your entire getaway relaxing, Lake George Escape is a family camping resort, so take advantage of the on-site activities. Guests can swim at the private sandy beach, go paddling or tubing on the Schroon River, play a round of mini golf ($2 per person), roast marshmallows at the campfire, and more. You can do as much or as little as you'd like.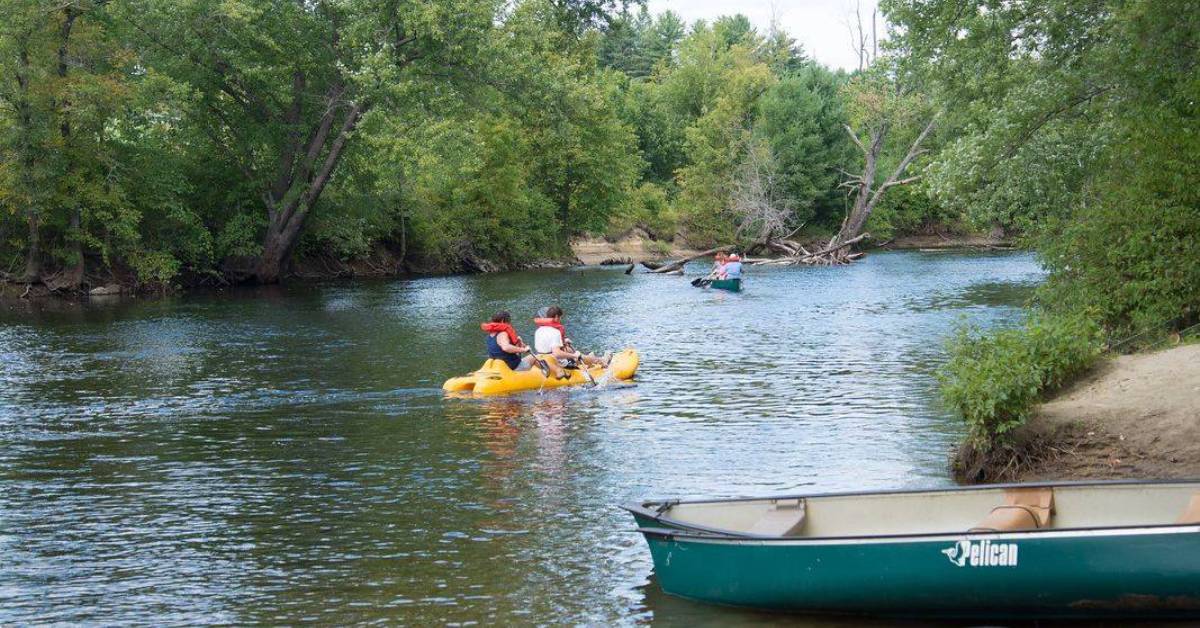 Are you ready to have an unforgettable camping trip? Decide on the best camping experience for you and your family, and book your midweek getaway at Lake George Escape today.