A Breakdown of Long Island Campsites
Long Island, a 100 acre island in Lake George's Southern Basin, features nearly 90 campsites, making it a popular place for camping.
Since it can be difficult to figure out which campsite is best for your group, we've listed highlights of different Long Island campsites below. Book your site of choice on ReserveAmerica's website early, because they fill up fast!
Questions? Ranger Station: 518.656.9426 | Reserve America Reservations: 1.800.456.2267
Campsite 1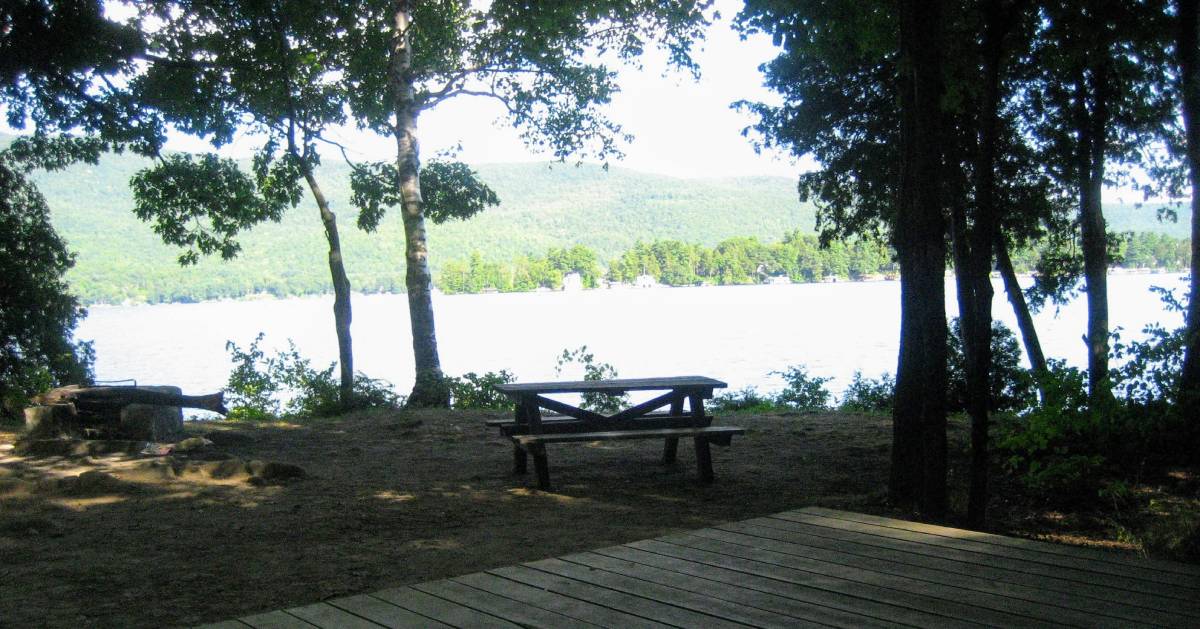 Campsite 1 is a small, private, sunny site on a point on the island's eastern side. It gets a lot of sun in the morning and has an eastern view. The tent platform is 12 x 14 feet and the dock length is 24 feet, with a maximum boat length of 25 feet. This will take a sail boat.
Campsite 2A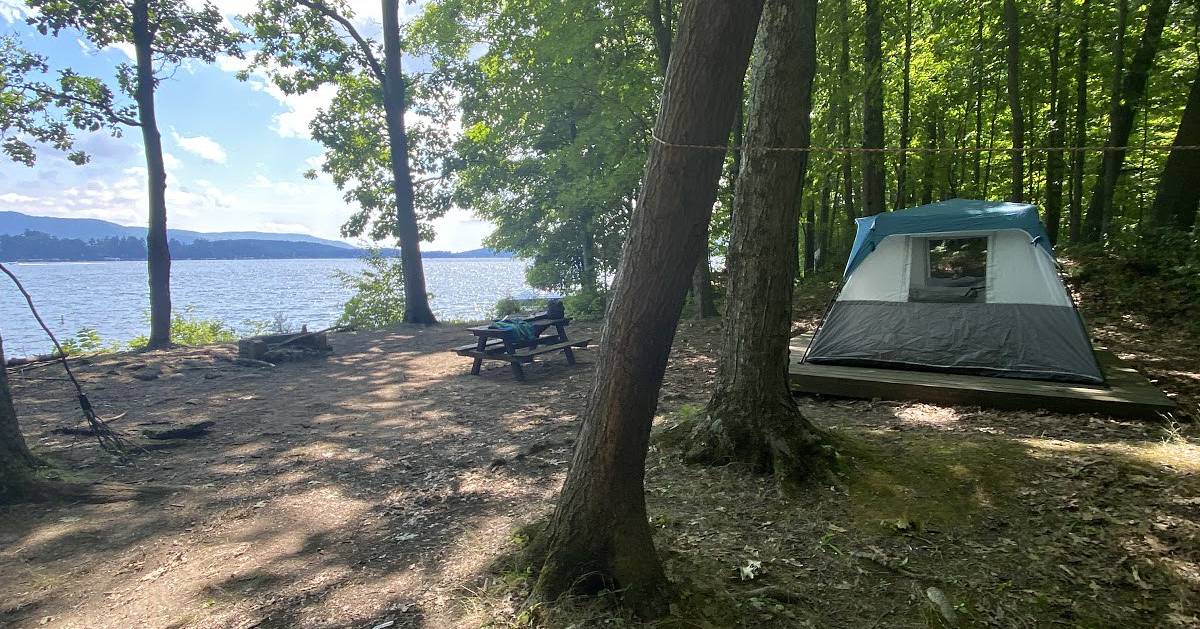 Campsite 2A is flat with a little vegetation, but open to the sun with great views in the morning. It's close to the ranger station for an extra sense of comfort.
Campsite 5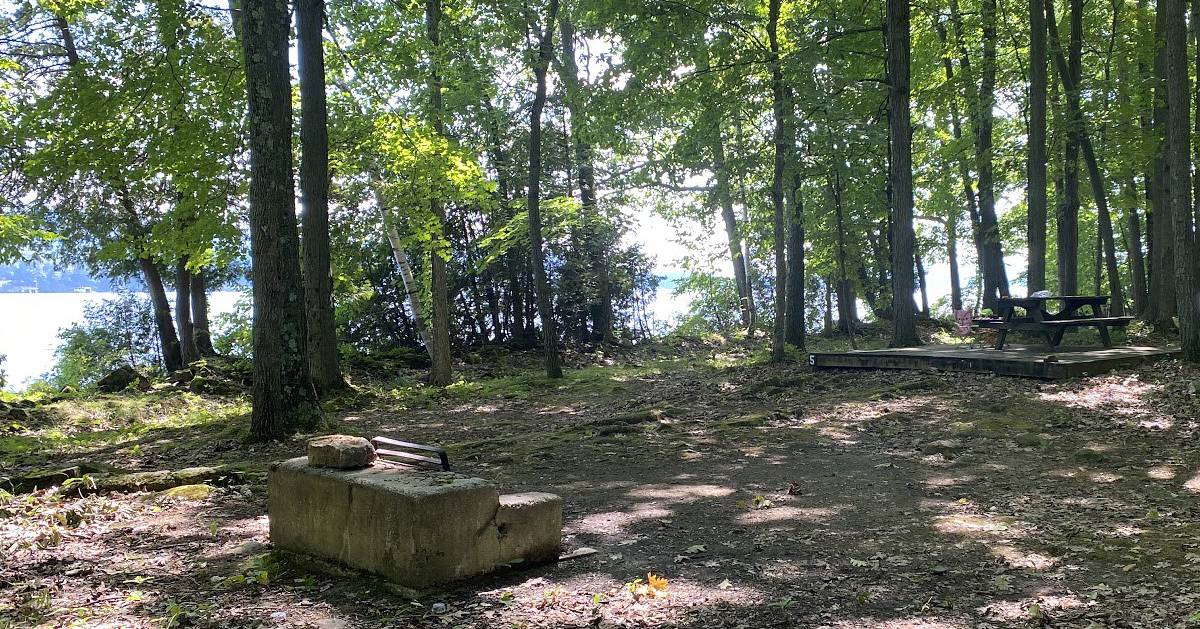 Campsite 5 has a platform with a lot of space in front of the fireplace for a large group of people. It's shaded with morning views, and pairs nicely with Campsite 4.
Campsite 6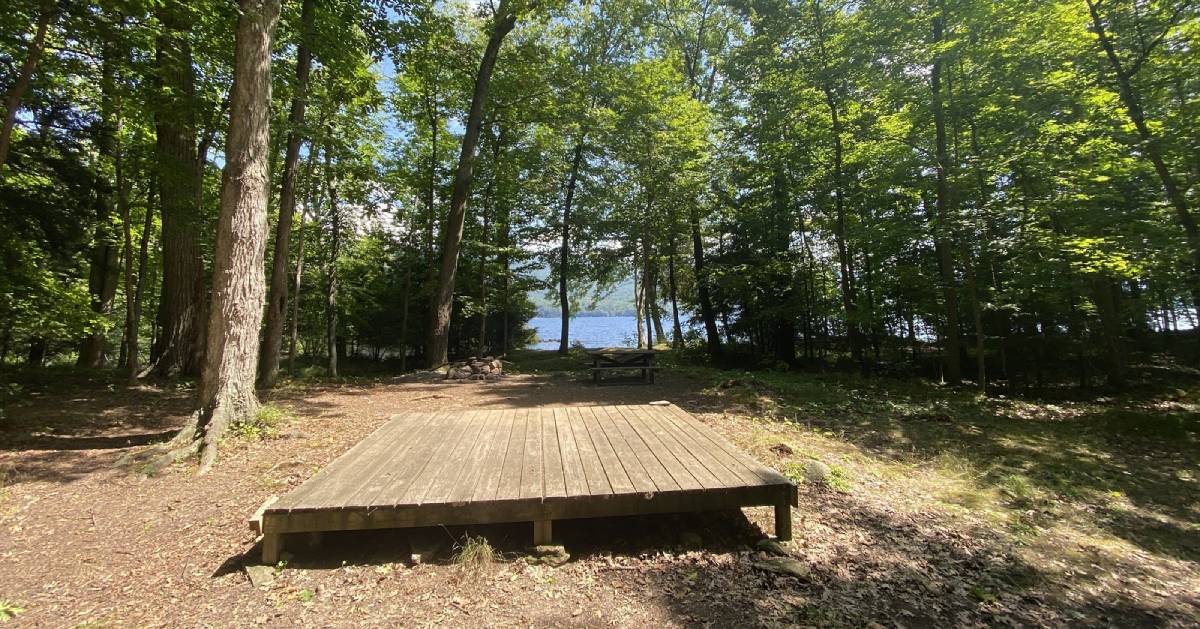 Campsite 6 has gorgeous views and morning sun. This is a large, shady site on a shallow, rocky cove. The tent platform is 16 x 12 feet and the dock length 24 feet, with a maximum boat length of 25 feet. This will take a sailboat and shares a dock with Campsite 5.
Campsite 7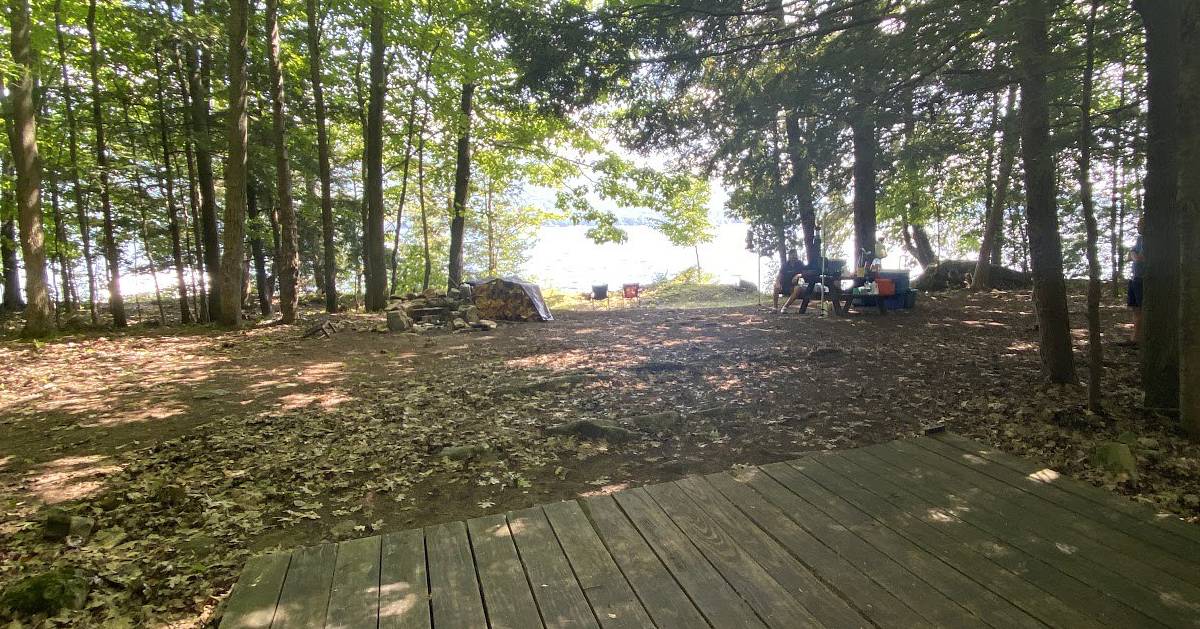 Campsite 7 has an ideal spot to place chairs by the lake, and there's plenty of room for both sun and shade.
Campsite 8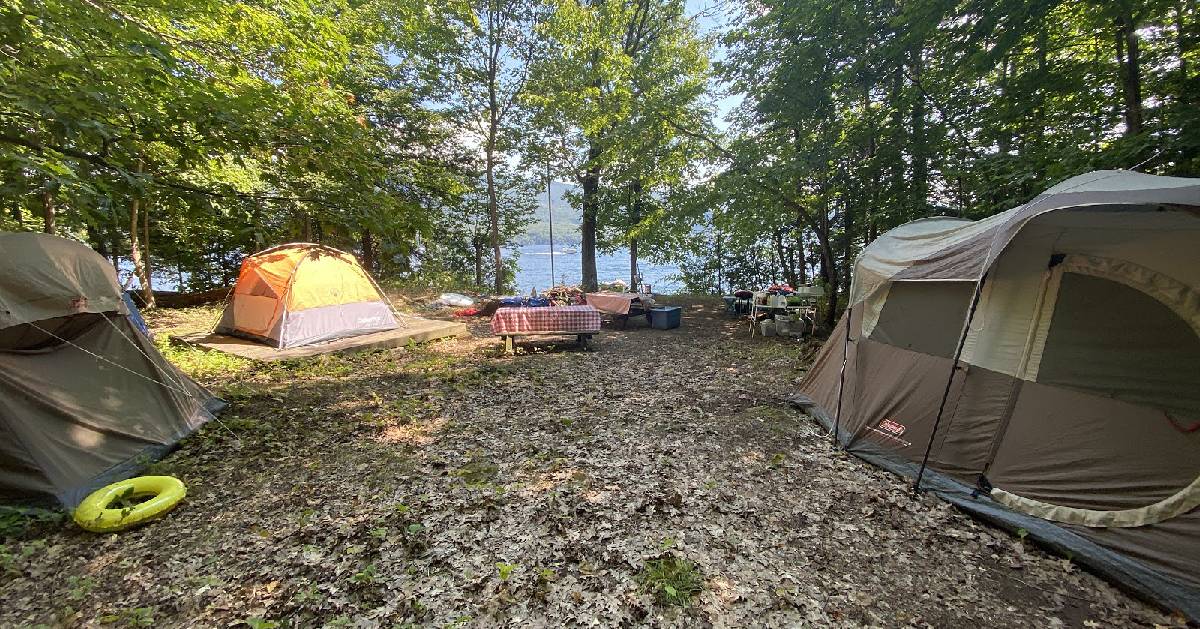 There's lots of space for tents at Campsite 8, along with a flat area for picnic tables and a campfire that looks out over the lake. Wake up to a morning sunrise and lake views.
Campsite 9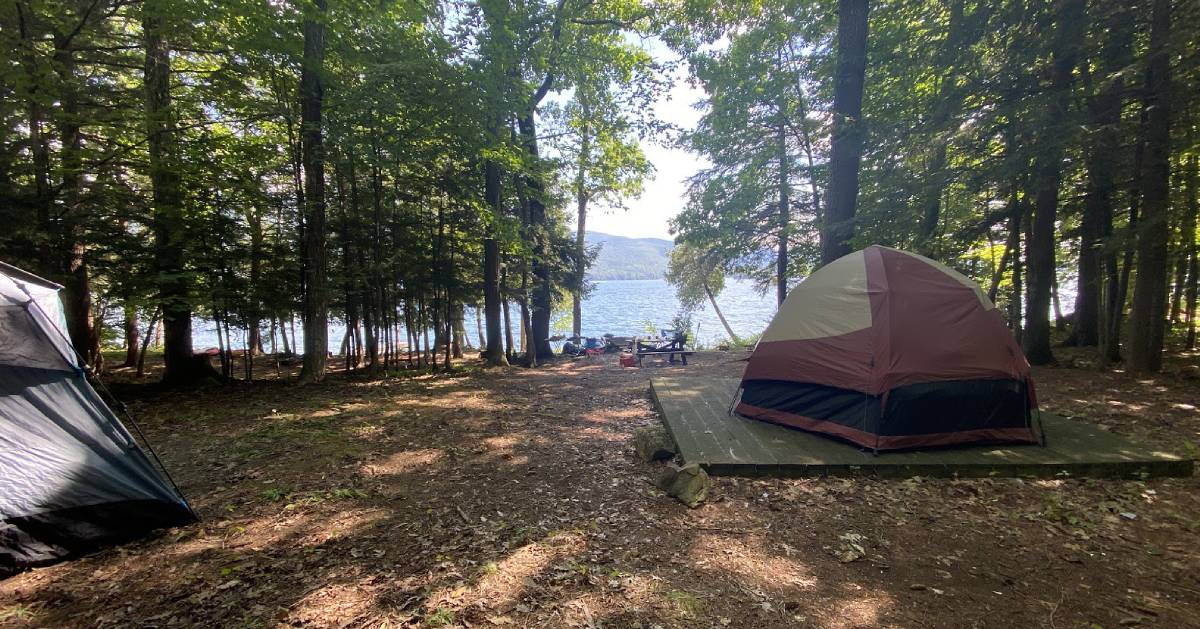 Campsite 9 has a couple of flat spots for two to three tents and a campfire that has an open view of the lake. It's close to the two sites next to it, but separated by trees.
Campsite 10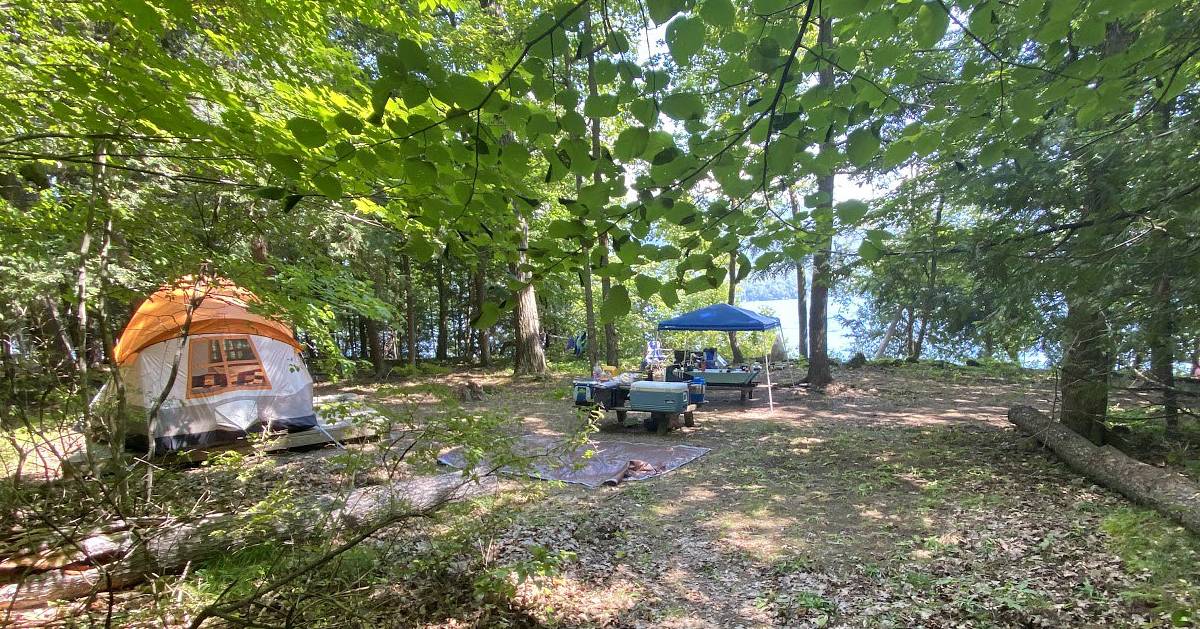 Campsite 10 has a new dock it shares with Campsite 9, as well as a fireplace that also faces the lake. There's a tent platform and a shady spot dappled with sun.
Campsite 11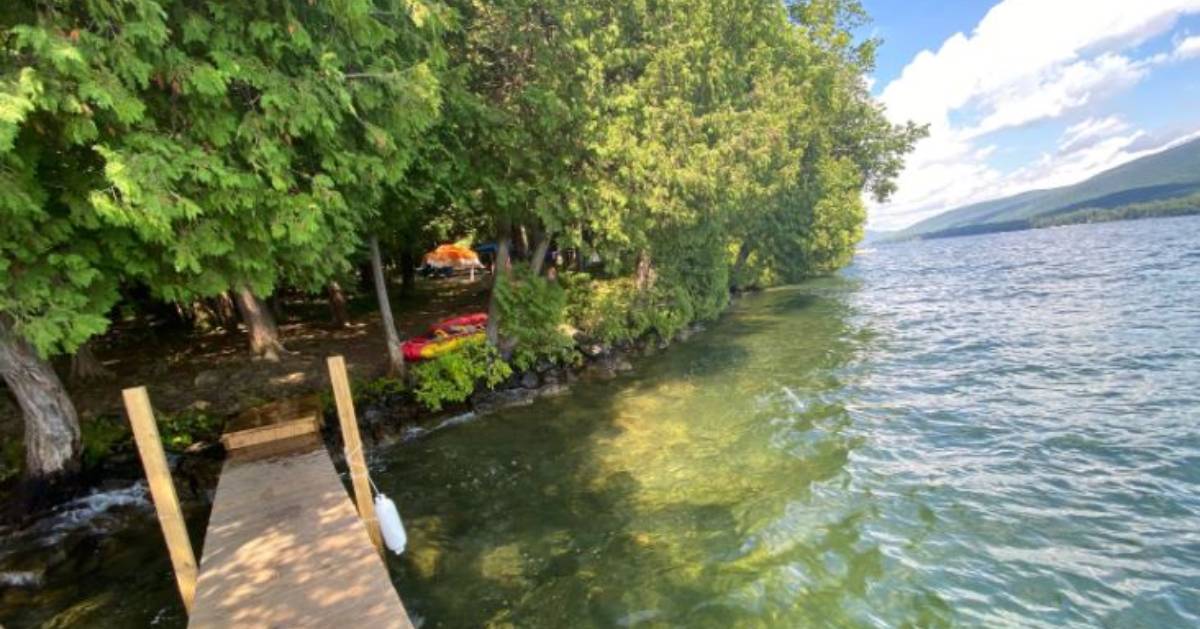 Campsite 11 has wide open views of the lake from the fire pit and an open area for sitting, surrounded by trees, and separated from the other campsites.
Campsites 19 & 20
Campsites 19 and 20 are great for families. This is the only part of the island that has some kind of embankment, so it's nice if you have young children and are concerned they might wander into the water.
Campsites 29 & 30
Campsites 29 and 30 are ideal for young adults who would like space away from other campers. The shady, rocky sites aren't too level, but are private. It's worth nothing that there are cliffs to the water (which makes it more dangerous for kids), and there is no easy entry into the water for kids.
Campsite 31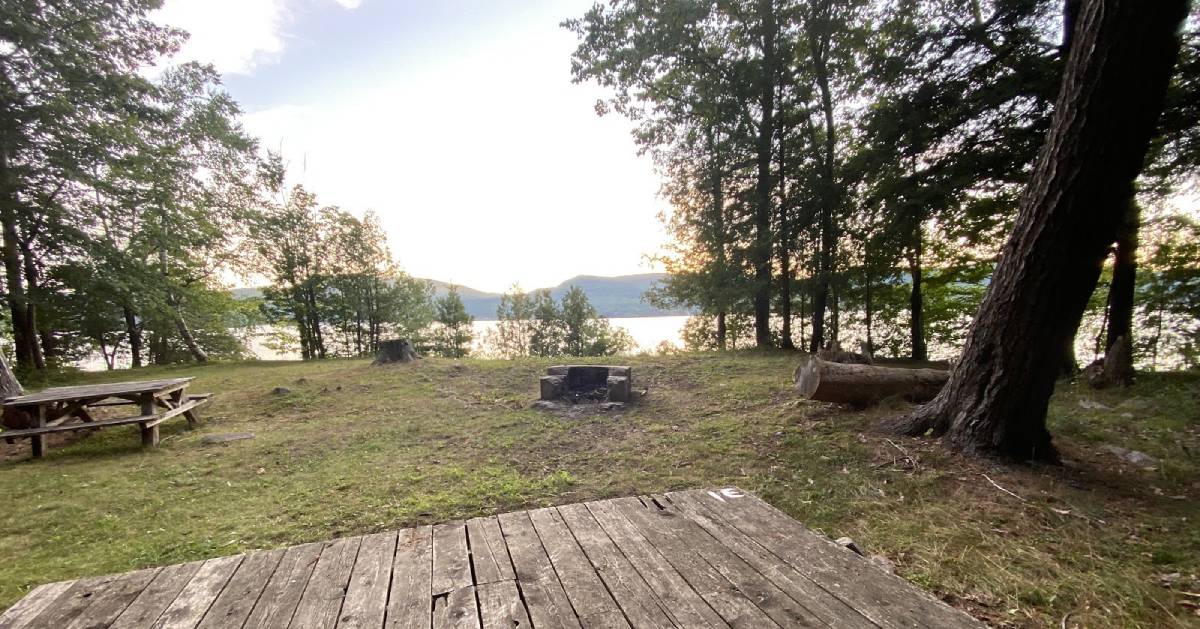 Campsite 31 is across from the Lake George Club (on the island's western side) and is a wide open grassy site with almost no shade. It's great for sun lovers and offers a beautiful view of the sunset.
Campsite 32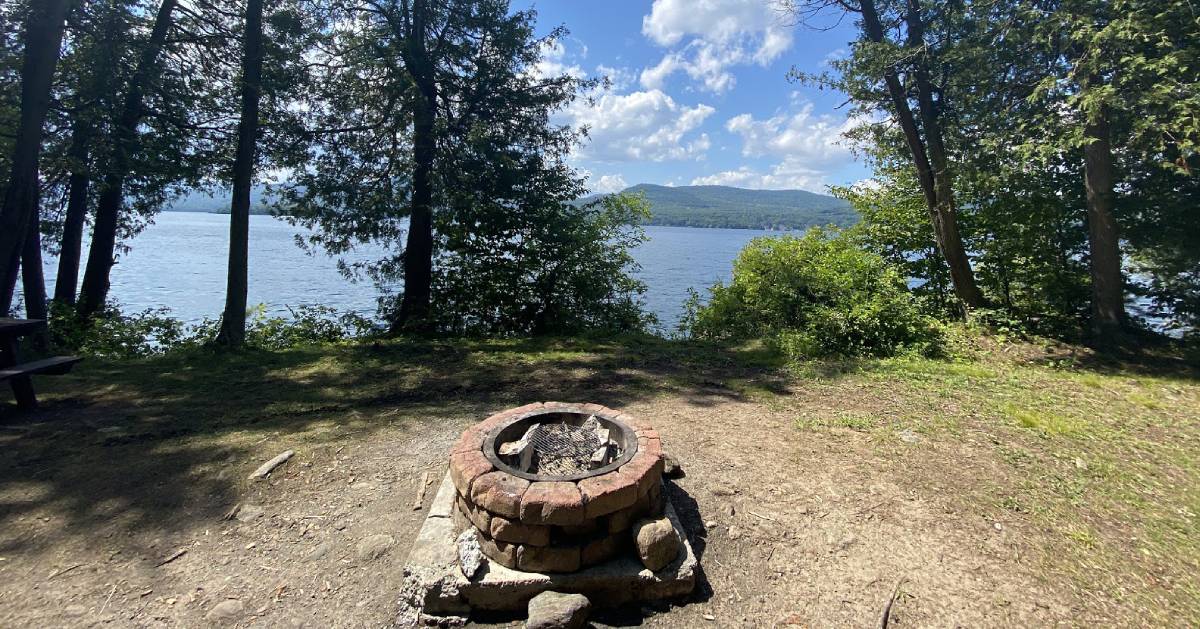 Campsite 32 is a sun lover's paradise with open views to the water and sun splashing onto the fire pit. There's a nice platform and privacy from the neighbors.
Campsite 33
Campsite 33 has plenty of space and privacy from the nearby campsites.
Campsite 34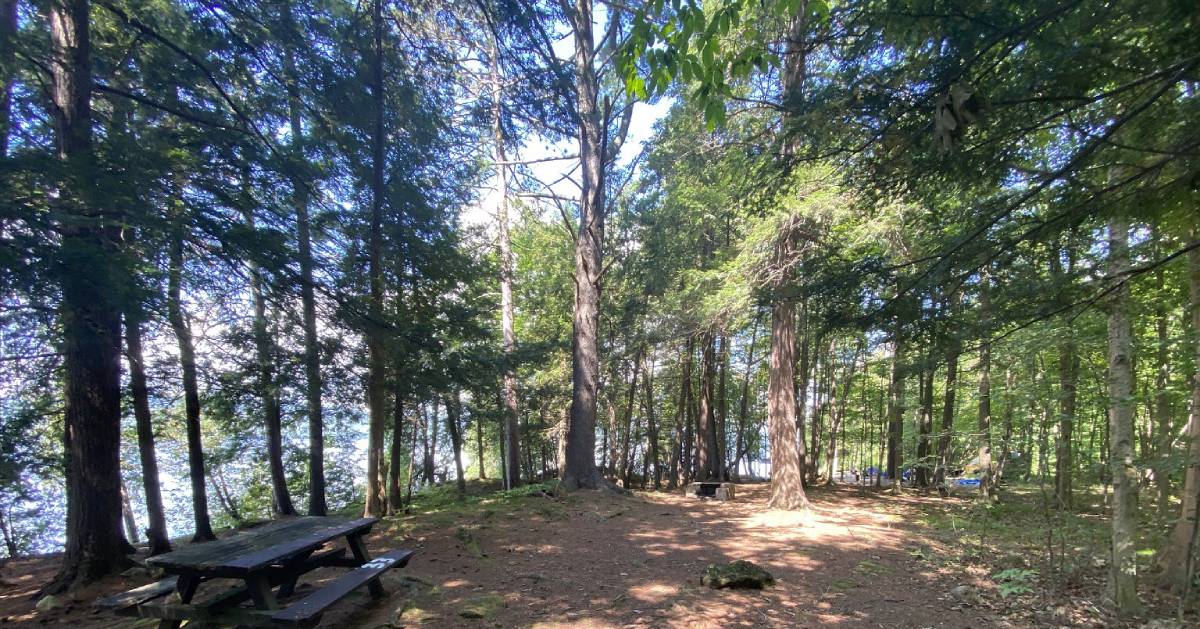 Campsite 34 is surrounded by trees and is close to Campsite 33; the two pair nicely together.
Campsite 35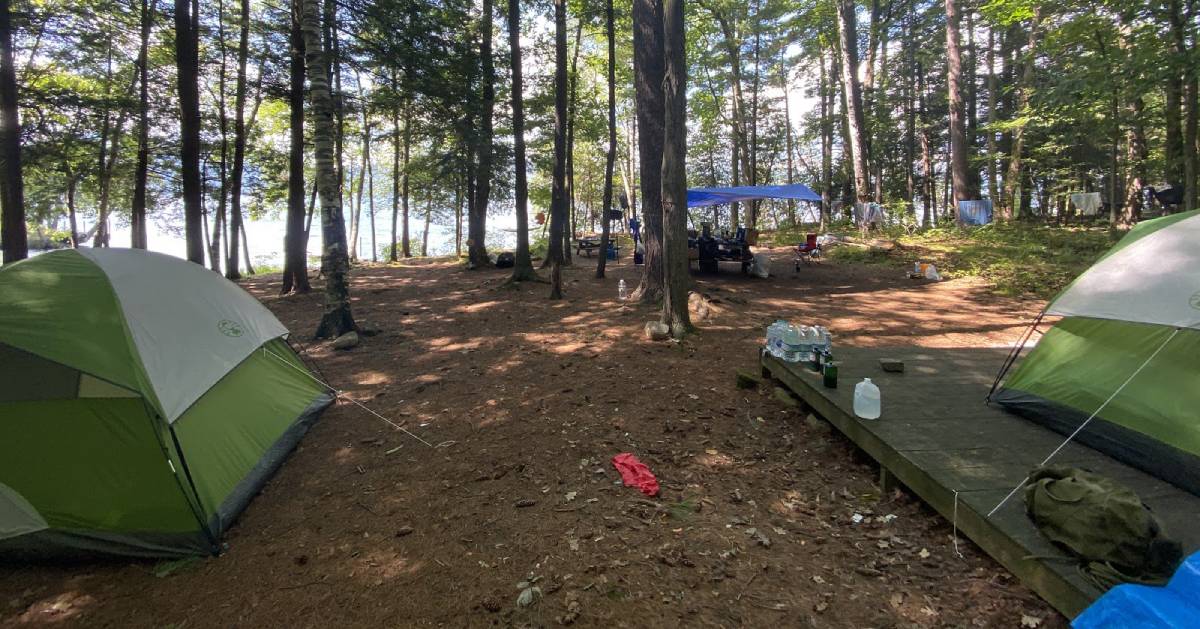 Campsite 35 is close to Campsite 36, and the two pair nicely together as they share a three-post dock.
Campsite 36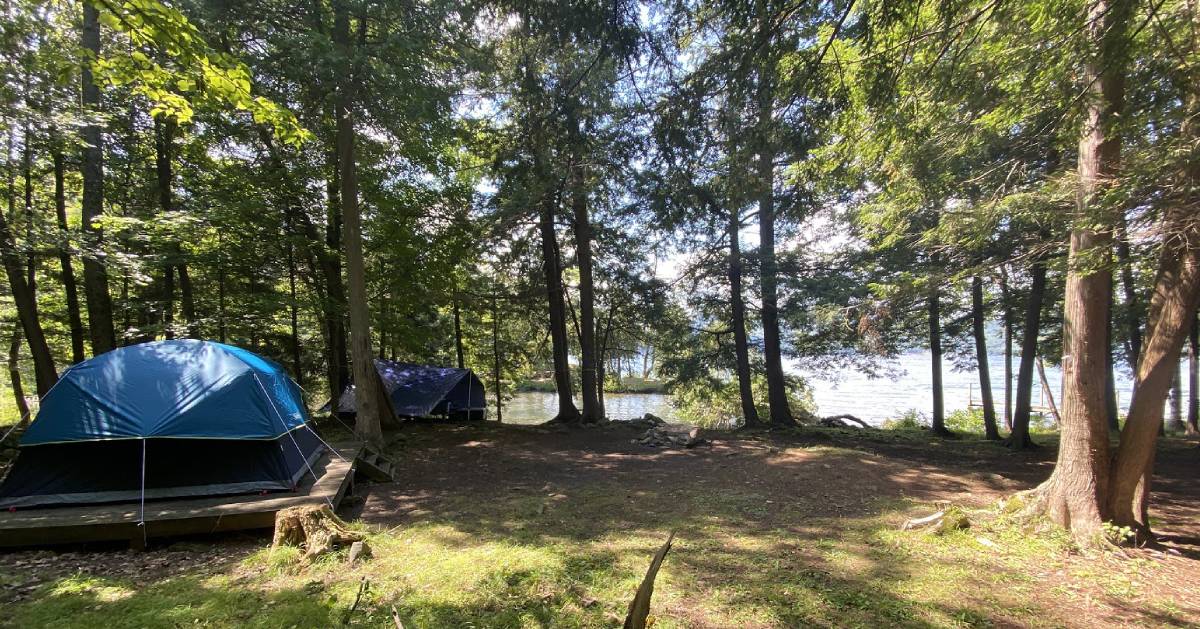 Campsite 36 is in front of an inlet area and has a nice mix of shade and sun.
Campsite 37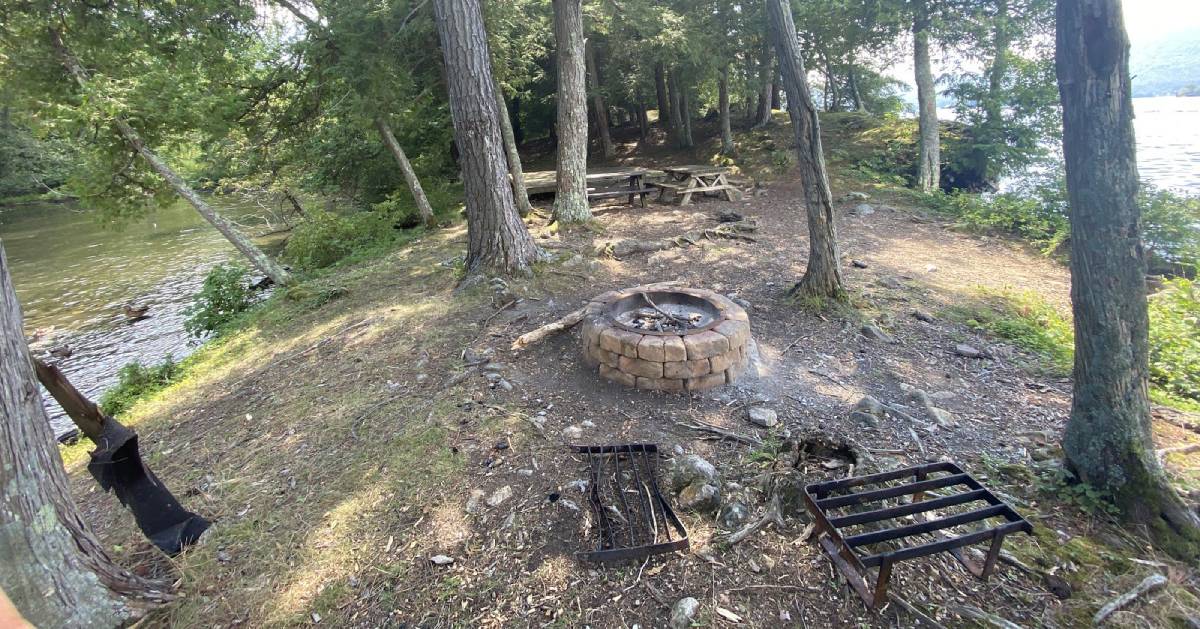 Campsite 37 has a shore dock and open breezes from either side as there's a nice inlet. It is adequately spaced from neighbors.
Campsites 40, 41 & 42
Campsites 40, 41, and 42 would make a great combination of sites for a large group of families with young children. This side of the island (the western side) gets afternoon sun and all three sites are flat and spacious. Although shady, there are areas with sun. There is no platform, but there is a great area for kids to enter the water.
Campsite 44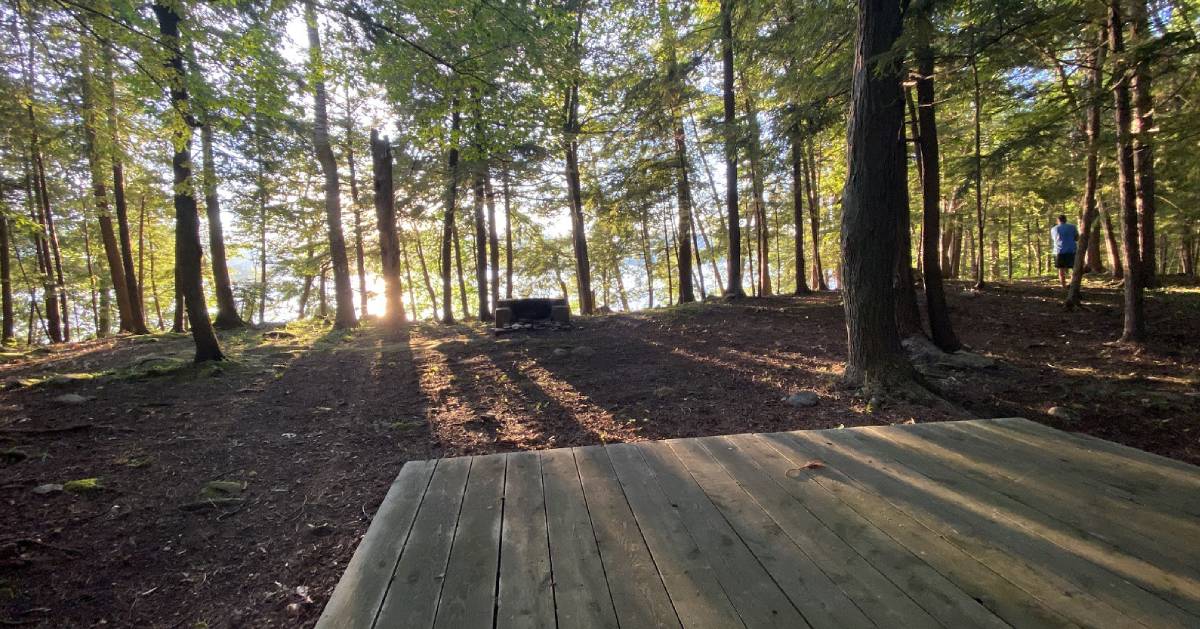 Campsite 44 is up from the water about 10 feet and has a platform as well as a fire pit that overlooks the lake.
Campsite 45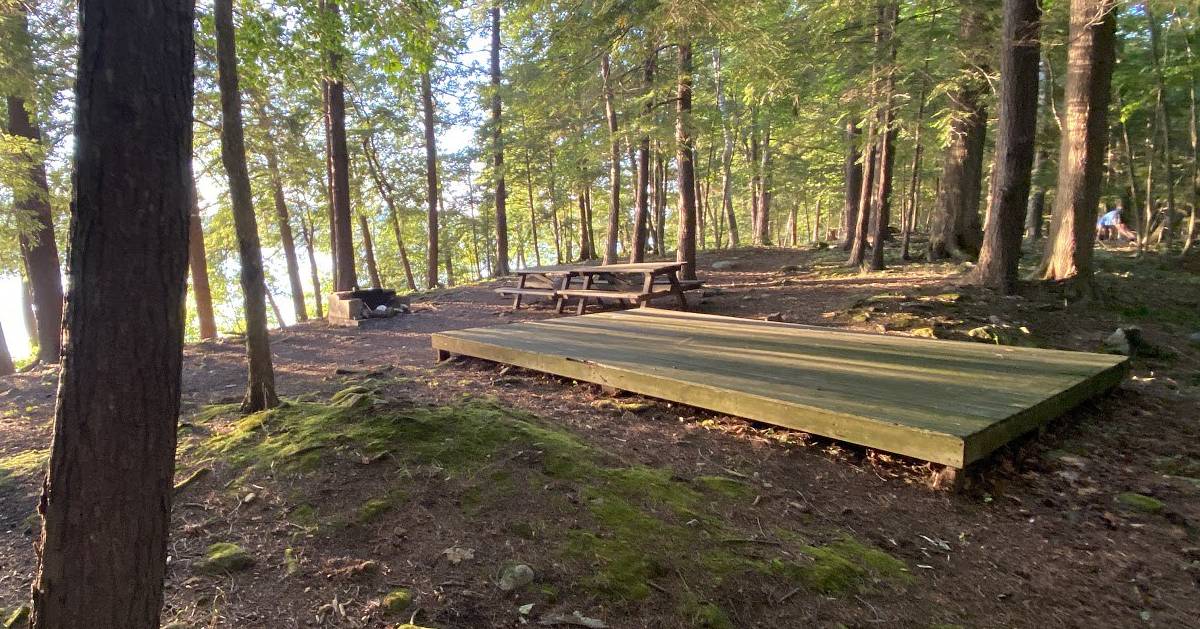 Campsite 45 is in the narrow part of the island, close to the walking path and has a large platform.
Campsite 46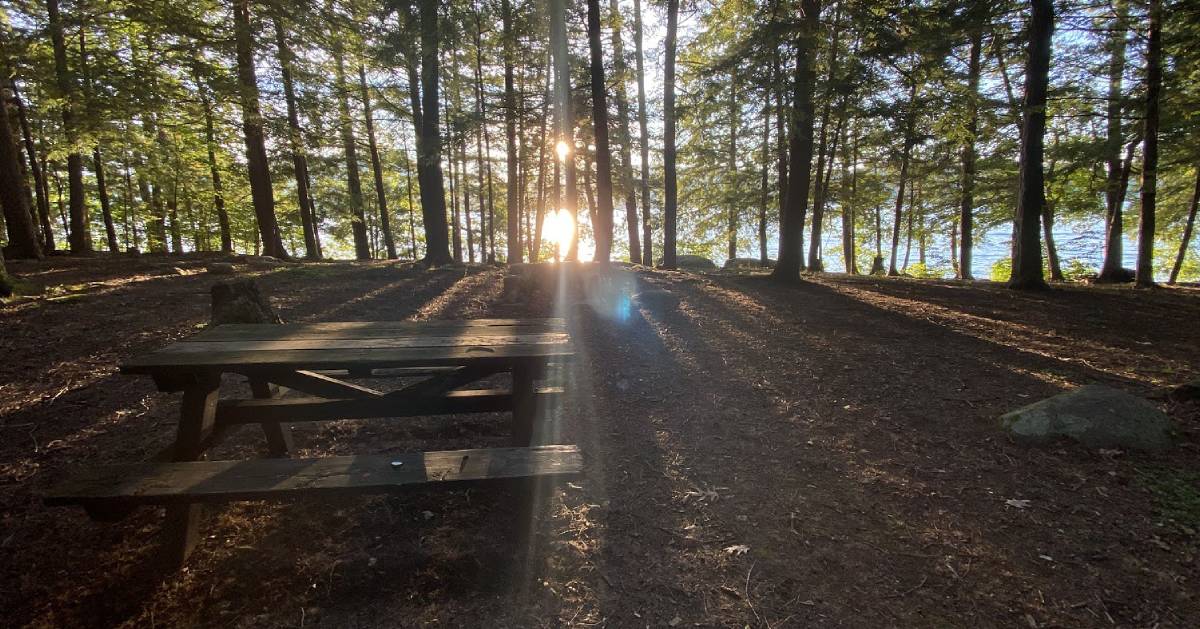 Campsite 46 is also in the narrow part of the island with no platform, but tons of space for tents, and is close to Campsite 45, which does have a platform.
Campsite 47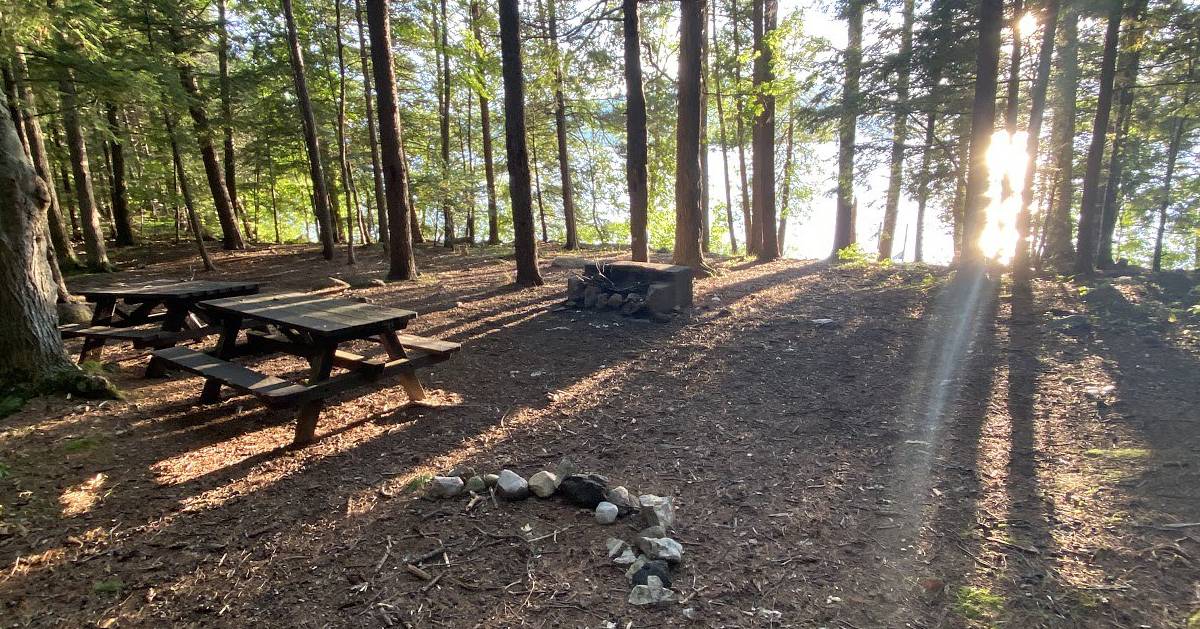 Campsite 47 is located directly in front of the dock, which is nice as you have less of a distance to carry your heavy equipment. It's also close to the walking path that runs through the island.
Campsite 48
Campsite 48 pairs well with 50 and the campsites on the other side of the island like 78. You can have one side of the island for morning sun, and one for watching the sunsets.
Campsite 49
Campsite 49 is flat, grassy, and the wind goes straight through the island in this section, making it less buggy than others. You can get a site across the way for friends, or this site also works well with Campsite 50.
Campsite 50
Campsite 50 is located in a narrow part of the island; it pairs well with 77.
Campsite 51
Campsite 51 is high up on the lake, is a great spot for paddleboarding or kayaking, and has a small island out front. There is no platform.
Campsite 52
Campsite 52 is a shady and private site on Goose Bay with a small cove. There is evening sun, but this is mostly a shady site. There is no tent platform. The cove has mucky water, so it's not an area that's ideal for swimming. It is large and flat, with room for more than one tent.
Campsite 53
Campsite 53 has a tent platform and a new, round fireplace. There's a great view of the sailing regattas on Wednesday nights that take place at the Lake George Club across the way. This is one of the sunnier campsites as it has a nice, wide opening to the lake due to some trees that fell over.
Campsite 54
Campsite 54 is in a large, wooded area and has a nice spot for a campfire that overlooks the sunset.
Campsite 55
Campsite 55 is in a wooded area with many spots for tents, and is set a bit on a ledge overlooking the west side of the lake.
Campsite 56
Campsite 56 is a huge area open to campsites around it, but is so large you don't need to worry about social distancing. There's plenty of space for tents and you'll be able to catch evening sun and a beautiful sunset.
Campsite 57
Campsite 57 is a large, flat site with shallow water. It's a shady site that gets afternoon sun and is great for sunsets as it looks southwest. There is no platform, and this site shares a dock with Campsite 56.
Campsite 58 & 59
Campsites 58 and 59 are ideal for couples tenting together. The sites are very close together, so it might be preferable if you know your neighbor. They're both sunny in the afternoon but with plenty of shady spots as well. Campsite 59 has views to the west and a tent platform, which is nice when it rains.
Campsite 60
Campsite 60 (The Point) is great for a single family. There are a few flat spots for tents and there's a platform. This site gets morning and evening sun, it's nice and breezy to keep bugs away, and there's a fun swim across the channel to the picnic island.
Note: Do not book Campsites 60, 61, or 62 unless you are an experienced boater, as you need to navigate shallow, rocky waters between Speaker Heck and Long Island.
Campsites 61 & 62
Campsites 61 and 62 are likely the deepest sites with the most locations for tents. Campsite 61 has a platform; Campsite 62 does not. The sites face across the channel to Speaker Heck, a picnic island.
Campsite 63
Campsite 63 is located on the island's southeastern point. This is a great site to set up a hammock and relax. There is morning and afternoon sun, and a swift breeze. There is a little more varied terrain, and not as many entry points to the water for small children. If you're traveling with friends, Campsites 64 and 65 pair nicely with this one.
Note: You can go to the southern tip of the island from Campsites 60 to 63, where you'll find a shallow channel you can walk across to visit Speaker Heck, a nearby picnic island.
Campsite 66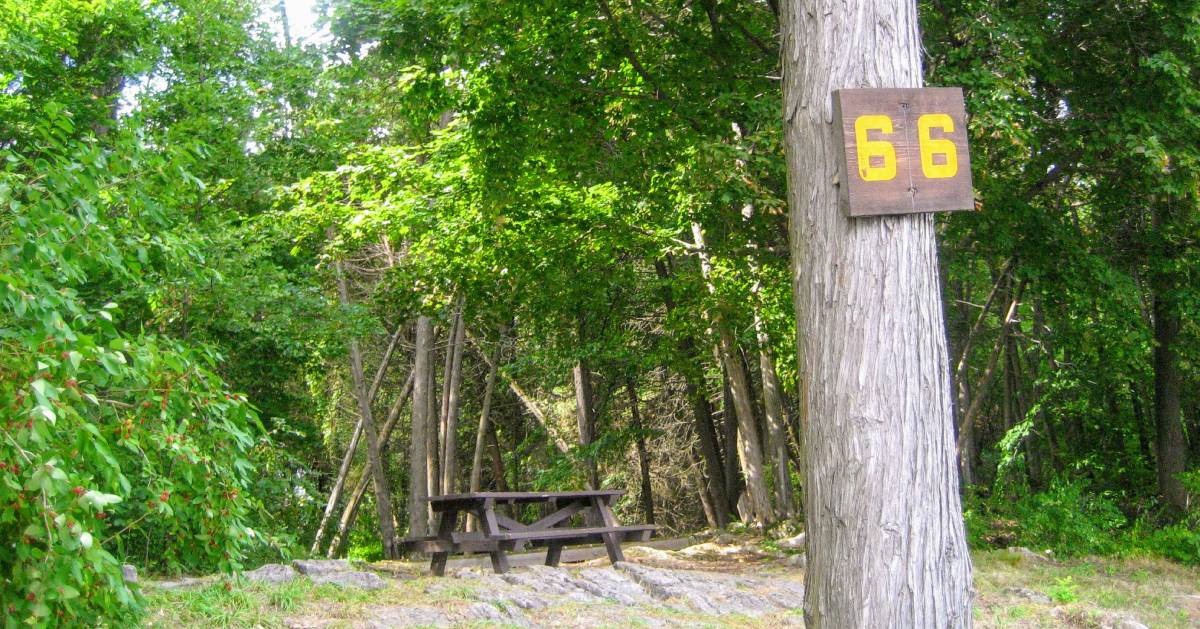 Campsite 66 is a sunny site with the lake right in front of you for cooling off. There is a lot of morning sun, and a tent platform.
Campsites 67 and 68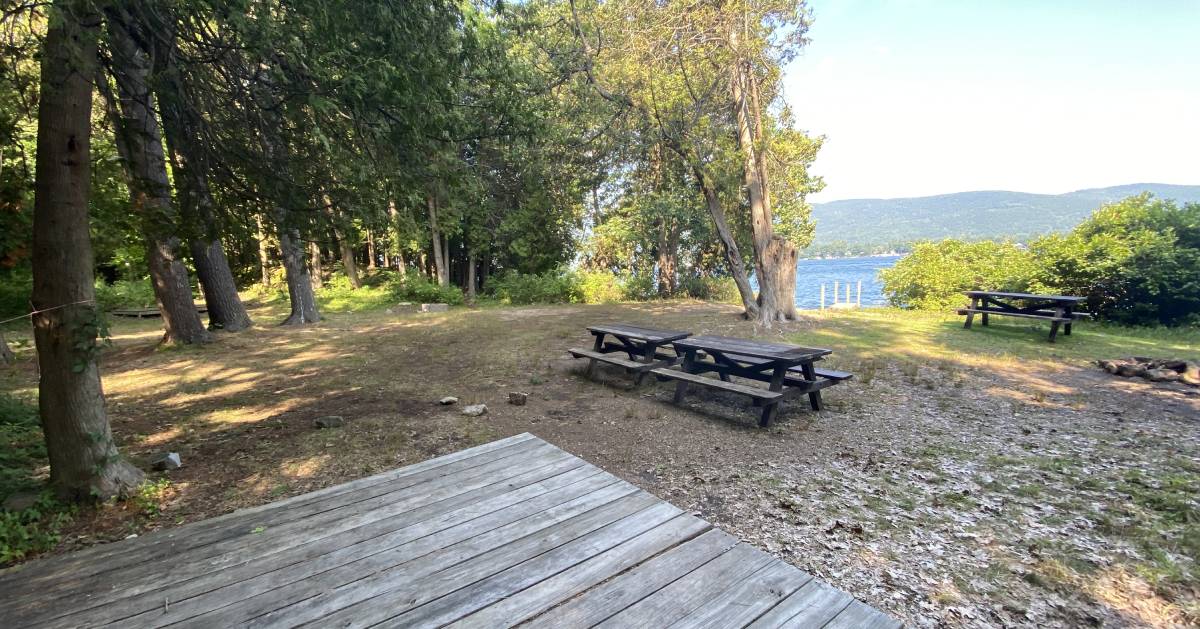 Campsites 67 and 68 are great for a large group. Both sites are sunny, have platforms, and are open to each other. This is a great place to watch the sunrise.
Campsites 69 to 74
Campsites 69 to 74 are hilly sites with morning sun. All have spectacular views and are sunny.
Campsite 75
Campsite 75 is a flat site great for families.
Campsite 79
Campsite 79 is a sunny site, flat with good shade, and you can just see the sites on the other side.
Campsite 80 and 81
Campsites 80 and 81 pair nicely together and offer morning sun. Both sites are fairly flat and have great views. You can see Campsites 45 and 46 from behind Campsite 81.
Campsite 82
Campsite 82 offers incredible views of Lake George and is in the narrow part of Long Island, so it's breezy, less buggy, fairly flat, and rocky.