Win Adirondack Winery's National Wine Day Giveaway!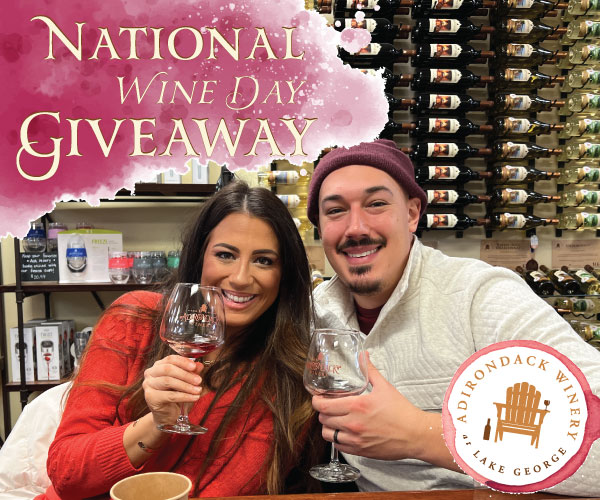 In honor of National Wine Day, you could be one of the first to experience Adirondack Winery's brand-new Queensbury Tasting Room this summer!
Fill out the form below for a chance to win an Ultimate Wine Tasting Experience for 2 at Adirondack Winery's new Queensbury Tasting Room & Winemaking Facility, plus 3 bottles of wine to pick up when you redeem your experience! The total value of the prize is $158.97 + tax.
Adirondack Winery's new Queensbury Tasting Room will feature the wine tasting experience you have come to love at their flagship Tasting Room in Lake George. Plus, they will be offering new services like wine by the glass, charcuterie boards, outdoor dining, winery tours, Sunday brunch and more!
For the latest information about this new location, please go to adkwinery.com or follow them on social media at facebook.com/Adirondack.Winery.NY/ and instagram.com/adkwinery/.
Disclaimer:
The provider of this sweepstakes is Adirondack Winery.
Sweepstakes ends at midnight on May 31, 2022.
Limit one entry per day (you may enter again after 24 hours).
One winner will be randomly selected on June 1, 2022.
Prize value is $158.97 + tax.
The wine bottles can be picked up when the winner redeems their tasting experience at Adirondack Winery's Queensbury Tasting Room.
Prize is non-transferrable.
Keep up with the latest happenings on LakeGeorge.com.
Click below to "Like" us on Facebook
Show your support for the giveaway sponsors by following them on Facebook:
Click below to "Like" Adirondack Winery on Facebook