Wingate By Wyndham Ranked Among Top Hotels Worldwide
by Faith Mannix | July 2011
LAKE GEORGE NY -- Each year, Expedia releases an Insider's Select List of 500 hotels worldwide. These hotels consistently have above average customer satisfaction with their superior service and value. They are considered the best out of over 130,000 other hotels. Lake George's Wingate by Wyndham was selected to place in the top one hundred on this prestigious list.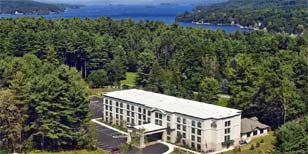 Ranking at 93 out of the 500 hotels chosen, Wingate by Wyndham is pleased to be honored with the top hotels of the world. Many hotels on the list are from far off locales such as Turkey, St. Lucia and the Czech Republic.
But this isn't the first time that the Lake George hotel has earned a place list: Wingate also was selected in 2009!
Wingate by Wyndham attributes their success to fact that they make guest service a top priority. Their conscientiousness has clearly paid off because the Insider Select List is chiefly selected on the basis of customer reviews. Wingate averaged a whopping 4.7 stars out of 5 for their average guest rating.
Notably, Wingate received an average rating of 4.9 stars for location. This comes as no surprise due to its location right in Lake George, and close proximity to many popular attractions. Reviews also mentioned how kid-friendly the hotel is, as well as the delicious and complimentary breakfast.
Congratulations to Wingate and its entire staff for making this possible. View the complete Insider Select List for 2011 here.
Learn more about Lake George's Wingate by Wyndam,or see other Lake George lodging options.