Community Mourns the Death of Local Soldier Spc. Benjamin D. Osborn
LAKE GEORGE NY -- The local community has been flying its flags at half-staff in honor and remembrance of Benjamin Osborn, killed in Afghanistan while serving in the armed forces.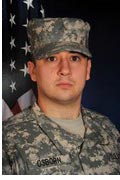 Osborn was a native of Queensbury and a graduate of Lake George Junior-Senior High School. He was a player on the school's football team and the youngest boy of five children. Friends and family remembered him as a fun-loving practical joker, who brought smiles wherever he went.
According to Bethany Osborn, Ben's older sister, he joined the army because he "preferred action and wanted to make a difference." He was killed in action while volunteering for a combat mission in a group of 20 of his fellow soldiers. Osborn was 27.
Osborn became member of the Army's 101st Airborne, based out of Fort Campbell, Kentucky. While in service he received many decorations; for his valor the army will further award him with a Bronze Star and a Purple Heart.
The news of Osborn's death, received on June 16, was painful for the young man's family, including his wife, who had married Osborn in Queensbury just five months earlier.
In the aftershocks of tragedy, the community has reacted with strong support for the family. Articles reporting the man's death are followed by trails of comments from friends and strangers alike voicing their sympathies and support for the Osborns. Area businesses changed the words in their signs to commemorate the fallen soldier.
In addition, a large number of regional restaurants have pledged to donate food to the reception held after Osborn's burial on Thursday. There will be a public memorial held at Fort William Henry at 3pm, Thursday, June 24, 2010.
Recently, the Lake George Community Band has announced that its first series of concerts will be dedicated to Osborn and his family. The concert will play July 1, 2010, and will feature a musical homage to all men and women serving the country.
This community is determined that sacrifice of Spc. Benjamin D. Osborn will not be forgotten.