Fern Lodge Offers Luxurious Stays For Couples
Scott Stevens | October 2011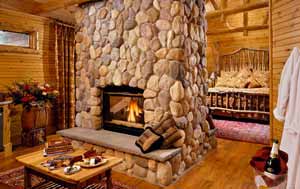 LakeGeorge.com sits down with Sharon Taylor, Owner and Innkeeper at Fern Lodge in Chestertown, NY.
Fern Lodge is a luxurious Adirondack resort located on Friends Lake where you can enjoy all that the Adirondacks have to offer, in an atmosphere of rustic elegance and lakeside living.
Learn more about the beautiful lodge, the luxury guest rooms, and everything else that Fern Lodge has to offer on the shore of the pristine Friends Lake!
Using only 3 words, how would you describe the Fern Lodge?

Very Private, Luxurious and Romantic.


What amenities and services set your resort hotel apart from the others?

Tons, each guest room has a king-size bed, Jacuzzi, fireplace, and private lake view porch/patio (and more)! We have many public rooms that have all sorts of special things - a theatre, a hot tub under the stars, lakeside fire pit (great for late night s'mores), a fully stocked bar, pool and foosball tables, darts, an exercise area, several roaring fireplaces, and an extremely personal, intimate knowledge of the area...


I see you are located on Friends Lake, are there water sports/activities available on the property?

We offer an evening lake tour/cruise with wine and hors d'oeuvres, kayaks, and swimming.


How far away from some Adirondack Hotspots are you? Lake Placid, Blue Mountain Lake, North Creek, Tupper Lake?

We are located one hour from Blue Mountain Lake and Lake Placid (a very scenic drive), 20 minutes from North Creek, almost two hours from Tupper Lake.


Why the name "Fern Lodge"?

We are in a very wooded private area.


What made you want to focus on couples lodging?

After being owners of Friends Lake Inn for 20 years, we felt very strongly that this was our best market - specifically the top end of the couples market. The couples that we commonly see are celebrating an anniversary, honeymoon, special birthday, or getting engaged...
Oh, have you had a few wedding proposals at the Fern Lodge?

Many, many people have come here for their engagement.


Are there advantages to visiting the Fern Lodge in a particular season over another?

No, many couples come in various seasons to experience all the Adirondacks have to offer. Summer with warm days and cool nights with a particular focus on the lake is great. Autumn is spectacular as the leaves change and weather cools down. Winter is great with the roaring fireplaces. We offer snowshoeing right here on the grounds, have close proximity to Gore Mtn., and the cross-country skiing is just awesome.


What are guests most excited about during their stay?

Guests love the boat tour, all of the amenities of the rooms and property, a delicious breakfast, and evening camaraderie around the fireplace.


What's the most rewarding part of your job?

Sharing the things we love to do and some of our favorite special places to visit in the Adirondacks.
If you're looking for a place for you and your significant other to celebrate an anniversary, honeymoon, birthday, engagement, or other special occasion, look no further than the Fern Lodge! This luxurious Adirondack resort is a great option, any time of the year! With many ammenities and a ton of Adirondack excursions within close proximity, there is surely something that everyone will enjoy!