Aquarium Of The Adirondacks
LAKE GEORGE NY -- There could be an aquarium opening in the Lake George NY area as early as 2012! For the past few years, Bill LaPann and his soon-to-be wife Danelle have been working on a plan to bring "Aquarium Of The Adirondacks" to fruition in Upstate NY.
It all started when LaPann was talking to his 5 year old daughter on the phone and she began asking questions about sharks. Unable to tell her what she wanted to know (being young she could not comprehend size), LaPann decided to plan a trip to the New England Aquarium in Boston, Massachusetts. He found it troubling, however, that they would need to travel so far for a chance to see real sharks up close and in action.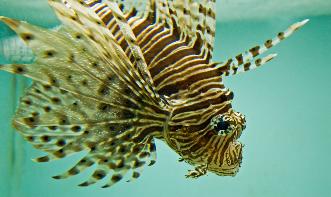 "I was thinking to myself that I wish we had an Aquarium closer to our area," said LaPann. "About this time, I drove by the former Gaslight Village Property in Lake George and thought, 'What we could we put there that this area does not have?' Then the light bulb went off. We need an Aquarium."
Excited about the idea, LaPann called his then-girlfriend Danelle to share it with her and get her opinion. She was supportive of the idea and willing to help get the aquarium started. It wasn't long, however, that LaPann started hearing doubts from others who were skeptical of his plan.
"I started to make phone calls and I got a lot of people telling me that I could not do this," said LaPann, "and they gave me reasons why... no money, no experience, no land, no fish, etc. I got sick of hearing about all these obstacles so I started writing them down and then coming up with ways around them."
Before long, LaPann realized that alone, it was impossible to build an aquarium. He would need a team of people and funding to help realize this dream. For about 2 years, he and Danelle spent their time researching aquariums, traveling around and talking to curators from other facilities. Soon they had developed a complete plan of action.
"We formed a 501 c 3 non profit corporation, put together a board of directors and began getting advisors, biologists, teachers, builders, engineers and whoever else we thought we may need," said LaPann. "Now we have started fundraising, putting together schematics for the building and trying to finalize a business plan."
Planning for the Aquarium brought LaPann and his sweetheart Danelle closer together. He notes that it was her support and willingness to help that has brought them to this point. They are planning to be wed in September 2009.
"Danelle was supportive when a lot of others were not," said LaPann, "and without her standing beside me I never would have gotten this far. She makes me a better person."
Having taken great strides over the years to reach this point, LaPann, his fiance and team of professionals have laid the groundwork for starting the Aquarium Of The Adirondacks. They are currently still seeking a location for the facility in the Lake George NY area. LaPann estimates 2012 as a possible opening year for the aquarium - an attraction that is much needed and would be warmly welcomed by both vistors and residents alike.