New Winery In Lake George NY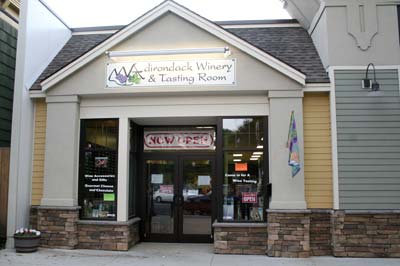 Adirondack Winery brings a taste of California to the Northeast.
LAKE GEORGE NY - Why travel to California for great wine? Now you can find it right here in Lake George! Adirondack Winery is a new winery and tasting room on Canada Street that hand-crafts a wide variety of wines using grapes that come straight from California's wine country.
This new micro-winery offers an incredible selection of traditional and nontraditional wines for purchase or tasting. Every week, there are different labels to be discovered, from traditional red and white wines to light Strawberry wines, crisp dessert wines and many others.
"The fruity wines are our most popular for summer wines," said co-owner Sasha Pardy.
Sasha and her husband Michael opened Adirondack Winery in mid-April 2008 in hopes to bring great wine to Lake George and please the palates of wine connoisseurs in the area. But Michael and Sasha Pardy aren't just promising to please wine lovers... they also aim to breed future wine lovers. The Pardy's note that even visitors who admittedly aren't big fans of wine end up leaving with a greater appreciation for it... and maybe even a bottle tucked under their arm!
"Our wine list offers a much wider selection than traditional wineries," said Sasha. "Even when wives come in with beer-drinking husbands, they both end up finding something they like."
Perhaps most unique about this micro-winery in Lake George is their local appeal. Sure the taste of great wine would be enough to draw in crowds, but take a closer look at the labels on these bottles and you'll see why Adirondack Winery is such a big hit among local wine enthusiasts. Each bottle label features an inspiring panorama of the scenic Lake George region and landmarks across Warren, Washington and Saratoga County.
"Our labels make fantastic souvenirs," said Sasha. "It's also a great shopping experience because it's fun to come in and taste all the different wines. Our customers say it's the best way to shop for souvenirs!"
Adirondack Winery also offers a wide selection of corkscrews, gourmet cheeses, chocolates, votive candles and other items to complement the wines.
Click here for Adirondack Winery coupons & more info