Ranger Island is a fabulous two-campsite island close to Bolton Landing, NY just south of Glen Island.
About Ranger Island on Lake George
The island has a good composting bathroom. Campsites 1 and 2 are far enough away for privacy and are ideal for two families camping together. It's also easy enough to launch your boat from Bolton Landing and head toward the island. Make your reservation now at Reserve America.
Guide to Ranger Island Camping
Campsite 1 is large, flat, and sunny with plenty of shady spots and nice places to go swimming. The site has easy access to the lake. No tent platform. Shares a dock with campsite #2.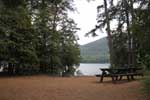 Campsite 2 is on the southern tip of Ranger Island, and it is also flat, sunny, and very nice and has a platform.