Log Bay Island is a part of the Glen Island Group on Lake George and features 12 campsites with living/sleeping quarters.
About Log Bay Island
Log Bay Island is a cruiser camping area for larger boats. Sleeping tents are not allowed because there are living/sleeping quarters on the island. Each site also has a charcoal burner, picnic table, and a shared fireplace. There are 5 clearings, and each clearing is connected to two campsites. This island has a great composting bathroom. Plan your Log Bay Island trip now at Reserve America.
Guide to Log Bay Island Camping
Campsites 1 & 2 are some of the nicest spots on the island. They are rather private and overlook the beautiful Log Bay.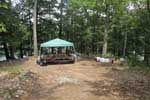 Campsites 3 & 4 are a great pair of campsites on Log Bay Island. The two sites are fairly open, sunny, and face Perch Island.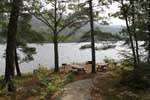 Campsites 5 & 6 are shady and very close to the docks. This is convenient if you have big coolers to carry in.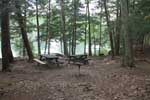 Campsites 7 & 8 are sloped with open views of the lake. They are also close to the docks.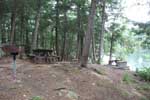 Campsites 9 & 10 overlook the west side of the lake and are very open, sunny, and private. Be aware that these campsites are farther from the docks, so it's a bit of a walk.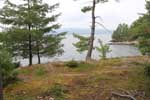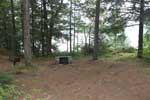 Campsites 11 & 12 are close to the docks on the north side of the island.