Close to Log Bay, you'll find this wonderful sunny, three campsite island.
Huckleberry Island is one of the southernmost islands in the Glen Island group. It's on the east side of Lake George.
Note: Campsites 1 & 3 are reservable, but campsite #2 is non-reservable. All three have shore docks.
Campsite #1 is by far the largest site on the island. It is very flat with no platform.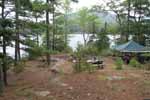 Campsite #2 is an open, sunny, and rocky site with beautiful southern views. You can not reserve this campsite, but you can ask about obtaining it at an island ranger station.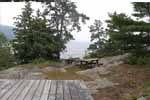 Campsite #3 has a fireplace in the middle of the island, so you are facing inland when you have a fire.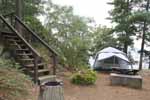 Also, there is one very nice composting bathroom on Huck which is shared between the sites.