Crane Mountain is located in the southern Adirondacks, and although it has steep and difficult sections, it is generally regarded as manageable for kids.
Crane Mountain
Hiking Crane Mountain in the Adirondacks – Directions, Hiking Info & Tips
Directions:
Take Exit 23 off the Adirondack Northway (I-87) at Warrensburg / Diamond Point
Turn left off exit, drive .25 miles and turn right onto U.S. 9N
Drive .8 miles and turn left onto Richards Ave.
Cross the river and turn right onto NY-418 W/River St.
Drive 3.2 miles, stay left on NY-418 W
Turn right onto Athol Rd. after .25 miles
Stay on Athol Rd. for 3.5 miles, turn right onto Mountain Road
Follow Mountain Rd. 5.5 miles to Thurman
Turn left onto Garnett Lake Rd, Co. Rd 72
Drive 1.2 miles and turn right onto Ski Hi Rd.
Trailhead is marked about 2 miles up Ski Hi Rd.
What makes the Crane Hike so special? There are many stops for views along the way offering great rewards as you go! The shortest route to the summit is about 1.4 miles with an ascent of about 1150 feet. There is also a natural stone bridge over Putnam Brook.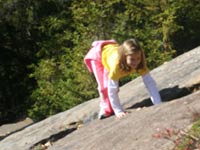 Rocks, rocks and more rocks! Crane Mountain is a steep, rocky hike which makes it both challenging and more interesting for the little ones.
There are a few ladders near the summit of Crane Mountain that can be challenging for small children.
Tips for hiking Crane Mountain:
Wear shoes with excellent traction as the terrain is very rocky.
Dress in layers; this hike will get your heart pumping!
While this was a very steep climb, there is also a less-steep option that goes around the pond. We chose the steep climb up and the longer winding route past the pond on the way down.
Pay attention to trail markers - if you miss one, you may find yourself feeling lost.
Plan to make a day of it! For a family with relatively young children, this was a 4-hour hike.