Winter is a Great Time to Visit Lake George!
Discover all there is to love about Lake George in the winter. The cold brings snow -- and lots of it -- so get out there with your snowmobile, skis, skates, and sleds and have a blast! There's fun in Lake George year round, and here you'll find plenty of winter activity ideas to make the most of the season!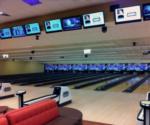 If you want to do more than ski or sled, browse our directory of the top winter attractions and plan your visit today!
Start 2017 off right by jumping into the icy waters of Lake George during the annual Polar Plunge on January 1!