Boating Guide > Docks & Launch Sites On Lake George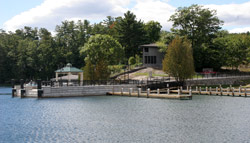 Put your boat in Lake George for the day! The Queen of American Lakes is 32 miles long from Ft. William Henry in Lake George Village to Ft. Ticonderoga at the North end of the Lake; and three miles wide between Bolton Landing and Log Bay. That means there is plenty of open water and an abundance of quiet covers, along with more than 170 islands.
Use this list of docks and launch sites below to plan your trip and spend some quality time on the Lake George this season:

Public Launch Sites On Lake George:
Bolton Landing
Northwest Bay/Clay Meadow :: Located four miles north of Bolton Landing. (No Fee, Car Top Boats Only)
Norowal Marina :: Located off 9N on Sagamore Road. (Car Top $12.00, Powerboat $24.00)
Hague
Roger's Rock Campsites :: Located three miles north of Hague on Route 9N. (Day Use Fee of $6.00 per day)
Hague Town Beach :: Located off Route 9N in Hague. (Day use fee of $10.00 per day)
Lake George
Million Dollar Beach :: Beach Road in the Lake George Village. This site is closed for Memorial Day Weekend - September (swimming season.) (No Fee) There is parking for 200 cars and trailers.
Ticonderoga
Mossy Point :: located two miles south of Ticonderoga on Black Point Road. (No Fee)
Brant Lake
Located off Route 8 :: located 1 mile northeast of the Hamlet of Brant Lake. There is parking for 11 cars.
Hudson River
Located on East River Drive, in Luzerne. There is parking for 30 cars and trailers.
Glen Lake
Located off Exit 20 on 1-87, 1.3 miles from the Six Flags Great Escape intersection. Located near the Docksider Restaurant. Canoe and kayak access only.
Fourth Lake, Luzerne
Located off Route 9Nabout 8 miles southwest of Lake George. Parking for 3 cars. Campground launch.
Schroon Lake
Eagle Point Campground :: Located on Roue 9, 2 miles north of Pottersville.
Horicon :: Located off Route 9 on County Road 62, just north of Pottersville.
Private Launch Sites On Lake George:
Lake George Village

Boardwalk Marina
668-4828
East Shore, north of Lake George Village
Castaway/Warner Bay
656-3636
Dunham's Bay Marina
798-1718
Harris Bay Yacht Club
656-9028
Lake George Boat Co.
656-9203
Fischer's Marina
656-9981
Cleverdale
Boats by George on the Lake
656-9206
Diamond Point
Beckley's Boats
668-2651
Yankee Yacht Sales
668-2862
Gilchrist Marina
668-2028
Bolton Landing
Bay View
644-9633
Chic's Marina
644-2170
F.R Smith & Sons
644-5181
Port Jerry Marina
644-3311
Water's Edge Marina
644-2511
Pilot Knob
Fischer's Marina
656-9981
Pilot Knob Marina
656-9211
Hulett's Landing
Hulett's Island View Marina
499-0801
Silver Bay
Morgan Marine
543-6666
Ticonderoga
Snug Harbor Marina
585-6685
<< Back to the Lake George Boating Guide