Have Car, Will Travel: Explore the Beauty of Lake George With Limited Walking Involved
Experience all the beauty of Lake George without all the walking. If you're up for an incredible road trip, we've mapped out a route with a number of scenic hotspots to enjoy along the way. This itinerary will take you all around the 32-mile lake, from the southern basin to the northern shores, introducing you to the history, sights, and sounds of this beautiful region of the Southern Adirondacks.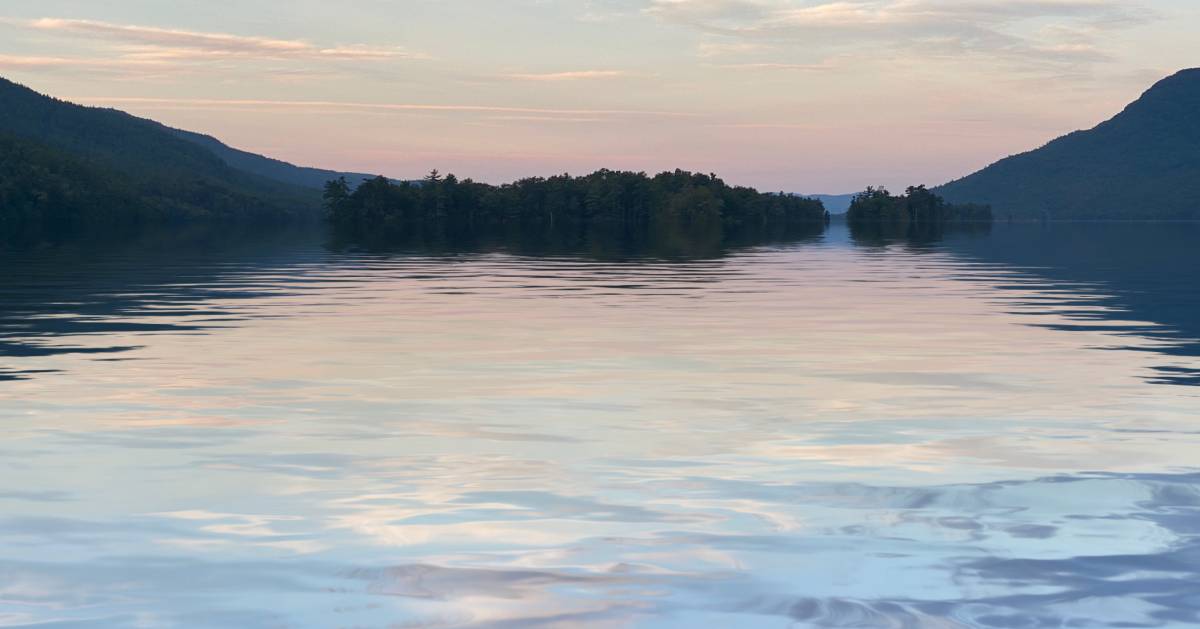 We recommend splitting the trip into two days, with one day exploring the west side of the lake and the next day seeing what the east side has to offer. If you're really up for an ultimate road trip, you could hit up all of the below attractions in a little over 12 hours, or 10 if you skip the Bolton Boat Tours. Many might also opt to simply pick and choose from the hotspots and adventures highlighted here.
So fill up the tank, pack some snacks, and get ready to explore! This route is best enjoyed during the spring, summer, and fall seasons.
Start at Lake George Battlefield Park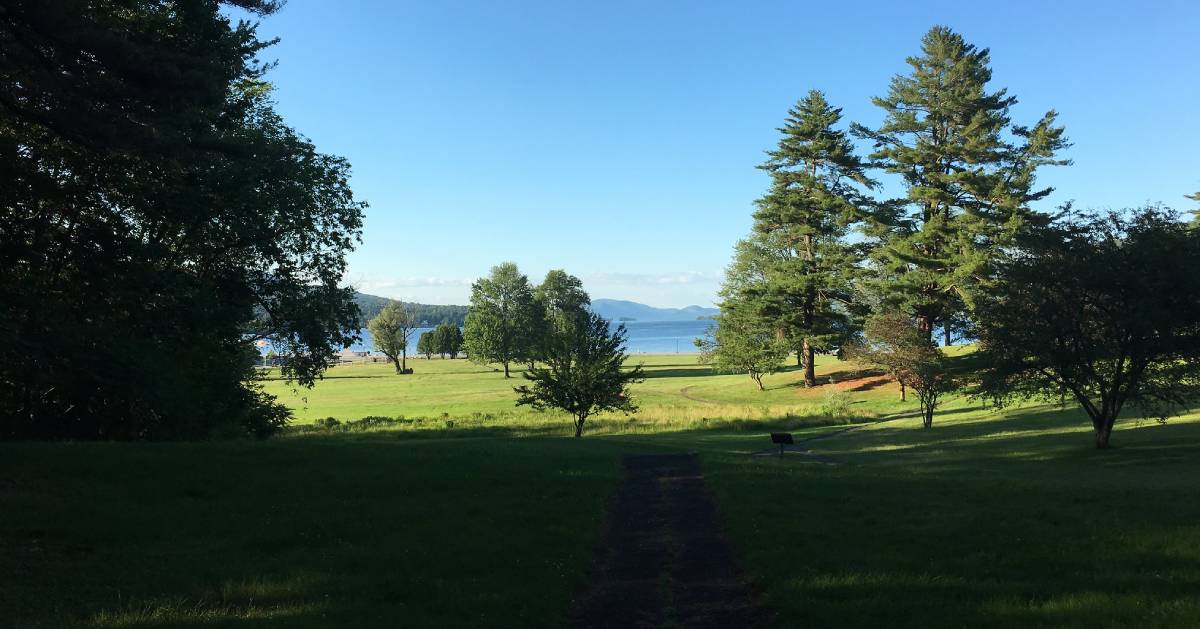 A natural place to begin your journey around the lake might be right in Lake George Village. Although many think of the hustle and bustle of the Village with the restaurants, tourists, and general excitement, there are some calmer spots in the area to check out as well, such as at Lake George Battlefield Park.
The park is located right next to Million Dollar Beach. There is a parking lot at Battlefield Park that is used as overflow from the beach parking lot - if there is an attendant there, you can park there for $10. If not, you can park at the beach parking lot for the same price. If you keep the receipt, you can move from one parking lot to the other within the same day.
Battlefield Park is an excellent place to explore the historical significance of Lake George, with an interpretive path that is easy to walk and includes educational information about the park.
In addition, the park offers a picturesque view of the southern basin of the lake. You can admire the scenery right from Battlefield Park, or, there are a few benches across from the park right in front of the water where you could take a quiet moment to gaze out at the lake.
Admire a Stunning Life-Size Sculpture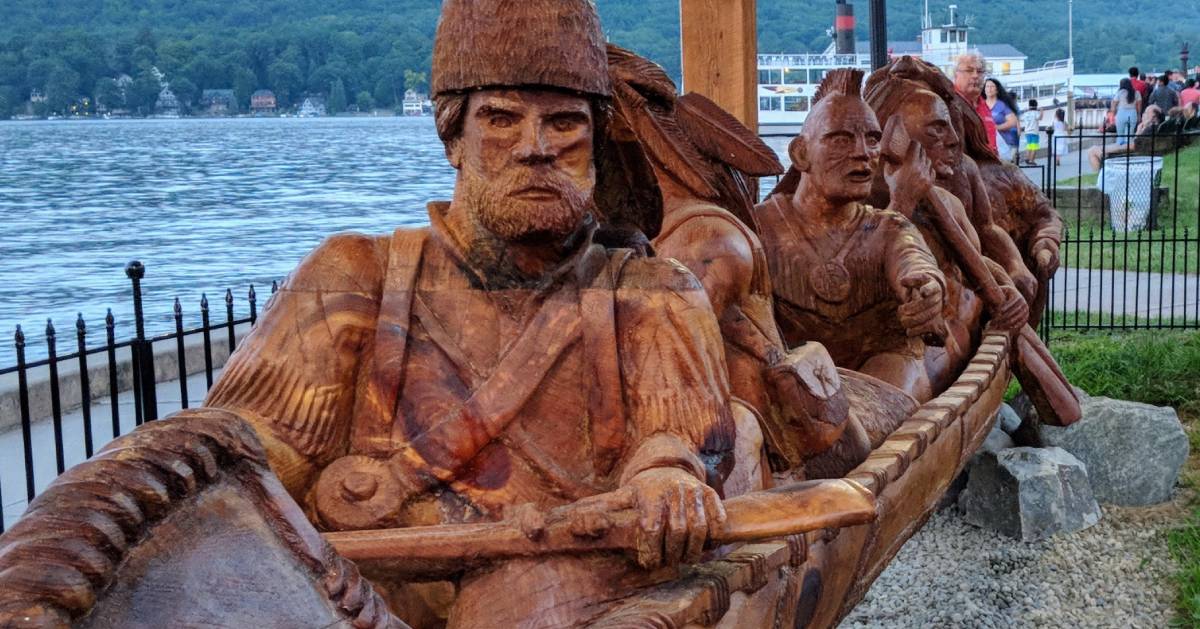 A life-size sculpture was created and placed on the walkway in front of Fort William Henry right on Beach Road in 2017. You can check it out after exploring Battlefield Park, as it's just a six-minute walk from the park.
This striking creation of Native Americans and Robert Rogers in a canoe was made to recognize the area's French and Indian War history. The local French and Indian War Society advised the artist on the project.
One aspect of the statue that makes it so impressive is the fact that each of the six individuals is looking in a different direction, which undoubtedly made the creation a serious challenge for the artist.
Bonus Activity: Hear Your Own Echo at the Lake George Mystery Spot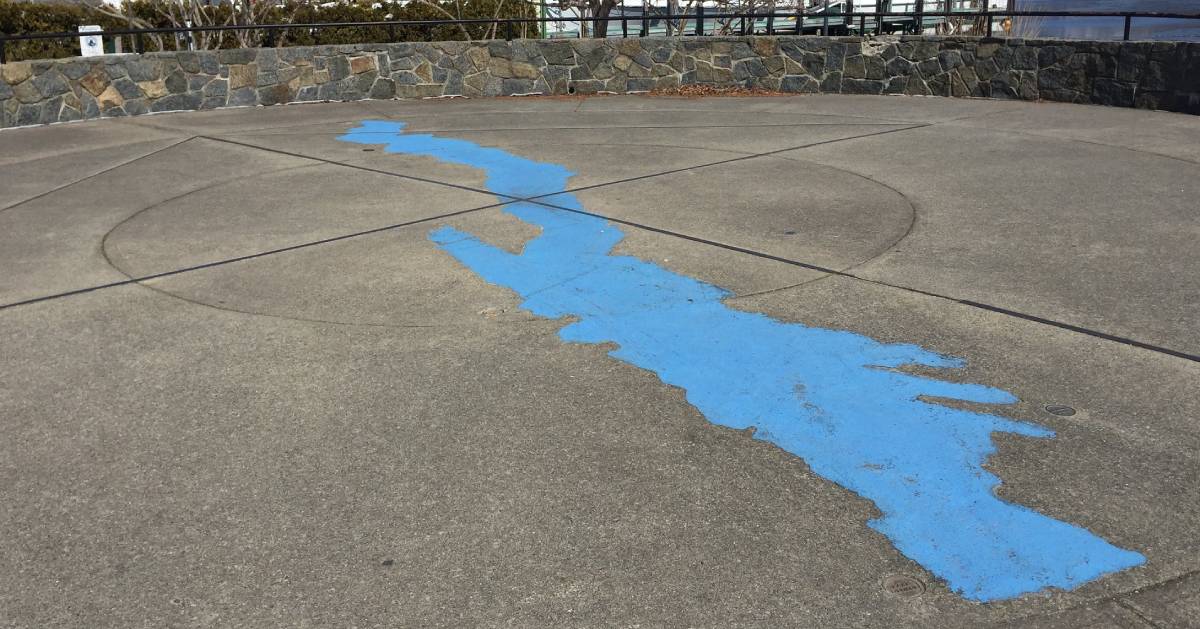 Have you heard of the Lake George Mystery Spot? If you're up for a bit more of a walk you can continue up Canada Street/Route 9 where you'll find the Mystery Spot located next to the Visitors Center - this is about a four-minute drive or six-minute walk from the canoe sculpture.
This quirky place is reportedly a unique acoustical phenomenon where you can hear your own echo, as if coming from another dimension. Try it yourself!
You stand in a particular spot, face the lake, and just start shouting. Only you'll be able to hear your own echo. There is a literal "X" that marks the Mystery Spot, so it won't be a mystery to find.
Take a Boat Tour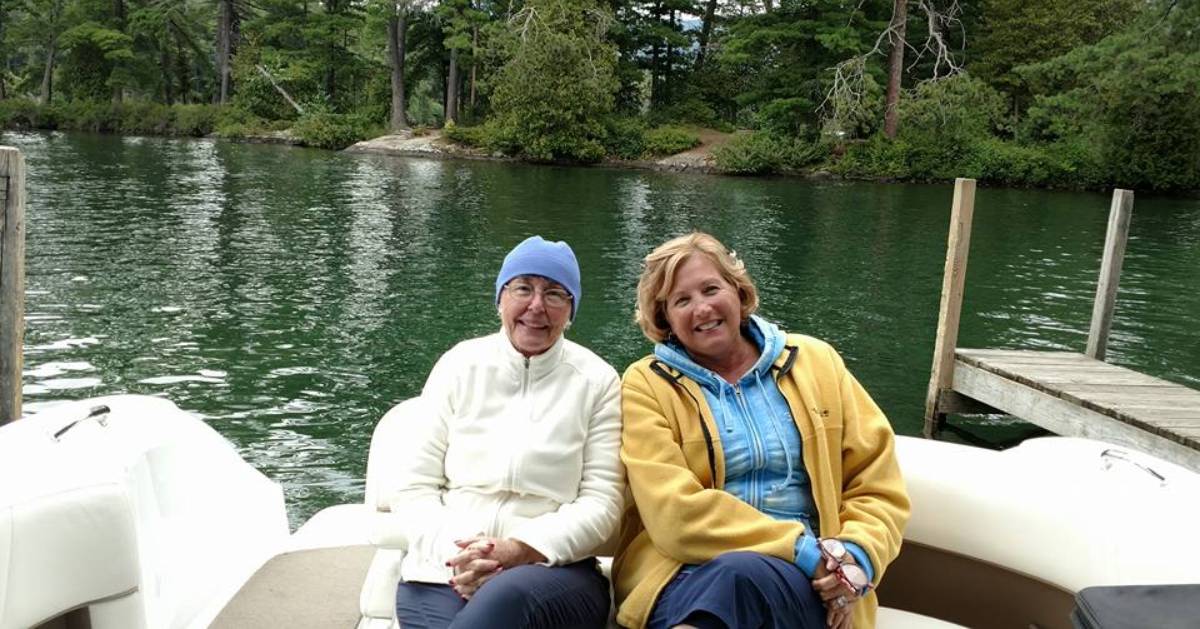 From the Mystery Spot, you'll drive up the west side of the lake from the Village as Route 9 turns into Route 9N. You might consider taking a boat tour from Bolton Boat Tours in Diamond Point, which is roughly 12 minutes north of the Lake George Mystery Spot. Take a detour from your journey around the lake to actually explore the lake itself!
Daleys Adventure Boat Tours is another great option if you're looking into sightseeing around the lake. Their tours are customized to you and your group and what you want to see and hear about. So you can learn about local history, including ghost stories and murder mysteries, you can check out celebrity mansions around the lake, and more.
Boat tours are much simpler than renting your own boat, and you don't have to worry about steering. Just sit back, relax, and enjoy unbeatable views of the pristine lake.
Walk Around the Sagamore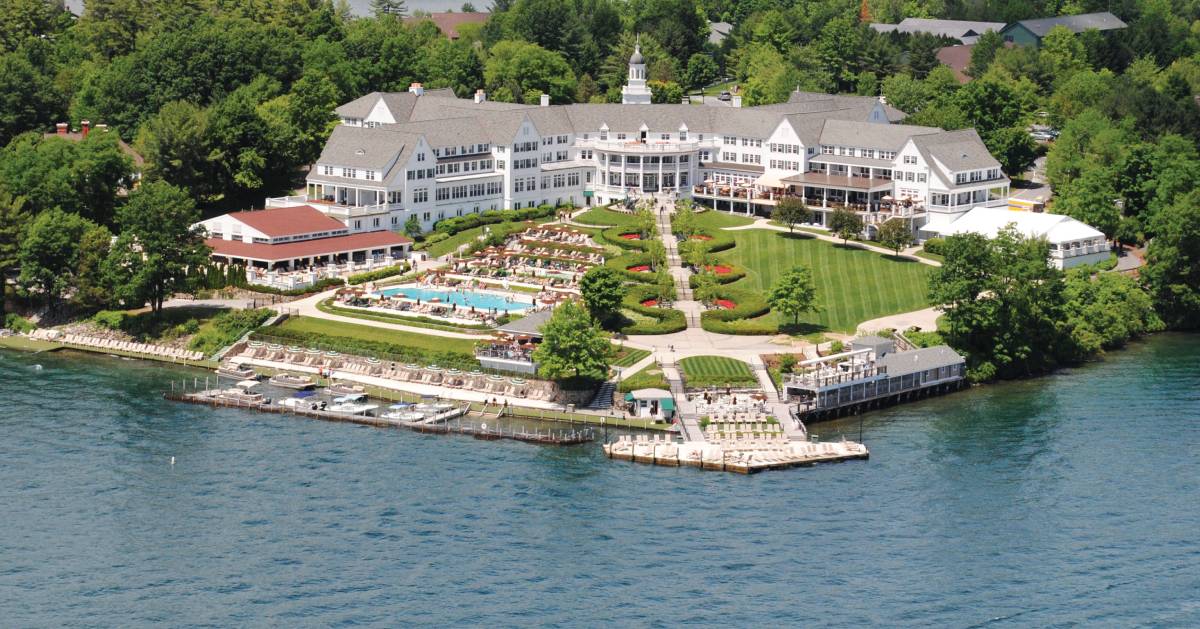 If you've never been to the historic Sagamore Hotel & Resort in Bolton Landing, you simply must stop here as you head north up the lake. Approximately 11 minutes north of Bolton Boat Tours, you'll take a right onto Sagamore Road from Route 9N/Lake Shore Drive to get to The Sagamore.
Whether you're grabbing a drink or a meal in one of their award-winning restaurants, or just walking around the grounds, you will not be disappointed with the stunning scenery and sophisticated ambience.
Pull Over at Sabbath Day Point Overlook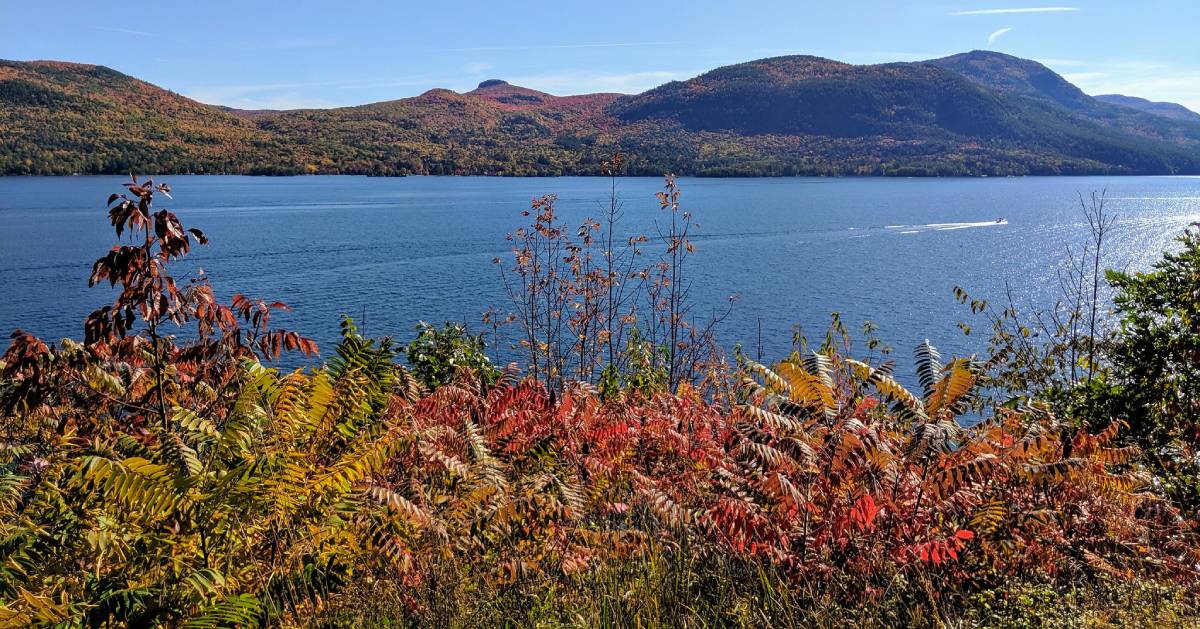 Continuing north on Route 9N/Lake Shore Drive, you'll pass the Northwest Bay before you go through a wooded area for about 10 minutes. You'll emerge from the forest to be right on the shore of the lake again in Silver Bay, where you'll find a perfect spot to pull over and enjoy a great view at Sabbath Day Point Overlook. Stop the car, grab your phone or camera, and start snapping away!
If you did not end up getting some food at The Sagamore, this might be a great place to enjoy a quick picnic, or you could save it for the upcoming beach and park.
Carve Out Some Time for a Beach & Park
If you didn't allow yourself some beach time at Million Dollar Beach, consider doing so at the Hague Town Beach Park! About 10 minutes north of Sabbath Day Point Overlook, you can find this quaint beach in the town of Hague. To get there, you'll simply head north on Route 9N/Lake Shore Drive.
When you arrive, you'll find Peggy's Point right near the beach. This is a park right on the water that is popular for fishing, but also for just sitting and enjoying a few minutes of peace for yourself. The property has a gazebo and benches for you to rest before continuing on your journey.
See a "Kissing" Bridge
Making your way up the lake on Route 9N/Lake Shore Drive, you'll get to enjoy views of the water up until around Cooks Bay. Here, the road will turn into Route 9N/Hague Road as it veers away from the lake for a bit, although you'll be able to enjoy some mountain views and farmland as you drive about 10 minutes north into Ticonderoga. If you're into antiquing, you might stop at Lonergan's Antiques as you enter the historic town.
At this point, you'll be at the northern tip of Lake George. Route 9N/Hague Road will turn into Montcalm Street, as you start to get into the heart of Ticonderoga. Take Montcalm Street straight to Bicentennial Park. You can park in front of the Ticonderoga Heritage Museum and Visitor Center, and from there it will be an easy walk to the bridge, which is housed right in the park.
The Kissing Bridge was covered in 1994 by the local Elks Club and the US Army. This is a covered bridge that crosses over the La Chute River, which is the outlet that connects Lake George to Lake Champlain. Covered bridges are always a nice attraction to see when taking a drive, and this is a good one to seek out, because it's situated in a scenic park near waterfalls.
See where you can find more covered bridges in the Adirondacks >>
Visit Historic Fort Ticonderoga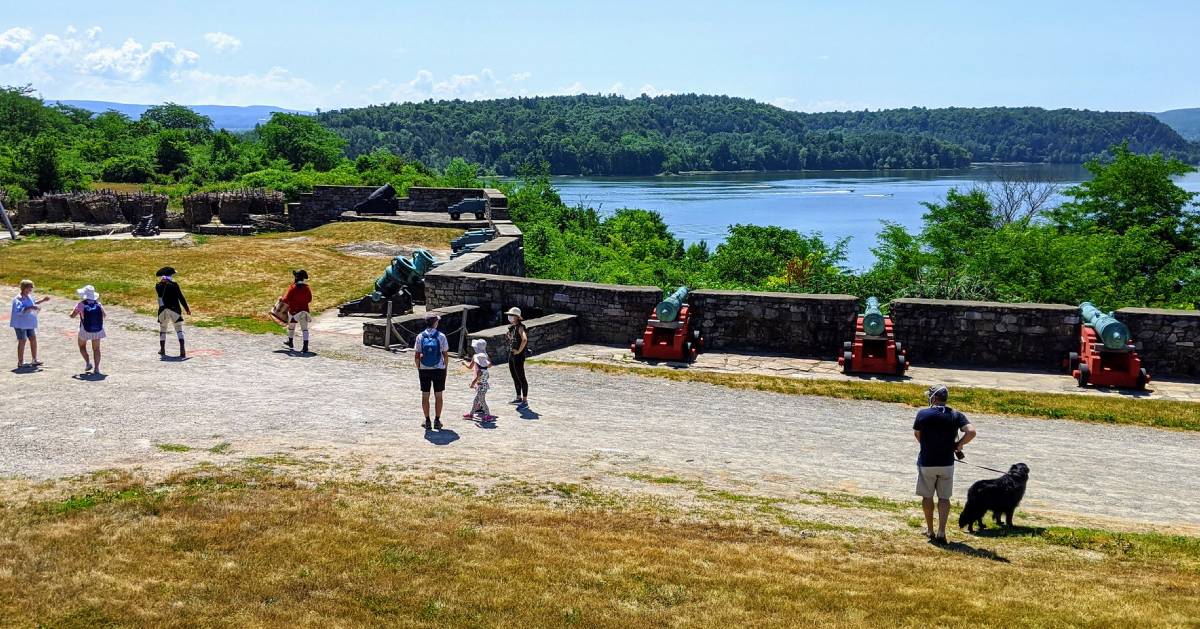 Just about 10 minutes from the Kissing Bridge and Bicentennial Park is Fort Ticonderoga - you cannot drive through Ticonderoga without visiting this historical hotspot! Fort Ticonderoga is considered to be the most important historic attraction in the entire Adirondack region.
Simply leave the park heading east on Montcalm Street/Route 74, which will turn into Fort Ti Road. When you see the Ticonderoga train station on the left you'll take a right onto Fort Road until you reach Fort Ticonderoga.
This 18th-century fort was built during the French and Indian War and served as a significant point of access to Canada and the Hudson River Valley. Many battles were fought at this site, the most famous being the Battle of Ticonderoga. You might also want to check out King's Garden while you're here, which is one of the oldest cultivated landscapes in America.
Fort Ticonderoga is open May through October, Tuesday through Sunday, and special programs and events are offered throughout the year. You do need to buy tickets in advance, although it's easy to do so from your mobile device if this is a last-minute stop.
Keep in mind that a lot of walking involved; the campus is large with rugged terrain which can be difficult to navigate if you have a wheelchair. If you're concerned if this stop might be for you, they welcome visitors to call ahead of time with any special accommodations (518.585.2821).
Check Out Gull Bay & Gull Bay Preserve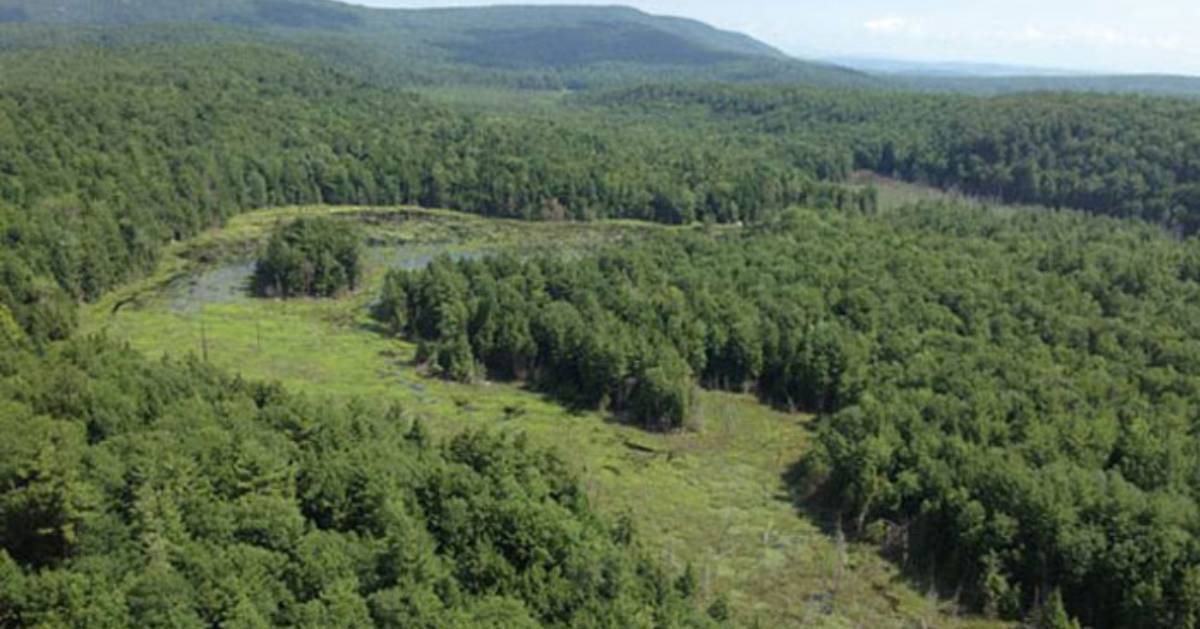 When you leave Fort Ticonderoga, you'll head northwest on Fort Road, which joins back up with Fort Ti Road/Route 74. Shortly after, you'll take a left onto Mountain Road/Route 22. From here, you'll head south to come down the east side of the lake for about 20 minutes. Along the way you'll actually get a great view of a different lake on your left - Lake Champlain!
Heading south, you'll enter Washington County and the Town of Putnam, where you'll see rolling fields, mountains, and farms. Following the sign to Gull Bay, you'll take a right onto Gull Bay Road to make your way over to the preserve and bay.
From Gull Bay Road you'll turn right onto Sagamore Road, a fun and windy road that offers great views of the forest and fall foliage if you happen to be visiting during the autumn season. This is also a great birding area, where you might see a great blue heron rookery (nesting colony) if you're here during the March through July timeframe.
If you're up for a quick hike, you can follow an old logging road that is a short distance from the parking lot to the preserve's kiosk. From here, the blue trail continues uphill for less than half a mile and ends at an overlook that offers an impressive view of the bay.
Not up for any walking? Instead of turning right onto Sagamore Road you can continue on Gull Bay Road and enjoy views of the bay right from your car.
See a Bigfoot Statue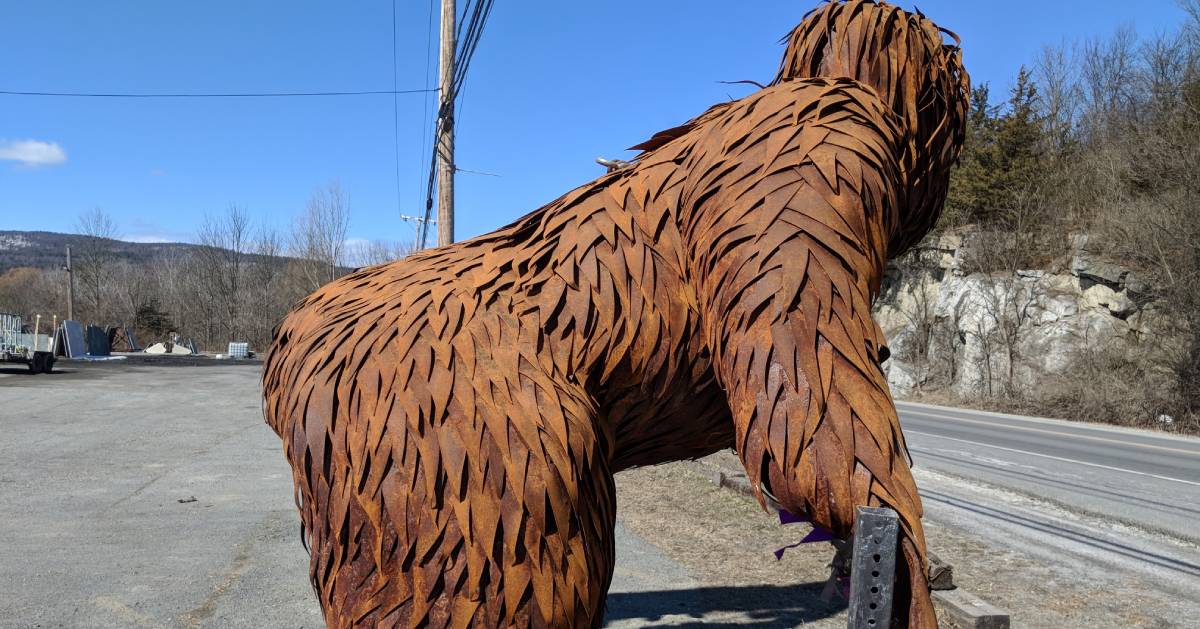 From the Gull Bay Preserve, you'll make your way back where you came from on Gull Bay Road to return to Route 22, where you'll take a right and once again head south. You'll be traveling through prime farmland country for about 25 minutes. Route 22 will veer towards the left and you'll drive over the southern end of Lake Champlain as you head into the small town of Whitehall.
When in Whitehall, you'll take a left from Route 22 onto Saunders Street and you'll cross the Champlain Canal, once again getting some great water views. Saunders Street will become Williams Street on the other side of the bridge. From there, you'll take a left onto Poultney Street/Route 4 which you'll take until you reach Vermont Marble Granite, Slate & Soapstone Co. (which is still in the state of New York, despite the name).
Here, you'll be able to see a 1,000 pound, 11-foot-8-inch tall sculpture of Bigfoot. It's no secret Whitehall is known for their sasquatch sightings, and in 2017, the owner of Vermont Marble, Granite, Slate & Soapstone Co. paid for a local artist to construct this massive statue in front of his business.
Travel Around the Southern Tip of Lake George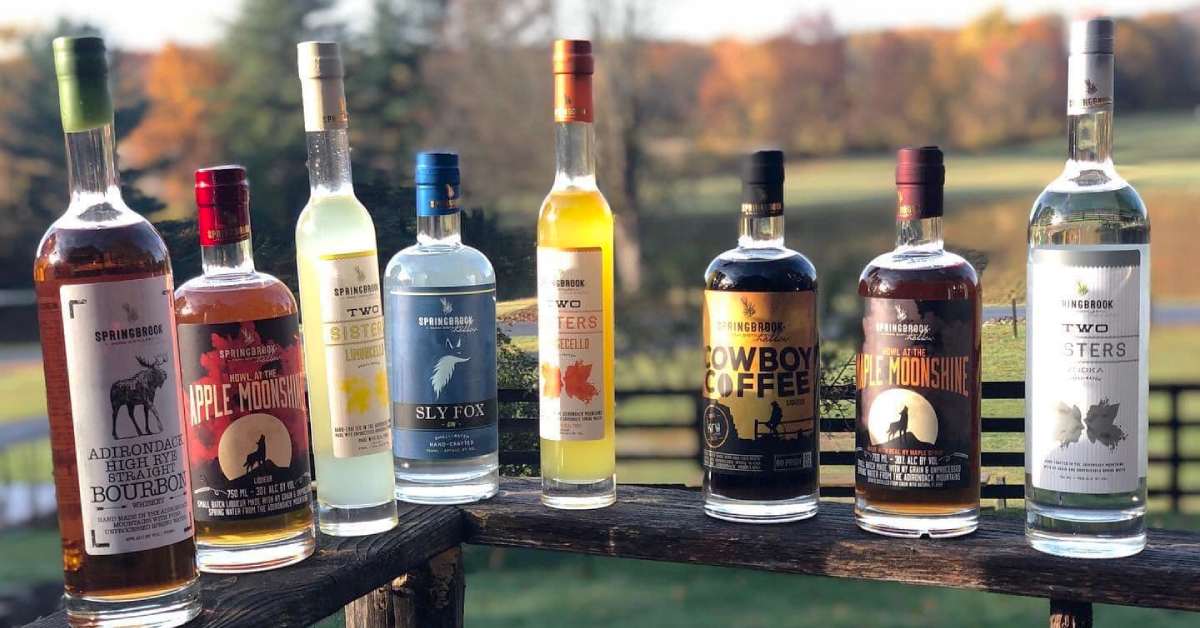 After stopping to get your picture taken with Bigfoot, you'll head back the way you came from on Poultney Street, taking a left onto Broadway/Route 4 where you'll head south for about 30 minutes. This is a fairly rural area with lots of fields, trees, and perhaps a few more farms, making for a pleasant country drive. You'll pass Adirondack Natural Stone along the way.
As you enter Fort Ann, you'll take a right onto Ann Street/Route 149 where you'll continue to enjoy countryside views. After about 10 minutes on Route 149, you'll see Springbrook Hollow Farm Distillery, which you'll definitely want to check out. The distillery produces high-quality spirits using local grains and fruits, and is located on over 200 acres of land, with outdoor seating where you can relax and enjoy your drink. Springbrook Hollow has been a source of water for the area for centuries and gives their spirits a unique flavor that can't be replicated.
Shortly after exiting the distillery and returning to Route 149, you'll pass the Queensbury Country Club on the right, then, you'll make a right onto Route 7/Bay Road. At this point, you'll be heading back towards the lake, passing Dunham Bay Marsh on your right.
Make a left onto Route 9L/Ridge Road and follow it as the road becomes East Shore Drive as you make your way south down the tip of Lake George. Keep going until you find yourself back near the Lake George Village area.
Side Trip: Prospect Mountain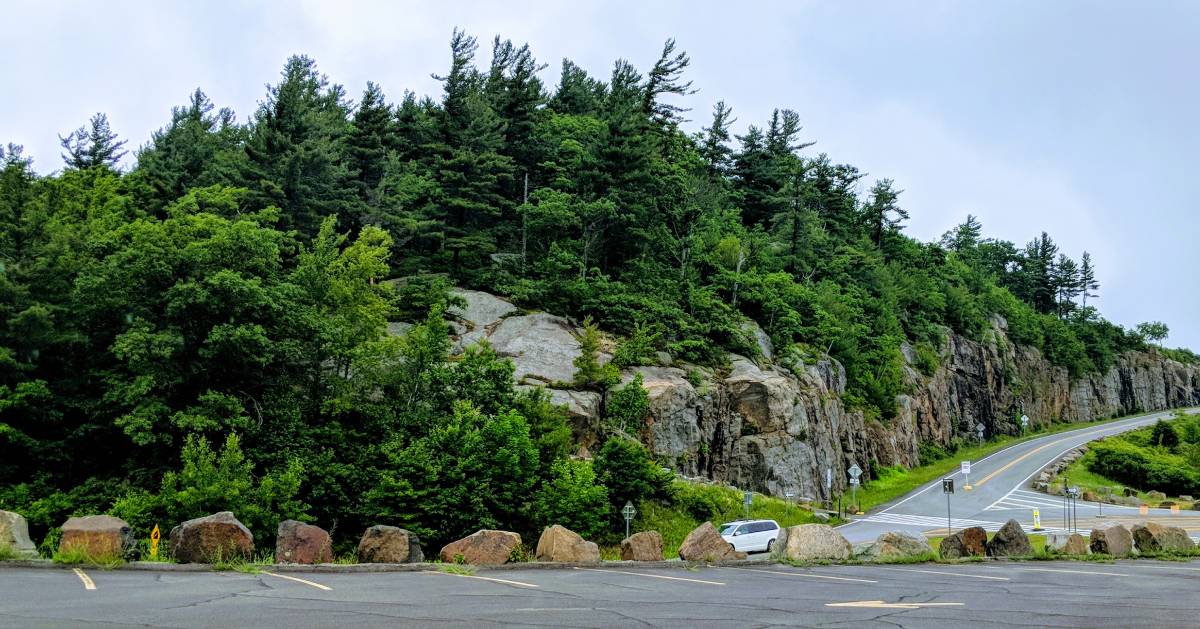 As you come back around towards Lake George Village, you could make one more side trip to Prospect Mountain. This is a gorgeous, popular scenic spot to see spectacular views of the lake, and while many choose to hike up the mountain, you can actually drive up as well for $10 per car. However, if you are aged 62 or older with a valid New York State license or a NYS Non-Driver ID Card, the whole vehicle can drive up for free Monday through Friday (excluding holidays)! You can be either the driver or a passenger.
To drive up Prospect Mountain you'll go up Veterans Memorial Highway, a 5.5-mile long route that is open every day from Memorial Day until early November, weather permitting. There are three overlooks on the way up, plus a shuttle bus that can take you all the way to the top after you parked.
Alternatively, you could opt to begin your road trip with Prospect Mountain if you're concerned you won't reach the mountain before dark falls.
Start planning your next Lake George road trip today and have fun exploring the region!