Walking In A Winter Wonderland: 6 Reasons To Visit Lake George This Holiday Season
Family traditions are one of the best parts of the holidays. Every family has a holiday tradition whether it's cutting down and decorating a real Christmas tree or having a movie marathon. This year, why not start a new tradition with a trip to Lake George? All around the lake, villages and towns transform into winter wonderlands sure to inspire the Christmas spirit in anyone. Visit for a day, a weekend, or all of Christmas break and find holiday cheer around every corner. Hear are six of our favorite reasons to visit Lake George this holiday season: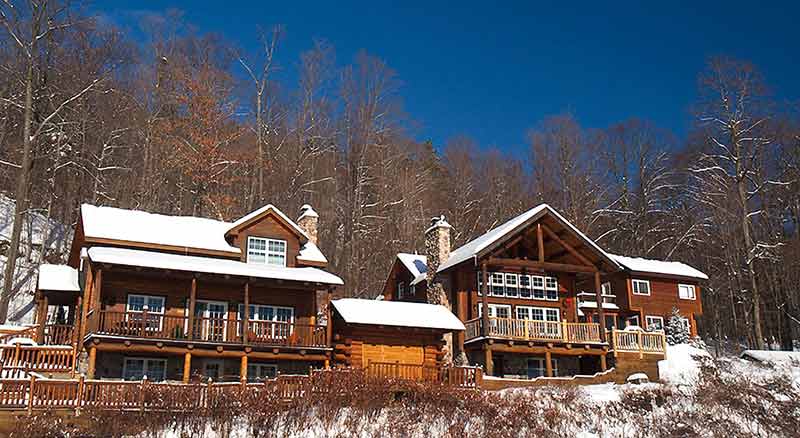 Visions of sugar plums will dance in your head at these winter lodging options around Lake George. Gather up the entire family and book a cabin, cottage, or vacation rental. Deck the halls, stoke the fireplace, and take in snowy landscapes while you cook Christmas dinner together. For a relaxing Christmas, stay at a local hotel or resort and enjoy holiday meals and activities without the stress.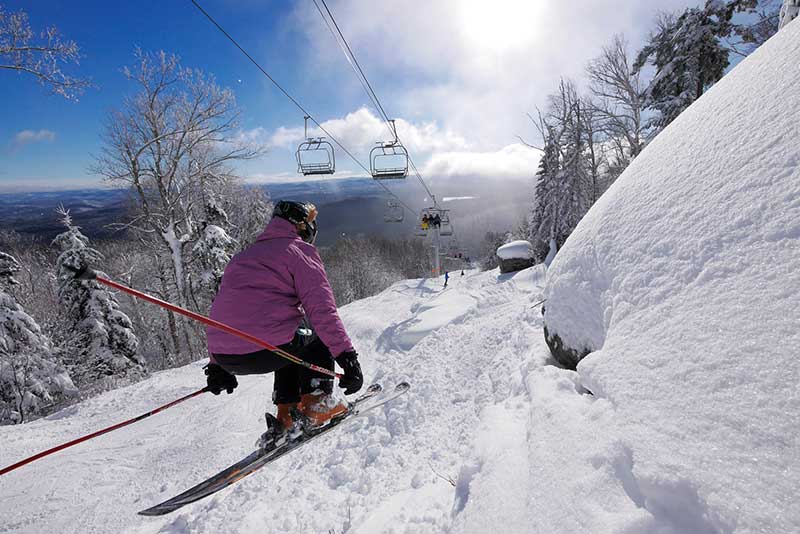 Why sit around dreaming of a white Christmas when you can have one in the Lake George area? Mother Nature may not always bring snow to the lower elevations, but the Adirondacks are usually blanketed in white before Christmas. One of the best spots for snow during the holidays is Gore Mountain. After a day on the slopes, head back to Lake George and warm up with an Irish coffee, eggnog, or hot chocolate at a warm and toasty bar.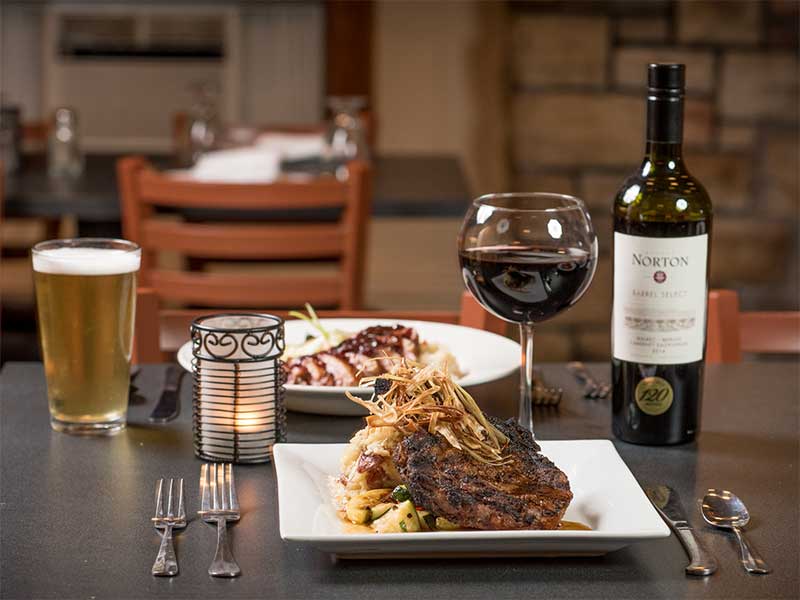 Pictured: 16 0z. Bone-in Ribeye at The View Restaurant at Dunham's Bay Resort
Arguably the best part of the holidays is indulging in rich, hearty food. Dining in Lake George makes indulging even better. Find a restaurant where you can saddle up to the fireplace or opt for scenic views of the lake and the Adirondacks. Order something rich and decadent like a big steak or that creamy pasta, you deserve it.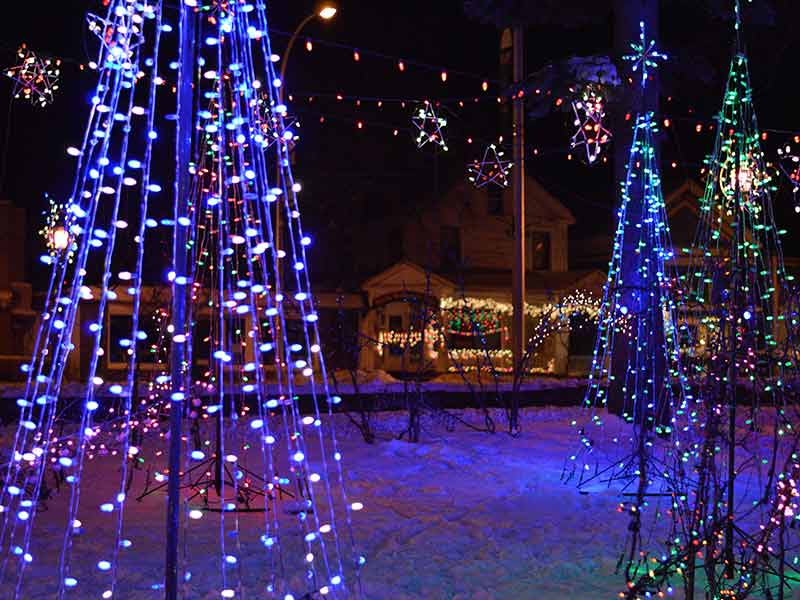 There is something magical about seeing a small town like Lake George lit up by thousands of twinkling lights. The decorations, good spirits, and annual community traditions create a whimsical atmosphere filled with holiday cheer. Check out local holiday events to create memories that last a lifetime. Want to kick off the holiday season in Lake George? Lite Up The Village will put even the biggest grinch into the holiday spirit.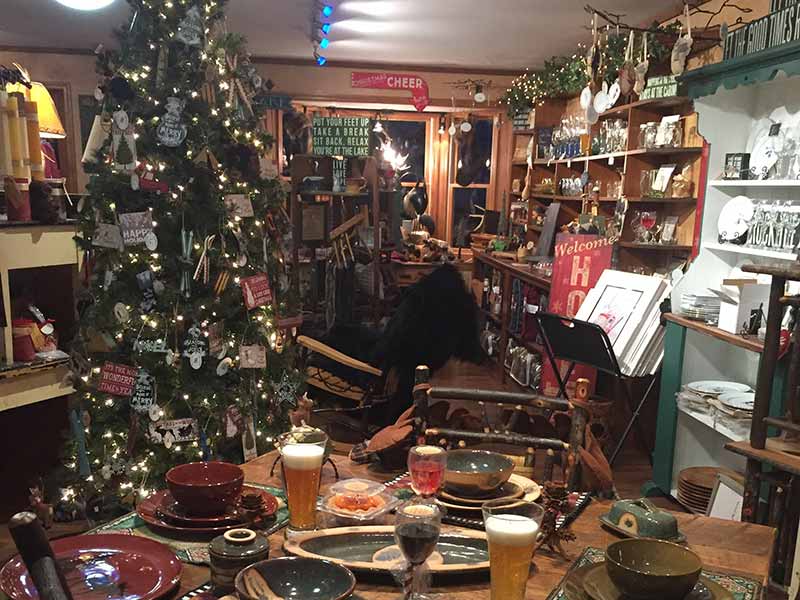 Lake George is the perfect place to go holiday shopping. Local boutiques will have unique gifts for anyone on your list. Head to the outlets to find everything from apparel to kitchenwares. Need some inspiration for gift ideas? Check out our Holiday Gift Guide to see unique gifts from local businesses.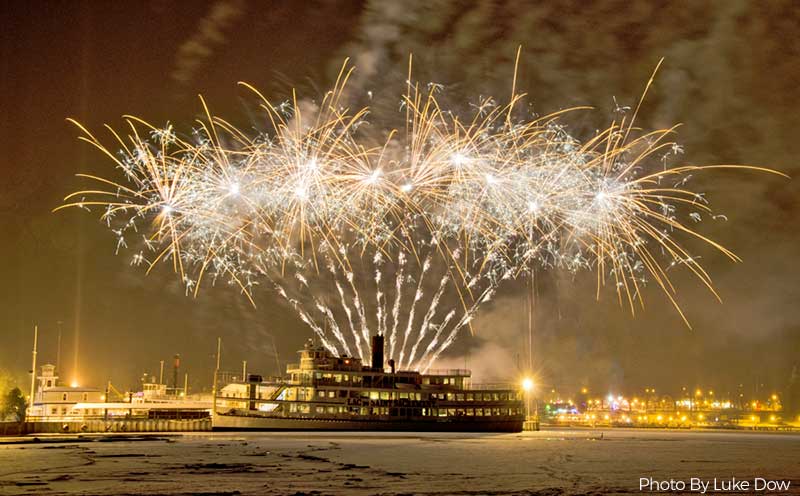 Set sail to this year's worries with a cruise around the lake. Lake George Steamboat Company hosts an extravagant and fun annual New Year's Eve Party Cruise. You'll enjoy a full buffet with prime rib, a midnight toast, live music, and front row seats to the fireworks show. Check out their other New Year's cruises for more ways to celebrate.
The Polar Plunge is a popular "First Day" tradition at Shepard Park Beach in Lake George Village. Hundreds of brave souls gather on the beach every New Year's Day wearing swimsuits and bikinis. They shiver until the countdown ends and they all rush into the freezing waters. This can't-miss spectacle is fun for participants and spectators.
Get In The Spirit With Our Holiday Guide »