The North Country Holiday Gift Guide: Featuring the Lake George Region's Top Holiday Gifts
'Tis the season for holiday gift giving, and smart shoppers are already looking for potential gifts. Why spend hours shopping online or wandering around stores when you can find the season's top holiday gifts right here. Check out our North Country Holiday Gift Guide and discover the best gifts found in Lake George and the surrounding area.
2017 North Country Holiday Gifts

Adirondack Winery's seasonal favorite, Red Carriage, is the perfect complement to any traditional holiday meal! This cranberry infused red wine is semi-sweet, light-bodied, and only available during the holiday season, so get a bottle for yourself or someone on your list before it's too late!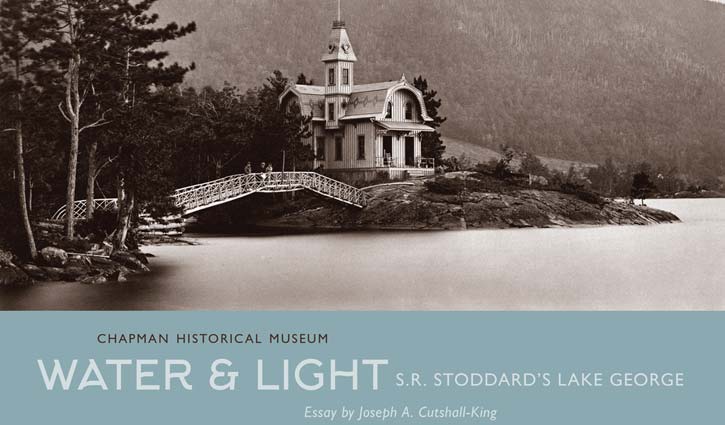 Do you know someone who loves Lake George? Order them "Water and Light," a new book (160 pages, 150 photos) available now from The Chapman Museum in Glens Falls. This special book features hundreds of images of Lake George, also known as the Queen of Lakes, taken by Seneca Ray Stoddard, one of America's premier 19th century photographers.
Few artists have captured the beauty of Lake George as did S.R. Stoddard. He created hundreds of photographs of the lake's landmarks and dramatic shoreline, and his images are a fascinating study of the interplay of water and light. Purchase a copy of this book now for the holidays; it is available softbound for $29.95 and hardcover for $49.95.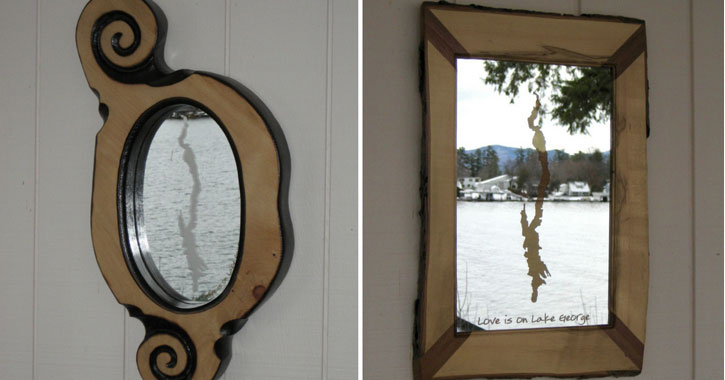 Order a custom framed mirror from Love is on Lake George this holiday season! Each piece is unique and locally crafted (including the mirror, laser etching, as well as the frame).
The mirror glass is 1/4 inch thick and approximately 16 inches tall. The frame size varies, and a silhouette of Lake George and Love is on Lake George is etched on the mirror. Each mirror is also made to order and may be personalized.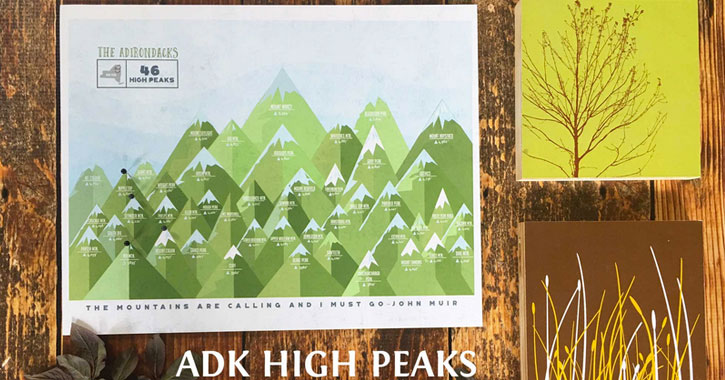 World Vibe Studio designs custom and personalized maps, including those of the Adirondacks, to fit any decor. Their Push Pin maps make it easy for you to track the peaks you have climbed, and they are unique gifts for the holidays and any occasion! Use code "ADK15" on their Etsy shop page to receive 15% off your order of a custom or personalized map.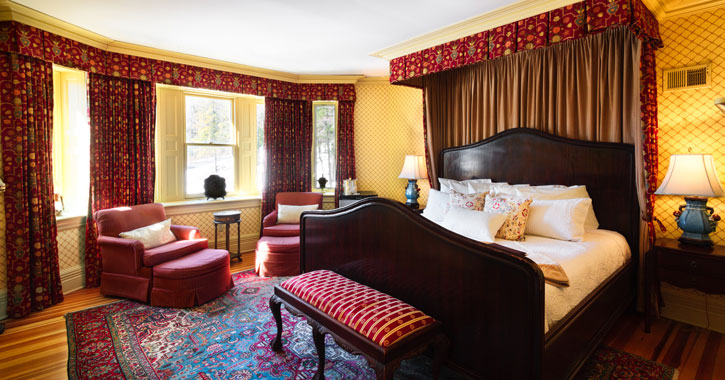 Give the gift of a private getaway to a magnificent stone castle overlooking beautiful Lake George - the historic Inn at Erlowest. Rates start at just $165 + tax for an overnight stay!
Guests will receive Prosecco upon check-in, turndown service, access to an on-site AAA 4-Diamond Restaurant, and complimentary breakfast the morning after their stay. This is one gift a friend or family member won't soon forget.

Share your love for beautiful Lake George with Love is on Lake George's unique set of quality stemless wine glasses. Each one has been sandblasted with their unique Lake George logo. These versatile 15 oz. glasses are made in the USA, and they are a popular choice for a holiday or bridal gift.
There is Free Shipping with "LGLove" code until 12/1 and Free Shipping on $50 or more with "LGLOVE2" code from 12/1-12/31/2017.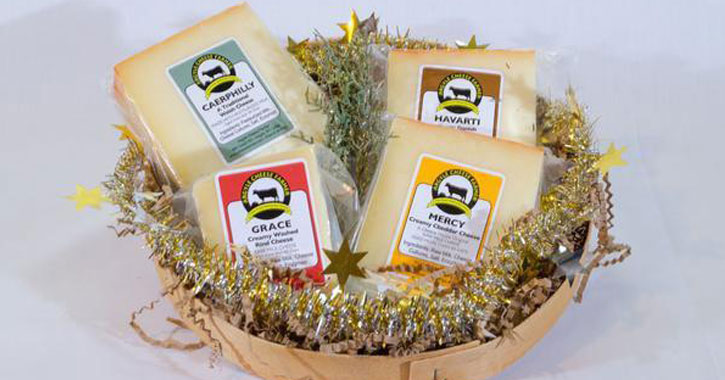 Who doesn't love cheese? When you're searching for the best gift for a family member, friend, or even a coworker, you can't go wrong with Argyle Cheese Farmer's Cheese Sampler.
Featuring a box of approx 1 lb. of aged, hard cheese, this Cheese Sampler includes blocks of Grace (aged gouda), Mercy (creamy cheddar), Caerphilly (a flavorful Welsh cheese), and Glory (a creamy cheese that is cultured with yogurt). The cost is $22, and a description card will be enclosed. Visit their store or order online for the holidays!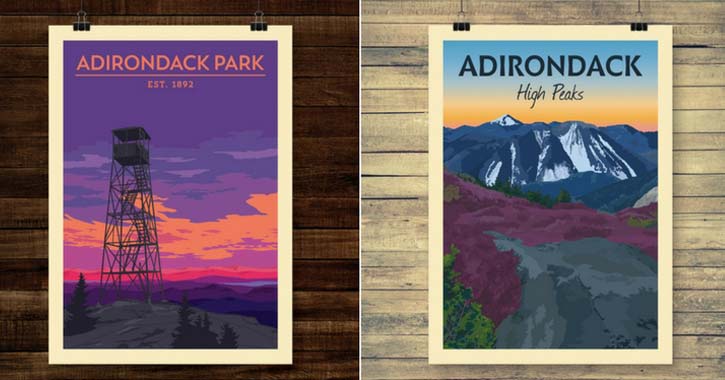 Printed on enhanced matte paper, these posters by Pure Adirondacks depict illustrations of various locations and common landscapes seen throughout the Adirondacks. Available in 12x16 or 18x24 inch sizes and with an option to purchase with or without a frame, these posters will be shipped directly to customers (w/ free shipping) when purchasing online via PureAdirondacks.com.
PureADK is a lifestyle brand that offers a variety of products ranging from Adirondack clothing & apparel to ADK-inspired home goods. Use the code "ADKS15" to receive 15% off your order on their online shop during the 2017 holiday season.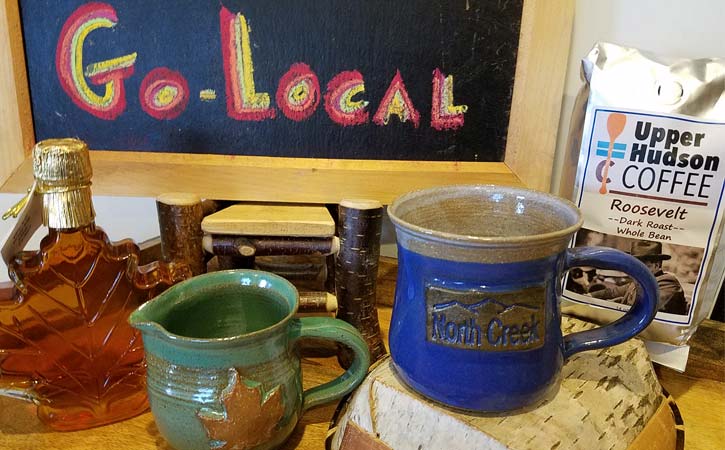 Go local this Christmas by supporting local businesses who support local artisans. Hudson River Trading Company offers handmade mugs, locally-roasted coffee, unique maple syrup pitchers (filled to the brim with Adirondack amber from local maple producers), and more.
The store is located at 292 Main Street in North Creek, and it is home to a variety of products from hundreds of local craftsmen and women. Come in and pick out your pottery color and your coffee flavor. Shopping at Hudson River Trading is magical!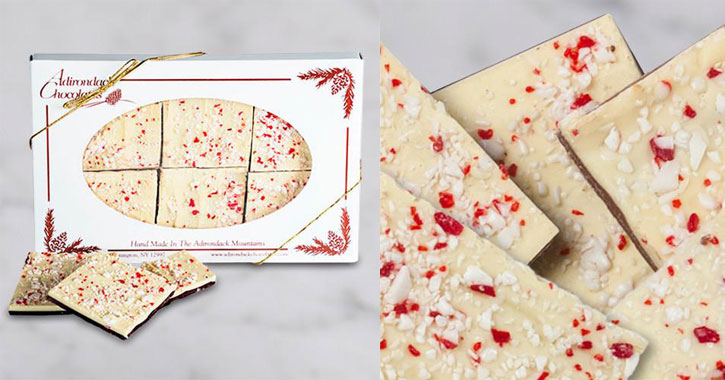 Make someone's day by giving them a box of holiday cheer from Adirondack Chocolates! This box of holiday bark features sweet white chocolate layered over your choice of milk or dark chocolate with crunchy pieces of peppermint sprinkled over the top.
The chocolate will be packed in a white box with a window view of every delicious piece, and the product will be available beginning four weeks prior to Christmas Day. Don't miss out on this holiday treat!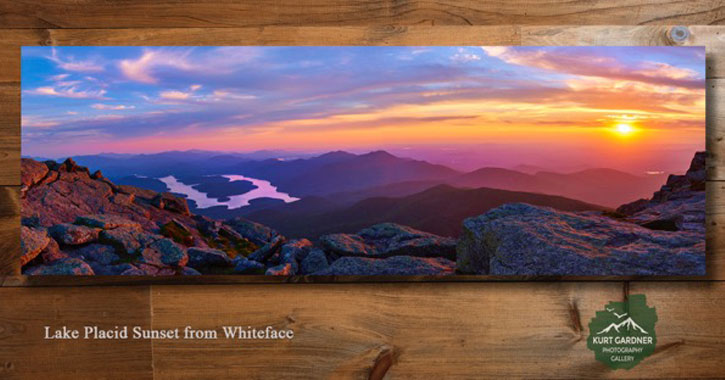 This season, give someone you know a beautiful Adirondack landscape photograph from Kurt Gardner Photography! They sell HD quality metal prints that are ready to hang on the wall and feature brilliant colors (see above photo); the cost for these starts at $45. You can also purchase matted prints instead, which start at just $7, or order a photograph with a custom rustic frame.
Kurt Gardner Photography will ship your product to you, or you can visit their gallery in Old Forge, NY, and see what catches your eye as the perfect holiday gift.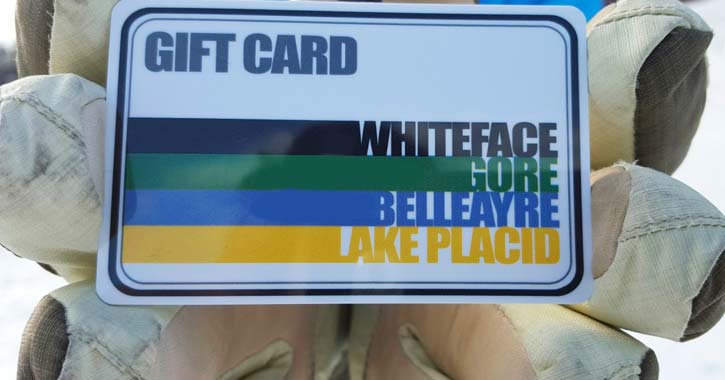 If you know someone who loves skiing or snowboarding, then make their life easier this holiday season by getting them a gift card for Gore Mountain in North Creek. This family-friendly ski resort features four peaks and a wide range of alpine terrain and trails for all skill levels.
These gift cards are rechargeable and available in any denomination. Best of all, they can be used as payment for any purchases made at Gore Mountain, including single and multi-day lift tickets, tuning and repair services, food and drinks, rentals, and more!

This Love is on Lake George shelf sitter features a mountain design and is a unique and timeless gift for any occasion, including a wedding, an anniversary, the holiday season, and more. Each one is 23 inches wide and 5 inches tall and made of brushed stainless steel to match any decor. You can even personalize your shelf sitter with names/date.
There is Free Shipping with "LGLove" code until 12/1 and Free Shipping on $50 or more with "LGLOVE2" code from 12/1-12/31/2017.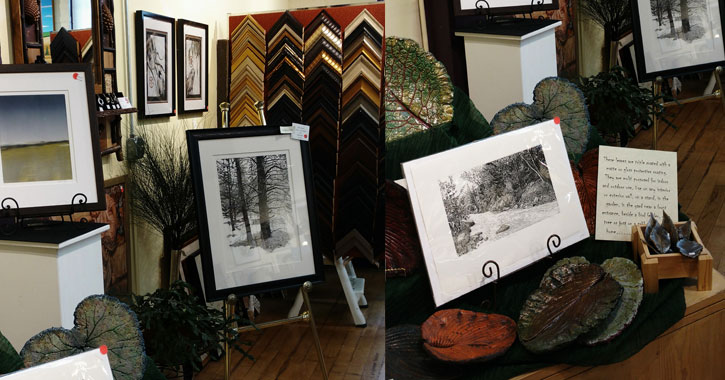 If you're searching for unique holiday gifts in the Glens Falls Region, then you won't have to go far! Head over to the historic Shirt Factory in Glens Falls and check out the amazing selection of original paintings, gifts, and more at the Saunders Gallery of Fine Art at bjsartworks.
The gallery houses stunning oil and acrylic paintings, limited edition etchings, gifts made from local artists, and even Adirondack furniture. Plus, from now through December 31, 2017, you can use one of these two coupons to receive a special discount on a framing purchase.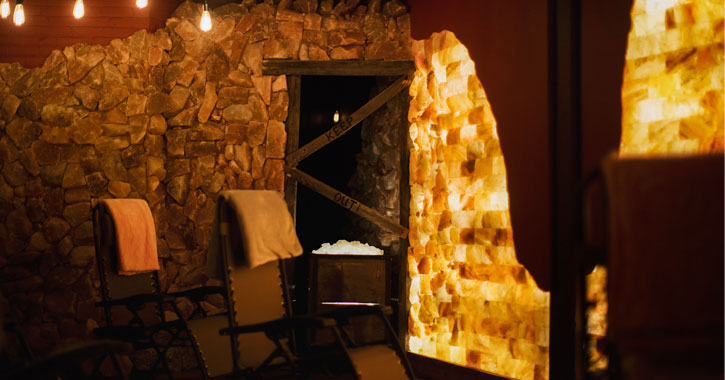 Located in downtown Glens Falls, the "one-of-a-kind" Adirondack Salt Cave is the first business in the North Country to offer Halotherapy (dry salt therapy). The salt cave blends the heritage of a 100+ year-old garment factory with the natural elements of over 7,000 pounds of Himalayan salt and technology to give visitors a truly unique wellness experience.
Know someone who would love experiencing one of these relaxing and healing sessions? If so, then give them one of Adirondack Salt Cave's Halotherapy session gift certificates as a holiday gift.
As a special, when you buy two gift certificates for their regularly priced 45-minute Halotherapy sessions, you will receive a third one for free! To buy your gift certificates, visit the salt cave at the Union Square Building in Glens Falls or their website.
Please Note: This offer excludes gift certificates for introductory sessions.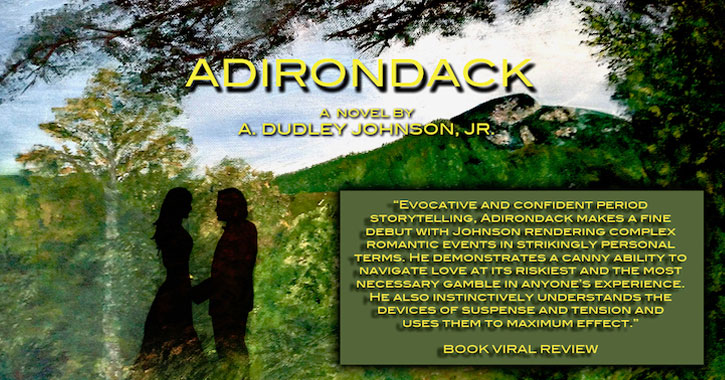 "Adirondack" tells a story of women's empowerment and forbidden love in a time when "that just wasn't done." It is an absorbing novel of romance among the privileged summering in the beautiful and lush Adirondacks in the Gilded Age. Available in Kindle for $7.99 and paperback for $12.99 on Amazon.com, give "Adirondack" as a gift to a book lover you know this holiday season.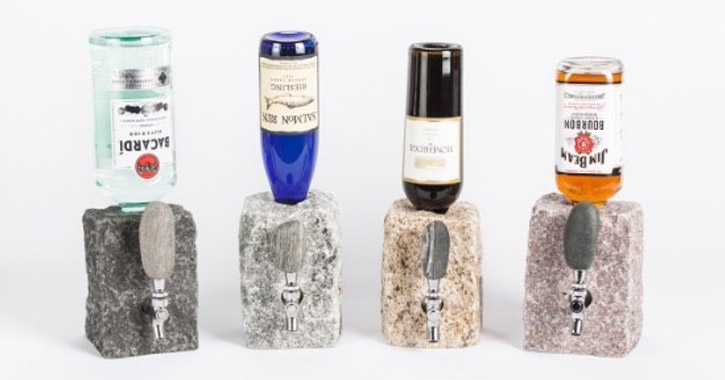 Why give someone another koozie when you can buy them a cobbled granite dispenser from The Furniture House in Queensbury? Featuring a 100% stainless steel valve, these dispensers don't just look cool, they also keep drinks cold!
Each one costs $139, and you can either order over the phone or visit the store and pick out the stone you think would make the best gift.