There is so much to do in the Adirondacks! The fall season offers exciting opportunities and attractions of all sorts.
To Name a Few...
Views:
Scenic fall gondola rides - Take a trip to Gore Mountain in North Creek or Whiteface in Lake Placid and go on a scenic gondola ride! Bring your camera: You will witness spectacular views of the Adirondacks.

Breathtaking balloon flights - Speaking of spectacular views, what could be more breathtaking than viewing the Lake George region's fall foliage from a hot air balloon? Local hot air ballooning companies offer flights through October, and often into early November. You can float along for miles, admiring the views and snapping incredible photographs from the air. It will be an hour you will remember for the rest of your life!

Panoramic golf course views - Looking to enjoy a game of golf while taking in the Lake George fall foliage views? Head to The Sagamore, Hiland Golf Club or Top of the World Golf Course for a stunning combination of foliage views and excellent golfing.

Adventures:
Try the Adirondack Extreme Adventure Course in Bolton Landing for a thrilling day on the ropes courses and ziplines. The exhilarating tree-to-tree experience will allow you to challenge yourself or work as a group to complete each course.
Wineries:
Thirsty from your adventures? Try an assortment of wines at the Adirondack Winery in Lake George. Taste Testing eventw will be held throughout the season.
White Water Rafting:
White Water Rafting offers thrills and fun! Get a group of friends together and have an adventure on the river! Worried about the water getting chilly? Most companies offer a wet suit rental to keep you warm, so dont worry!
Horseback Riding:
See the Lake George Area on horseback! This is a great way to see the spectacular views that Lake George has to offer. Horseback riding is a relaxing activity that will take you on a trip through the changing foliage.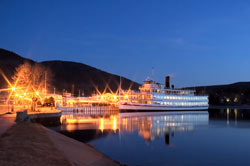 Cruises:
The Cruises on Lake George that take place throughout summer also run all fall long. This will be a great chance to see the less crowded, more peaceful side of the lake.
Lake George has a lot to offer - check out more activities!
Find more upcoming events on our Lake George events calendar!