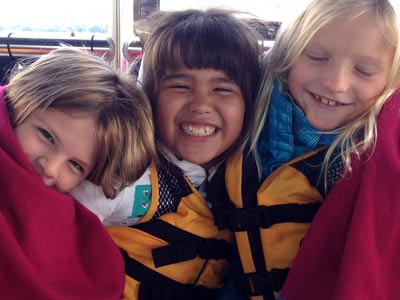 Treat Your Kids to a Week of Fun in Lake George! The area is the ideal vacation spot in the Adirondack region of Upstate New York. With a wealth of great hotels and restaurants, you'll find the perfect place to stay and dine, and with so many local attractions and daytrip options, you and your children will never lack for amusement!
Plan your summer vacation in Lake George full of fun-filled activities for your small children with this list of suggestions for day-by-day adventures.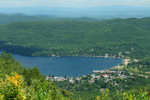 Day 1:
Start the morning off with breakfast out at one of the many Lake George restaurants offering early morning treats, and then take a short trip to the Ashville Game Farm and Zoo in Greenwich. The kids will enjoy seeing the zoo's big cats, from striped tigers and spotted leopards to kingly lions and black panthers. They can also take a peep at a number of other animals, from bears, monkeys and alligators to peacocks, camels and kangaroos. It's an experience they will never forget. As you head back to Lake George, take the scenic route up Prospect Mountain to give your children a breathtaking view unlike any other. As they overlook the entire Lake George region from the mountain's summit, they're sure to realize the exciting vacation that's in store for them this week.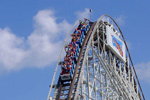 Day 2:
Have a day filled with fun and adventure at Six Flags Great Escape and Splashwater Kingdom! With dozens of family-friendly rides, a petting zoo and a thrilling waterpark, this theme park in Lake George is full of fun all day long for the entire family. The theme park is fun but tiring, so you'll want to grab some dinner in Lake George and rest up for the night.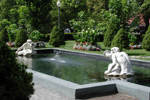 Day 3:
Plan this on a Wednesday, and you can take the kids on the Floating Classroom! The LGA welcomes you aboard the Floating Classroom for an adventure ON Lake George where you can explore a variety of topics and activities that apply to Lake George and its surrounding wetlands. Education never felt so exciting! Afterwards, head south to Congress Park in Saratoga for the late afternoon, and have a picnic on the beautifully groomed lawn. Make sure to take along a few quarters, and let the kids go for a ride on the antique wooden carousel. You might also want to taste the carbonated water from the famed mineral springs of Saratoga before skipping off to the Saratoga Springs History Museum for more educational fun.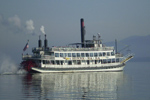 Day 4:
Head out for the day, and go exploring! Up Yonda Farm in Bolton Landing is an environmental education center full of excitement, including a butterfly garden and over 70 acres of natural beauty overlooking Lake George. There are also a number of other museums and animal adventure centers in Lake George. Choose the ones that would be most interesting to your kids, and take the day to hit as many as you can! Plan these adventures on a Thursday, and top the day off with a night of fireworks and fun. Take the kids on a spectacular fireworks cruise on Lake George's very own Steamboat Paddlewheeler the Minne-Ha-Ha.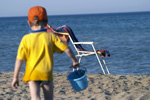 Day 5:
Head to Usher's Park Beach, a little-known Lake George beach on Route 9L with a children's play area and kiddie beach. The kids will have fun building sandcastles and watching boats pass by in the distance. After the beach, play a few rounds of mini golf, and have an evening of fun and laughter practicing your own golf game along with the kids!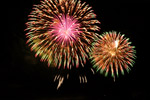 Day 6:
Let your children personally deliver their Christmas lists to Santa this year! About an hour and a half north of Lake George is the North Pole in New York, home of Santa's Workshop. Open year round, this magical Adirondack village on Whiteface Mountain lets children ride and feed Santa's reindeer, witness homemade candy being made, ride the child-friendly rides, watch the live nativity pageant and more. Afterwards, slip over to Wilmington (a short drive), and finish off the afternoon at the beautiful High Falls Gorge and Adventure Center. If you want to break up the trip, make a stop along the way in Pottersville for Natural Stone Bridge and Caves. If you'd rather opt for indoor fun in Pottersville, check out Railroads on Parade, a fascinating miniature train attraction with an array of displays, featuring trains, buildings, people, places, lights and more. After a day of travel and sightseeing, wind down with an evening concert in Lake George Village! Every Wednesday evening, there are free band concerts in Shepard Park, and actually - almost any day of the week, you can find free live entertainment at Shepard Park in the evenings.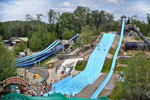 Day 7:
Start the morning off with river rafting or tubing on the Hudson River. Tubby Tubes Co. in Lake Luzerne is just five minutes from Lake George and offers adventure for adults and kids alike, ages one and up. After tubing, treat the kids to some lunch and ice cream and then head over to Old Forge for New York's largest water theme park – Enchanted Forest / Water Safari. From kiddie slides to thrilling rides, this waterpark is sure to please the whole family and is the perfect way to top off your exciting vacation in Lake George!
>>Looking for more Lake George vacation ideas for kids? Check out our list of Top 10 Things To Do With Your Kids In Lake George and our things to love about Lake George for more fun activities, including hiking, biking, camping, fishing and more.