Phantom Island is a nice 4 site campsite island just across the channel from Glen Island, Glen Island is where the ranger station and general store is located, so it's great for people watching and for being close to the store but is not a secluded.
This Island has a cute very sandy shallow beach ideal for little children.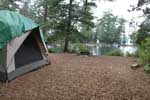 Campsite #1 overlooks Glen Island, so if you like to people watch, this is the site to have. It's a nice open sunny site. This is a convenient site if you feel like having an icecream, it's just across the channel.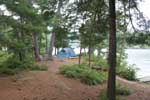 Campsite #2 is on the western point overlooking Uncas Island.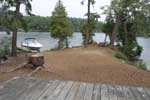 Campsite #3 was on the northern point and although the island is really close to Glen Island, this site was nice as it does not face the busy Glen Island so you feel more remote (even though you aren't). The pro of this site is it's really close to the bathroom, that is also the con.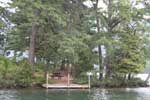 Campsite #4: Faces Glen Island and is a nice sunny spot. Also good for people watching. Channel is extremely busy.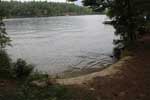 Small beach between campsites #3 and #1 facing Gem Island