Lake George Whitewater Rafting
If you love an exhilarating adventure with scenic views at every turn, try whitewater rafting in Upstate New York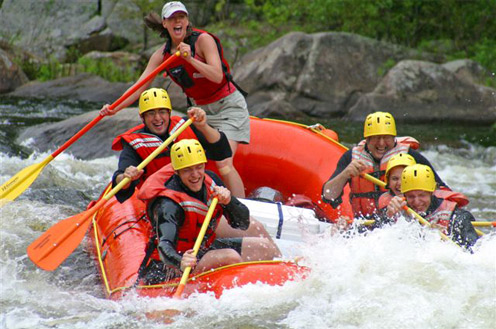 Before you go, here are a few tips you should know:
If you're looking for a wild ride, go rafting in the spring! The snow melt makes the water fast-moving and filled with rapids.
Want a more relaxing ride? Head to the river during the summer and fall.
The whitewater rafting season in Lake George and the Adirondacks spans from April through mid-October.
Whitewater can be classified from I to VI (easy to impassable). Hudson River Rapids have a Class IV and V rating.
If you take a whitewater rafting trip, it will most likely include all necessary gear, plus a snack.
Even if you're not a gym rat, it is important to be in moderately good shape before embarking on a whitewater adventure.
Although there will be some rapids on your trip, there will also be calm stretches where you can take in the scenery.
Be sure to dress warmly, especially in the spring. Avoid wearing cotton clothing or cotton socks as cotton will just make you colder once it gets wet.
Go easy on the fluids before you go - there are usually no bathrooms!
On average, whitewater rafting trips cost around $50-$100, but that amount could vary due to a number of factors.
Always wear sunscreen to protect your skin.
Don't bring jewelry, expensive cameras, valuables, or other items you would be sad to lose in the river.
Some places offer lodging and camping packages for visitors who are coming to town to experience whitewater rafting. View our lodging specials!
Find Whitewater Rafting Businesses: