The New York Times Recommends Off-Season Travel To Lake George
The New York Times listed Lake George NY among its Eight Off-Season Getaways to escape the crowds -- worldwide.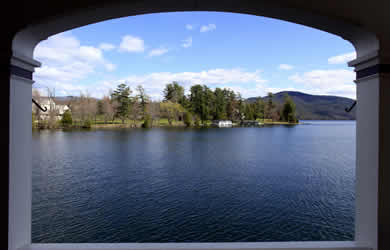 Yannis Koleskis for The New York Times
The Queen of American Lakes was selected by The New York Times in 2010 for its scenic vistas, great golf, affordable lodging and thrilling whitewater rafting, among other appeals.
The NYT travel section highlighted Bolton Landing specifically in its piece, encouraging readers to visit the lake just north of the Village. A quote from the article reads: "Bolton also offers the most scenic vistas of Lake George, where the mountains, forested islands and quiet blue waters form a Switzerland-like tableau."
Two popular lodging venues received distinguished mentions in their write-up on Lake George: The Sagamore and Chelka Lodge, both set directly on the lake in the Bolton Landing region.
Beneath a header reading DON'T MISS, The New York Times recommends whitewater rafting on the Hudson River on your spring getaway to the Lake George area. A quote from this section reads: "Lake George may be too cold for swimming before June, but mountain runoff and open dams turn the surrounding region into a whitewater rafting bonanza every spring."
Other destinations mentioned by The New York Times travel piece include Barbados, Charlston SC, Greece, Montauk NY, Montrael, Rio de Janeiro and Yellowstone National Park. Lake George was among the first four getaways highlighted in the piece.
There is no doubt, Lake George is a summer hotspot, but The New York Times suggests the lake is equally as beautiful and even more appealing as a spring getaway for those looking to beat the crowds and save some money.
Learn more about the Bolton Landing region, and plan your visit today!