Lake George Colonial Wars Walking Tour Stop 11: Fort George Ruins
In June 1759, British General Jeffrey Amherst arrived in Lake George and soon proceeded to build a new fort at the lake. The site was the high ground east of the ruins of Fort William Henry, which had been destroyed by the French in 1757. A provincial officer described the fort as "the walls [are] about 14 feet thick built of stone and lime."
In 1760, Amherst said of Fort George: "The bastion enclosed at Fort George is very neat, mounts 15 guns, is very small and a bad defense, but 'twas the shortest, cheapest, and best method of finishing what was begun at the Fort." This bastion is the only part of the planned fort that was finished.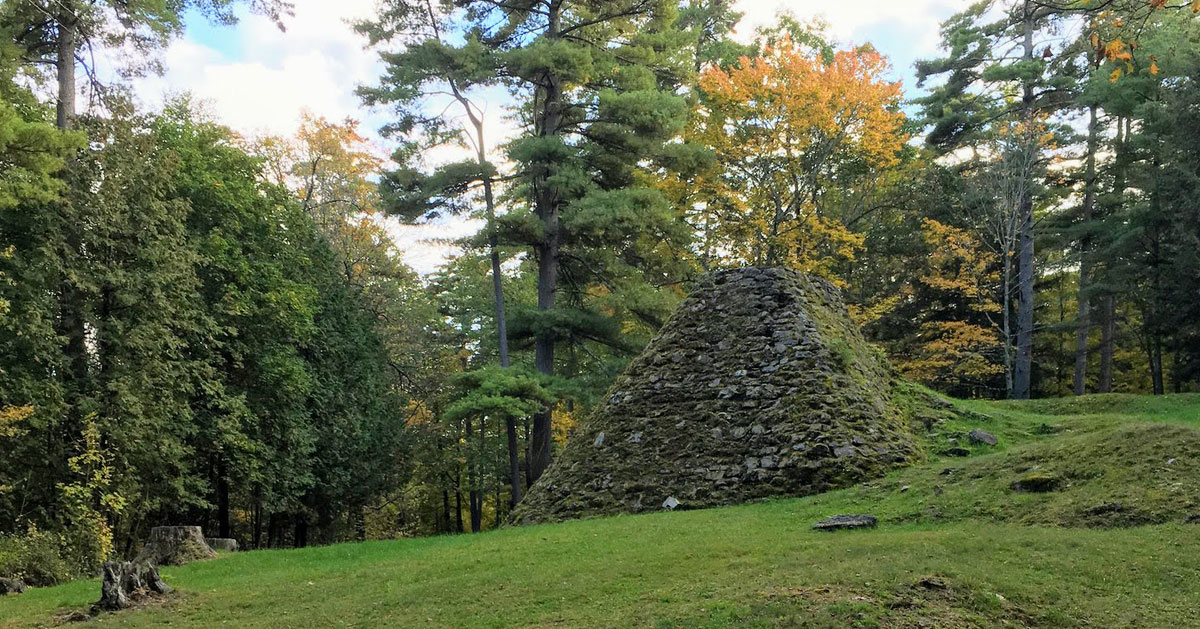 In May 1775, Fort George was captured by patriot forces under Captain Bernard Romans. The British-held fort was garrisoned by a single person - a 65-year-old caretaker named Captain John Nordberg. On July 16, 1777, American Major Christopher Yates set fire to Fort George as the British approached.
The British then utilized the fort as a vital link for General Burgoyne's supply route from Canada towards Albany. After Burgoyne's defeat and surrender at Saratoga on October 17, 1777, the Redcoats retreated from the Lakes Champlain-George corridor and the Americans again gained control of the fort.
In October 1780, British Major Christopher Carleton took Fort George. Carleton burned the fortification and retreated north. In 1819, Professor Benjamin Silliman from Connecticut provided insight into into the condition of then Fort George: "...we observe one of the old barracks, formerly belonging to the fort, now exhibiting a tavern sign, and, till within a few years, constituting the only place of accommodation to those who visited Lake George." Eventually local people used the fort as a quarry and most of the fortification vanished.
Archaeological studies under the direction of Dr. David Starbuck over the last few years have identified many previously unrecognized features in the park, including remains of foundations within the stockaded fort, hut sites, and the fort itself. Hundreds of relevant artifacts have also been found and studied.
During 2015 and 2016, intact sections of walls identified as part of bomb proofs and barracks have been found within the fort itself. All walls have been carefully reburied to maintain their preservation. The fort's remains are administered and protected by the New York State Department of Environmental Conservation. It's illegal to damage the bastion's 15 to 20 feet high walls.
Posting on this site is with the permission of the Lake George Battlefield Park (Fort George) Alliance.