Where to Play Pickleball in the Lake George Area
Have you heard all the talk about the sport of pickleball? Or maybe you're already an avid player looking to perfect your skills? Whether you're a local, a vacationer, or a pickleball enthusiast just passing through, we've rounded up the best spots in the Lake George area to get in a game of pickleball.
What Is Pickleball?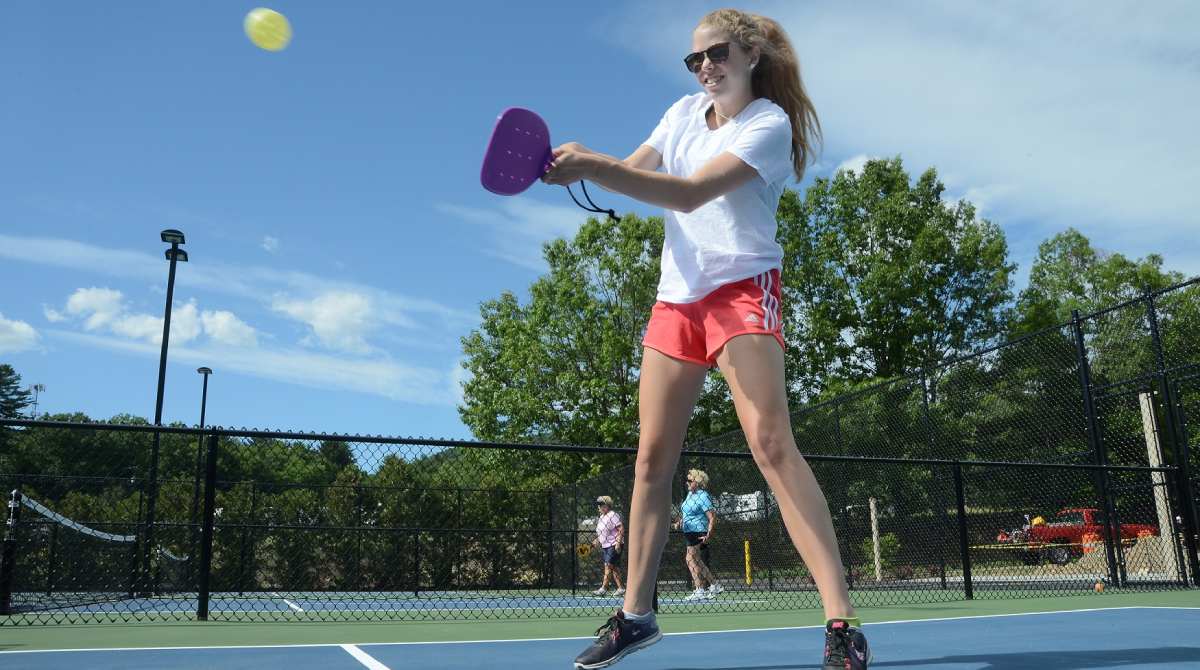 Pickleball is fun, easy to pick up, and one of the fastest-growing sports in the country. It is played on a small, badminton-sized court, and combines the rules and techniques of tennis, badminton, and ping-pong. Players use a perforated plastic ball, which is passed back and forth over a net with paddles. This game is perfect for kids, seniors, and everyone in between.
Come Play at Public or Private Courts
Here are some of the best places to find opponents, take lessons, or join a community tournament in the Lake George area.
Note: Please contact each venue below to find out further details or if you have questions. Some places might charge a fee, only offer pickleball at certain times, or you might need to be a member of the facility to participate.
Rogers Memorial Park Beach (Public)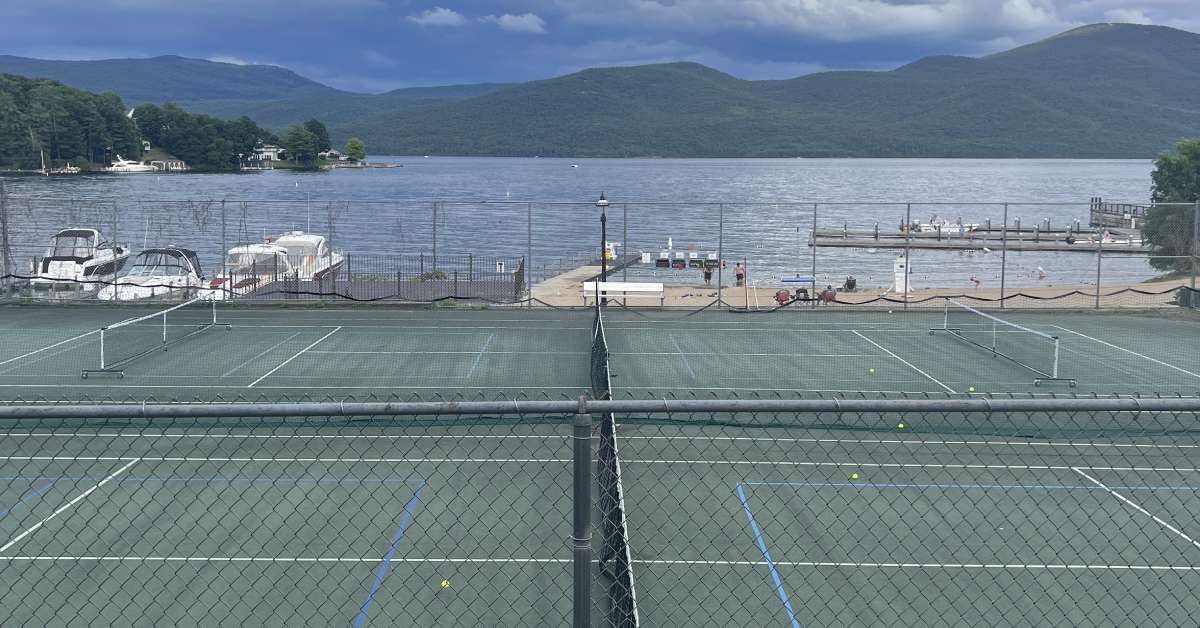 Located about 10 miles north of Lake George Village in Bolton Landing is Rogers Memorial Park Beach. This park features five pickleball courts (using portable pickleball nets) overlooking the lake. Visitors are required to pay a $5 fee to use the parking lot. Additional amenities include a beach, picnic area, restrooms, public docks, and more.
4928 Lakeshore Drive, Bolton Landing, NY, 12814
Contact: 518-644-2985 or boltonrec@yahoo.com
Ridge/Jenkinsville Park (Public)
This park hosts frequent games and tournaments on their 8 new pickleball courts. Pickup Pickleball starts every Monday at 5PM, no registration required. At this location, the ADK Pickleball Club also offers Intro to Pickleball and Pickleball 201 classes for both beginners and more advanced players.
133 Jenkinsville Road, Queensbury, NY, 12804
Contact: Queensbury Parks & Recreation at 518-761-8216

ADK Pickleball Class Signups: recreation.queensbury.net

Adirondack Pickleball Club: adkpickleballclub@gmail.com
Hudson River Park (Public)
20 minutes south of Lake George Village, there are two public pickleball courts at Hudson River Park. The park also includes a playground, a fishing dock, a picnic site with grills, and more.
450 Big Boom Road, Queensbury, NY, 12804
Contact: 518-761-8216

Crandall Park (Public)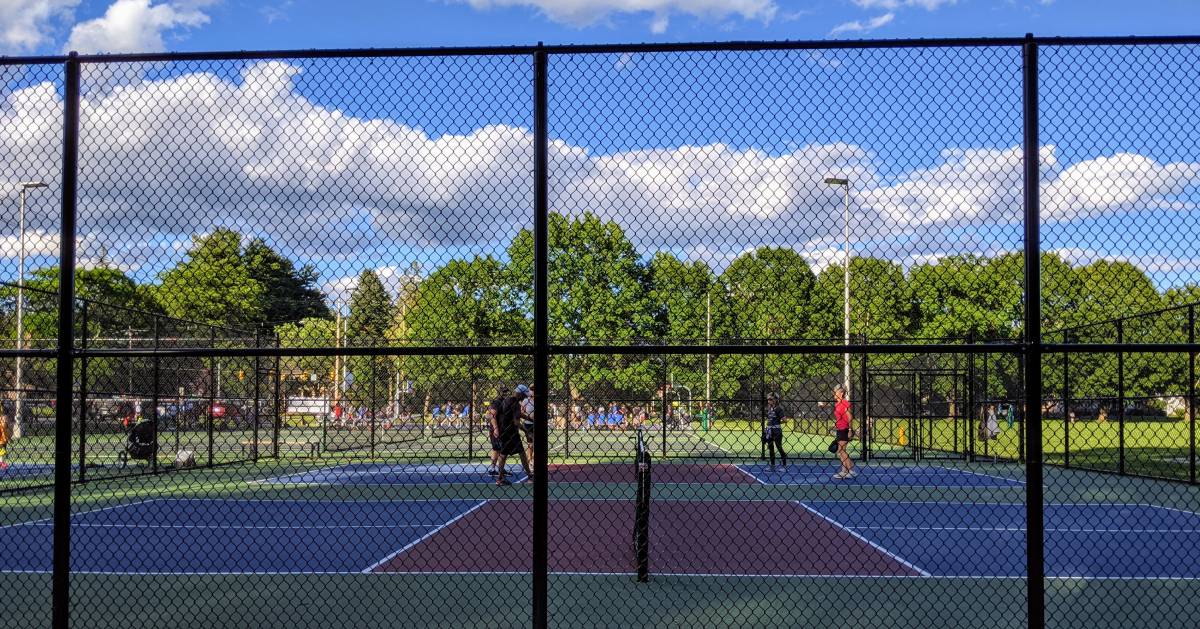 Also 20 minutes south of Lake George Village, Crandall Park has 4 pickleball courts available for anyone to play. These are located directly next to the basketball courts on the northern end of the park.
576 Glen Street, Glens Falls, NY, 12801
Contact: 518-615-0446
Northern Lake George Paddle, LLC (Public & Members)
This facility is open to members and non-members, though members do have court priority over non-members. The best part about this club is that you don't have to have equipment to go. Paddles and balls can be borrowed for free from Eddie's Restaurant from 4pm - 8pm, when the restaurant is open.
If you have your own, the courts are open for year round play, 8am - 10pm daily. Night play under the lights is reserved for members and their guests. There is a "Pay as you Play" option for non-members (sign-in sheet by the entrance to the warming hut near Eddie's).
Northern Lake George Paddle, 68 NYS Route 9N, Ticonderoga, NY, 12883
Contact: slb4747@localnet.com or Pattyhogan8@gmail.com
Glens Falls YMCA (Members Only)
Just next to Crandall Park in northern Glens Falls, the YMCA has 2 indoor pickleball courts that are available by reservation. Open gym slots may be used to reserve the pickleball, racquetball, or basketball courts.
600 Glen Street, Glens Falls, NY, 12801
Contact: 518-793-3878

Lake George Club (Members Only)
The Lake George Club offers members-only access to their pickleball courts, tennis courts, and beach area. This access is not included in reciprocal membership.
4000 Lake Shore Drive, Diamond Point, NY, 12824
Contact: 518-668-5734

Glens Falls Country Club (Members Only)
Located approx. 10 minutes south of Lake George Village, the Glens Falls Country Club has 3 outdoor pickleball courts. These are available for members to access from April through October. The club also offers private pickleball lessons, as well as hosts tournaments and clinics.
211 Round Pond Road, Queensbury, NY, 12804
Contact: 518-792-1186

Northern Lake George Yacht Club (Members Only)
This club is a 40-minute drive north of the southernmost part of Lake George, but if you're near Bolton Landing or Brant Lake, this is a close, must-visit spot for pickleball and tennis. Northern Lake George Yacht Club (NLGYC) members and Friends Point residents can play pickleball year round, including weekend pick-up games and their annual NLGYC Grand Slam tournaments.
Northern Lake George Yacht Club, 40 Friends Point Drive South, Hague, NY, 12836
Contact: communications@nlgyc.com

Looking for a Place to Stay with Pickleball Courts?
These Lake George area lodging options provide access to pickleball courts and other activities, such as basketball, volleyball, indoor and outdoor pools, and more.
Note: The pickleball courts at the following locations are available for guest-use only.
Lake George Camping Village
This camper's paradise is just 3 minutes down the road from Lake George Village. Their pickleball courts are located outside near the front entrance. They also have basketball courts, sand volleyball, badminton, and shuffleboard for campers and their visitors to play.
43 Finkle Road, Lake George, NY, 12845
Contact: 518-668-5226

Lake George RV Park
The Lake George RV Park is known for their pickleball courts, with 6 state-of-the-art courts that even have outdoor lights for night playing. This camping site was nationally recognized in "Pickleball Magazine" for their professional pickleball courts in 2018.
74 State Route 149, Lake George, NY, 12845
Contact: 518-792-3775

The Sagamore Resort
Enjoy a friendly game of pickleball that will leave you feeling refreshed and rejuvenated at The Sagamore Resort. This resort has tennis courts, pickleball courts, and paddle courts that offer hours of fun in the sun in Bolton Landing.
110 Sagamore Road, Bolton Landing, NY, 12814
Contact: 518-644-9400

Whether you're looking to try it out or improve your skills, pickleball is the perfect pick-up game. Gather a few friends and check out one of these spots to play pickleball together.