Betty Moyer | June 2011
Bolton Landing, NY - Summer is a time of fun, family, flower beds and fresh vegetables. If you drive through Bolton Landing you can easily see that the town is home to many a gardener. Now those gardeners are coming together at the Bolton Landing Community Garden, where residents can plan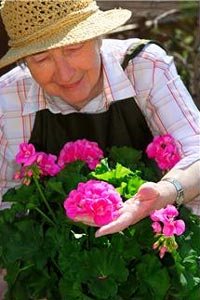 t what they wish in the comapny of others, while strengthening their sense of community.
Earlier this month, a community workday was held at the Bolton Conservation Park. Numerous community members showed up with wheelbarrows, shovels and rakes in hand and volunteered their time in order to prepare the park for the opening of the new community garden.
Twenty-Four, raised beds were created and set up in one portion of the park and residents quickly signed up to reserve a 4 x 8 plot to call their own.
Gardeners can choose to grow whatever they prefer in their bed, as long as they maintain their garden organically and share any excess food with the community.
The community garden will add more than just beauty to the town of Bolton Landing! The garden will also host a series of speakers on numerous gardening topics.

So stop by the Bolton Conservation Park Community Garden next time you're in town because something's growing in Bolton Landing and it's more than just the flowers and the vegetables, it's the community!
For more information about the Bolton Landing Community Garden, contact Jane Caldwell at (518) 644-2343.