Best 48-Hour Snowy Winter Itinerary for Lake George
When there are flakes in the sky and a chill in the air, Lake George transforms into a winter wonderland for snowsports enthusiasts! Check out this winter weekend getaway itinerary, where we send you out into the snow - and then bring you back inside by the fire to get warm.
Friday Evening: Check Into Your Cozy Lodging Option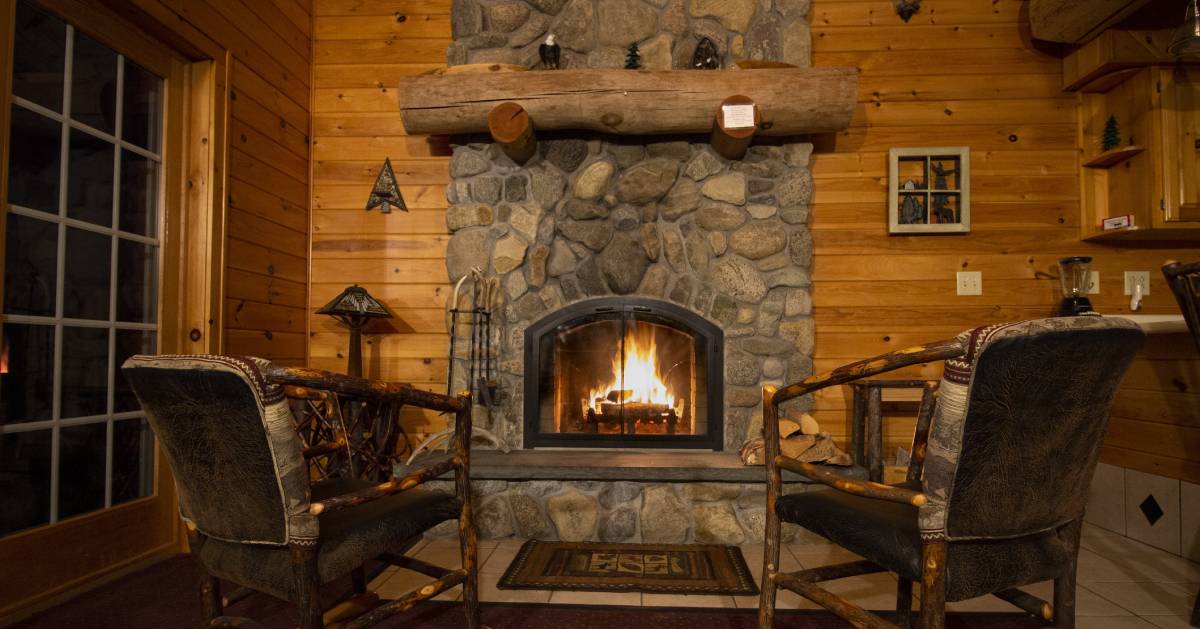 For this itinerary, we're giving you a couple different options for lodging - that are on opposite sides of the lake, but close to all the snowy action - so you can choose what speaks to you. Pictured above is the Eagle's Nest cabin at Trout House Village Resort, an Adirondacky, off-the-beaten-path, year-round resort on the northern end of Lake George in Hague. This snug, authentic cabin features a cobblestone wood fireplace, jet tub, and a full kitchen for when you want to stay snowed in instead of going out to eat.
Another awesome lodging option to consider if you'd prefer to be on the southern end of the lake closer to the Village is Dunham's Bay Resort. They're on the east side of the lake and just 15 minutes from the Village, they have on-site dining, and they offer a variety of lodging options to choose from. You can have an entire cabin to yourself or opt for a room in their main building.
See Trout House's Super Saver Winter Special details »
Find all the info on rooms and cabins at Dunham's Bay »
Saturday Morning & Afternoon: Downhill Skiing at Gore Mountain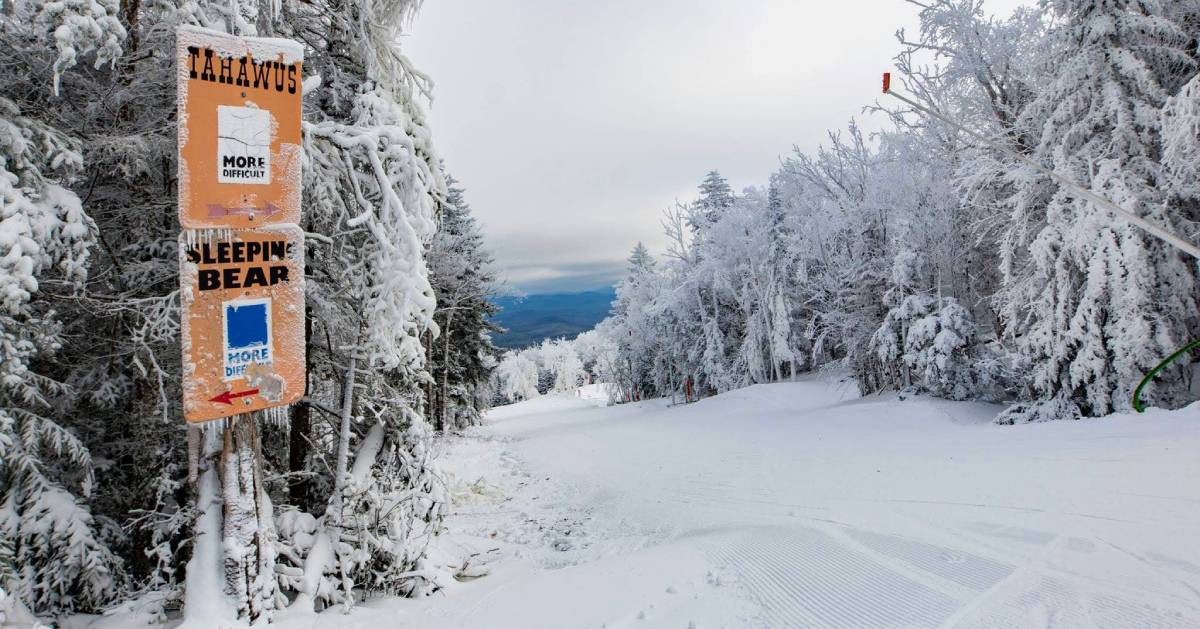 Gore Mountain in North Creek is 45 to 50 minutes from Trout House and Dunham's Bay, and is a prime downhill skiing resort in the Adirondacks. When it snows, this is the place to go. In October of 2020 SKI Magazine highlighted Gore as having the most skiable terrain out of all the ski areas in New York (which, by the way, has more ski areas than any other state).
You'll find everything from family-friendly terrain to glade skiing on Gore's 439 acres. New for the 2020 to 2021 season, they have upgraded the existing High Peaks Quad and Sunway Chair, each of which now extend farther up the mountain to bring you to the terrain you desire. Gore is typically open at 8:30am daily during the season.
If you're planning to head back to Trout House after your ski adventure, make sure to grab something to eat at one of Gore's on-site dining options before going back. If you're returning to Dunham's Bay, you'll be heading through the Village, in which case we have a divine dining option for you.
Saturday Night: A Fireside Dinner in the Village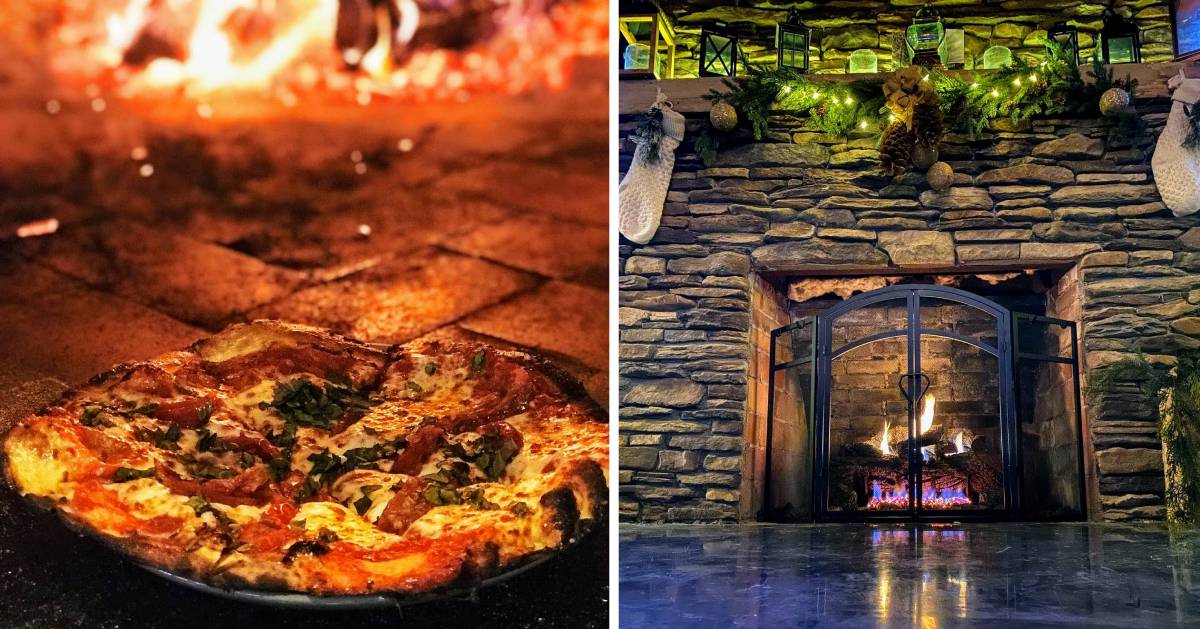 What looks like a charming Adirondack-themed bar on the outside opens up into a low-lit, warm-and-cozy atmosphere with a fireplace, a wood-fired oven, and a soft-lit candle on each table. We consider this one of Lake George's cozy bars, but the fine dining-like experience at Gaslight of Lake George will blow you away.
The service, atmosphere, and food (the taste and the presentation) are all near perfection. They're known for their wood-fired pizza, but their menu also offers creative options like seared ahi tuna with seaweed salad and rice, complete with a housemade sweet and savory soy sauce.
As mentioned, Gaslight of Lake George is located in the Village, which is a quaint, quieter experience in the winter. They're open from 4pm to 8pm on Saturdays and are an eight-minute drive from Dunham's Bay. If it's not too cold out, after dinner you could take a stroll along Beach Road, about a five-minute walk from the restaurant, and see how tranquil the lake can look in the wintertime.
Get an idea of what to expect at the Gaslight's Facebook page »
Sunday Morning: Breakfast or Brunch at The View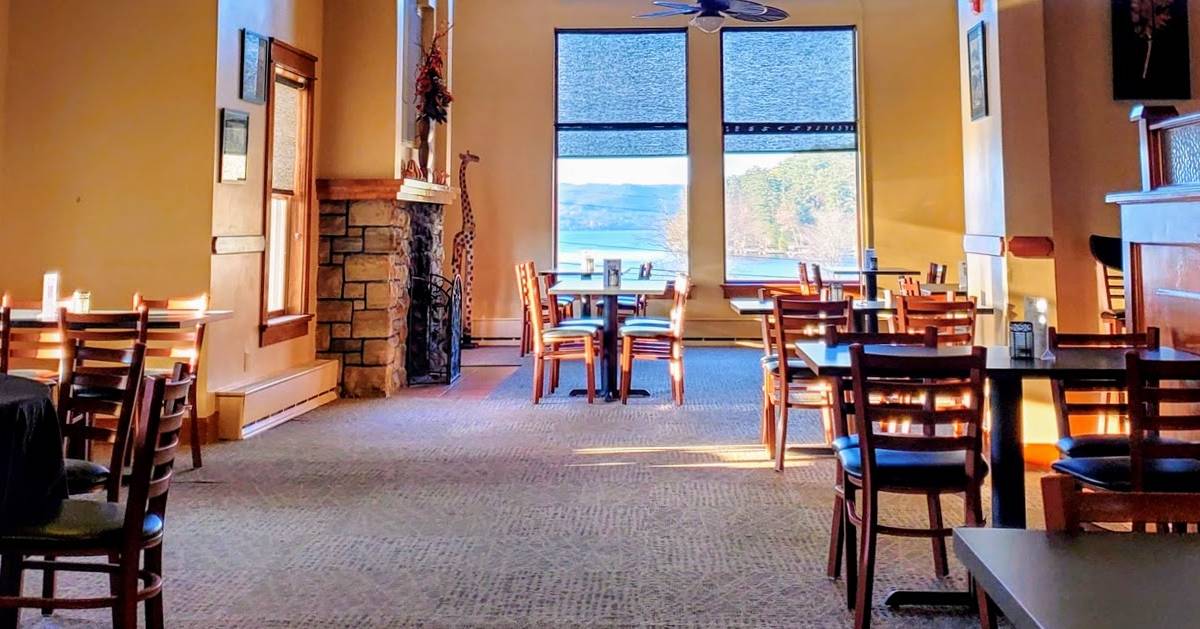 For those of you staying at Trout House, you may want to cook your own breakfast on Sunday morning - after all, part of the advantage of opting for a cabin with a full kitchen is to stay in and have lazy, cozy meals by the fire.
If you opted for Dunham's Bay, you can't stay at this resort without making use of their on-site restaurant, The View. The View does brunch right and it's only offered on Sundays when they open at 9am. Brunch entrees include a breakfast burger, an open face turkey melt, housemade crab cakes, southern fried Cornish hen, a strawberry and cream cheese stuffed French toast, and more.
Peruse The View's brunch menu »
Sunday Morning & Afternoon: Snowshoeing at a Prime Adirondack Attraction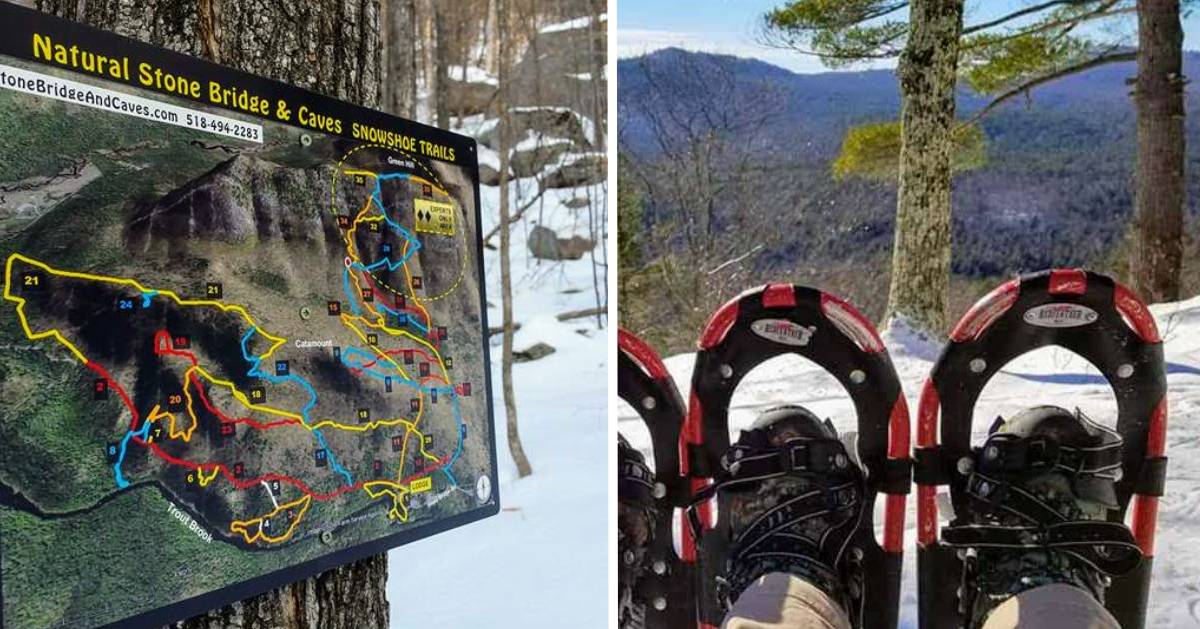 On the last day of your getaway, you're going to head to an Adirondack attraction easily accessible from the Lake George region, and it's about 40 minutes from both Trout House and Dunham's Bay. Have you guessed yet? It's Natural Stone Bridge & Caves in Pottersville!
Natural Stone Bridge & Caves opens in mid-December when there is enough snow for the snowshoe trails, and they're typically open from 10am to 2:30pm on Sundays for their self-guided winter tour. In the colder months, you can see a sparkling Stone Bridge and frozen ice flows along Trout Brook, and there are 14.5 additional miles of trails to explore by snowshoe.
See more details and book your visit online »
Sunday Evening: Branch Out From the Village & Dine in Bolton Landing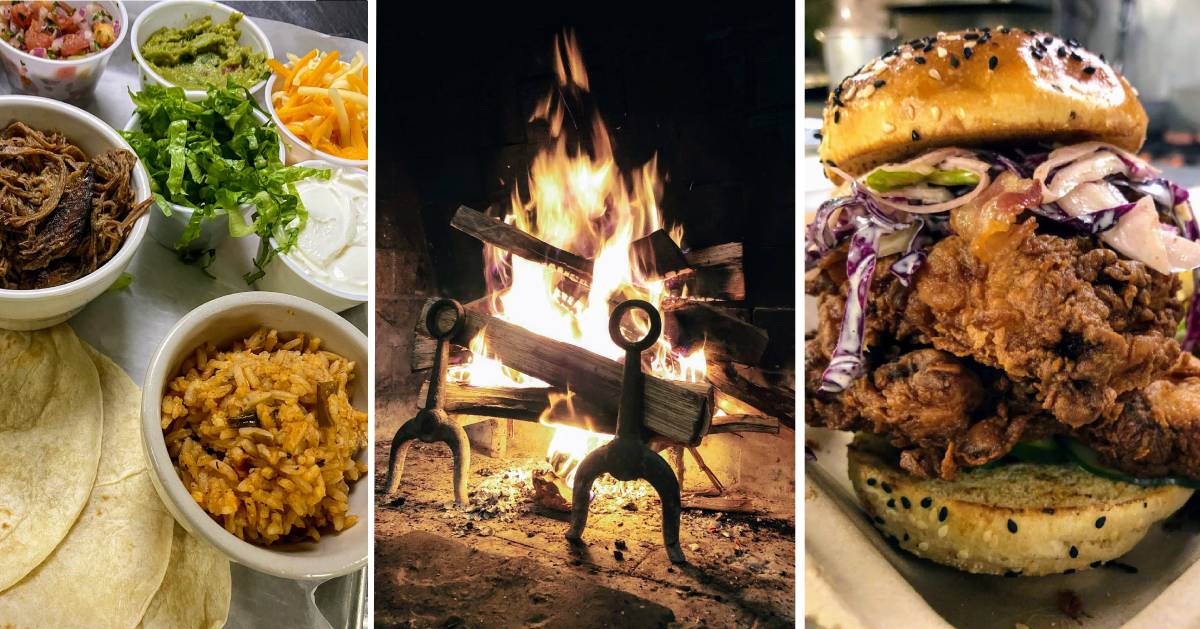 You dined out in Lake George Village on Saturday night. On Sunday evening, round out your snowy weekend with another restaurant that offers fireside dining and fantastic food, but this time is in Bolton Landing (and is about 25 minutes away from both of our lodging options): Frederick's Restaurant.
The menu offers something for everyone with entrees like chicken marsala, buffalo chicken mac and cheese, and fish and chips; they also have a lighter fare section with sandwiches, wraps, and quesadillas, and there are several soup options to warm you up after your second day out in the snow.
Check out Frederick's expansive menu »
From adventures in the snow to meals by the fire, there are so many ways to enjoy a mini getaway to Lake George in the winter!