Experience Lake George NY - As Seen On The TODAY Show
LAKE GEORGE NY -- The Today Show broadcasted live from Lake George NY! On July 27, 2009, Lake George received an enviable honor and special visitors with its feature on the Today Show's travel series "Today Takes A Vacation." Thanks to Meredith and Ann, the pure family vacation is back! And we'll tell you how to get what you saw on the Today Show!
The Sagamore Resort is an upscale 5 star resort on Lake George - but if that's booked, there are plenty of other 'Pure Americana' locals - also shown on the Today Show: The Surfside Resort and Soldiers from the Fort William Henry Resort. Click here to find lodging choices...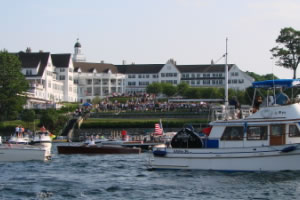 Photograph taken by Joe Silipigno of Boathouse Bed & Breakfast (next to the Sagamore). In foreground, Indian Pipes Yacht.
Did the camping segments bring you back to your childhood? The Lake George area is teeming with RV Resorts, Tenting Campgrounds and Island Camping... it's all on www.lakegeorge.com/camping/.
Fly fishing catch your fancy? John at Mickey Finn Fly Fishing can be reached at 518-423-6074, or try something simpler with Charter Fishing. Like the bicycle built for two segment. The Lake George Region has plenty of biking trails.
On the historic side, touted on the Today Show was dressing up your kids like soldiers to experience the French and Indian War, listening to Ghost Stories at night, experiencing cannon and musket firings at the Fort William Henry Museum and taking a cruise with historian Captain Bill Gates.
Didn't you JUST LOVE John Strong and the Stony Creek Band? You can book them for your next party or family reunion at Lake George and dance fast and smile like you never have before... like Ann did!
You can find the Olde Time Photo in the Village of Lake George and dress up like a Gangster for that treasured family photo. Martha's Dandee Creme is just across the street from the Six Flags Great Escape for that "favorite hometown ice-cream" or find adventure by zipping through the woods on zip lines at the Adirondack Extreme Adventure Course or parasailing on the lake.
Discover all the Lake George region has to offer - as seen on the Today Show! View video clips from the show below:
VIDEOS
Highlights From Lake George:
A Local's Tour Of Lake George:
The Lake George Monster:
Lake George Camping Gear / Grub:
Meredith & Ann's Vacation Photos:
Lake George's Resident Bear:
Peter's Camping Adventure:
Meredith & Ann Go Fishin':
Lovely! Taking In The Sights Of Lake George:
Details On TODAY Show Broadcasts From Other Cities:
Lake George NY is not the only vacation destination the Today Show will be visiting in this special series. Their travels will also find them in Key West FL, San Antonio TX and Las Vegas NV before the vacation comes to an end. The series will show viewers how to easily get to these destinations and other around the country, and will give audiences a rare (and entertaining) insight into the activities and adventures waiting in these areas.
On Tuesday, July 28, Matt Lauer and Al Rocker will be broadcasting from the Mallory Square in Key West, Florida, as they experience the laid-back culture, entertainment and landscape of the "Conch Republic". The two men will sample Key Lime Pie and margaritas, then saunter down Duval Street and search for treasure with real treasure hunters!
The July 29 show will feature Kathy Lee Gifford and Hoda Kotb experiencing the Texan charm of San Antonio. After days of Honky-tonk nightlife, native animals, Dudge ranches, the Alamo, barbeques, and a mechanical bull (not to mention a Texas two-step with a performance by Grammy Award winner Lee Ann Womack), the anchors will report on their experiences lives from the Texas on the River Walk.
On July 30, closing the series, will be the adventurous Natalie Morales and Amy Robach as they take on Sin City: Las Vegas, Nevada. The broadcast will take place at Caesar's Palace, and the two anchors will chronicle their experiences on the infamous Strip in addition to the history and society of the area, including their day as Special Agents attempting to get through Stiletto Spy School. Icons Donnie and Marie Osmond will join the Today hosts to talk about their Vegas show hit "Donnie & Marie".
"Today Takes a Vacation" is sponsored by Expedia.com®, one of the world's leading online travel providers.
Jim Bell is the executive producer of "Today" (Monday - Friday, 7-11 a.m.). Mary Alice O'Rourke is the special events producer of "Today Takes a Vacation."