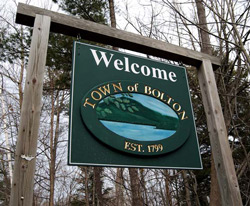 Bolton Landing is located in Warren County, New York, on the eastern boundary, surrounded by Hague, Caldwell and Lake George. Situated on the east side of the town is the lake offering spectacular views of Lake George, with mountains jutting in the background. In fact, Bolton Landing offers the most accessible lake frontage than any other town on the lake!
The town of Bolton Landing is rich in American history dating back to its inception in 1799 when it was formed from the town of Thurman.
According to Arabella Nims, a town descendent, the area of Bolton Landing in the early 1800s was comprised of mountains and valleys that were covered with trackless forests where a substantial number of Indians roamed; during that time, there were only about 4 or 5 framed houses, with the majority of housing constructed of logs. When Bolton was first established, the primary business was lumbering, and there were numerous saw mills and grist mills in the area.
In the early beginnings of the town, there was only one school house located 3 miles north of the town, until around 1804 when a new school was built south of the historic Mohican House. Today, the town has its own school District, the Bolton Landing Central School District.
According to the History of Warren County by H.P. Smith, there were no churches in town until 1811; instead, religious meetings were held at houses and in barns, a customary routine during the days of the pioneers. In addition, there were no taverns in town, and like churches, neighbors opened their doors to share their liquor.
The Mohican House was the site of the very first hotel, tavern and general store in Bolton Landing. Built in 1870, the second oldest hotel in Bolton was the Bolton House, located north of the Mohican House. The 3rd oldest hotel is the famed Sagamore, which first opened in the spring of 1883. The Sagamore, situated on Green Island, is proudly running today, and stands on higher ground overlooking the majesty of Lake George. Built in 16th century style of architecture, the Sagamore offers panoramic views of the Adirondack Mountains and the lake via the hotels many balconies, terraces, entryway and gables.
Much of the past is still present today in Bolton Landing. The scenery is still spectacular and the village has maintained its quaint and charming appeal. Come relive the past in Bolton! When visiting, be sure to check out the Bolton Historical Museum and Lake George Historical Association Museum for exhibits and more historic facts about the town!
More Articles of Interest:
Learn more about Mohican Point
Historic dates and information provided by the History of Warren County, H. P. Smith, Chapter XXVIII: History of the Town of Bolton