Enjoy a Lake George Evening at Home With Food, Wine, Decor & More
Bring your favorite destination to you! Below, we've highlighted everything you need to manufacture your own Lake George evening at home, complete with decor and tableware, appetizers and wine, a unique game, a fabulous meal, and an after-dinner drink that will take you to the top of an Adirondack mountain. Make the most of your Lake George evening at home then plan for your next visit.
Set the Scene With Lake George Decor & a Lakeside Ambience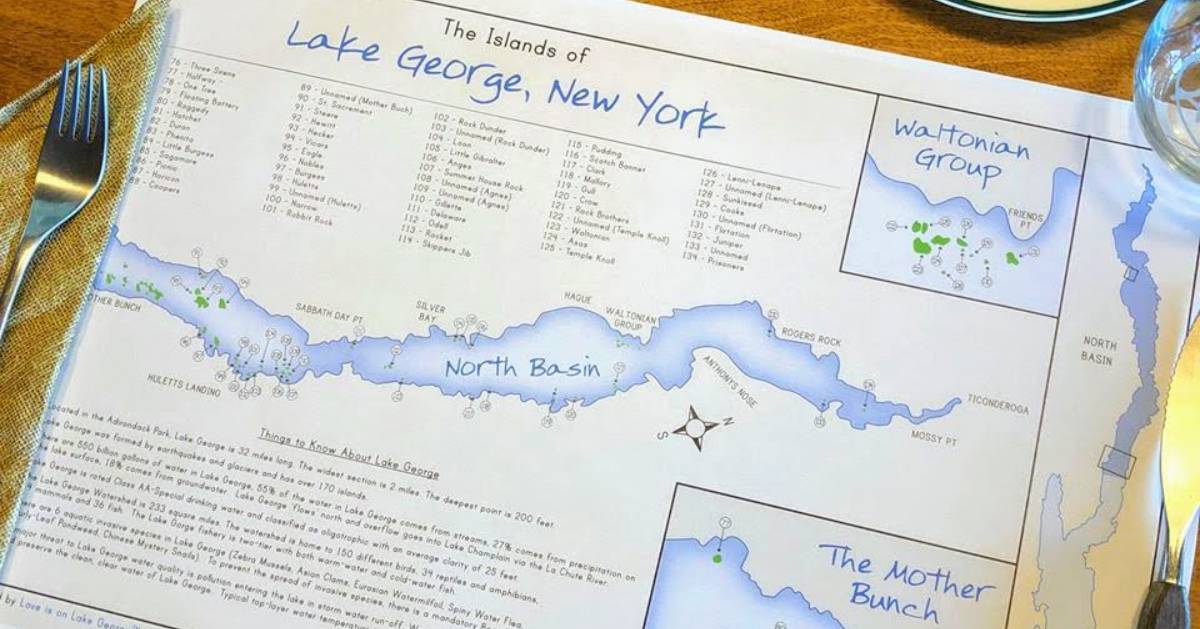 Cutting boards with the shape of Lake George. Wine glasses with a heart around the letters "ADK." A placemat that highlights all the islands of Lake George. These are the sort of items that radiate that Lake George lakeside-vibe, and you can order them online through Love is On Lake George. They also have mugs, mason jars, tote bags and trivets that say that exact phrase, along with "Love is in Bolton Landing" and "Love is in the Adirondacks."
Browse their online inventory »
Tempt the Tastebuds With Appetizers Created From Lake George Ingredients
Start the Meal Right With a Restaurant-Style Olive Oil & Bread Dip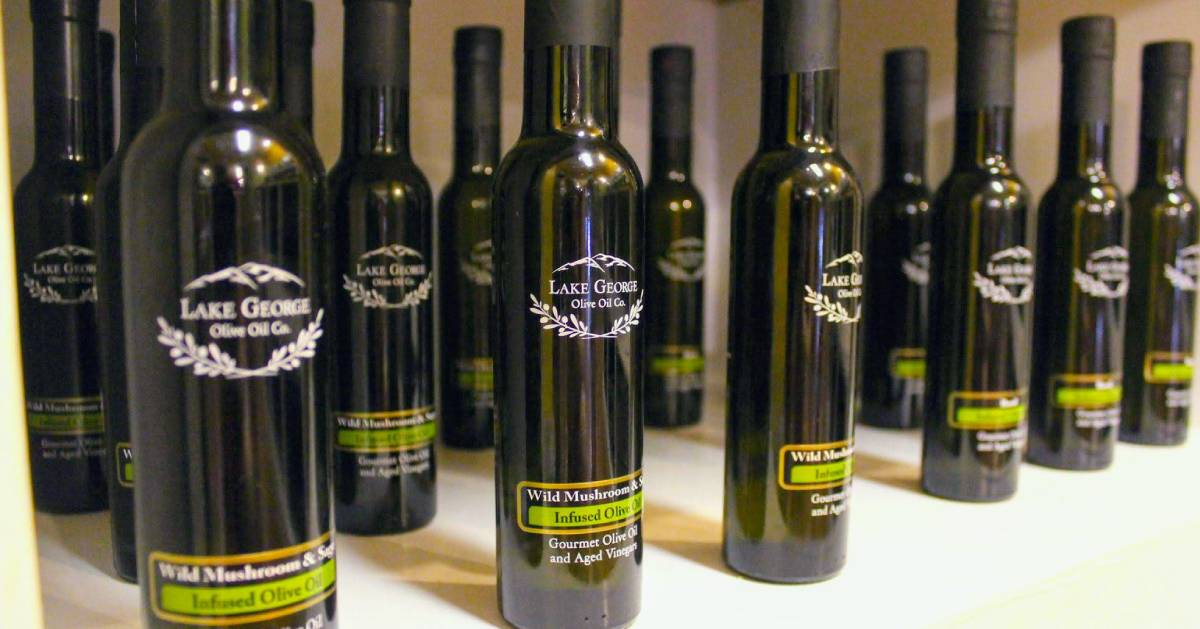 Get the evening rolling with an appetizer made from Lake George Olive Oil Company infused olive oil or aged balsamic vinegar. Create your own bread dip for an easy app, or get recipe ideas from their website. Check out what's available to order online through their site, and while you're at it browse their selection of sea salts, jams, pestos, and other great gourmet Lake George foods.
Assemble a Cheese Board That Would Make a Proffesional Chef Jealous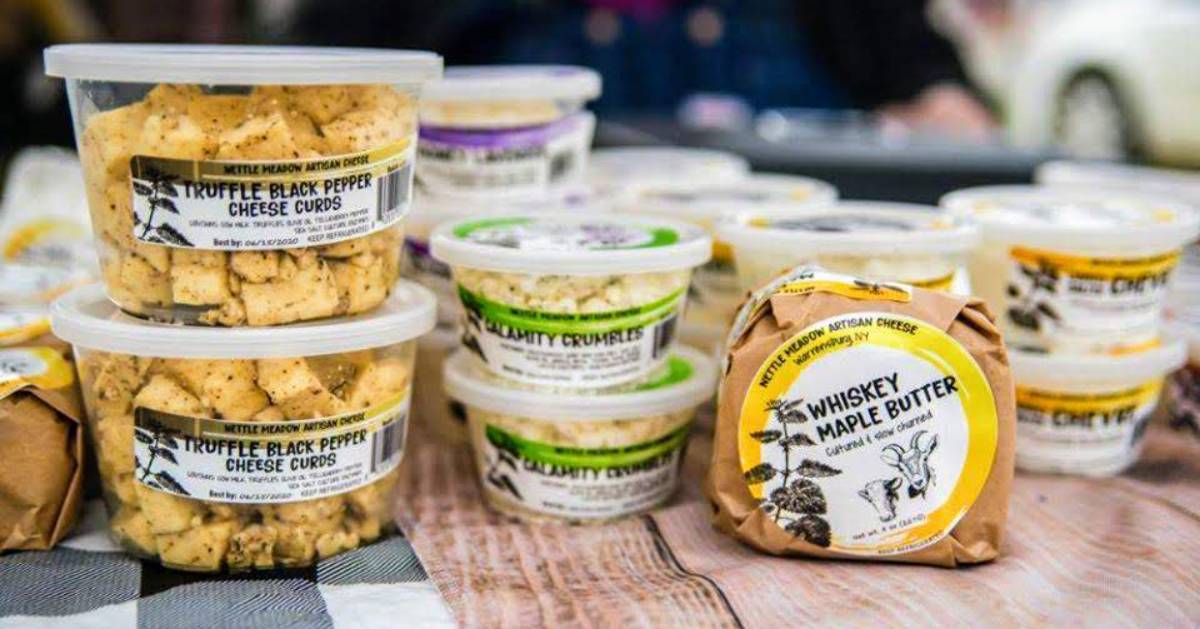 Photo: Glens Falls Farmers Market
Nettle Meadow Farm and Artisan Cheese in Thurman is more than just a maker of award-winning cheese and dairy products. They're also a sanctuary to over 100 farm animals. Nettle Meadow makes several varieties of soft goat cheese and are known for their semi-aged cheeses, especially the Kunik, made from goat milk and Jersey cow cream.
Their goat, sheep, and cows milk cheeses are sold at many Lake George area shops and markets, including Oscar's Smokehouse in Warrensburg, and to local supermarkets like Hannaford. Order online through their website, and then keep an eye out on when you can visit them on a return trip to Lake George - they're expanding to a second location in Lake Luzerne in addition to their Thurman farm.
Wow the Spouse With Your Wine Knowledge as You Play This Unique Tasting Game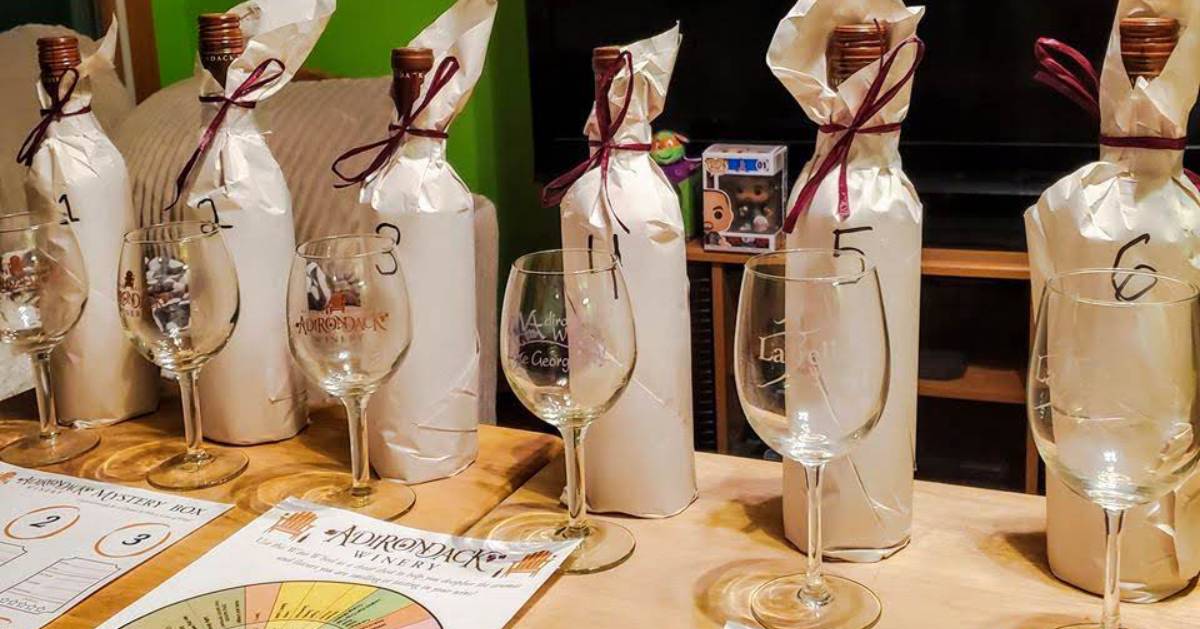 How about some authentic Lake George wine with your farm fresh cheese? Adirondack Winery now offers a Mystery Box Wine Tasting Game that you can have delivered to your home. Choose between a fruity wines box or a dry wines box and see if you know wine better than your partner - or do a virtual wine tasting with friends.
The Mystery Box includes: six bottles of wine, wine tasting sheets for you and your team, the 6 S's of wine tasting sheet, wine aroma cheat sheet, their full wine list, and the complete Mystery Box rules. The wines you receive are wrapped up, so you can't see the label until you're ready to make your guesses.
See more details and order your Mystery Box »
Indulge in a Fine Dining Experience Like You're on Vacation - Or, Create Your Own
Enjoy a Five-Star Dinner From a Renowned Lake George Region Restaurant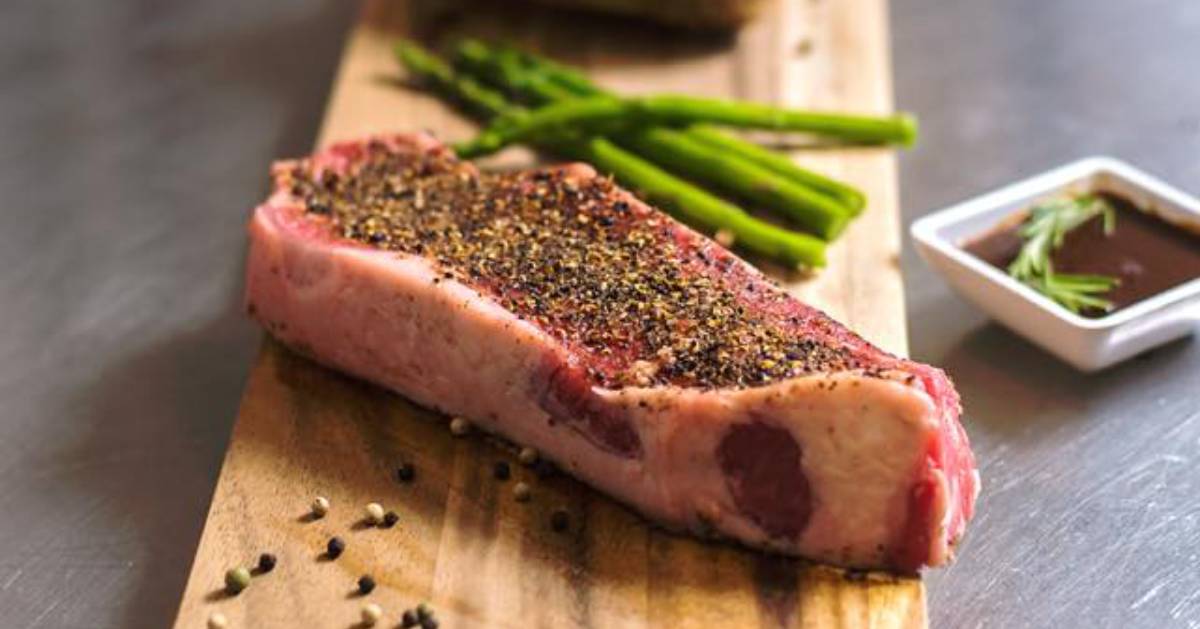 Photo provided
Put a date night twist on your Lake George evening at home when you order a five-star dinner from Chateau on the Lake in Bolton Landing, known as one of the most romantic restaurants in the area. Their at-home dinner kits are prepared so that you can get your meal from the box to the plate in just 15 minutes. Menu options for meal kits include NY strip steak, halibut, crispy skinned duck, ravioli, and more. You can read up on how to prepare each on their website before you order.
Bonus tip: If the weather cooperates enjoy your meal on your outdoor deck or balcony for that patio dining on the lake feel.
Want to Cook Yourself? Get Creative With Herbs From This Lake George Area Farm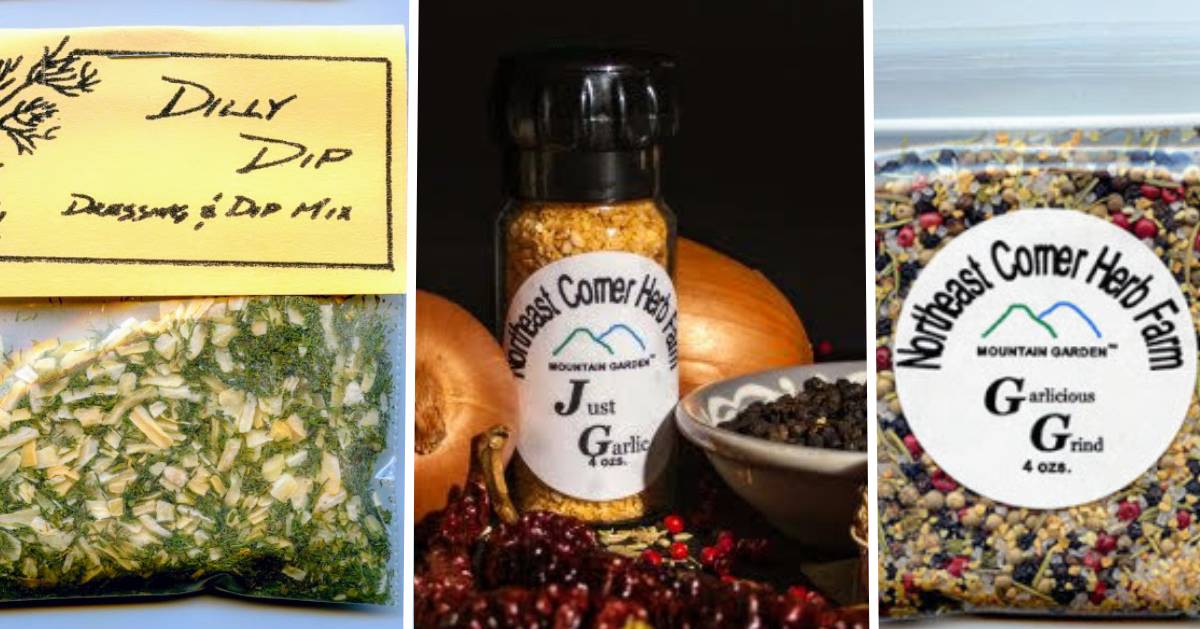 Photo provided
Would you rather whip up something yourself? No problem - bring a taste of Lake George to your meal with herbs, garlic, chiles, or seasonings from Northeast Corner Herb Farm in nearby Fort Ann. Like the Lake George Olive Oil Company, you can find recipes on their website to get you started.
Browse their online store and choose from options like Dilly Dip Dressing & Dip Mix or Mexican Inferno Mix - that'll be sure to kick your meal up a notch! Just be aware their herbal braids are seasonal and are only available at certain times.
Round Out the Evening With a Nightcap Named for Mount Marcy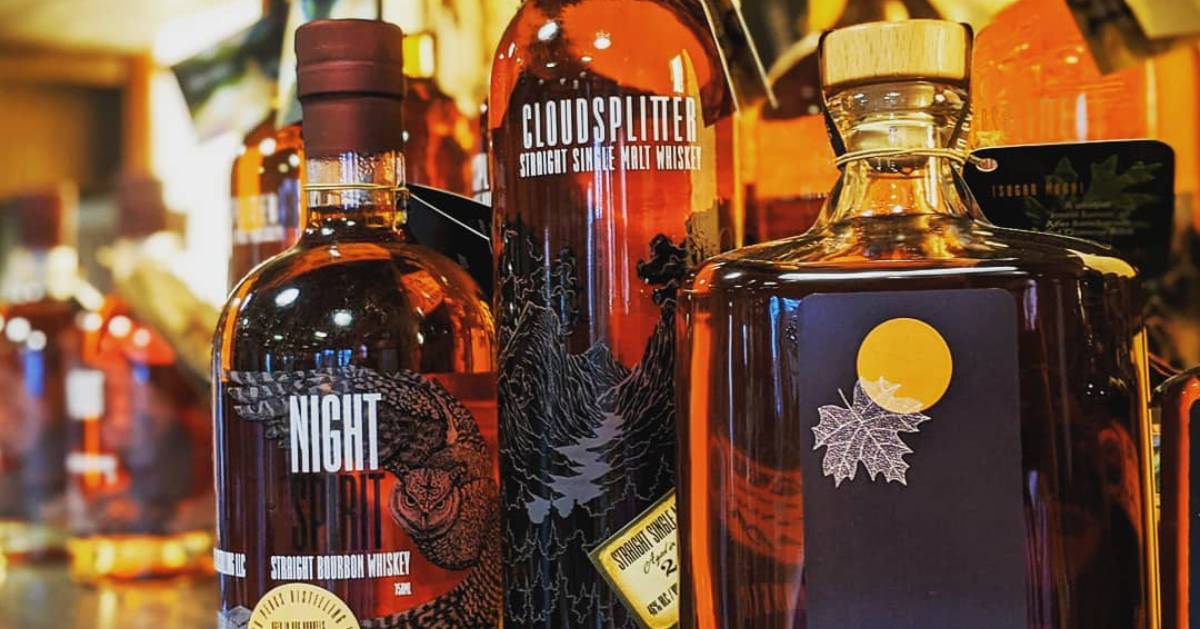 Photo provided
There's no better way to top off your Lake George evening at home than with a beverage named for the tallest mountain in the Adirondacks. Cloudsplitter, created by High Peaks Distilling, is named for Mount Marcy, which has an elevation of 5,344 feet. This clean whiskey with a hint of malt is backed with the subtle sweetness of European and American oak.
High Peaks Distilling sells Cloudsplitter, Night Spirit, and Sugar Moon online through their website. The company is owned by the same folks behind Adirondack Pub & Brewery - while they do not ship their beer they do sell their Bear Wizz Root Beer online, which could be another refreshing option after your decadent meal.
Did You Save Room for Dessert? See If Cremewiches are Sold Near You!
You can find cremewiches from Martha's Dandee Ice Cream, a Lake George staple, at over 200 locations in New York State from Pottersville to New Rochelle. Check out the locations on their website and end your evening with a sweet treat.
The Lake George area looks forward to welcoming you back soon! As you enjoy your Lake George evening at home think about your next trip to the foothills of the Adirondacks. Where are you itching to go first?