Kid-Friendly Fun for All Ages at Adirondack Adventure Center
Content sponsored by Adirondack Adventure Center
Get ready to impress the kids when you tell them where your next outing will be! Adirondack Adventure Center in Lake Luzerne is your ticket to a thrilling day for every member of your crew - yes, even if you have children of varying ages.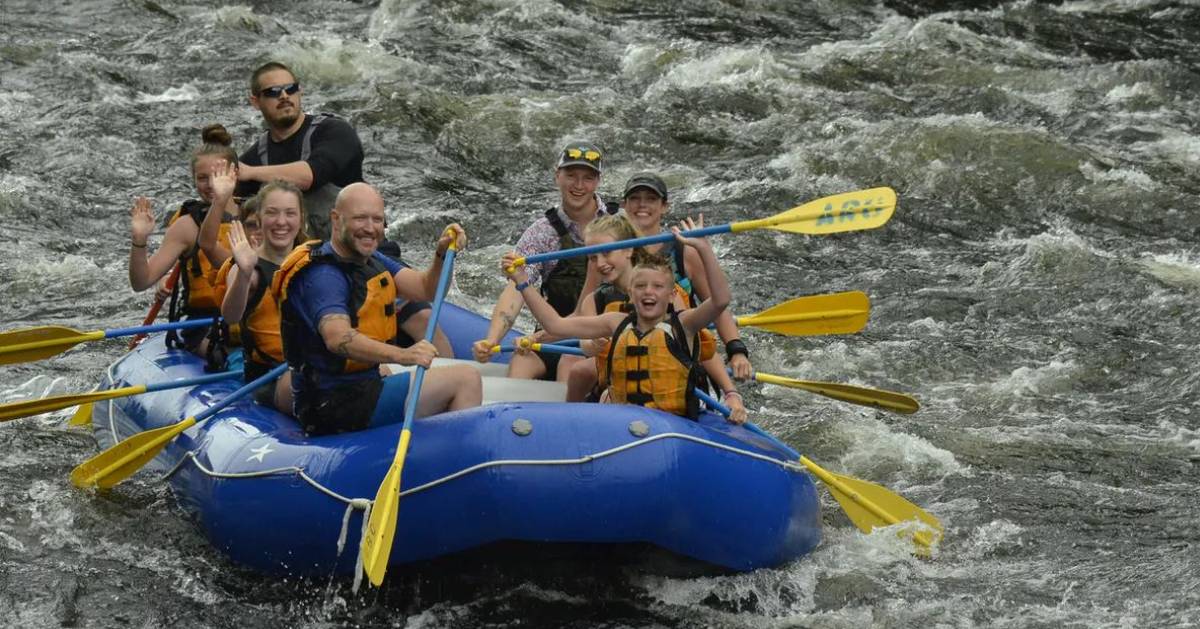 Find out all the details parents need to know about their lazy river tubing, whitewater rafting, and treetop adventure course. And, get answers to your burning questions like what are the age requirements, and is whitewater rafting safe for a young child? (Yes, it is!)
3 Ways to Family Fun: Lazy River Tubing, Whitewater Rafting & Treetop Adventuring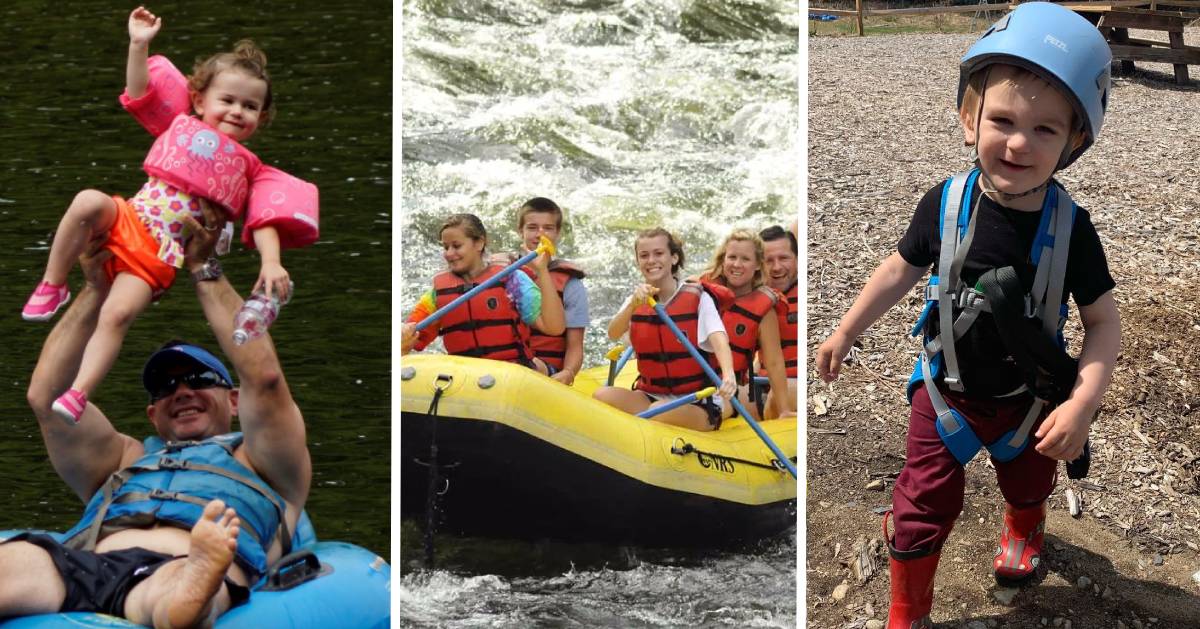 Lazy river tubing is the best option for infants and toddlers, as there is no age requirement for this activity, and kids 2 and under can go for free. Whitewater rafting and the treetop adventure course can accommodate kids as young as 5.
No matter which you go with (or you can choose two for a combo deal!), you're in for an exhilarating and quintessential Adirondack experience. All three are safe, fun, and family-friendly adventures.
Your Common Parent-Related Questions on Safety & More Answered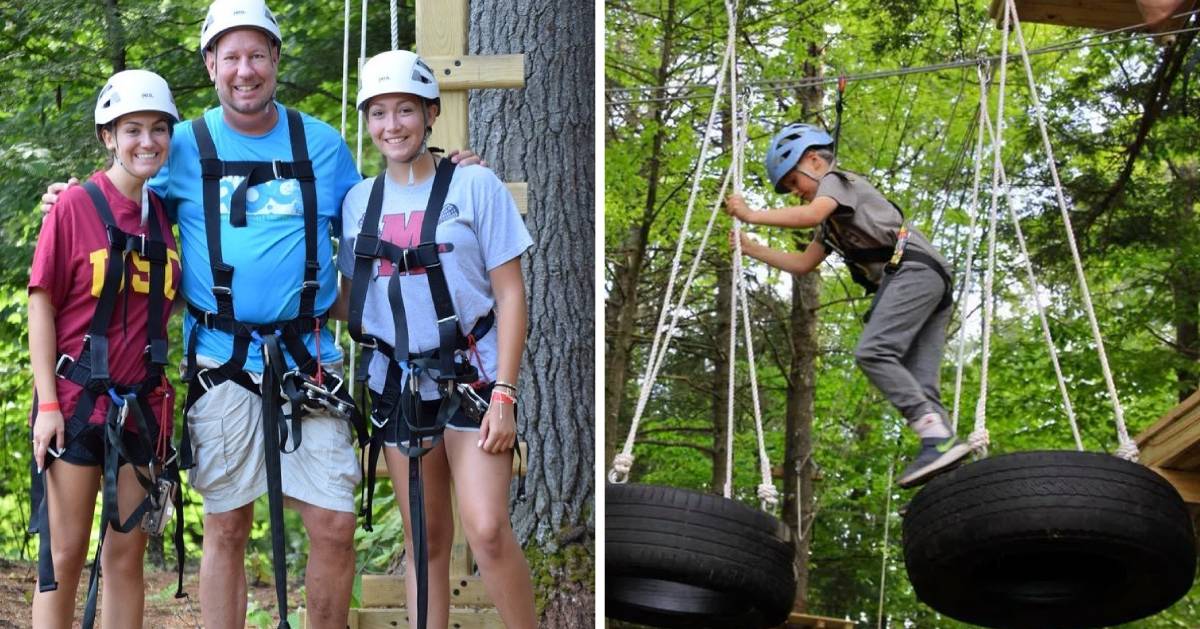 We asked Adirondack Adventure Center owner Dane Morton what the most common questions are that he gets from parents regarding each activity. Here's what he had to say:
Is whitewater rafting dangerous?
"The answer is no, the Sacandaga River which we raft on is class 2 and 3 whitewater. It's a great introductory whitewater experience for anyone ages 5 and up. A lot of times with kids or apprehensive adults, we have them sit in the center of the raft to make them feel as comfortable as possible."
Can we tie our tubes together when lazy river tubing?
"Yes, we provide rope to everyone with children so that you can link the tubes together if you wish."
How old and tall do kids need to be for the treetop adventure course?
"We have a minimum age requirement of 5 years old and a minimum reach requirement of 5 feet. In order to get the reach measurement, have your child stand flat-footed on the ground and reach up into the air as high as they can. If they can reach 5 feet, they're good to go."
Why It's Advantageous to Lazy River Tube With a Reputable Company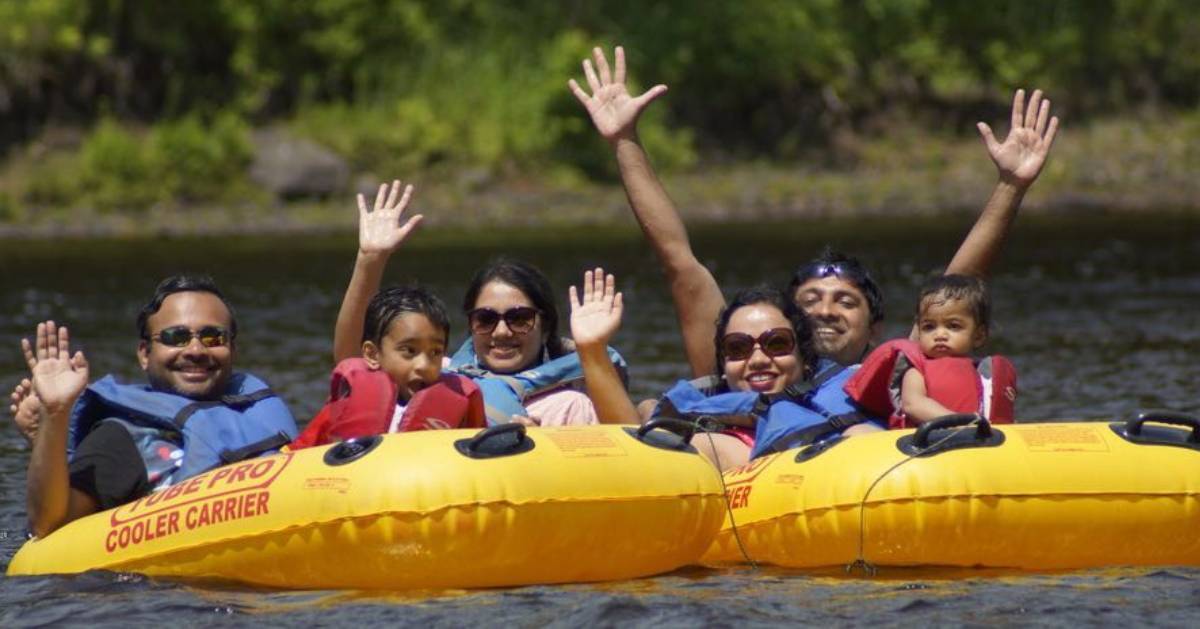 Here's another question you might be asking: Why can't I just buy some tubes and head to a river with the kids on my own? There are two primary advantages to go lazy river tubing with Adirondack Adventure Center instead of trying it on your own, and those reasons are safety and logistics.
Each trip includes guides in kayaks who know the river well and are certified in CPR and First Aid. Logistics-wise, they provide everything you need to go tubing including the tube, the lifejacket, and transportation to and from the river.
The transportation aspect is huge, because otherwise you'd need to bring two cars: one for where you get in the river, and one down at the end where you get out. Who needs that hassle when traveling with young kids?
What You Need to Bring & Not Bring (You Can Leave the Stroller at Home!)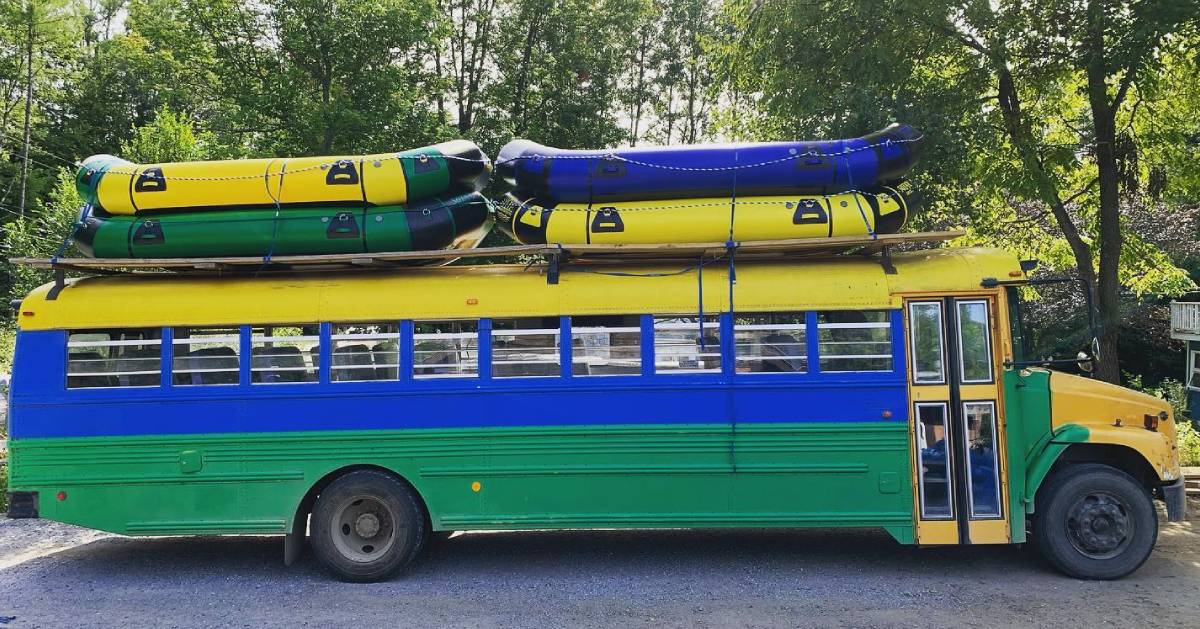 Parents of young ones may also be wondering, do I need to bring a stroller? Where will I put it? Maybe a baby carrier instead? What about snacks, they will need snacks, can I bring my own food? Fear not, because Adirondack Adventure Center simplifies the process of your visit, so you can spend more time having fun, and less time worrying about a stroller getting stolen.
"At our site there's very little walking involved, so strollers and baby carriers really aren't necessary," Morton told us. "We also have lockers on site that are available to rent. If you're participating on the lazy river tubing trip, customers have the option of renting a cooler carrier which they can utilize to carry food and drinks and other things, as well as a diaper bag."
Morton does recommend parents bring bottled water, sunscreen, and water shoes; all activities require closed-toe footwear, and water shoes "check all the boxes."
More Food Options, More Parking, More Perks for You
While you can bring your own food, also be aware that Adirondack Adventure Center has purchased Harris Grocery directly adjacent to their facilities. This provides a number of perks for visitors, including a full-service deli, all the food and drinks you could need for your trip, and the purchase has even allowed them to expand their parking.
Adirondack Adventure Center is located just 15 minutes from Lake George Village. Check out their website at the link below for pricing options and adventure combos, so you can save money while making irreplaceable memories.