Experience the Ultimate Summer Family Vacation at Trout House Village Resort
Planning a family vacation in the Lake George area? What if you could get away from the crowds of the Village, but still be right on the lake? When you choose Trout House Village Resort in Hague you'll be in a peaceful town on the northern end of Lake George in your own private paradise, close to family-friendly recreational activities and dining opportunities.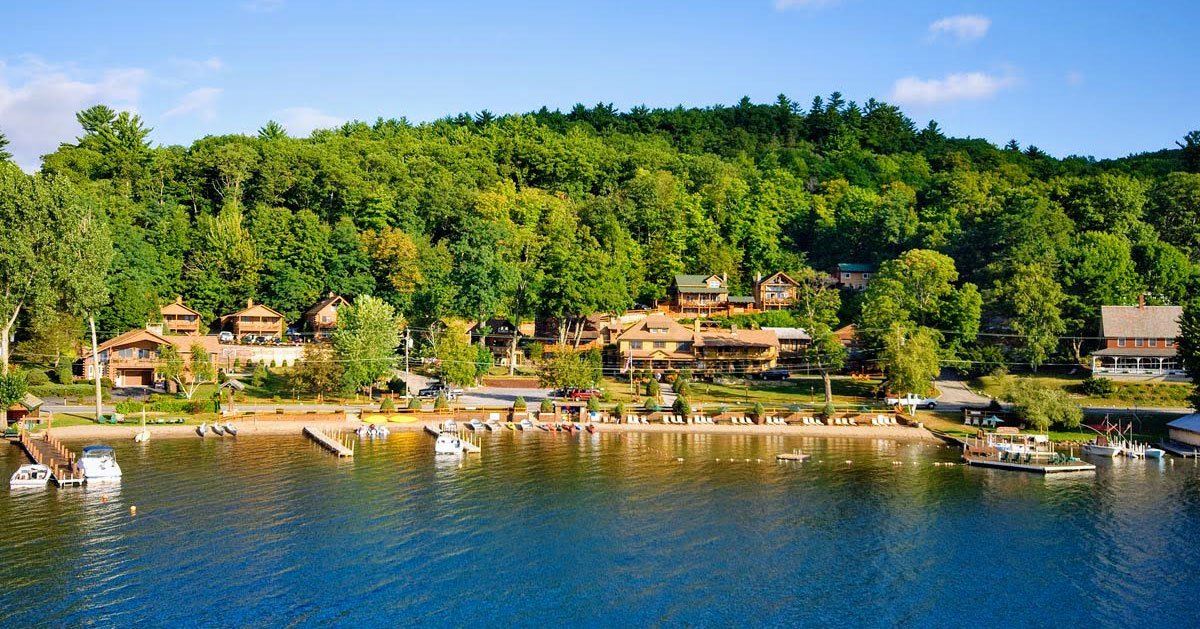 On the northern end of the lake, you'll find significantly less boat traffic and fewer people on the water. Trout House Village guests make use of their spacious private beach, free use of kayaks and canoes, and enjoy more on-site and nearby activities like bocce ball, volleyball, and other games and sports.
Read on to see why families choose Trout House Village year after year!
Stay in an Authentic Adirondack Log Cabin With Lake Views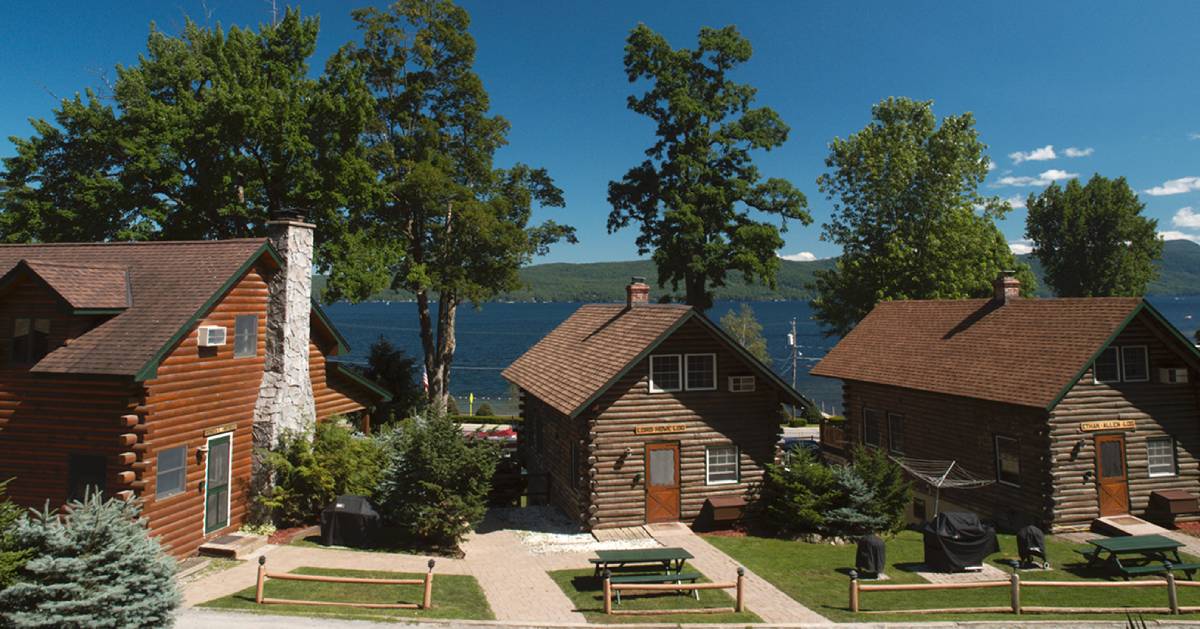 Lake view from Seneca, Lord Howe, and Ethan Allen Chalets.
When you think of where to have an ideal vacation it doesn't get any better than staying in a modern yet authentic Adirondack log cabin right next to Lake George. The spacious log cabins provide plenty of room to spread out with the whole family.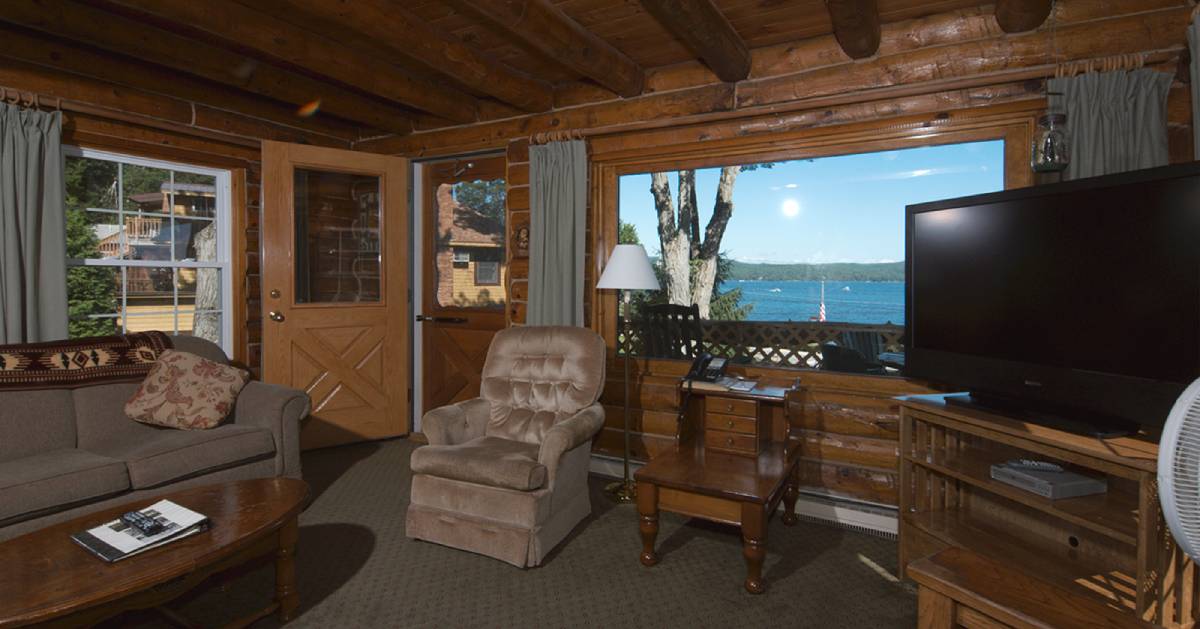 The Lord Howe Log Cabin, pictured here, has two bedrooms, one with a king and a twin bed and one with a queen and a twin. The gorgeous log cabin interior and picture window overlooking the lake make this a comforting place to unwind with the family.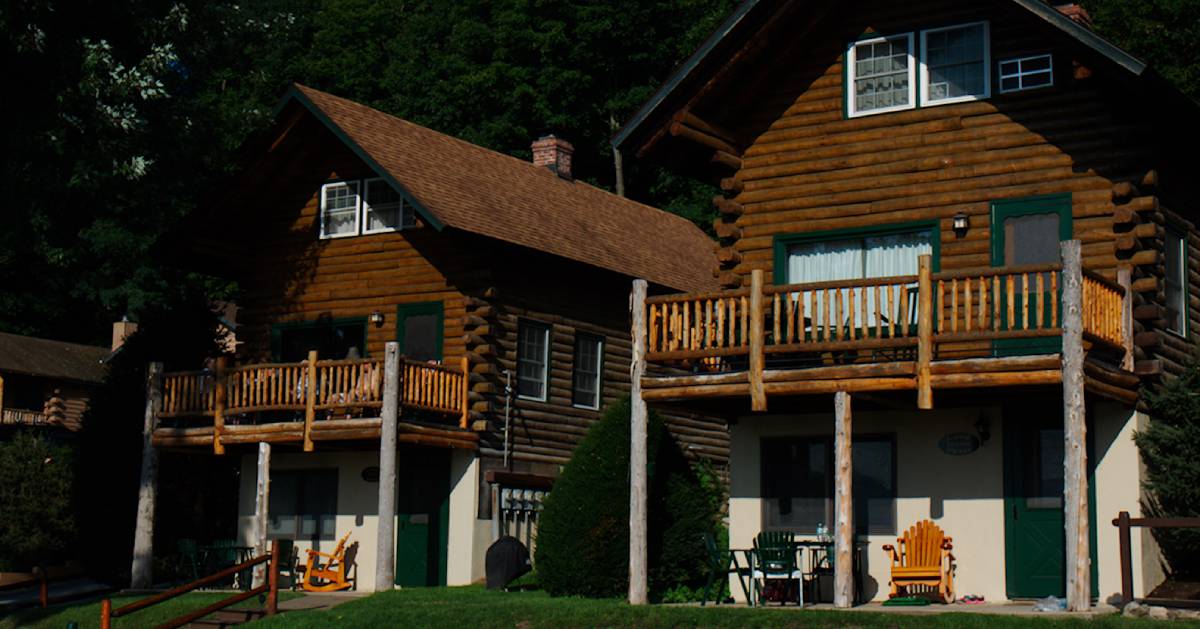 Regardless of which cabin option you go with, you'll have spectacular views of the lake right from your porch and windows. Enjoy all the comforts of home in one of the Trout House Village cabins while staying in the pristine and rustic Adirondack region. Take advantage of the freedom to cook your own food without having to go out for every meal - this is a key factor for those with kids!
Enjoy Beaching, Boating & More on Lake George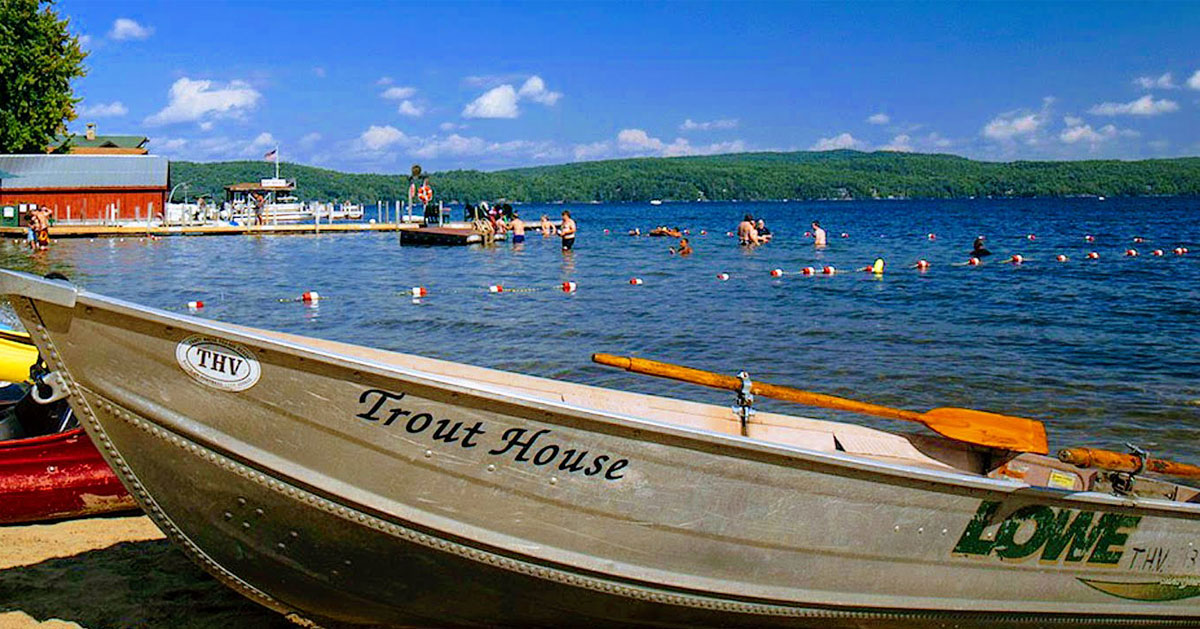 For many looking for the perfect family vacation that means beaches, boats, and tons of fun on the water. Trout House Village has a 400-foot natural sandy beach with lounge chairs where you can soak in the sun or swim in the pristine waters of Lake George. More fun on the water awaits with stand up paddleboards, canoes, kayaks, rowboats, paddleboats, and sailboats available to guests at Trout House Village.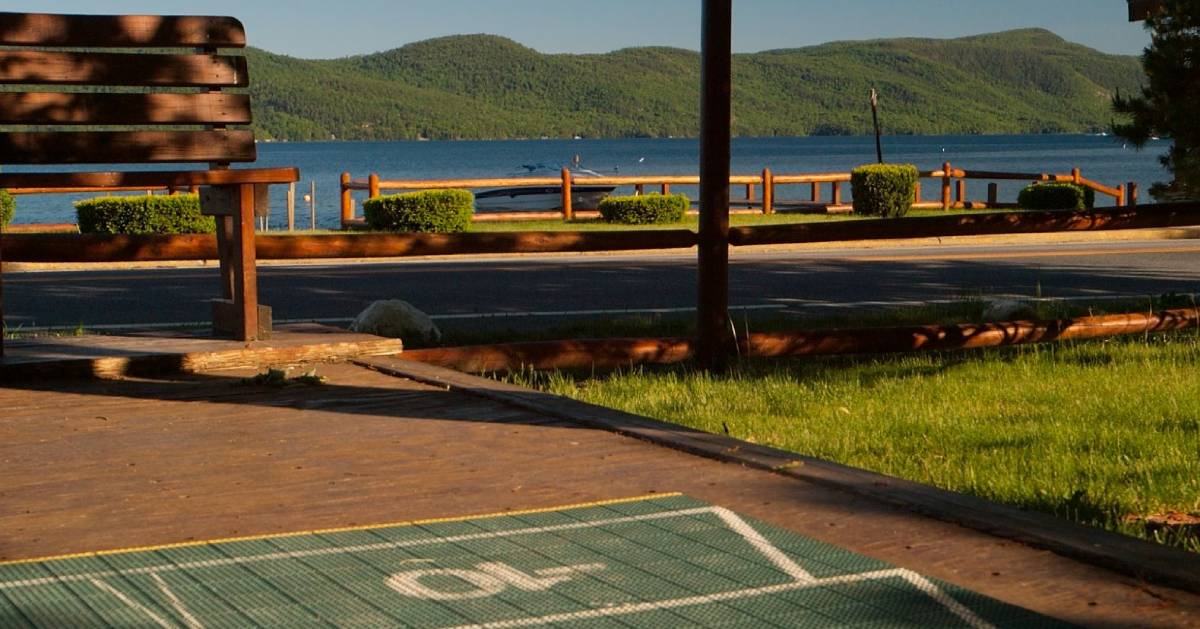 Shuffleboard is one of the favorite amenities for families.
All of the amenities and activities at Trout House Village are excellent for all ages. Parents and kids can go out on a boat together, embark on a kayak trip, or you can fish together right from the dock at Trout House Village - which has comfortable Adirondack chairs! Whether you're itching to get out on the lake or find fun right on the Trout House Village property, they have what you're looking for.
Find More Family-Friendly Activities On-Site & Nearby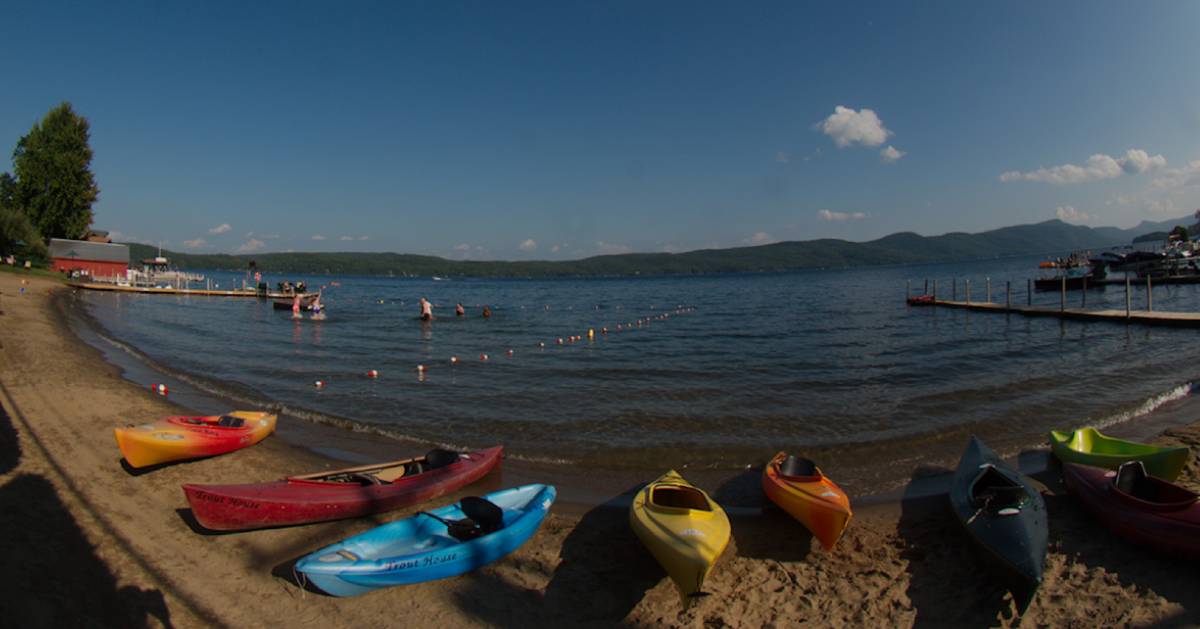 One of the favorite things to do is take a kayak around the Waltonian Islands, less than half a mile north.
Family-friendly fun continues off-shore with cornhole toss games, bocce ball, croquet, horseshoes, wiffle ball, tetherball, volleyball, badminton, shuffleboard, ping pong table, a nine-hole putting green, and there's even a half basketball court, which is on the original terrazzo floor of the old Trout House Village Hotel. The kids can play tetherball, the adults can golf, and all ages can try their hand at bocce ball or enjoy a meal at the on-site picnic grove area.
Many vacationers to the Adirondacks are looking to hike, and take advantage of those gorgeous views, especially in the summer. Trout House Village gives all guests a list of nearby hiking trails upon check-in, complete with driving directions and the hiking mileage.
Several of the nearby hikes are kid-friendly, like Berrymill Pond in the Pharaoh Lake Wilderness. It's a 7.2-mile trail, but you could opt to hike the 2.1 miles to the Berrymill Pond Lean To. The trail has no real steep sections and is rated easy to moderate. There are also hiking trails behind the Trout House Village property that offer stunning views.
Check Out Dining & Attractions Close to Trout House Village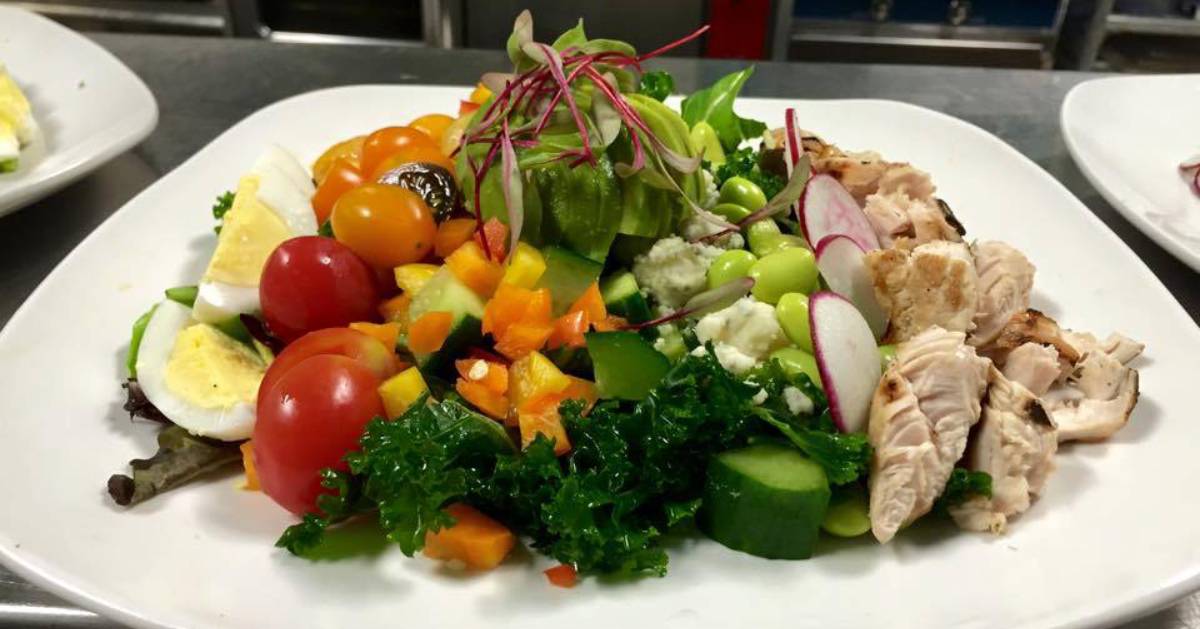 Cobb Salad from the Hague Firehouse Restaurant, photo provided
When you're ready to explore the local area you'll find Hague to be a quaint and charming area of the southern Adirondacks. Hague's Visitors Center and Town Park has a picnic and playground area adjacent to the beach for when you're looking to switch up the scenery.
Have adults in the family hoping to get some shopping in on this vacation? Looking to bring a special something home to another family member? Made in Hague, on Lake Shore Drive, sells handmade items created by local artisans. There's also the Art Gallery at Hague Creek on Graphite Mountain Road.
For dining options, the Trout House Village owners recommend the Hague Firehouse Restaurant, which is a unique space that has been remodeled from an old fire department. They're open seasonally, June through September, and have an outdoor terrace overlooking a brook. They serve up a variety of burgers, flatbreads, salads, and seafood, including wild caught salmon, and they typically have a Lobsterfest in August.
There are also several restaurants in nearby Bolton Landing and Ticonderoga, and you can find a list of recommended options on Trout House Village's website. One of their favorites is Emerald's II in Ticonderoga.
Book the Ideal Lake George Vacation Today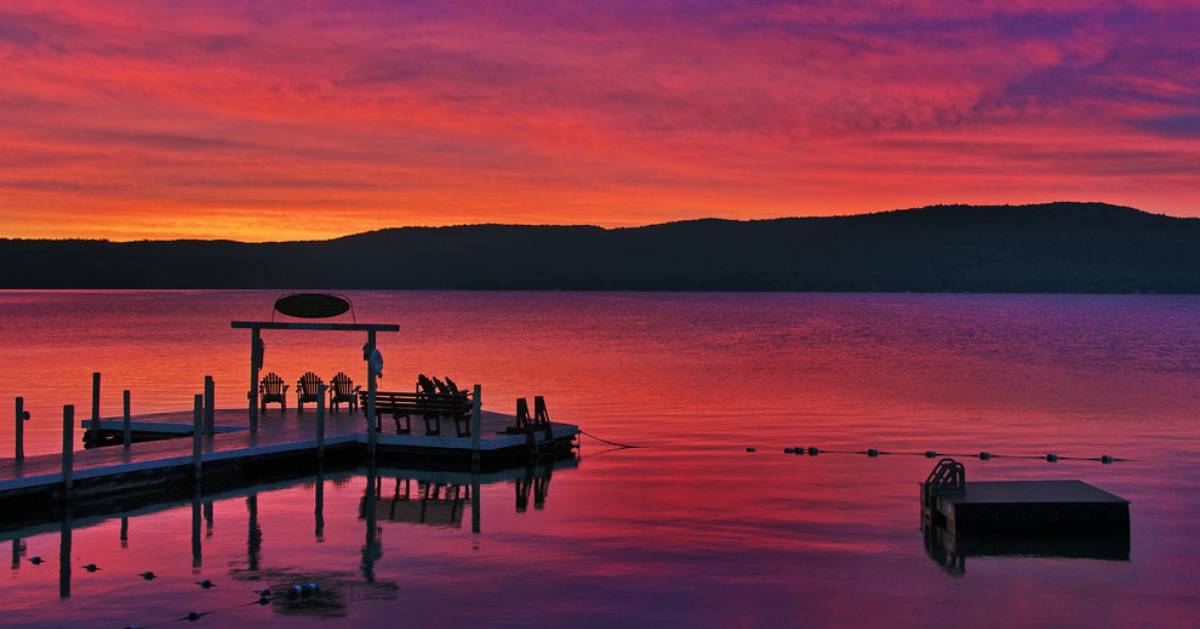 Wake up to spectacular sunrises from your own lakeside porch.
Ready to book the ultimate vacation on Lake George? Book your trip today and get ready to stay in an Adirondack log cabin with your loved ones, enjoying sun, fun, activities, and amenities every day.