Highlands Castle in Bolton Landing, NY
By: Emma Yepsen | August 2010
The Fairy Tale Begins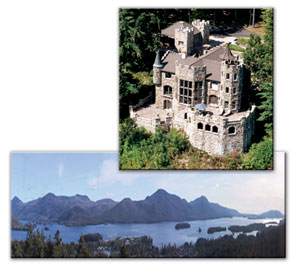 Once upon a time... actually, 28 years ago, John Lavender made a promise to his 3-year-old son that he would build a castle where the two could live. Lavender held true to that promise in building Highlands Castle in Bolton Landing, NY overlooking Lake George. His son not only grew up at Highlands Castle but was also married there on January 12, 2008, carrying on a family tradition of wedding ceremonies at the castle. Lavender was married at the castle on July 19, 1992, and his sister Carol was married there on December 29, 2002.
Highlands Castle has been more than a passion to Lavender for the past three decades. He has dedicated his days to this property and creating the residence of his dreams - a castle offering all the bells and whistles, including a gatehouse, towers, secret doors, antique soldiers, and more.
Growing up in Clifton Park NY, Lavender spent his childhood visiting Lake George and falling in love with the majestic lake, peaceful mountains and privacy the area had to offer. He knew he wanted property by the lake; he just didn't know where it would be.
Dreaming The Castle
"Things occur in life that you don't pick up on right away… you piece them together later. This was one of those times," Lavender said, explaining how he came across Highlands.
He was looking through a penny saver one day, and came across the property in Bolton Landing. He called the man selling it, who gave him all the right answers. It was everything that he had been looking for - and more.
"It was meant to be," describes Lavender. "All of the lots in Highlands development had sold, except for this one."
He started collecting all sorts of items for this castle he was planning for his son, such as antiques and little odds and ends he knew he would use someday when he found the perfect property. "I did it backwards," Lavender jokes.
Lavender started doing research, and drew the plans of the castle himself, knowing exactly what he wanted. For years, he drew the exact vision he saw in his head. And then came the daunting task of bringing his vision to life...
Building The Castle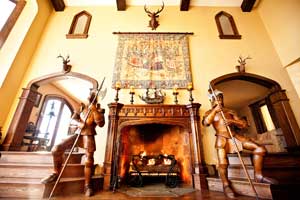 With the help of his son and brother, Lavender has been building the castle of his dreams for the past 28 years. 800 tons of stone were put in place, one at a time, as the castle slowly came to be. He has enjoyed the challenge of building the castle, and is still in the process of perfecting it. There have already been numerous renovations around the large estate.
Today, the castle is the definition of majestic. The view of Lake George is indescribable as you can see from one end of the lake to the other, and the beauty simply cannot be captured with a photo.
Lavender has spent the last 28 years creating this masterpiece, and now he wants to share it with others. Lavender wants it to be perfect for people to enjoy their special occasion and stay.
"I want people to be here on their honeymoon, walk into the bedroom and just go 'wow,'" he said.
This is a special place, and the stay is meant to be life changing, as guests will feel they are part of a fairy tale.
YOU Can Live The Fairy Tale
The ultimate in first-class accommodations, the Highlands Castle is now available for public reservations. The most unique thing about the castle is that when guests make a reservation, they are reserving the entire estate for an extended stay (minimum of 2-3 days, for as long as the guest would like).
Get treated like royalty! Enjoy the privacy and intamacy of 2 luxurious bedrooms - the master bedroom and a queen-sized bedroom. The rental includes access to the entire estate, in addition to the bedroom, including a large kitchen with cozy eating area, private baths for each room, outdoor terraces overlooking the lake, formal dining room, sitting room with library, as well as a comfortable family room.
Prices range, but to rent the entire estate, expect to pay around $3,000 per night. Lavender and his wife are open to suggestions about making your stay unique to you and your group. They want to be as transparent as possible and make sure you have the special experience you're looking for.
Dream Weddings In The Castle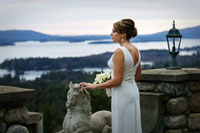 Like Lavender's son, it seems every young child's dream is to get married in castle. As they grow older, many tend to lose sight of that dream, but at Highlands Castle, that dream could come true!
The castle setting overlooking beautiful Lake George could not be more perfect for a dream wedding. Unique attributes add to the enchantment, like Romeo and Juliet stained glass doors opening into the ceremony space (which overlooks all of Lake George) and balconies overlooking the ceremony space, where a small orchestra could play.
Lavender wants the castle to be special to the bride and groom, creating a connection and memories to last a lifetime, and where stories can be shared with their children and grandchildren, as they live happily ever after.
Make Your Dreams Come True
Thinking about staying in the castle? Highlands Castle is in a prime location in Bolton Landing. There are local attractions close by, including Lake George Village, Veteran's Beach and Roger's Park, as well as numerous attractions and fine dining options.
Learn more about Bolton Landing!