Lincoln Log Colony Gears Up for Its 75th Season Serving Guests in the Heart of Lake George
Family Resort. Priceless Memories. A Classic Lake George Vacation.
Lincoln Log Colony is one of those cherished places in Lake George you can count on being there year after year. They were there when you were vacationing with your parents, and they're there now, when you take your own children to experience the best of summers in Lake George.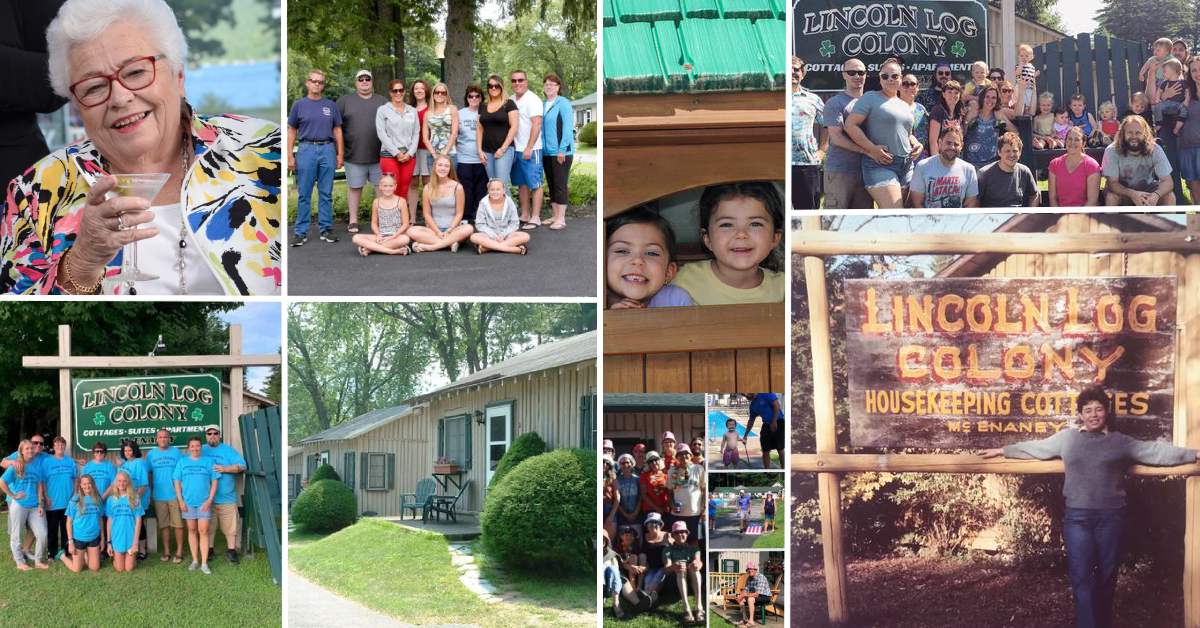 This Lake George staple is celebrating 75 years in business in 2023! Learn more about what makes Lincoln Log Colony special, why generations of families have chosen to vacation here throughout the decades, and how you can save on a cozy stay in the heart of Lake George this season with a special anniversary promo code.
A Family-Friendly Village Resort From the Start
"My father, Edwin McEnaney (Babe), envisioned our resort 75 years ago, and always said our goal was to, 'Provide a unique place for families to gather for quality time at a fair cost,'" Jean McEnaney Flacke told us. "We've tried to do that for the past seven plus decades." Flacke is 90 and has been an integral part of Lincoln Log Colony for all 75 years, working alongside her four children and long-time staff. They continue to strive to bring the same level of guest satisfaction.

Back in 1946, McEnaney was an entrepreneur who started an oil delivery business in Albany and was an owner/operator. He was also one of the founding principles of the Fort William Henry Corporation. He was drawn to the Lake George region and the lodging/hospitality industry.
He recognized the draw of the area, particularly for those looking to get out of a big city, and envisioned bringing his family to stay here for a summer retreat in a cottage. For him, vacationing in a cottage among the mountains and trees was the ultimate nature retreat.
McEnaney hired local workers to construct cottages for two years, and the lodging property opened in 1948. When he died suddenly in 1958, it was Agnes McEnaney, his wife, who would continue to run Lincoln Log Colony until eventually selling it to her daughter Jean Flacke. McEnaney's Lincoln Log Colony has been a woman owned and run business for over 60 years.
Lincoln Log Colony has remained in the McEnaney family throughout the decades, with Flacke and the entire family all helping to keep the property running to the best of McEnaney's vision.
Lincoln Log Colony Today: What's Changed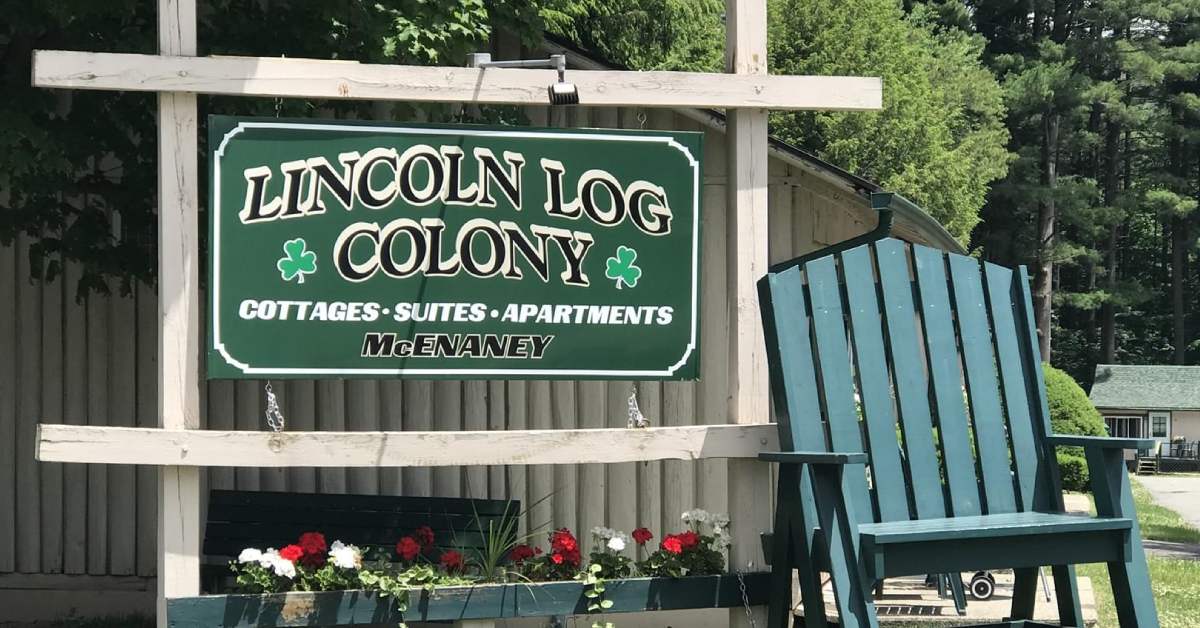 When asked what's changed over the 70+ years Lincoln Log Colony has welcomed vacationers to Lake George, Flacke indicated not much when it comes to the business itself.
"When we first opened most guests came for weeks at a time. Large families came together in the Adirondacks to swim, fish, hike, visit attractions, bike, grill together, see fireworks and band concerts, play golf (miniature and regular), and wander through the Village," Flacke said. "Our guests still enjoy these same things, but generally for shorter periods of time."
Other than the length of the stay, families still come to Lincoln Log Colony to make priceless memories at this small resort that offers a big value. The campus-like setting is within walking distance of all the restaurants, shops, and beaches in the Village, and you can enjoy endless scenic beauty and nature right from your own unique cabin.
Every family gets their own cabin, which are perfect for kids or a small group of friends. It's a perfect opportunity for families to vacation together, staying in their own cottage, but coming out to enjoy the campfires, pool, and playground with their kids.
What to Expect With a Stay at Lincoln Log Colony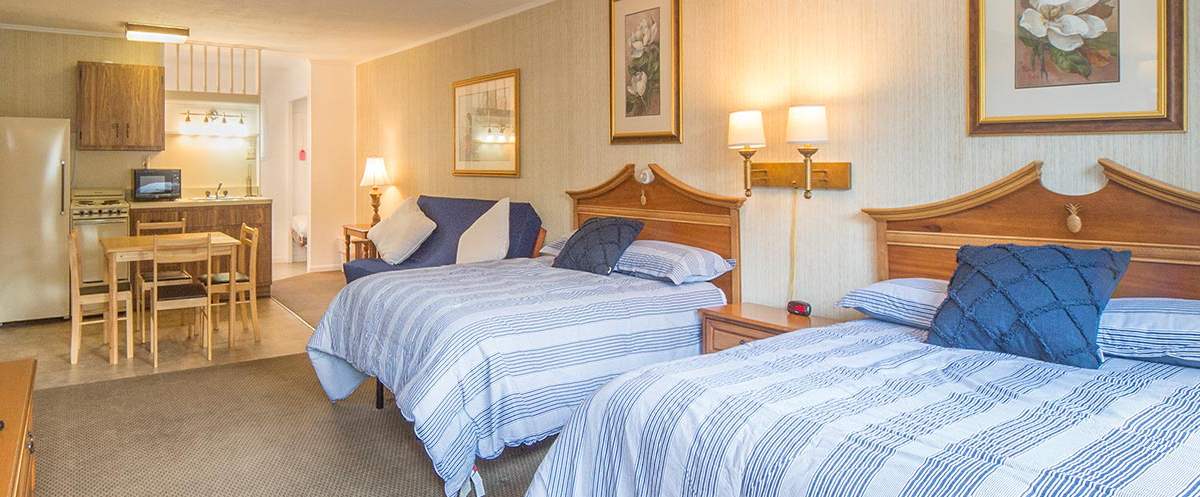 Lincoln Log Colony comprises 16 individual housekeeping cottages, three apartment suites, and eight motel efficiencies. The two- and three-bedroom cabins include a complete kitchen, living room, and bath, and they are air conditioned, heated, and carpeted. Their Adirondack Lodge is the biggest two-bedroom accommodation that sleeps up to six people.
The apartment suites include a complete kitchen, living room, and one bedroom. They're carpeted, heated, and air conditioned, and sleep up to four people. The motel suites also have a complete kitchen, heat, air conditioning, and carpet, and they have a shower. The motel suites sleep up to six.
Lincoln Log Colony guests can swim in the 20' x 54' outdoor swimming pool, play shuffleboard or ping pong, cook out on their own patio, watch the kids play on the playground, and come evening, gather around a campfire for s'mores and conversation.
Find out more about their accommodations >>
Hear From It From Those Who Have Stayed Here
Check out some reviews from Lincoln Log Colony guests:
"This place is in a great location, the cabins are awesome, and the staff is excellent! Has a pool with lots of seating. . .and they keep up the property so well. Anything you need they are right on top of, I love this place!" - TripAdvisor reviewer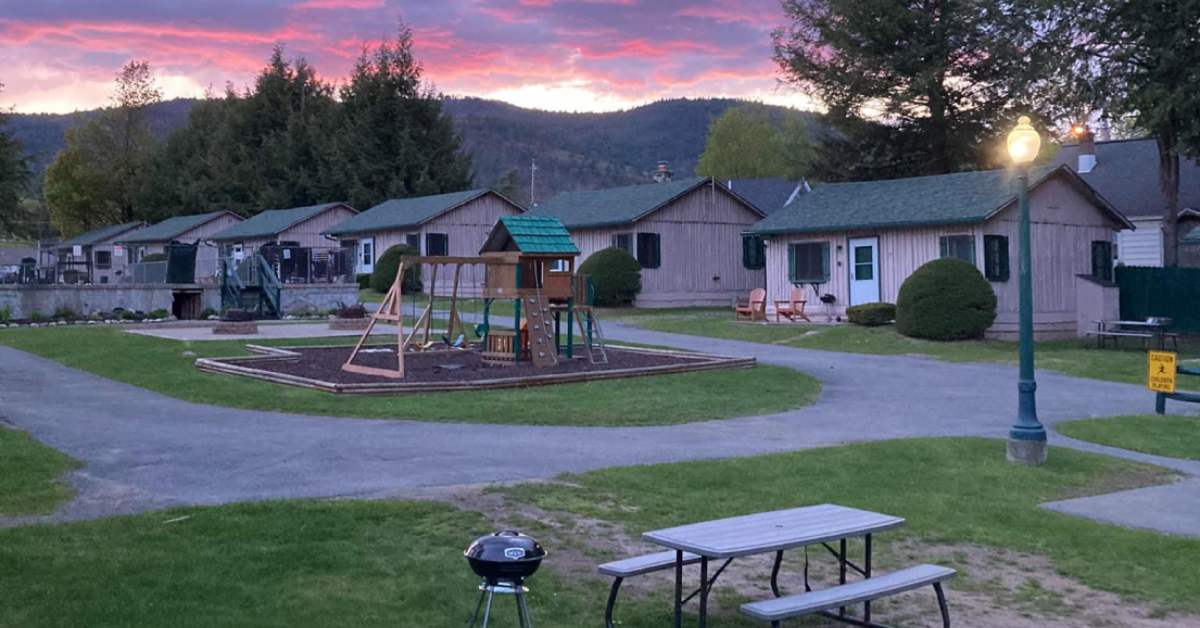 "We had a wonderful family vacation here. Great local road to the beach and town strip, clean pool, new playground, and fun areas to play for the kids. The bonfire pits were well kept and the rooms were clean and very cabin-like. Beautiful sunset and moon view." - Google reviewer
"First time ever staying here. Two-bedroom cabin was just perfect. It reminded me of our family's cabin when growing up, you get the feel of rustic style with modern touch. The property was very clean. Pool was amazing. Our younger children loved the playground." - Google reviewer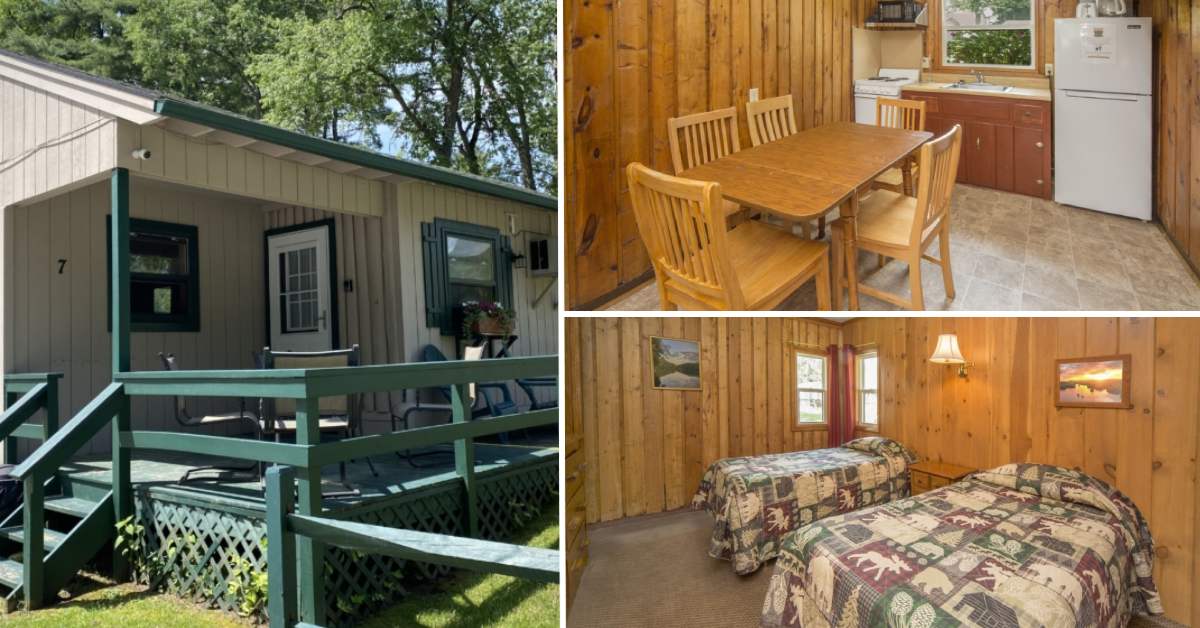 "Best family location in Lake George! Private, affordable cabins, amazing owners and friendly staff, gorgeous pool, fire pits, laundry room, off the main road but a short walk to town, surrounded by mountains…you will not want to leave. Have been coming here for over 50 years and would not change a thing!" - Facebook reviewer
"Very accommodating and very friendly. Near the lake and stores. Coming to the Lincoln Log Colony for over 30 years. Would not go anywhere else." - Google reviewer
It's Going to Be Another Epic Season in Lake George
Lincoln Log Colony opens for the season on Memorial Day Weekend, right after which is Americade, from May 30 to June 4. Americade is also celebrating an anniversary in 2023: its 40th year! And, that's not all that's coming up in Lake George this summer.
Here's what else is happening at the beginning of the season:
As you can see, you will not want to wait until July or August to visit Lake George this season. Besides the events, all the exciting outdoor activities begin or open right around Memorial Day Weekend as well: parasailing, cruises on the lake, kayaking, whitewater rafting, treetop adventure courses, lazy river tubing, and more.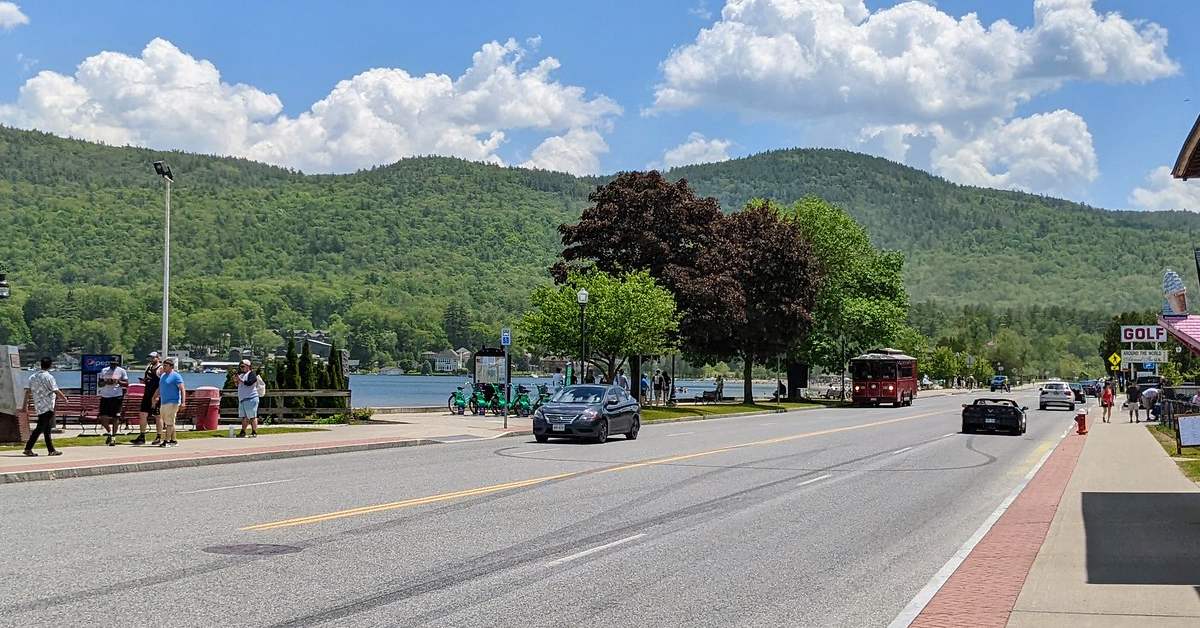 If you can't find it in the Village, it's close by in this majestic corner of the southern Adirondacks. Make sure you stay near all of the action at one of Lincoln Log Colony's cozy accommodations.
Get In On the 75th Anniversary Deal & Look for More Promos
"Generations have grown up here, learning to swim, ride their bikes, play ball, build a fire, explore nature, and bond as a family," Flacke told us fondly. She's been surprised and humbled by the loyalty of the Lincoln Log Colony guests over the years.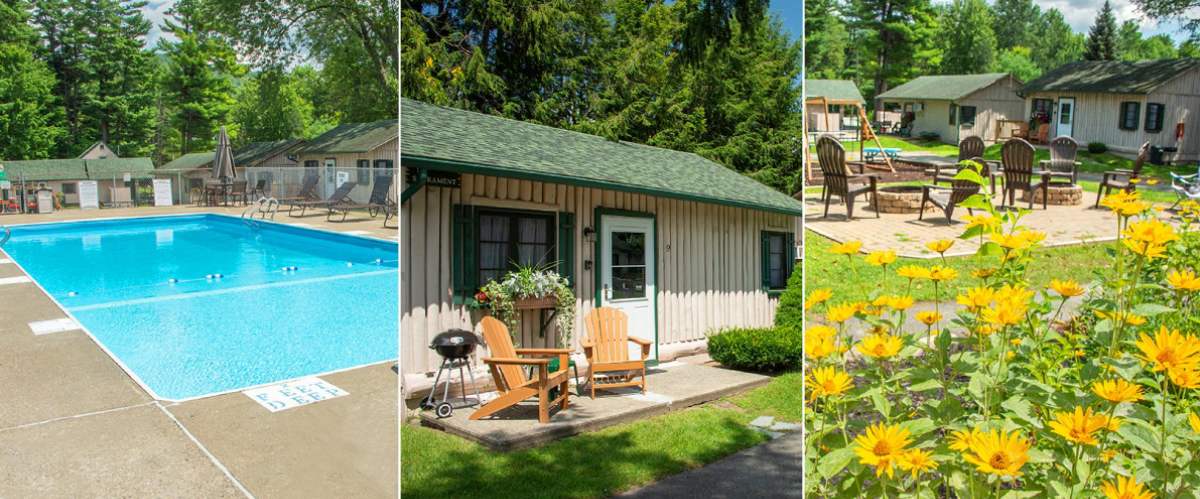 In honor of this important milestone for the business, Lincoln Log Colony is giving back to their guests with a special promotion. Book through their website and receive $75 off, to be deducted upon arrival. Or, call 518-668-5326 and mention the 75th anniversary deal. And, keep an eye out for more promotions and specials throughout the summer. Follow Lincoln Log Colony on Facebook to stay updated.
When asked if the Lake George gem will be celebrating its 100th anniversary 25 years from now Flacke said, "Of course! Lake George and the beauty of the Adirondacks will still be here offering the same gracious opportunities we always have."
Read more about the history of Lincoln Log Colony >>