Interview With Erin Badcock Of Hacker Boat Co.
Sponsored by: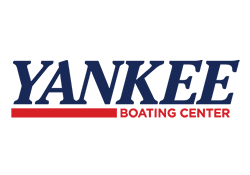 The Lake Is Calling!
Get out on the water in your very own boat this summer! Yankee Boating Center's inventory includes both new and used boats in a variety of different models. Stop by their showroom in Lake George to check out their selection for yourself. Learn More »
LakeGeorge.com sits down for a 10 Questions interview with Erin Badcock, of Hacker Boat Company.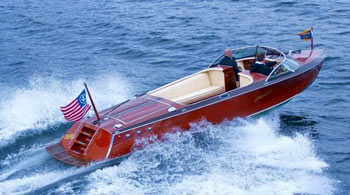 Hacker-Crafts are magnificent, hand-made mahogany motor boats with classic designs and cutting-edge technology.
First created in 1908, these runabout boats are extremely popular worldwide, yet house their one, and only, showroom in Silver Bay NY.
Learn more about this famous company, their beautiful boats and why they chose a spot on Lake George for their headquarters!
1. Hacker-Craft boats are all made by hand - tell us a little more about the creation process and how long it takes?
Envision a stack of mahogany at one end of the production line and 6-7 months later the wood has been transformed into a gorgeous new boat at the end of the line. In between the start and finish triple layers of mahogany form the keel, planking is secured by thousands of screws that are then covered with mahogany plugs; the engine, hardware, prop and electrical system are all installed and finally up to 14 coats of varnish are hand-brushed onto the exterior mahogany to create a gleaming surface.
2. Hacker just opened a new showroom in Silver Bay NY - tell us a little more about it?
The showroom is in a separate building on the five building campus. Four Hacker-Craft are displayed on two floors in the building, along with artwork and company memorabilia, in a setting of Asian rugs, plants and hardwood flooring, as well as beautiful furniture and refreshments for visitors. The sales and marketing offices are also in the building.
3. Why did the company decided to open the showroom on the shores of Lake George?
In the warm season many people visit the Silver Bay location. While we always have boats in the lake, or being launched, it is not the best way to show potential customers our boats. Now they can view all our models and discuss the boats in a sheltered, beautiful environment.
4. Are all Hacker boats made within New York State?
Yes, at our 32,000 square foot, state of the art production facility in Ticonderoga.
5. Hacker Crafts can be seen in movies and are often used by celebrities - what for you is the most memorable appearance a Hacker has made?
There are so many that there is no one most memorable one. Guy Lombardo used to arrive in his Hacker, step onto the stage and lead performances at Jones Beach. George Reis won several Gold Cup races on Lake George in the El Lagardo, now on display at the Adirondack Museum. The King of Siam paid for a Hacker in gold bullion.
6. Hacker-Craft was founded in 1908. What are some aspects that have remained constant since the company was founded?
The same designs are still used in building the boats! The heirs of John L. Hacker just announced that they will be sending John's drafting table, on which he designed Hackers, to the showroom for display.
7. How many people work at Hacker?
60.
8. Hacker doesn't just make boats - what other services do you offer?
Storage and one of the largest wooden boat restoration facilities. As of June 2011 we are restoring a 100 year + old Fey & Bowen boat.
9. Do you sell Hackers outside of the United States?
Yes. Recent sales include customers in Finland and Canada. We are now appointing representatives throughout the world.
10. What is the most famous Hacker ever built?
There are several. Perhaps the Thunderbird on Lake Tahoe, a 56' custom built, Hacker-designed cruiser built for a wealthy Tahoe resident in 1940, is the most renowned Hacker. It is in pristine condition and can be seen at the museum that was the owner's home, Thunderbird Lodge, on Lake Tahoe. Two Hackers serve as tenders on the world's most famous yacht, Aristotle Onassis's former vessel, the 325' Christina O. Until recently a Hacker was the tender on John Paul Getty, Jr's former yacht, the 247' Talitha G.