Our day at Six Flag Great Escape Holiday in the Park
Please Note: Holiday In The Park at Six Flags Great Escape Has Been Cancelled For 2010
There's nothing like caroling, ice skating, sledding, Christmas Trees, and… Spruce the Moose?
The holiday season offers so many opportunities to enjoy family time and make memories. Our visit to Six Flags Great Escape Holiday in the Park in Lake George was no exception – it was a day filled with family fun!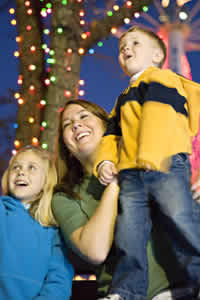 When we arrived at Six Flags Great Escape, we were greeted with holiday music and characters galore, including Scooby Doo, gingerbread men and many friends from the North Pole! We were surrounded by thousands of twinkling lights, garland and holiday decor. It was a winter wonderland that put big smiles on the kids' faces.
The park was packed with families with young children. There were virtually no lines for any of the rides. A bumper car ride area had been transformed into a skating arena, and the hill that leads to the water park had become the sledding hill. Most of the rides that were open for Holiday in the Park were appropriate for ages 3-12, but the young teen girls next to us didn't mind as they were having a blast!
If you are worried that the children will get cold at Holiday In The Park, remember most kids are oblivious to the cold when they are having fun. We were not cold at all as there were heaters and fires everywhere, and all shops and restaurants were heated as well. An added bonus were the HUGE cups of hot chocolate slathered with whipped cream (which were a huge hit for our crew). There were also entertaining shows both indoor and out.
Admission to the park is free for Season Pass Holders and 19.99 for anyone ages 3 and up. We were surprised that the skate rentals were free as well (they had very nice skates!)
As we entered the park, I had overheard the lady next to me saying to a character, "This is the second day in a row we've come. We had such a blast the first time we came back. Thank you for having this!" And as I tucked my kids into bed tonight they asked, "When can we go back?"
Holiday in the Park is a fun family event at Six Flags Great Escape theme park. Make plans to visit with your kids this holiday season!