Adirondack Theatre Festival Wins Hearts With 'Love Song'
Review by: Victoria Hill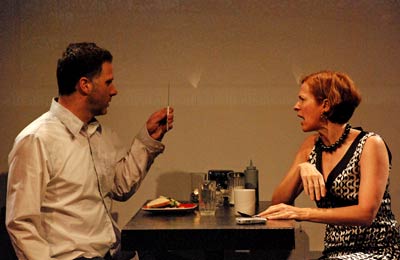 "Love Song" scene with Vincent Allocca (Beane) and Kathleen McNenny (Joan)
"Love Song," by John Kolvenback, is a remarkable play that defies expectations, breaks conventions, and makes you wonder. It startles, yet delights.
A small cast performing in such an intimate venue as the Wood Theatre makes for an intense and engrossing show. The set, by David Esler, is beautifully and creatively constructed, to allow for not only physical changes of setting, but unusual portrayals of mood and state of mind, as well.
The show begins a little slowly, but quickly reveals itself as a fascinating look at the nature of love. Vincent Allocca's Beane, who initially tries to keep to himself, finds someone worthy of his affection, surprising both himself and his sister Joan (a very versatile Kathleen McNenny). The spacy, quirky Molly, played by a brilliant Eilis Cahill, is small and pretty, but a force to be reckoned with.
I found it impossible to keep my eyes off Joan. As the play opens, Joan is neurotic, cold, and difficult to relate to. But McNenny deals with the huge array of emotions that Joan must face as she examines both her own romance and that of her brother with flair, giving us a character with depth - she is realistic, full of flaws, but compassion as well. One of the play's best lines comes from her, as she makes an unexpected announcement to the room at large that induced a hearty burst of laughter from the audience.
Comedic timing by the whole cast is impeccable. Much of "Love Song"'s humor is subtle and tends to taste of irony; when Kyle Fabel's Harry attempts to analyze Beane via personality tests, Allocca's innocent eyes and unflinching honesty keep the audience giggling.
Based on the idea that something truly amazing must have inspired history's great songs of love, the play allows the audience to watch these characters struggle to cope with the idea that happiness may come from the unlikeliest of sources. I left the theatre smiling, as did my company for the evening, but we continued to discuss the play during the ride home. "Love Song" gets into your head, and your heart too, and refuses to leave.
---
"Love Song" is a part of the Adirondack Theatre Festival, performed at the Charles R. Wood Theatre in Glens Falls NY.