Lake Champlain Bridge Project in Crown Point NY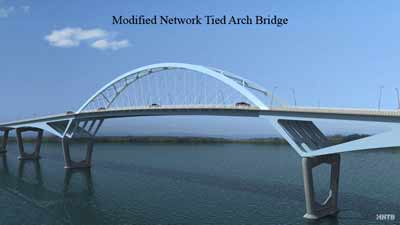 The construction of the new Lake Champlain Bridge will begin in the spring of 2010.
CROWN POINT NY -- New Yorkers and Vermonters alike will be very glad to hear about the plan to rebuild the Lake Champlain Bridge. The bridge, which links Crown Point, NY and Addison, VT was demolished on December 29, 2009 after being closed for a little over two months, and the new design has been chosen.
The old bridge was built in June of 1928, and it was clear the nearly eighty-two year old bridge had seen better days...
After much contemplation the New York State Department of Transportation (NYSDOT) decided bridge was too unsafe to travel on due to structural deterioration, and closed on October 16, 2009. Then on November 9, 2009 it was determined the old bridge could not be rehabilitated and would have to be replaced. Demolition of the bridge happened at 10 a.m. on December 28, 2009 and went live on the news for the world to see.
It is no doubt that the loss of the bridge for travel became a huge inconvenience to many people, especially those who utilized the bridge for commuting purposes. This is why an urgency has been set on getting the new bridge built. It will be in the same location as the old one, based on recommendations agencies have recieved from the public. In the mean time, alternative methods of transportation have been offered for those who need to get from one town to the other across the lake.
New bridge designs were presented to the public during a meeting on December 12, 2009 to present the new bridge concepts and designs. The New York and Vermont state transportation agencies stated that most people voted for the Modified Network Tied Arch Bridge design (see photo above). With the combonation of safety and visual appeal, the construction of the bridge will begin during the spring 2010. The goal is to have the bridge up and running by the end of summer 2011.
The new Lake Champlain Bridge Project is under control of the NYSDOT and costs for the multi-million dollar project will be shared equally by both the NYSDOT and the Vermont Agency of Transportation (VTrans).
For more information or questions about the Lake Champlain Bridge Project call the NYSDOT Office of Communications at (518) 457-6400.
View the bridge demolition below: