Increase in Camping Fees To Cover Trash Removal
Betty Moyer | October 2010
Lake George NY - The New York State Department of Environmental Conservation, DEC, will raise camping fees to continue the removal of garbage from the Lake George Island campsites. This news comes in response to an earlier announcement that garbage collection would be discontinued.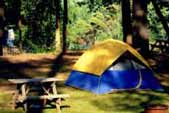 In August 2010, The DEC announced that the garbage collection from island campsites would no longer be offered. They proposed a "carry in - carry out" policy, where campers would remove their own trash. Many believed this would lead to a much larger issue.
The idea that campers would find ways to abandon trash around the area made the community wary. Those concerned voiced their opinion and got over 700 people to sign a petition to continue the trash removal service.
On September 17, 2010 the DEC met with state legislators, county supervisors, the Lake George Park Commission and the heads of lake protection organizations. They came to an agreement to raise camp fees in order to continue trash removal.
The price of a camping permit could rise to $30 for New York State residents and $35 for non-residents. Last year the DEC issued 6,680 permits for the 387 campsites on 44 islands in Lake George. With the increase of just $5 per permit, there would be enough money raised to resume garbage collection.
Thanks to concerned and motivated citizen and official's, Lake George can keep her title as the Queen of American Lakes. This decision will help to keep the lake's water pristine and add to the Lake George camping experience!