Phantom Island is a nice four campsite island just across the channel from Glen Island. Glen Island is where the ranger station and general store are located, so Phantom Island is close to the store but is not as secluded.
About Phantom Island
Phantom Island has a cute and very sandy, shallow beach that is ideal for little children. The island is also close to surrounding islands, including Glen Island, Gem Island, and Uncas Island. Plan your Phantom Island camping trip now at Reserve America.
Guide to Phantom Island Camping
Campsite 1 overlooks Glen Island, so if you like to people watch, this is the site to have. Overall, it's an open and sunny campsite with no platform.
Campsite 2 is on the western point overlooking Uncas Island and has a platform and shares a dock with campsite #1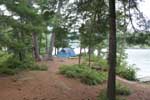 Campsite 3 is on the northern point, and although the island is really close to Glen Island, it doesn't face it. The site is close to the island's bathroom. Campsite 3 has ia platform and its own dock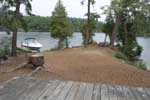 Campsite 4 faces Glen Island and is a nice sunny spot. The channel can get busy, but it's good for people watching. This has a shore dock and no platform.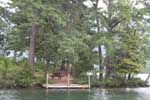 A small beach is located between campsites 3 and 1 facing Gem Island.